In Midtown Manhattan, a metropolis swarming with frenzied suits and skirts at all hours of the day and night, there are few spots to get in a state that I like to call, "blissed out." "Blissed out" means abandoning your schedule, your obligations, and your stresses for one moment of pure do-not-disturbery. The best place for that? Not the New York Public Library, but the former house of one of New York's most famous financial gents, Piermont Morgan.

Mr. Morgan was, it turns out, not only a well-known financier, but also a collector of antiquities, including historical manuscripts, prints, and a beloved Gutenberg bible. His prized possession was his library, designed by architect Charles McKim.
The Morgan Library and Museum, while smaller than its immense Metropolitan counterpart on the Upper East Side, is just as rich in, well, riches. If you like books, that is. Located on 36th Street and Madison Avenue, the modern facade of its entrance may fool you into thinking it's some kind of 21st century gallery. But inside, it's a whole melange of history.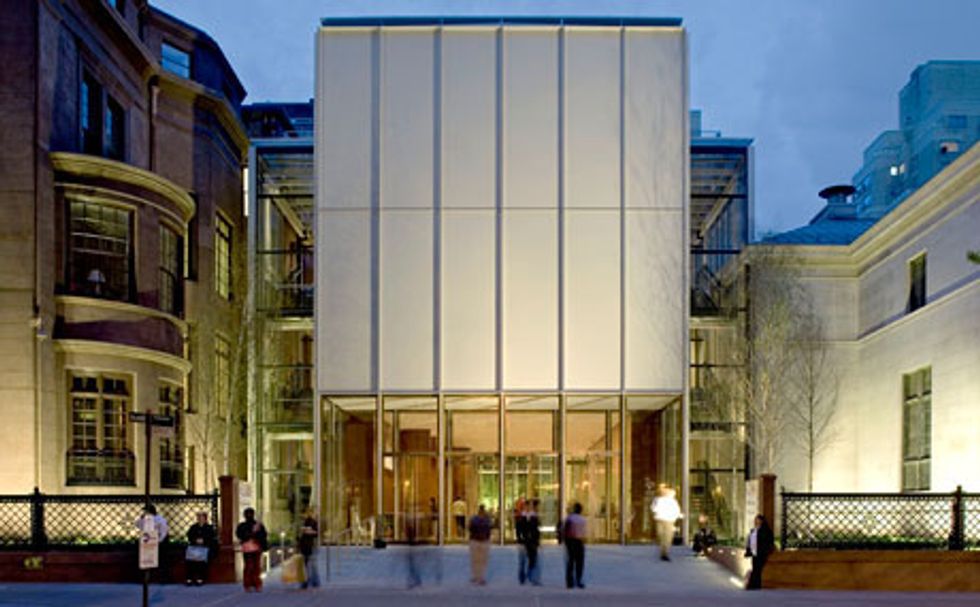 NYC Arts
On Friday nights from 7 to 9pm, the museum is free and open to the public. That's when sleek New York socialites of the art student or 5th-avenue ilk come out to revel in some historical and modern culture. Inside, you'll behold an impressive and minimalistic window-filled atrium and cafe. During the day, the light reflects off of hanging plates of colored plastic, creating a magical effect. Not exactly the decorations you'd expect from the classical Morgan. That's because it was not in Morgan's original design. This atrium and reception area was completed in 2006 by Pulitzer-Prize winning architect Renzo Piano, adding an additional 75,000 square feet of space, transparent elevators, and an open staircase structure.
Downstairs, which I always save for last, is probably where one should start, chronologically speaking. There, you'll see a scale model replica of the museum, a timeline of when the museum came to be, fundamental paintings, and of course, generous and well-maintained facilities. I particularly enjoy one charming image of small man atop a giant snail, for which I have unfortunately forgotten the context. No matter: onward!
The ground-level floor will host musicians in a performance space by the cafe, which range from instrumentalists in jazz, classical, and folk. If the windows weren't enough to create an aura, the musicians turn it into an ambiance. At the cafe, you can order delicious snacks, cocktails, teas and coffees to accompany your night of luxury. The martini trio is especially indulgent!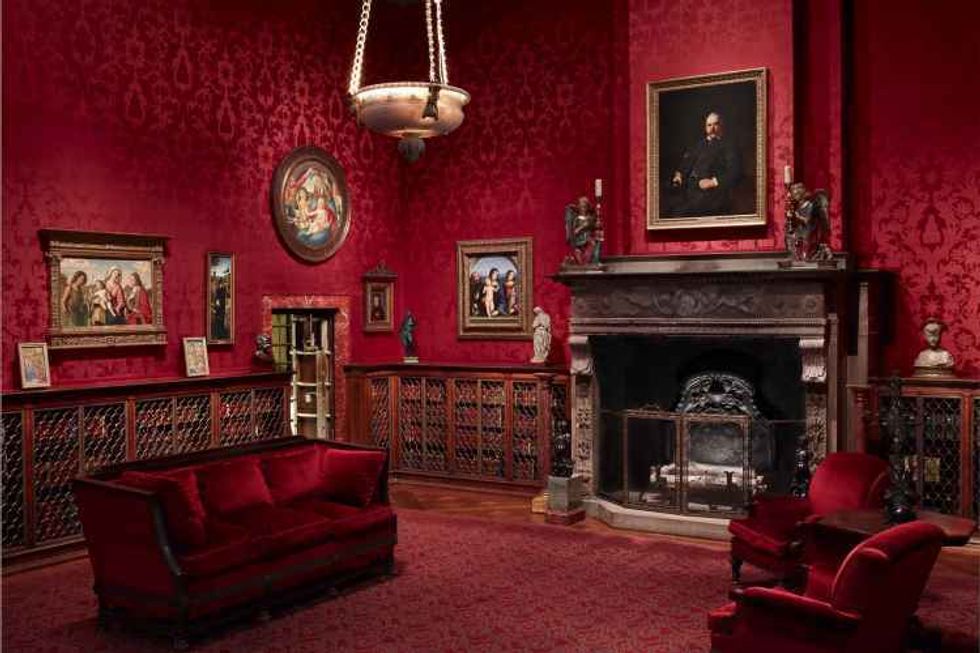 NYC Go
If you didn't know about the library, you might just see the small gallery to the right and wonder what all the fuss is about. But in the back right corner of the atrium is where all the magic happens. Swing a right and enter Morgan's velvet-lined study. His rustic wooden desk and chair remain captainless, but ripe for sitting. (But don't; you'll get in trouble for that!). Before you will stand hundreds of rows of books, in dozens of languages, from lands near and far. There's even a small nook in the back of the room that shows a sneak peak inside all of the shelves that aren't seen. A seemingly never-ending climb to the top of book mountain. You'll have the feeling of getting in on a huge literary secret.
When you cross the immaculately-domed hallway, the next room is "the" library, which houses even more books than the study. A grid of latticed steel entwines the books so even an attempt to touch them will be futile. In viewing cases around the room are musical compositions from Mozart, Wagner, and the Gutenberg, et al. My favorite section is the back left corner, which houses Morgan's impressive collection of French literature.
The last room in the triptych is one that contains a bunch of cuneiform tablets and ancient stone and metal work. Squint your eyes a bit, and you'll think you're in a newly uncovered room at the Met. Don't miss this one, even though it's smaller and more discrete than the rest.
Even after you've had the time to meander through the library, your stay at the Morgan is far from over. Enjoy two large galleries and a smaller gallery on the main level, then take the transparent elevator up to the balcony and top gallery. The balcony, in my opinion, is one of the most romantic spots in the museum. Look out and see the diners, the musicians, and imagine yourself in the 1800s. It's not so difficult.
Be sure to check out the delightful gift shop on the way out, which includes a litany of art books, tchotchkes and prints. It's the perfect night cap to a culture-filled, post-dinner happening, Indulge your inner historian with an evening at the Morgan.