Times Square is arguably the heart of Manhattan, with larger-than-life lights and spectacular sights that bring in thousands of tourists from all over the world. The stores, restaurants, bars, and clubs are plentiful, and almost always packed. Most folks come to the area and do the "touristy" thing, but the off-the-beaten-path places are worth a visit as well. You'll get a better taste of what "real" New Yorkers do there and get a breather from the endless crowds. Here are six spots to see for a "non-touristy" taste of Times Square.
Rooftop Rendezvous: Haven Rooftop at the Sanctuary Hotel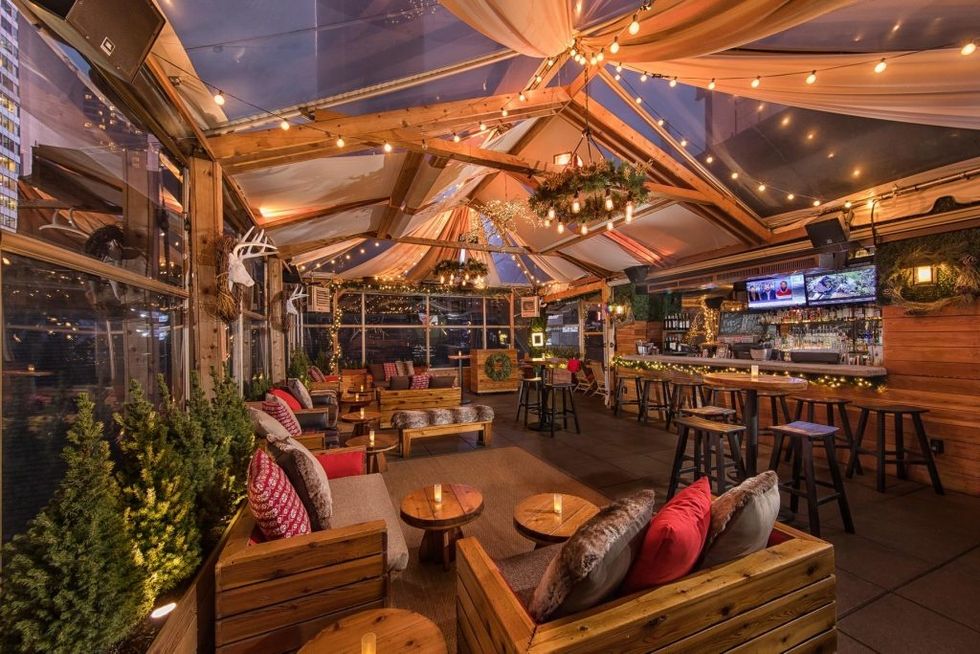 Via havenrooftop.com
Open all year long, Haven Rooftop at the Sanctuary Hotel in the Theater District is cool and creative, making the sky-high experience one-of-a-kind. Great food, cocktails, music, and unbelievable views make this large lounge area a must-visit spot after a day of sightseeing.
Each season, the space is decorated with a relevant theme to make every visit unique. Nosh on indulgent mushroom risotto, fresh tuna tartare, decadent lobster salad, or any other of Haven Rooftop's delicious dishes and wash it down with one of their signature cocktails like the Haven Mojito or their Cloudtini made of pear-flavored Grey Goose vodka, lychee puree, and St. Germaine. Check their calendar for special events and other happenings year-round. They are open for brunch, dinner, and happy hour.
132 West 47th St., New York, NY 10036
Joyous Jazz: The Rum House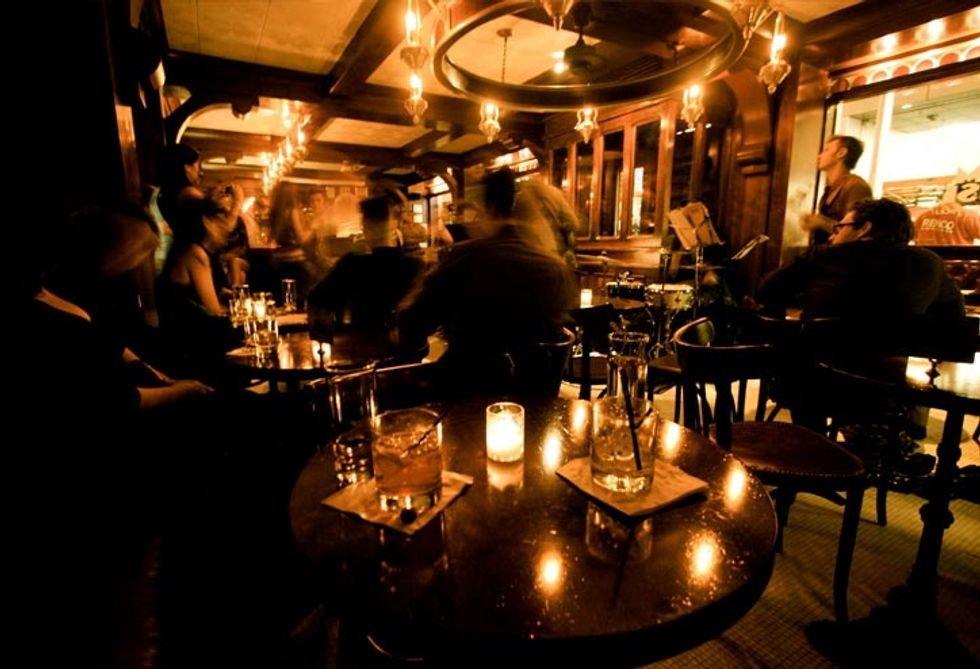 Via therumhousenyc.com
There are a bunch of large and tourist-favored jazz clubs in the heart of Times Square, but the lesser-known, Rum House, is the toe-tapping place to go for a modern take on the classic jazz club. Remove yourself from the hustle and bustle of the city and slip into the dimly lit and swanky wood décor venue, as you sip on a cocktail and nibble on a snack and let the music whisk you away. Try one of The Rum House's refreshing rum-based cocktails or knock back a classic as you take in the tunes of yesteryear. Whether you visit for a pre-theater drink or a nightcap, The Rum House welcomes you to call their home yours for the evening.
228 West 47th St., New York, NY 10036
World-Class Wine: L'Ybane Wine Bar & Restaurant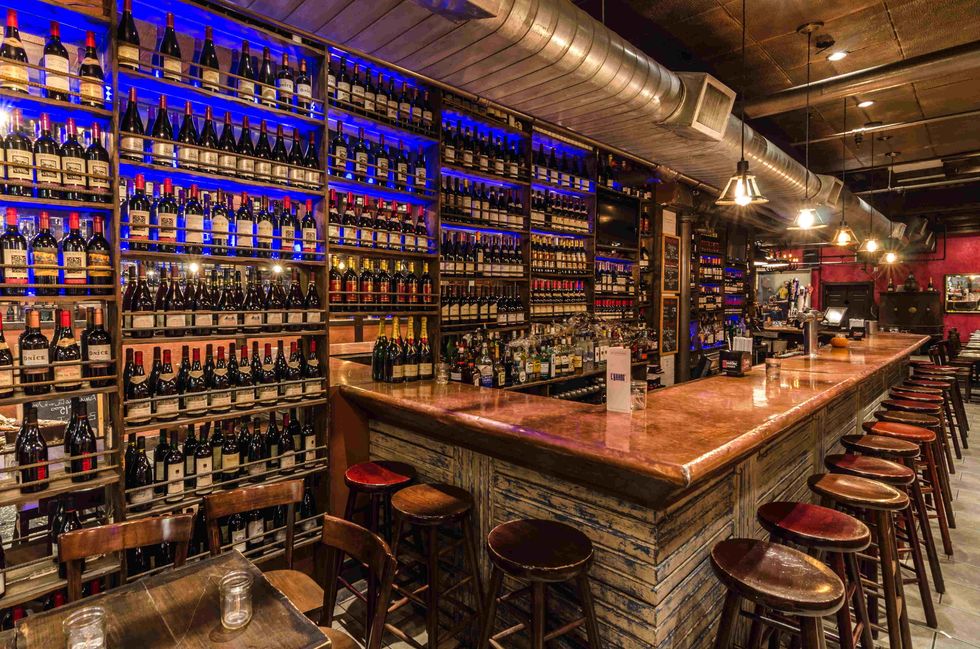 Via lybanenyc.com
It'd be a shame to go to NYC and hit up an Olive Garden when there are quality places to dine in all around. If you're looking for a refined and romantic setting, L'Ybane Wine Bar & Restaurant is a top choice. It's a Mediterranean restaurant with a focus on fine wines. Open from noon 'till 2 AM, this special spot has a table waiting for you. Nibble on mussels, seared tilapia, lamb skewers, or a hummus platter, as well as many other Mediterranean-inspired dishes, and be sure to sample wine from all around the world. Intimate and imaginative, L'Ybane is a relaxing Times Square gem that is nothing like the high-volume spots rushing you out.
709 8th Ave., New York, NY 10036
Haute Hotel: Kimpton Muse Hotel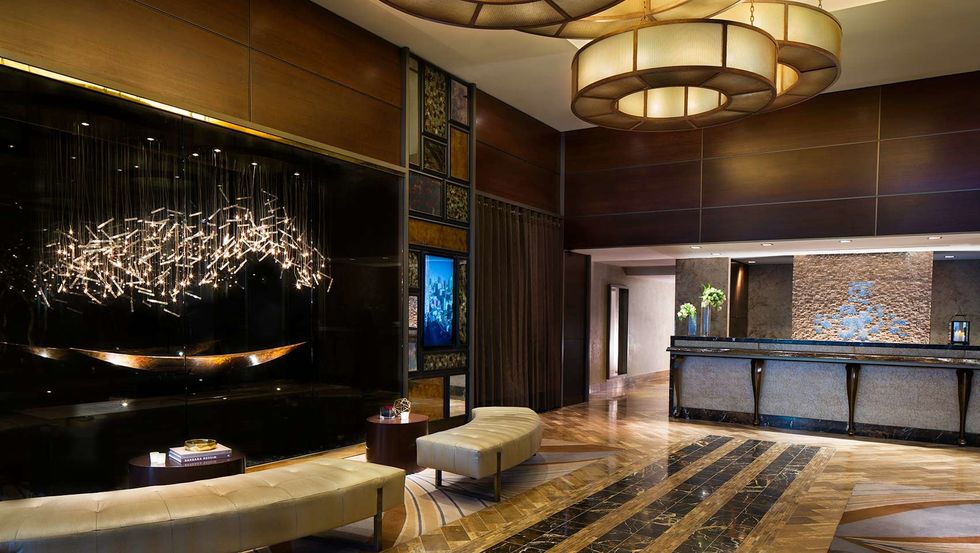 Via themusehotel.com
Big and bright hotels in the middle of the Times Square chaos is a thrill for some, but for those seeking tranquility and escape, a boutique hotel is the place to stay. Kimpton Muse Hotel is gorgeous and luxurious, and is just steps away from the heartbeat of the vibrant area. The in-hotel restaurant and bar, Nios, is romantic and cozy, the rooms are top-of-the-line, and the overall ambiance will make you feel like a VIP guest. Order up an in-room massage then head down for an evening wine reception. Sit by the fireplace with a glass and decompress after a day of Times Square splendor. Wake up to a complimentary continental breakfast and do it all again.
130 West 46th St., New York, NY 10036
Teatime Treasure: Lillie's Victorian Establishment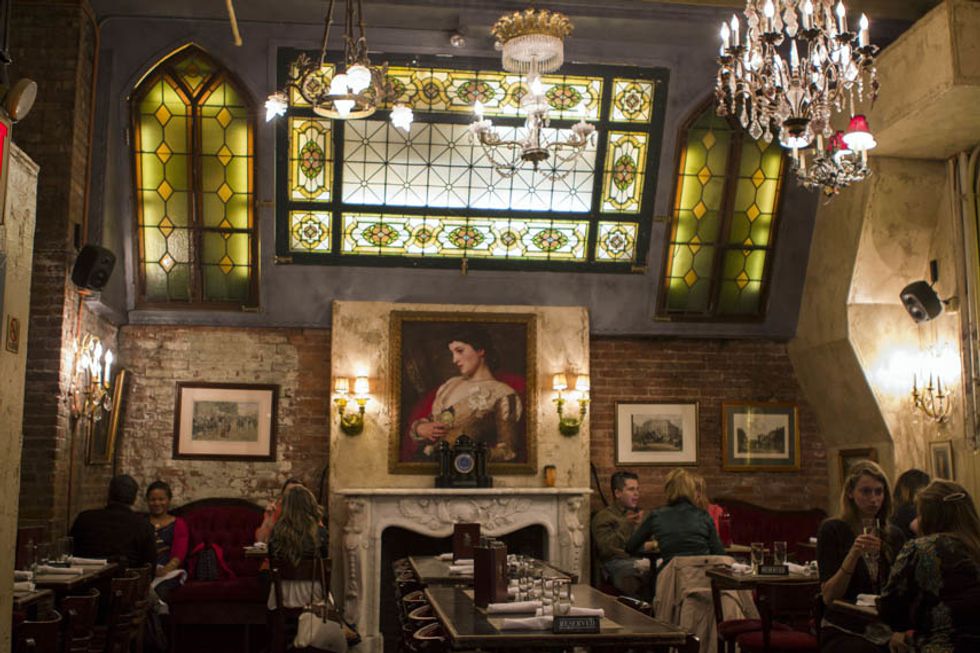 Via sideways.nyc
High tea is not what most think of when visiting Times Square, but Victorian sensibilities await as you sip with pinkies up at Lillie's Victorian Establishment during their high tea hours Monday through Friday from 11 AM – 4 PM. Choose a cup of classic English breakfast, or try something unique like Moroccan mint green tea or lychee coconut white tea. Paired with delicate finger sandwiches, traditional scones, mini-desserts, and chocolate truffles, tea time will take you to an era from long ago. Antiques and fine artwork abound, making the spot one to see as you enjoy high tea the old-fashioned way.
249 West 49th St., New York, New York, 10019
Soothing Spa: Whole Green Day Spa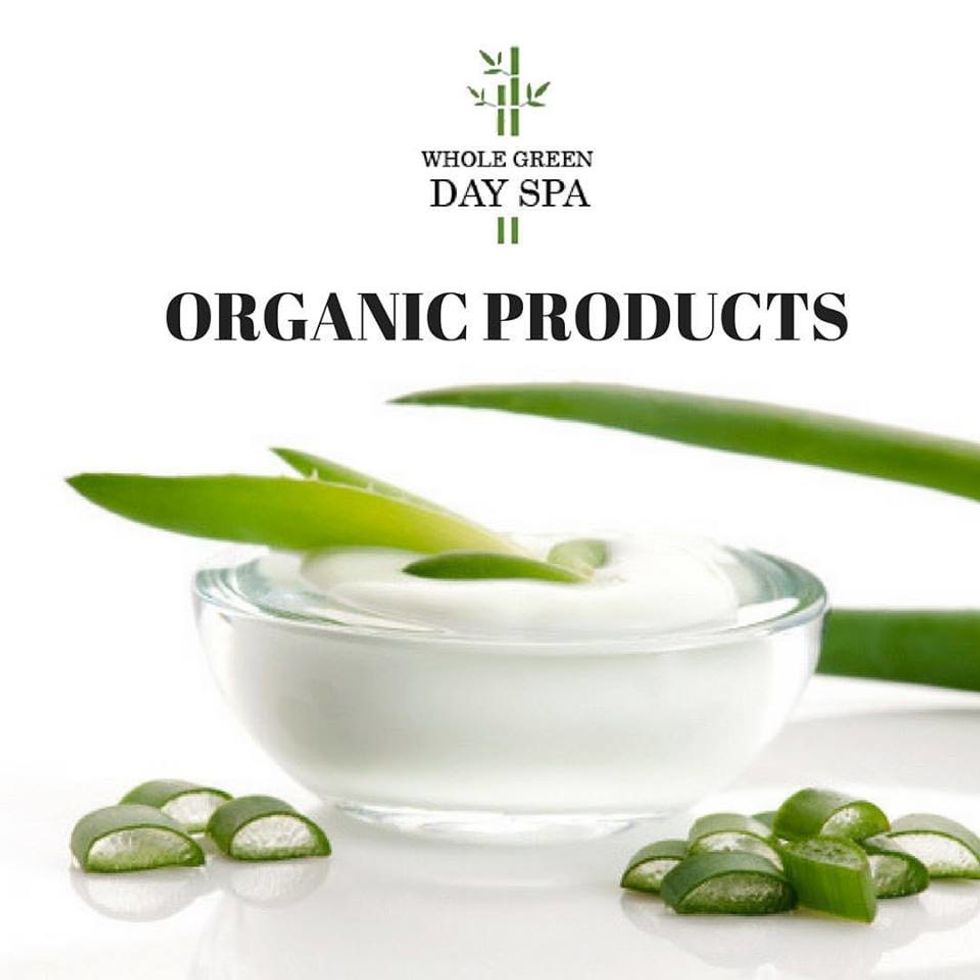 Via facebook.com/wholeGreendayspa
Fighting the crowds, standing on your feet all day, and shopping 'till you drop is tiring and exhausting, and also the perfect excuse to slip into a spa and release the Times Square energy from your system. Head over to Whole Green Day Spa for some "me time" and pampering from head to toe. From skin care to mani-pedis to massages and more, this tucked-away spa is ready to help you get your "Zen" back after the non-stop Times Square electricity. All of Whole Green Day Spa's products are green and healthy, the staff is professional, and friendly, and the spa itself is clean and modern. Work out the kinks and give yourself the TLC you deserve.
566 7th Ave. Suite 504, New York, NY 10018
Enjoy your trip to Times Square as you do it the "non-tourist" way!