First chocolate, then bananas and now butter — the world seems to be declining in the production of so many popular foods. So far this year, European butter prices have gone up 50%. This shortage has especially hit France due to its high consumption of the dairy product.
According to the EU's Milk Market Observatory, 100 kgs of butter started off at approximately 400 euros at the beginning of 2017. However, now that we're closing in on the last few months of the year, prices are hovering around 600 euros.
So, why is this happening?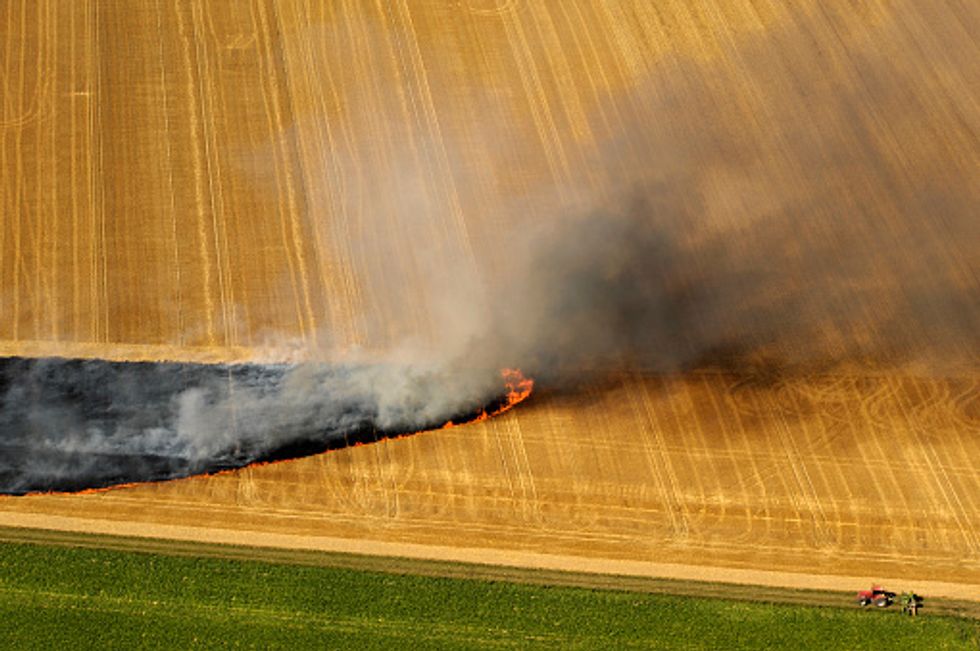 France, Centre Val de Loire, near Chartres, aerial view of a stubble burningGetty Images
Well, 2016 was not a good year weather-wise for crops. Due to the poor harvests in Europe last year, there was less food to feed the cows which of course, in return, produce the milk needed to make butter.

Also, New Zealand butter exports to Europe have also been on the decline. Apparently, they exported 11% less butter this year than last year — which is pretty bad for the world's leading producer in dairy products.
Another factor of this shortage may be due to the 2016 milk crisis which led to a 3% drop in production. An excess of milk that was in response to another dairy crisis led to decreased production the following year.
Butter has also been less demonized by the health nuts — leading to a rise in demand across the globe. Consumers are eating more full-fat foods with butter as a staple in places like the United States.
Will other continents be affected?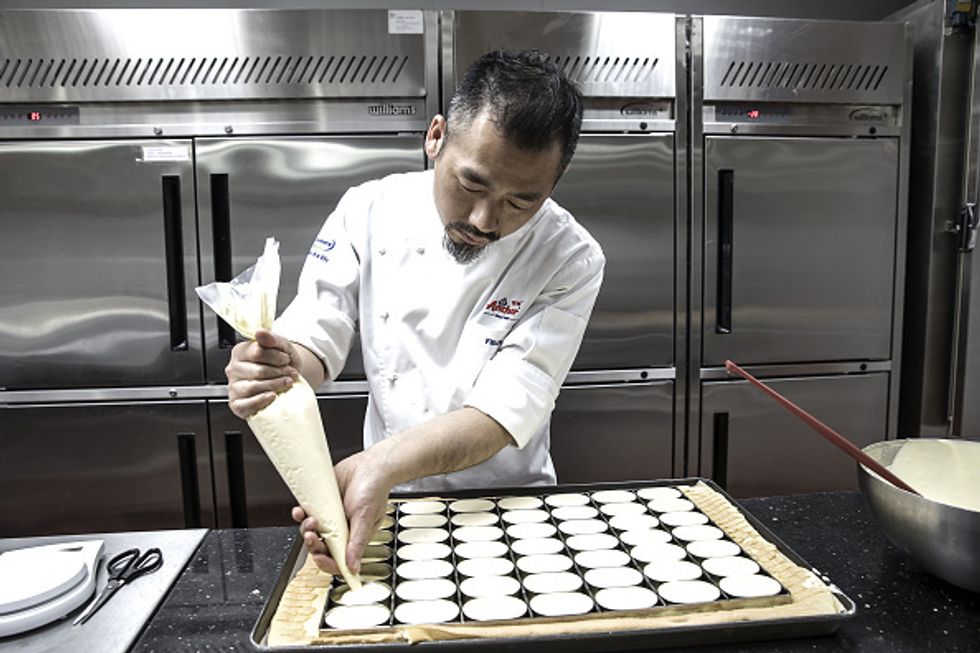 A chef adds a cream cheese mix to baking molds in a tray at an industrial kitchen run by Fonterra Cooperative Group Ltd. in Shanghai, ChinaGetty Images
At the moment, Chinese citizens are increasing demand for Western pastries — which means they need butter in a primarily lactose-intolerant nation. This is especially problematic since butter production is falling on two other continents.

Countries abroad will also be willing to pay more for the in-demand product — this means that dairy producers won't linger in France long before looking to other places like China to sell their products.
Why is France being hit the hardest?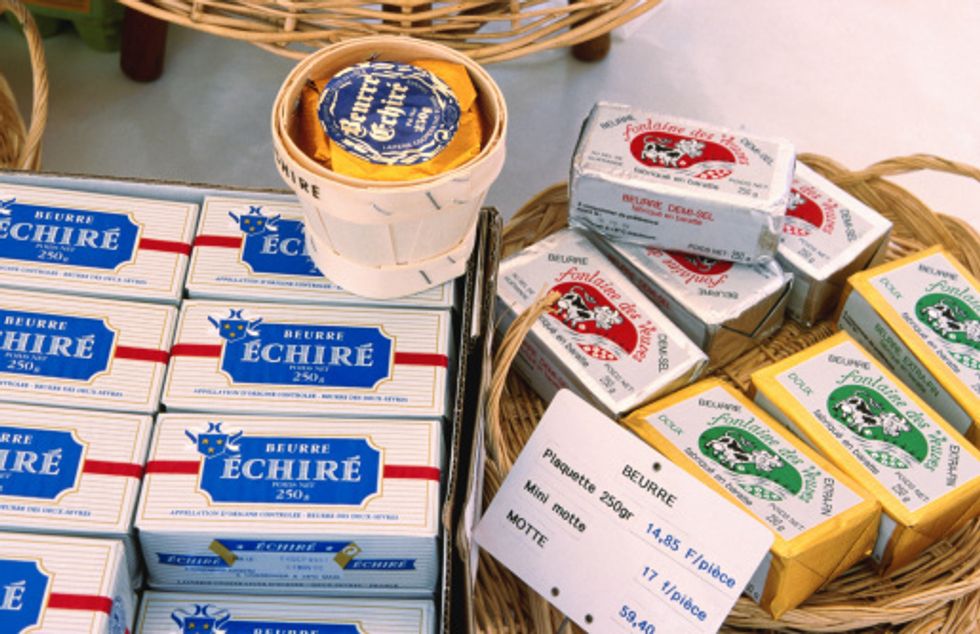 Different types of butter at a Parisian street market - Paris, Ile-de-FranceGetty Images
Butter is an important staple of French cuisine — it's used in the flavoring of baguettes, the baking of croissants and even as a staple in many sauces. Some say that the Rouen Cathedral was built on the extra fees collected from butter.

However, besides the point that France is basically known for their butter-based pastries, supermarkets in the country have also been slow, if cooperating at all, to raise their prices on the product. While these markets refuse to pay more for the declining product, these companies will look to other places to sell.
In other European countries like Germany — who rivals France in butter consumption — supermarkets have been quick in responding to price changes. The reason why France is reluctant to act is because butter prices are agreed upon yearly.
What are people doing?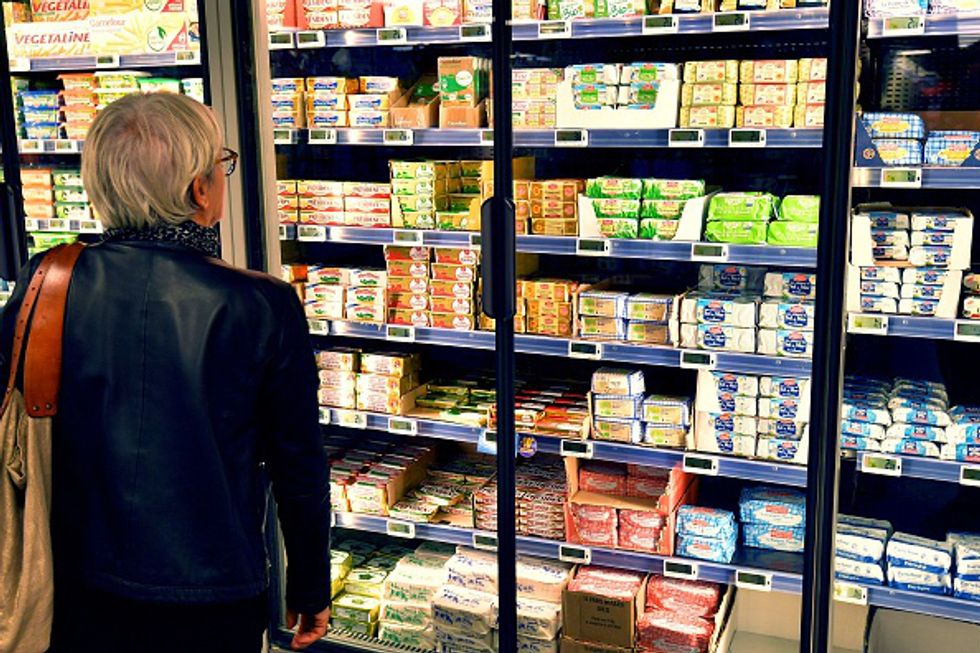 A woman looks at butter packages on refrigerated supermarket shelves on October 20, 2017 in Nantes, western France.Getty Images
French citizens and residents are rushing to supermarkets to stock up on butter — but this shouldn't be a cause for you to panic if you're abroad.

The butter crisis won't last forever — when milk production picks up again, there'll be plenty of butter to go around for your eclairs and croissants. However, this begs the question of which production crisis may come after?