With their expansive menus, woozy lights, and vintage stylings, diners are all-American staples. Of course, New York City has no shortage of 24-hour diners for its nocturnal inhabitants. Which ones are worth trekking to at the end (or beginning) of a long night on the town? Read on to discover the top 24-hour joints in the Big Apple.
1. Sarge's Delicatessen and Diner
548 3rd Avenue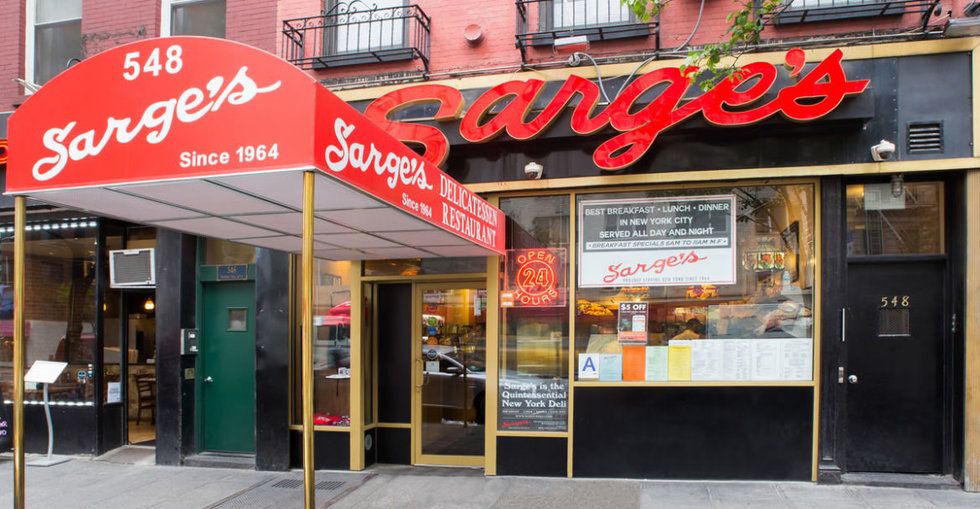 Image via Sargesdeli.com
Thanks to this diner, you can get your fix of matzah ball soup any time of day or night. Sarge's is NYC's only Jewish diner, and it offers a selection of traditional fare as well as some unique specialties, including "The Monster"—a tower of five different kinds of meats smashed together with lettuce and tomato to form what's allegedly the city's largest sandwich. With its vintage design and celebrity-photo-lined walls, this is a sure bet the next time you're craving waffles at 3 AM.

2. Grand Morelos
727 Grand Street, Brooklyn, NY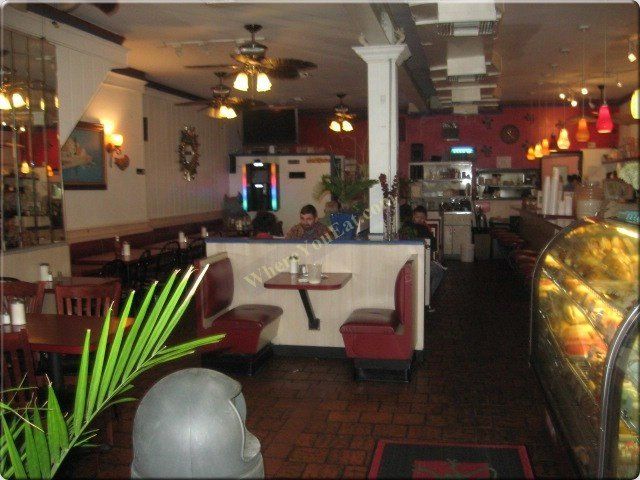 Image via WhereYouEat.com
A cheaper alternative to the pricier Kellogg's, this Williamsburg joint serves Mexican fare, like chilaquiles and burritos, alongside more traditional diner options. If that wasn't tempting enough, it also triples as a bakery, so you can literally get any kind of food you want, including cupcakes and eclairs. Plus, its homey, laid-back vibe presents a great place to rest and collect yourself in the midst of a long night.

3. Times Square Diner & Grill
807 8th Ave, Manhattan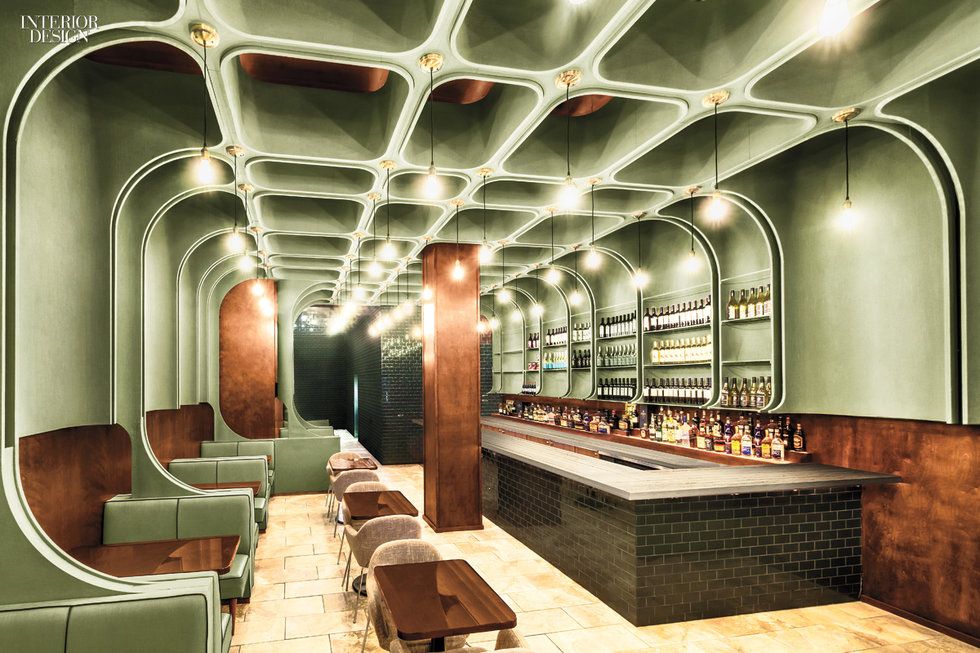 Image via Interior Design
Ah, Times Square—the garish, reeking, synthetic heart of New York City. If you for some reason find yourself caught up in its waves of snail-paced tourists, seek refuge in the Times Square Diner & Grill. This joint isn't exactly your typical diner—its futuristic ceiling gives it a surreal, spaceship-like quality, and it boasts a wide selection of fancy cocktails. Still, you'll find familiar comforts in its selection of elegantly prepared breakfast foods, hamburgers, milkshakes, and coffee, which are accompanied by more upscale fare from around the world.

4. Waverly Restaurant
368 6th Ave, Manhattan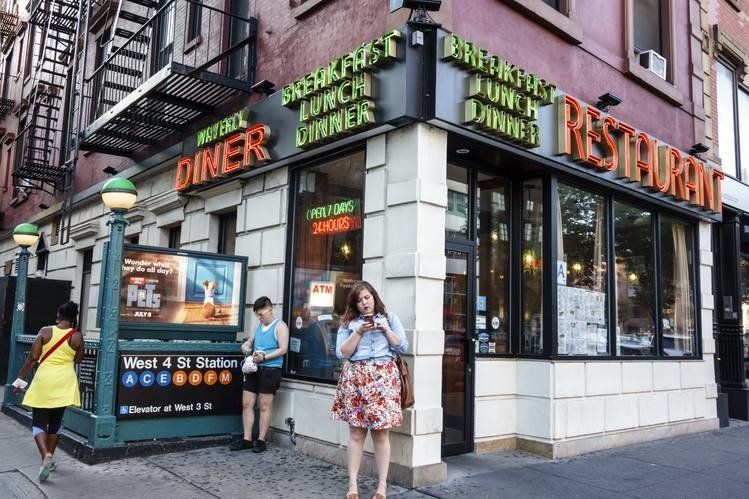 Image via the Wall Street Journal
This West Village diner has garnered recognition from New York Magazine and many other outlets, but it maintains a down-home traditionalism despite its fancier-than-typical menu. You'll find vinyl-covered seats and walls lined with black-and-white celebrity photos, as well as gaudy murals and glittering light fixtures. Here, you can treat yourself to lobster tails with crabmeat stuffing, bottomless coffee, or eggs served in frying pans or anything in between.

5. The Famous Cosy Soup N' Burger
739 Broadway, Manhattan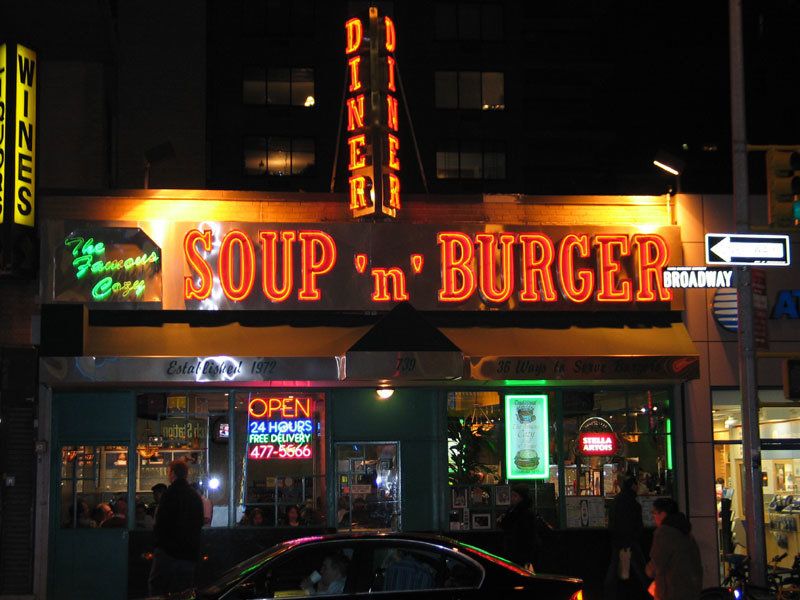 Image via Adam Lyon
This diner checks all the boxes: neon signs, reflective silver walls, booths separated by plexiglass, and plenty of hot, greasy dishes to boot. This place is a popular NYU hangout and also a regular stop on Adam Sandler's West Village jaunts, and it appeared in his film Big Daddy.

6. Tom's Restaurant
2880 Broadway, Manhattan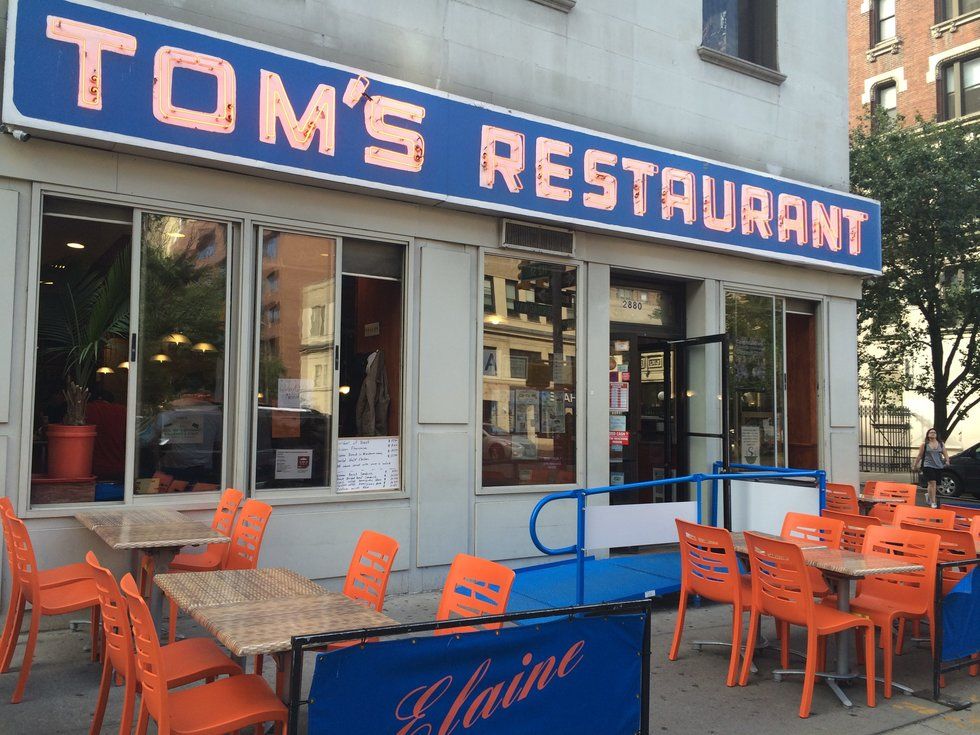 Image via Wordpress
This place is a popular haunt for Columbia students, but you might recognize its exterior from Seinfeld. It also inspired Suzanne Vega's "Tom's Diner." Today, the diner's food is admittedly not the best in the world (when sober), and it is on the pricier side, but it's perfect after a long night out—and the milkshakes are as bottomless as you could possibly dream.

7. Veselka
144 2nd Ave, Manhattan
Image via dnainfo.com
This legendary Ukranian diner is a bit of a departure from the traditional American establishment, but it's also one of the most famous 24-hour restaurants in the world. It serves traditional Eastern European food and has developed quite a cult following among New Yorkers due to appearances on Gossip Girl and many other outlets. Its borsch and pierogis are to die for, even more so in the wee hours of a winter night. Beginning as a newsstand that sold soup and sandwiches, it's blossomed to occupy the vast space it currently packs at all hours of the day and night.

8. Scotty's Diner
336 Lexington Ave, Manhattan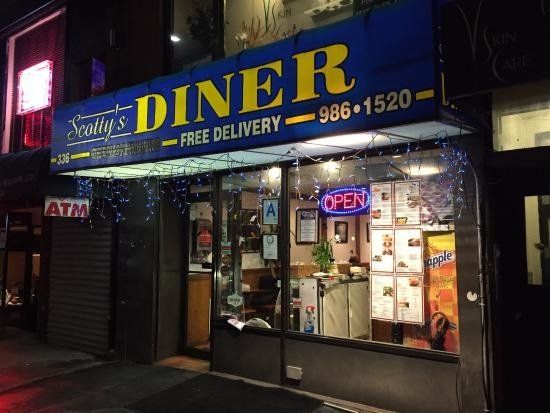 Image via Tripadvisor
This establishment offers the "best sandwiches in New York," according to its website. Whether that's true is up to your discretion, but Scotty's offers everything you need from a diner. Featuring breakfast at all hours, unpretentiously designed, fairly priced, and staffed by eccentric characters, it's sure to fulfill all of your 24-hour dining needs.

9. Bel Aire Diner
3191 21st Street, Astoria, Queens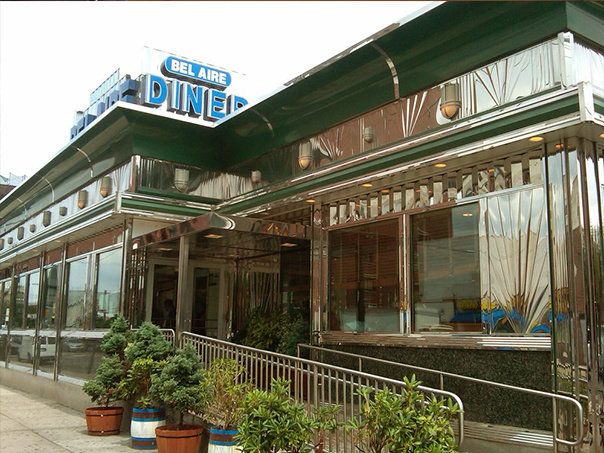 Image via Belairediner.nyc
This Astoria haunt has long been a staple of the community, serving up food to Jerry Seinfeld and receiving rave reviews from critics. In 2001 and 2005, The Daily News named it New York's best diner. This Greek diner is run by Argyris "Archie" Dellaportas, who immigrated to the US at 18 and opened the Bel Air in 1996; and he still makes his baked goods from scratch. But don't let all of its recognition raise your expectations too high: it's a standard diner, with booths, disorienting lighting, and plenty of vibrant patrons flowing through at all hours.

10. Chelsea Square
368 W 23rd Street, Manhattan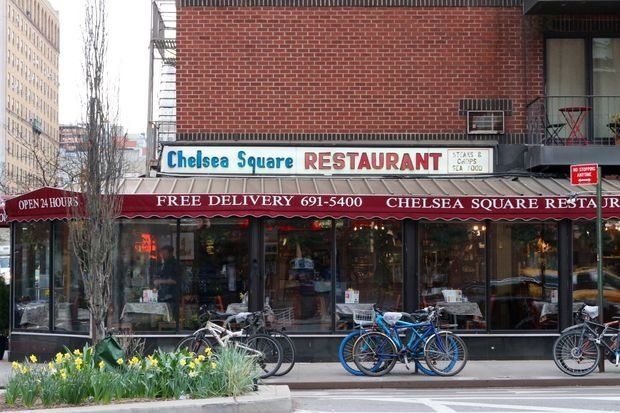 Image via eatsomesweet.com
This classic joint offers all the wonders that diners provide all night long, every day. Its speciality is disco fries, steeped in mozzarella and gravy, but of course you can get whatever kind of fare you want, be it coffee or a three-course spread. This diner was also the subject of an article by Tara Isabella Burton, who spent 24 hours in the diner and interviewed some of its patrons—including ex-actresses, strippers, drunks and couples on the edge of breaking up.

The stories she chronicled reveal the true magic of the NYC diner. It's not the food; it's not even the atmosphere. The magic is in the people that pass through—the wide-eyed artists and the veteran performers who remember a time when they paid $50 a month for their apartments; the drunks and the bankers; people from across the world and people who've lived in Manhattan their whole lives—all pulled into the fray of the city's electricity and drawn to diners when they need a brief refuge from the current.