You know the feeling: you've left your apartment, braved the subway delays, and struggled through a blisteringly hot heat wave or a frigid cold snap. At last, you make it to the café you marked on Google Maps—only to discover that there are no seats available.
To avoid this travesty, here's a list of 10 cafes where you're almost guaranteed to get a seat, confirmed by a local who has spent many hours searching for any form of empty space in New York. These haunts may not all be the fanciest, but hey, at least they won't leave you stranded in the cold.
(And yes, they all have free WiFi).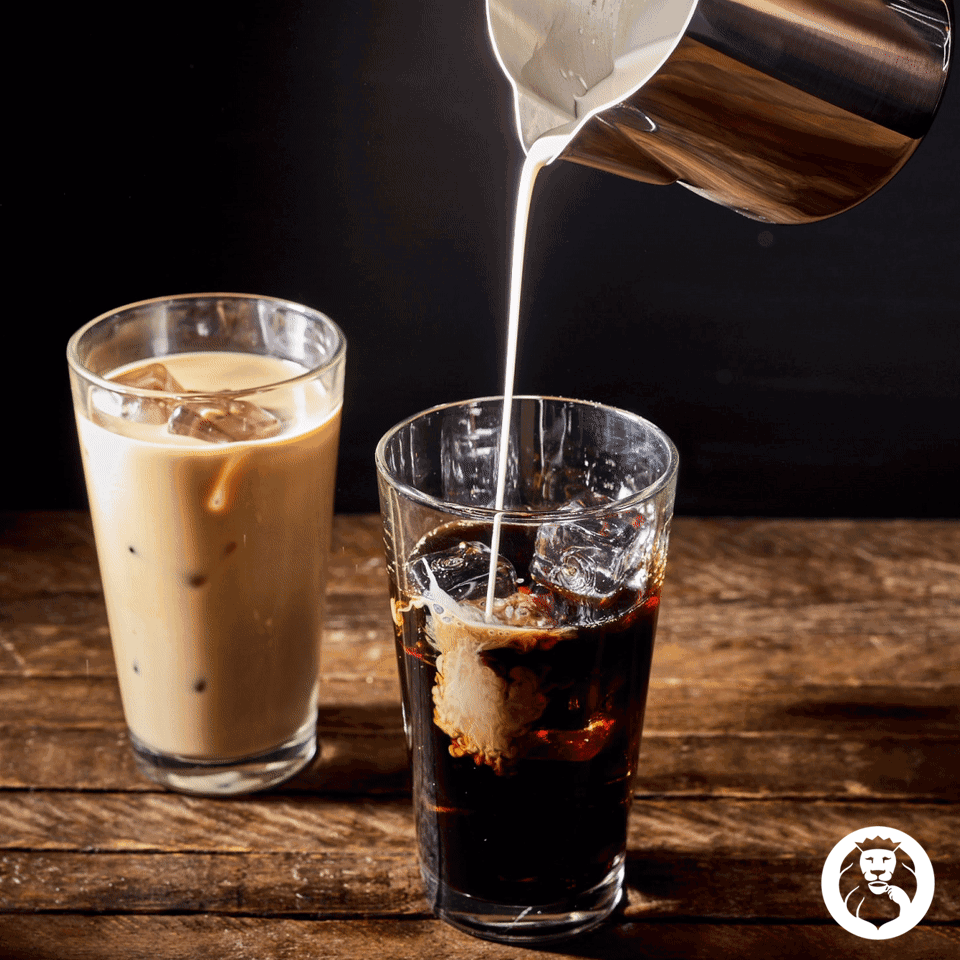 1. Caffe Reggio
Not only is this cafe quite spacious, it's also stunningly beautiful, and it's open until 3 AM every night. It can get crowded on some weekend nights, but you'll find a seat on most weeknights and afternoons. Outlets are scarce (there's one in the back corner, beside the ancient coffee machine) but other than that, Caffe Reggio—located on the historic, neon-lit Macdougal Street—is the perfect place for anyone seeking inspiration, caffeine, or a place to rest from the scorching heat.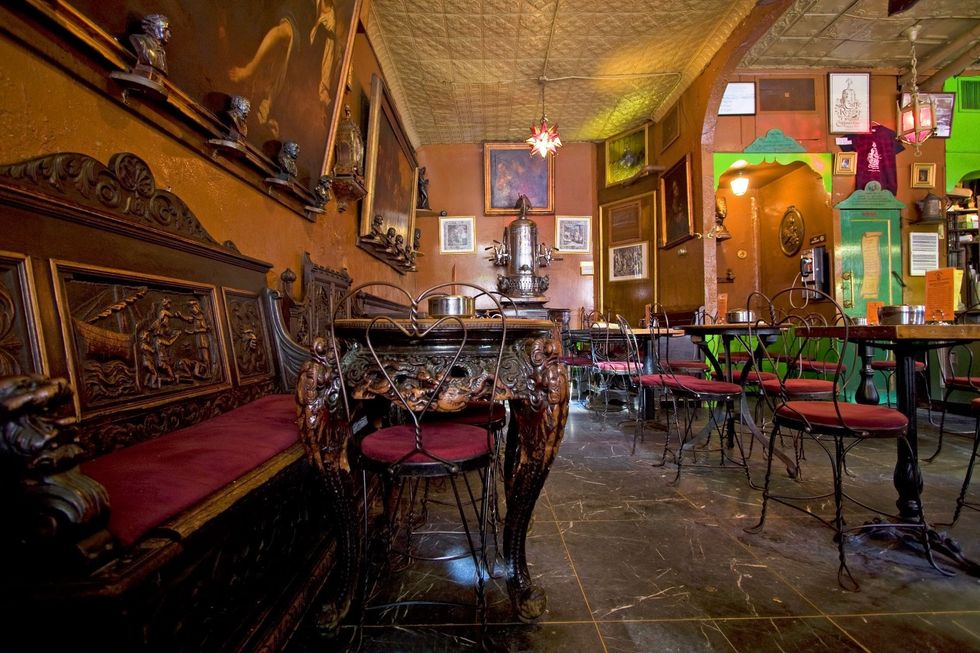 Image via Pinterest
Address: 119 MacDougal Street, New York, NY 10012
2. Variety Coffee
This cafe is located on Williamsburg's trendy Graham Avenue, and if you go, you're certain to run into a bevy of freelancers and their lattes. Variety is a mini-chain, but its Williamsburg location is particularly expansive; according to one reviewer, there's "always an empty seat." The Bushwick location also offers plenty of room, along with vintage charm.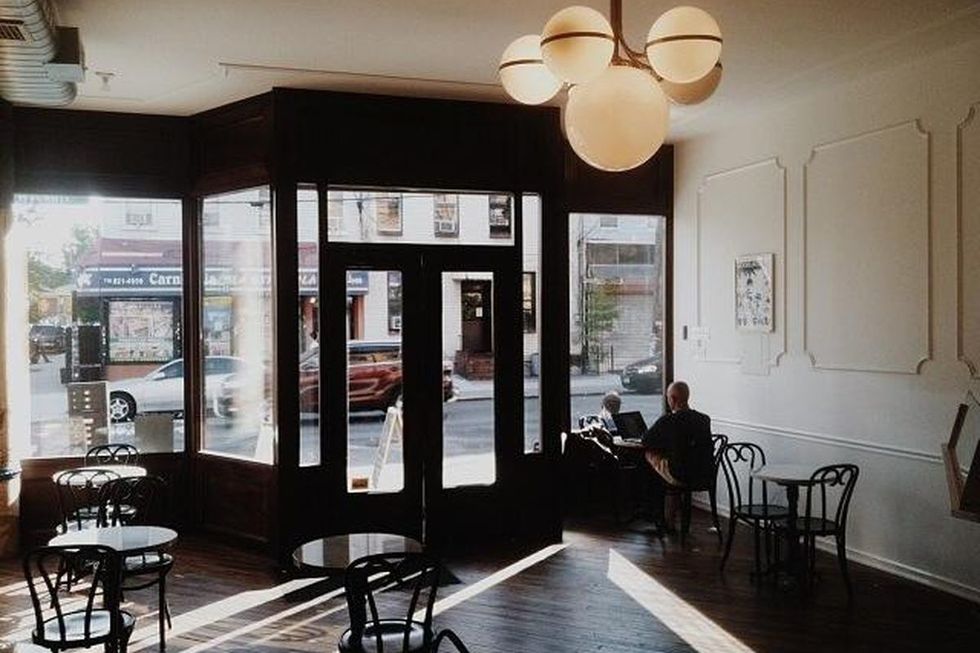 Image via Eater NY
Address: 368 Graham Ave, Brooklyn, NY 11211
3. Think Coffee
This classic chain is located all over the city, but its Union Square location in particular always offers plenty of seating. You'll find great WiFi here, along with plentiful outlets, and you'll probably run into a bunch of other laptop-wielders gathered around its small circular tables, tapping away.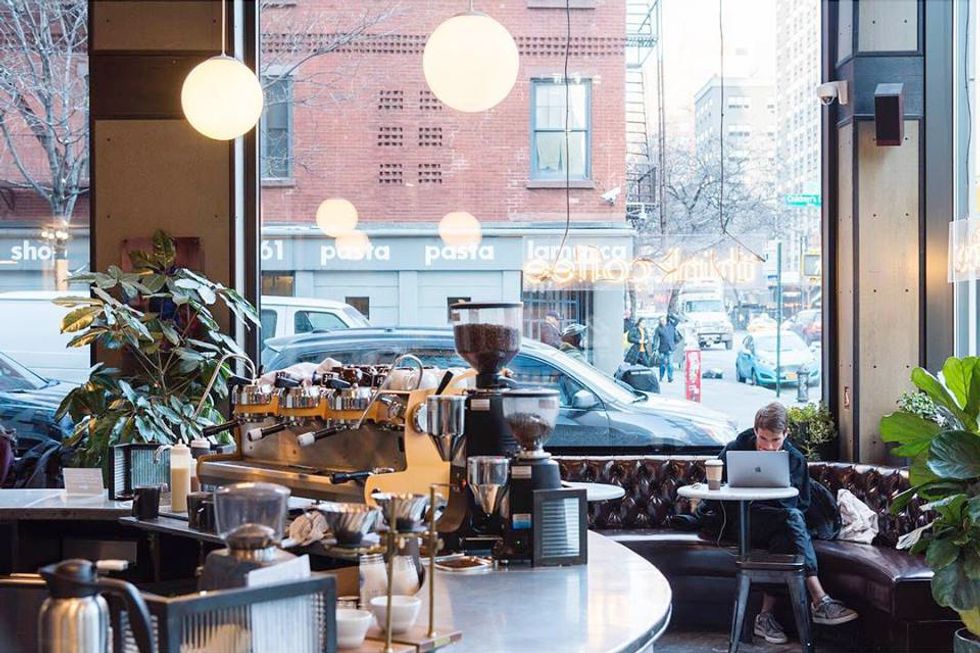 Image via What Should We Do
Address: 500 W 30th St, New York, NY, 10001 (& many more)
4. Caffe Bene
While not the fanciest of cafes, Caffe Bene is a reliable option for when you don't want to risk the awkward walk of shame that happens when you enter a crowded cafe, look around, and stumble right back out. It's also a cheaper option and has plenty of outlets and WiFi, making it perfect for a long-term study session or a lunch break. Plus, the insides of all its locations are made of recycled materials.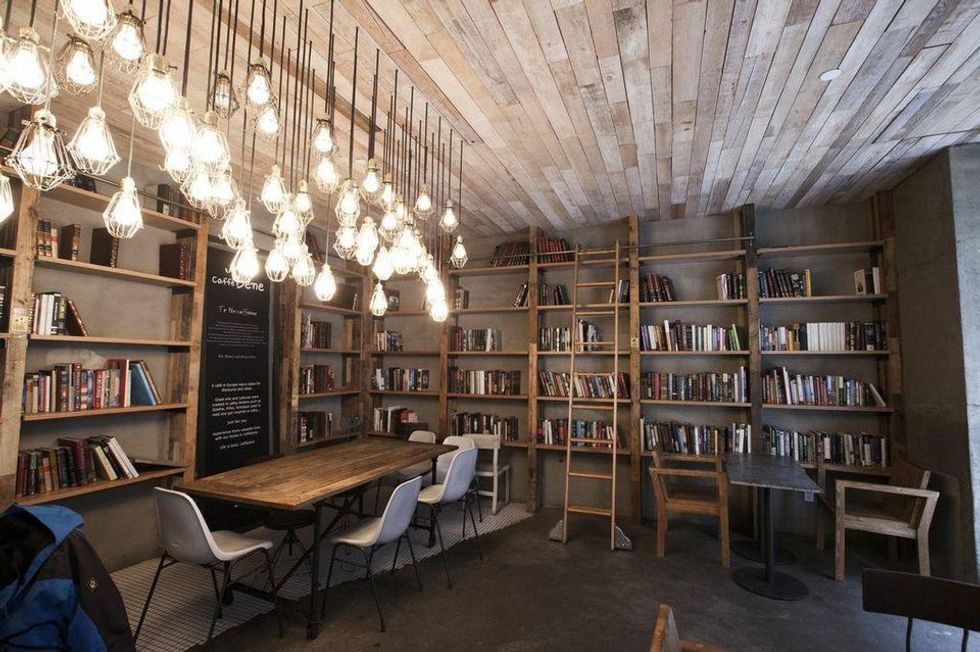 Image via Forbes
Address: 39 W 32nd Street, New York, NY 10001 (and many more)
5. Max Caffe
This uptown haunt is spacious, dimly lit, and decorated in a stately Victorian fashion, so walking through its doors can feel like slipping into the past. In the summer, it has outdoor seating that provides a distinctly Parisian feel, especially when you order a coffee and croissant. Indoors, the cafe offers regular dining tables in addition to its array of comfortable plush couches, and it's always playing an excellent, mellow soundtrack. Though you might not always land a couch to yourself, you can usually manage to find a nook amidst the elegant art, tarnished mirrors, and ornate furniture.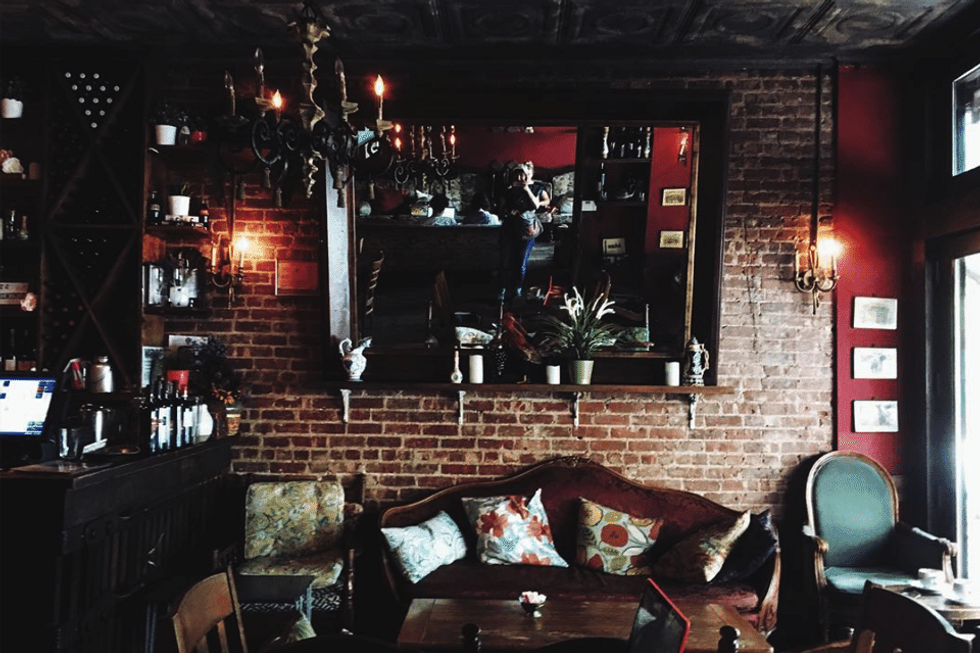 Image via columbiaspectator.com
Address: 1262 Amsterdam Ave, New York, NY
6. Ground Central Coffee Company
This cafe is a rarity, especially in midtown. Spacious and calm, it's an oasis in the midst of the chaos. With locations in Midtown West, Midtown East, FiDi, and Long Island, this cafe comes complete with bookshelves, giving it a quaint, literary feel. Soft, gigantic leather seats and ornate, old-fashioned wallpaper enhance the experience, which can feel more like slipping into a museum than into a NYC cafe.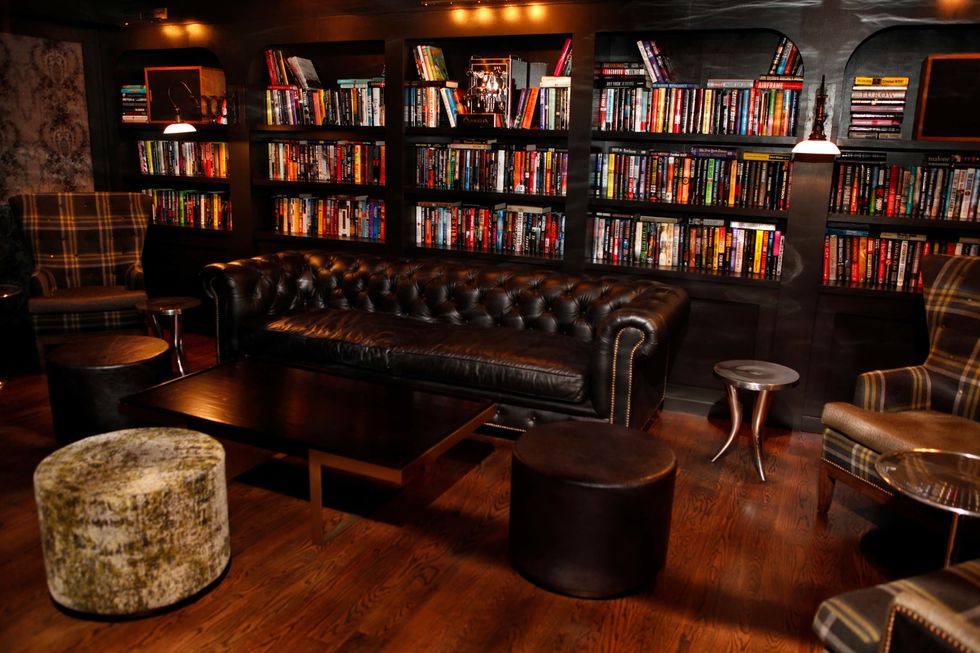 image via GroundCentral.com
Address: 155 E 52nd Street, New York, NY 10022 (and more)
7. The Black Flamingo
This little-known haunt is located all the way on the edge of Red Hook, Brooklyn, but if you make it out, you'll find a charming little cafe that's usually relatively empty and quiet, at least until dinner hours. Its art deco style and eclectic array of eerie vintage photographs give it a certain air of mystery, so if you're looking for inspiration for your next mystery or thriller, this just might be your place. Plus there's a garden in the back (and plenty of outlets for your laptop needs).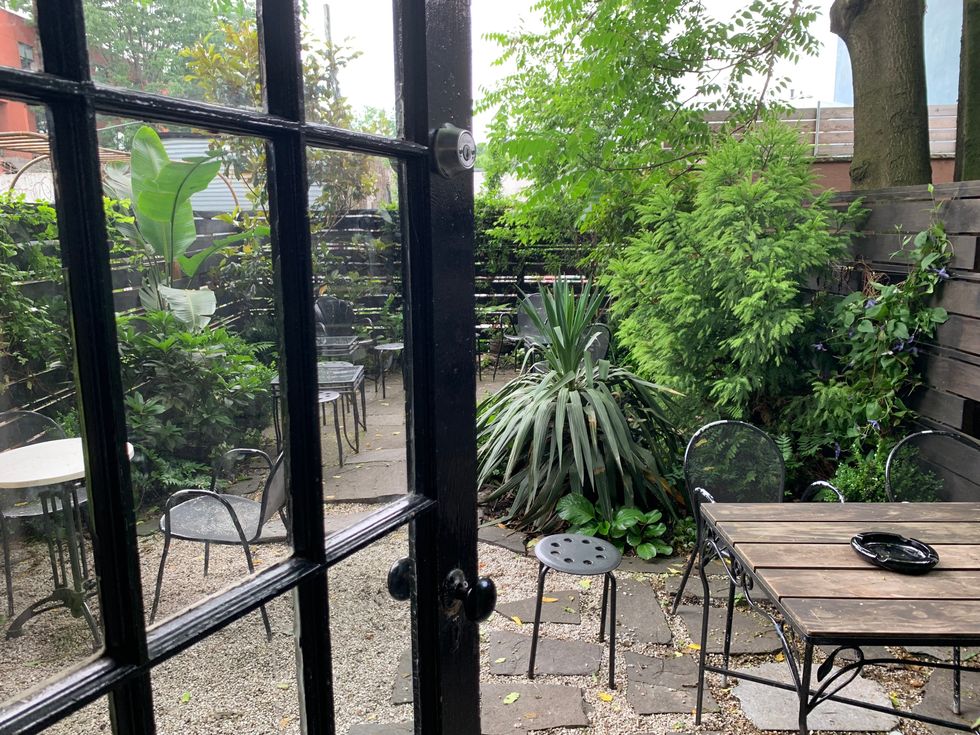 Image via Bklyner
Address: 281 Van Brunt Street, Red Hook, NY 11231

8. Ground Support
This spacious, airy SoHo cafe offers numerous seating options, from long wooden tables to bar and countertop spaces, as well as outdoor seating in the warmer months. Known for its matcha lattes, Ground Support boasts a chill, quiet, and light-fill atmosphere that's sure to do wonders for your productivity.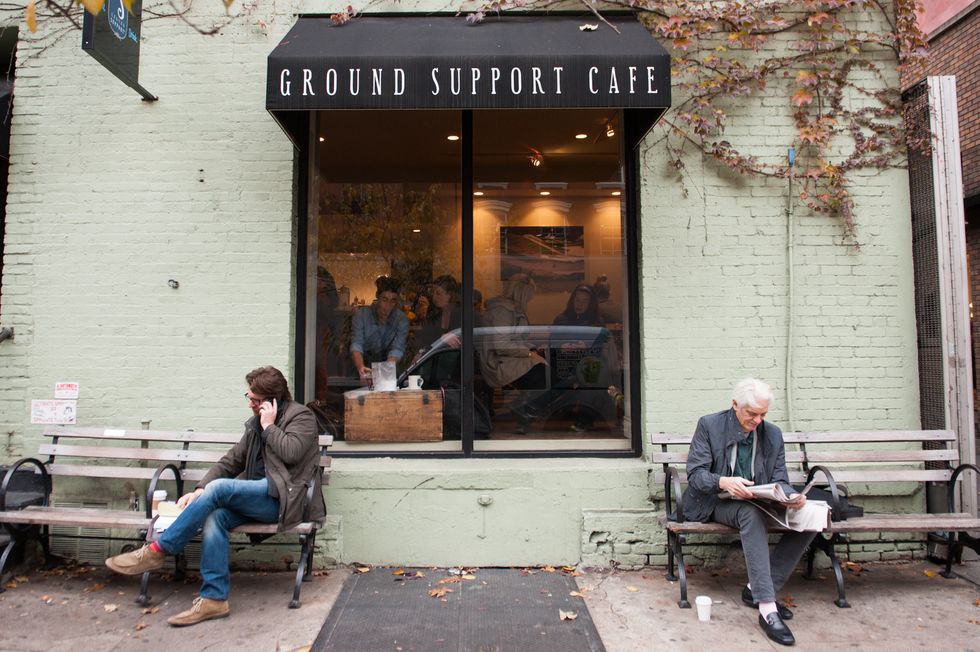 Image via Ground Support Cafe
Address: 399 West Broadway, SoHo, New York, NY 10012
9. Fika
This chain cafe offers a large number of tables along with delicious coffee and baked goods. Its large size and minimalist design (you'll only find grey and white shades here) presents a nice contrast to the often packed and dim quarters of NYC living, and the quality drinks and Swedish-inspired pastries will power you through the day.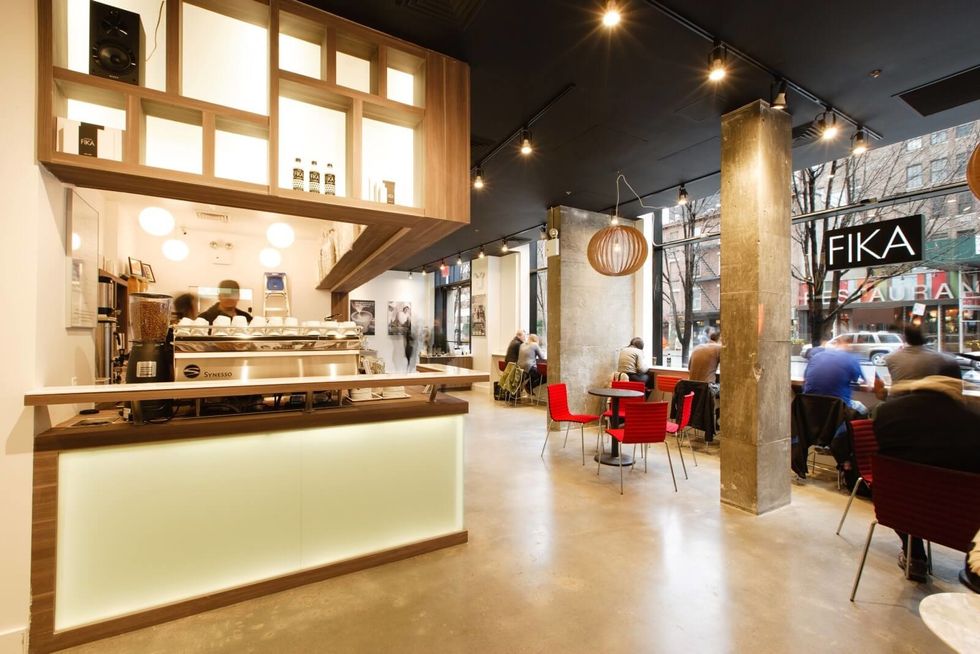 Image via Design 42 NYC
Address: 824 10th Ave, New York, NY 10019 (and many more)

10. Arlo Soho
This actually isn't a cafe—it's a hotel lobby, but during the day it doubles as a veritable coworking space for New York's army of freelancers. With plenty of chic indoor and outdoor seating arrangements, a cafe, a bar, a library, and a 24-hour timeframe, this gem is the perfect place to power through any to-do list. (It's also a great alternative to the gorgeous, but always crowded, Ace Hotel). Its pristine, futuristic vibe also makes it the ideal place to talk until the sun comes up, or take a break from it all and watch wealthy guests and travelers pass you by.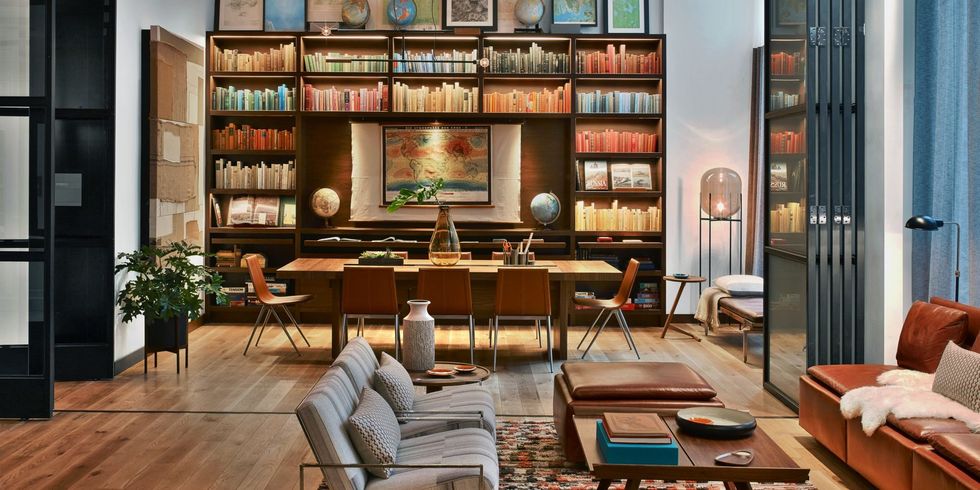 Image via Arlo Hotels
Address: 231 Hudson Street, New York, NY 10013