When we think about French food, often the first thing that comes to mind is what exists abundantly in the country's capital: crêpes complètes, palmiers, coq au vin, canard à l'orange. But beyond the Parisian staples that we all expect, the heart of French gastronomy is a little further south, in the city of Lyon.

The founding of Lyon dates back to Roman times, and it was the second French city established in the Rhone-Alpes region. Not only is it a major hub for transport from Paris to the rest of the South of France, but it has sites that rival those of Paris in beauty and grandeur. The 19th century Notre-Dame de Fourvière, Places des Terreaux, and Musée des Beaux-Arts are just some of the notable stops on your Lyon adventure. And while you might not think to come to this southern city over the City of Lights, if you're a serious foodie, you'll think again. From plentiful bistrots, to charcuteries, to Michelin-star restaurants, any food you try in Lyon will be nothing short of inspiring. To those who know the names Bocuse and Boulud, you'll definitely want to read on.
Lyon's history of gastronomy dates back to the time of Catherine de Medici. Born in 1519, the Florentine noblewoman married Henry II and became the Queen of France from 1547 until 1559. One of her most important duties as queen was to arrange for her skilled chefs to prepare unctuous meals inspired by the region's lush agriculture. Lyonnaise cuisine developed into a culture inspired by the spoils of game hunting, seasonal vegetables, and of course, abundant local wines from the famous Beaujolais and Rhone Valley.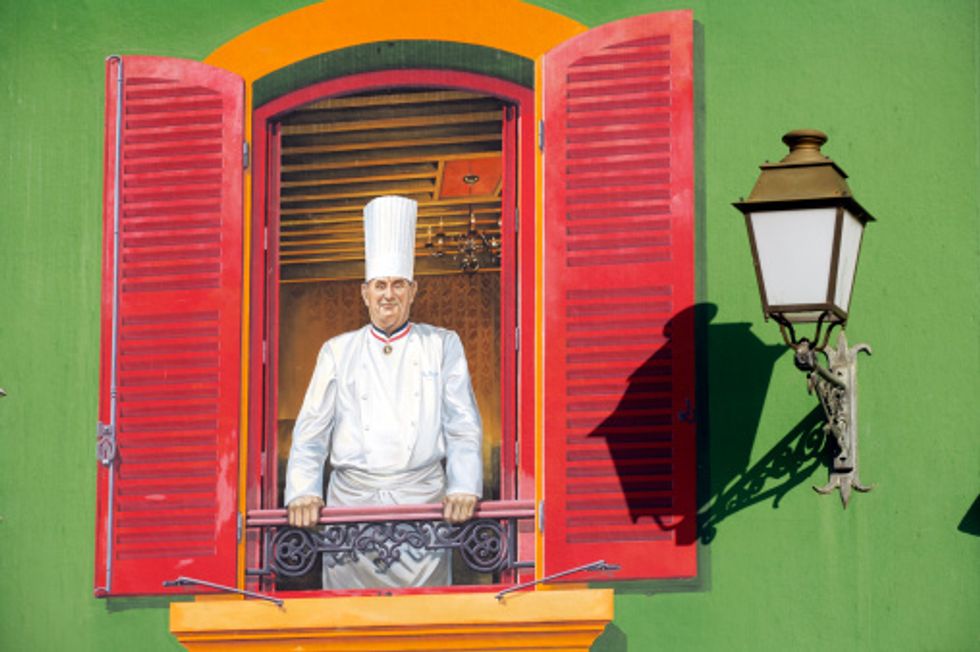 Oliver Strewe
One of the most recognizable name to any Lyonnais is Bocuse. Paul Bocuse is considered to some, the man who started it all. His famous soupe aux truffes was good enough to serve former French president Valéry Giscard d'Estaing at the Elysée Palace in 1975, and eventually became a staple at his restaurant called Soupe V.G.E.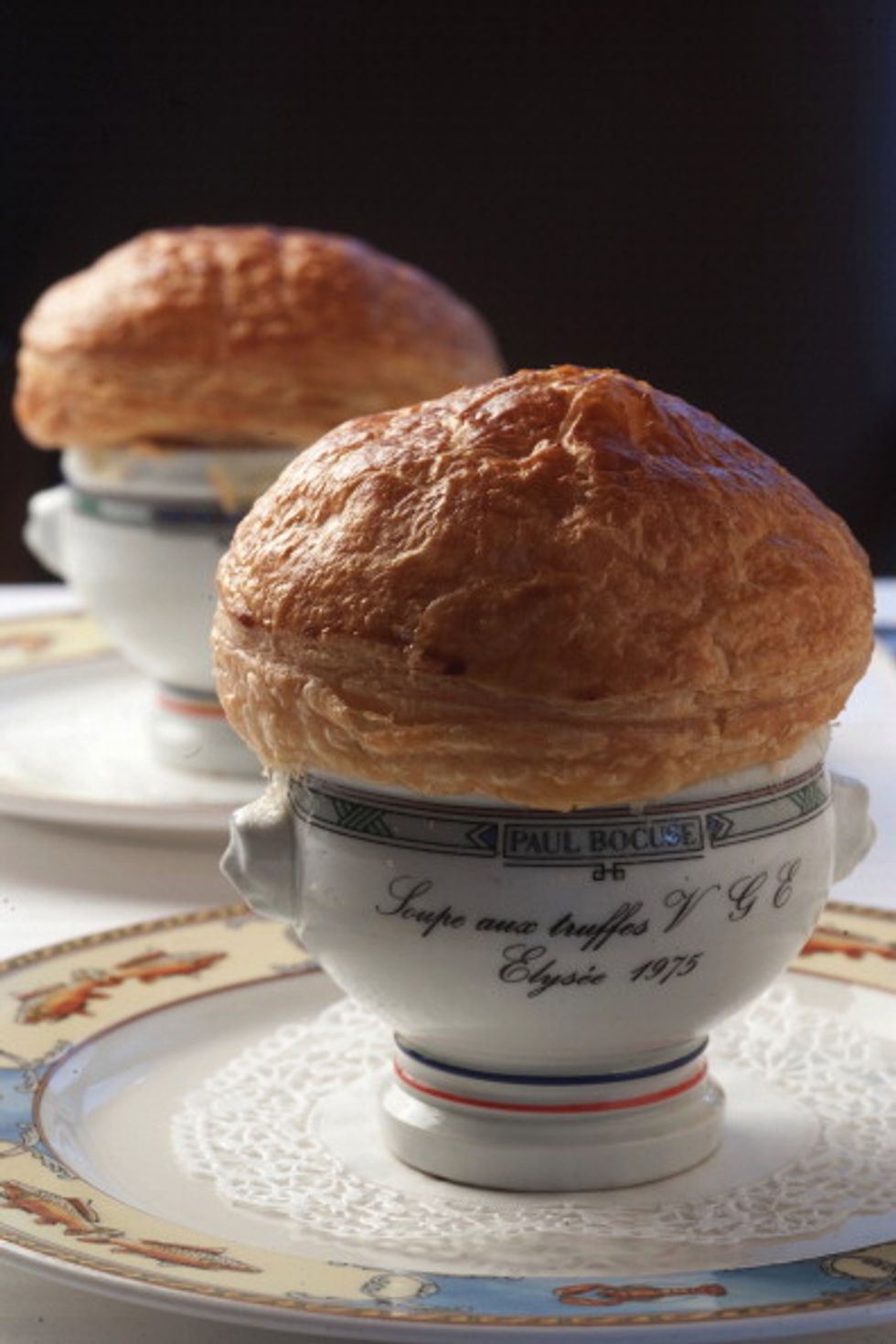 Maurice ROUGEMONT
The now 90-year-old chef was taught under the watchful eye (and sensitive tastebuds) of Eugénie Brazier, known as La Mère Brazier. She was, quite seriously, the mother of all food, and the first chef to hold 6 Michelin stars at once! Paul Bocuse became her most successful ingénu a generation later, and the father of nouvelle cuisine. He was even the namesake of one of France's highest culinary distinctions, the Bocuse d'Or. And perhaps one of the most famous chefs of our time, the Lyon-born Daniel Boulud, is in line to become Bocuse's culinary successor.
At the banks of the Saône river, slightly north of Lyon, you'll find a building that looks like it jumped out of your favorite fairytale. It's called L'Auberge du Pont de Collognes. But this "inn" is anything but representative of its humble title. It's more like Le Château du Pont de Collognes.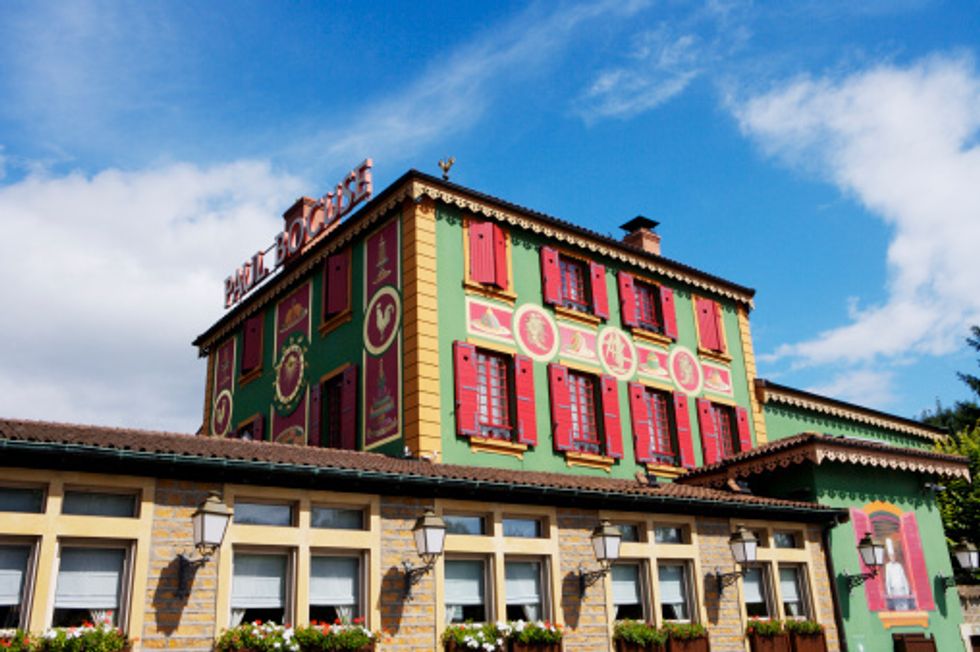 Oliver Strewe
This is a restaurant that has not just one menu, but three: "Classique," "Bourgeois," or "Grande Tradition." One of the most impressive and prized French recipes is the Bresse chicken cooked ả la Mère Fillioux. A truffled chicken is delicately placed inside a bladder, which is expertly inflated and boiled in flavorful broth. The divine presentation can serve 2 or 4.
Another stunning serving, and favorite of Anthony Bourdain, is the sea bass stuffed in puff pastry with Choron sauce. Think Beef Wellington, but better. This fresh fish is cooked inside a pastry that is carved with fish scales and decorations to look like a piece of art. This 3-Michelin star restaurant has classic formal French service in a gorgeous dining room fit for Catherine de Medici herself.