There are few things that signify the start of summer like day drinking on picnic blankets. This is exactly what's promised at Pinknic, New York City's definitive rosé festival. The rosé-themed picnic is back for the third time this summer, and promises to cover Governor's Island in pink and white-clad wine and music lovers. This year's Pinknic takes place over two days (June 30th and July 1st) and promises to be the best party of the summer. In fact, the beverages aren't even limited to just rosé this year. There is, of course, frosé, which is basically a wine slushy, but this year's Pinknic will also feature a number of bars, all of which will be creating different pink-themed cocktails.
Obviously, alcohol is best paired with a good meal, and in this regard, Pinknic really delivers. Featuring a bevy of foodstuffs from various (unannounced) New York eateries, the creators of Pinknic are clearly committed to bringing the best food imaginable. If last year's event is any indicator of what to expect in 2018, there will be both prefix meals, and food stands readily available. There should be enough food around the festival to stuff everyone to the gills. Last year featured food baskets created by Chopped winner and New York-based chef, Chris Santos, and considering their commitment to raising the bar each year, one can assume that Pinknic's food in 2018 will be just as good, if not better, than it's been in years prior.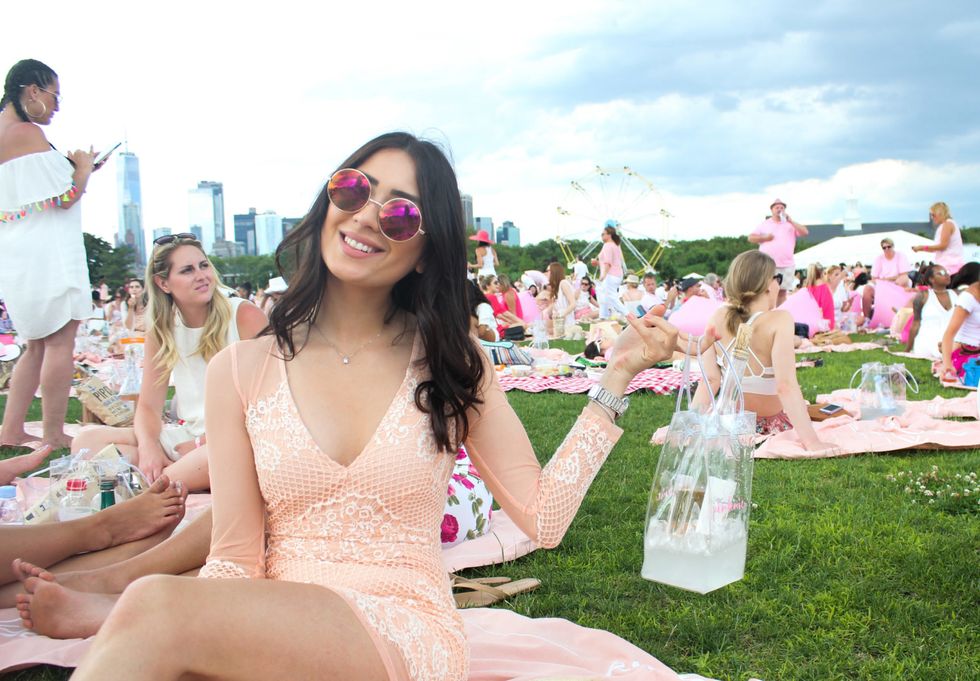 Gift baskets!
Still, neither the amazing food nor the plentiful drinks are the star of the show. Pinknic also features an amazing musical lineup, including acts such as Hayden James, Great Good Fine OK, and C.M.A, and headlined by EDM artists Autograf and Klingande. On top of this, every musician plays both days, so there's no worries if you can't see everyone on your first trek out to Governor's Island. According to Pinknic's creator Pierrick Bouquet, the event is more of a celebration of rosé than a serious wine tasting. "It's more like a mini-Coachella plus rosé than, say, la Cité du Vin plus music." With fun in mind, Pinknic includes a pool with a lounging and tanning area, a ferris wheel with great views of New York's skyline, and an incredible fireworks display at the end of each night.

With so many great perks though, Pinknic can actually get pretty expensive. Regular admission tickets are $115 and only really include access to lawn and music. The ferris wheel is pay to ride, and none of the food or drinks are included in the ticket price. These regular admission tickets also only get you access to one day of the festival. The next tier of tickets is the Garden VIP, which costs $215. This gets you priority seating, early access to the ferry to and from Governor's Island, and access to some of the more posh food stands unavailable to those with general admission tickets. You also get to ride the ferris wheel for free! If you want to drop an extra $100 you can get all of the perks associated with the Garden VIP tickets, as well as access to the pool. It's also worth mentioning that both VIP passes get private bathrooms, but this hardly seems like a perk considering how many VIP tickets are available.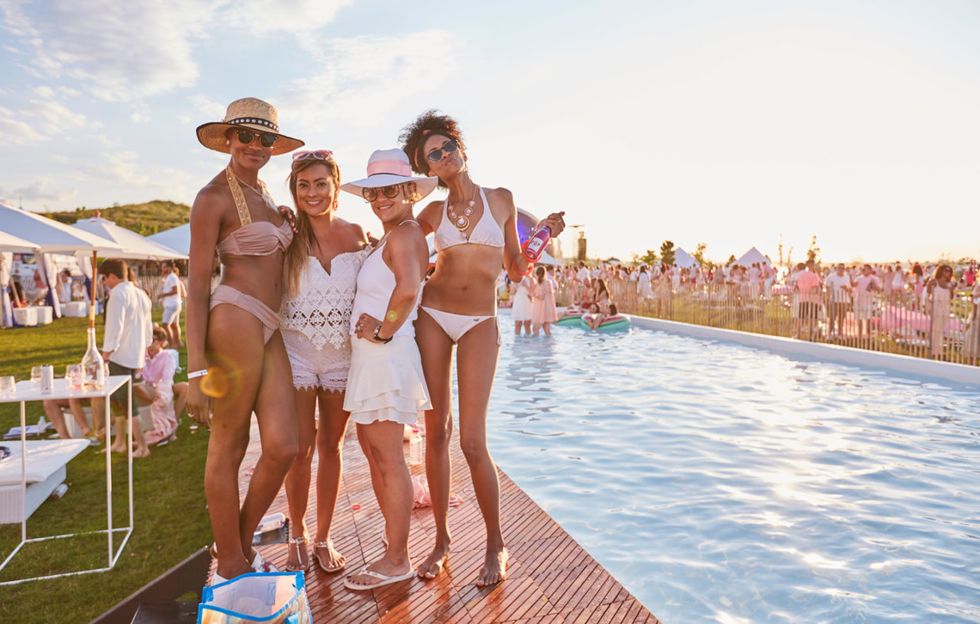 Hanging out poolside
Now, if you're really trying ball out, you can split the Les Cabana and Pool combo with ten friends. It costs $5,000, but it comes with two 3 liter bottles of rosé and gives you access to a very private VIP lounge, with full view of the stage. That said, at five times the price of general admission, this combo deal is more of luxury than a necessity. Whatever your price point though, you should probably grab tickets sooner rather than later; they're going pretty fast.

Before you go though, make sure you stop at Banana Republic or Tommy Bahama, as Pinknic's dress code (pink and white clothes only) is mandatory for everyone in attendance.
Matt Clibanoff is a writer and editor based in New York City who covers music, politics, sports and pop culture. His editorial work can be found in Inked Magazine, PopDust, The Liberty Project, and All Things Go. His fiction has been published in Forth Magazine. -- Find Matt at his website and on Twitter: @mattclibanoff