New York City's Metropolitan Museum of Art holds a massive collection of art from all of history and from all around the world. From Egyptian mummies to Picasso paintings, you can find it there. Sometimes, though, it pays to look past the museum's famed pieces and discover something new. It might inspire awe or surprise; it might change your mind about a style or frighten you; it might even make you laugh or inspire you to create. Admission to the Met is always by donation (you choose the amount), so it's a perfect place for adventurers of any financial standing or artistic experience to begin searching for something new and exciting. To start, here are some of the Met's best hidden gems.
PixCell-Deer #24
One of the Met's most astonishing and disquieting pieces, PixCell-Deer #24 stands in the Asian Art wing on the second floor. A 2011 sculpture by the Japanese artist Kohei Nawa, it strikes you with surprise and wonder when you walk into its tiny room. It is a taxidermied deer, standing with tall antlers and head turned back to look behind it at the entrance to the room. The artist's strangely beautiful contribution is the addition of hundreds of "PixCells"—glass balls of various sizes entirely covering the deer.
The deer's stance is confident or cautious, depending on your perspective. It's head is raised high and its antlers tower mightily. But the glass balls alienate the animal and their varying sizes change its form and silhouette. The result of the artist's work is uncomfortable while retaining its natural element, especially when standing in the deer's line of vision. That is an eerie experience that should not be missed.
Noguchi's Water Stone

In a quiet corner of the Japanese room, past what is currently a beautiful collection of bamboo sculptures, peacefully sits Isamu Noguchi's Water Stone. Out of boulder that has been hollowed out in the center and flattened on top flows silent, calm, uncaring water. The stone was placed to be as close to perfectly level with the center of the Earth as possible. The effect of that precision means that the water, which is pushed up from the bottom by a pump, flows out of the hole in the center and across the surface of the Stone equally, in all directions.
The water is a mirror on top that reflects the gorgeous wooden fence behind it. Surrounded by clean, smooth river rocks, the Water Stone embodies peace, quiet, patience and natural beauty in what can often be a crowded, bustling museum building.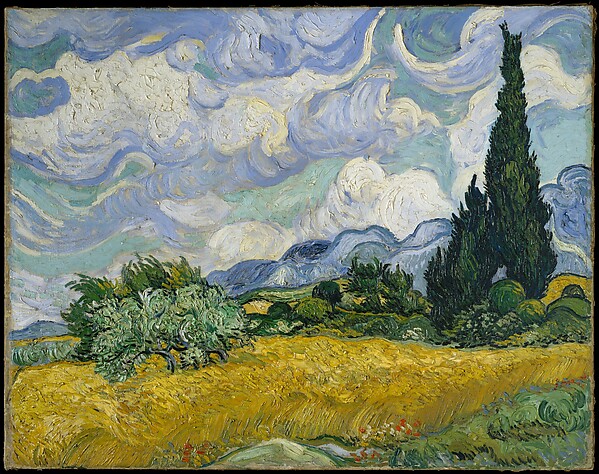 Wheat Field with Cypresses
On the second floor, in the Annenberg Collection of "Nineteenth- and Twentieth-Century Masters" (Gallery 822), is a painting of some trees. They are trees standing, under a swirling blue and white sky, amid lush, blowing grasses and they were painted by Van Gogh in 1889. Van Gogh called Wheat Field with Cypresses one of his best landscapes and loved it enough to paint three other versions. This oil-on-canvas piece is the initial study from which the others were created.
It's a gorgeous contrast of dark green cypresses and yellow wheat under Van Gogh's signature swirls. Head to the Annenberg Collection and start with this landscape for an energizing start to your exploration.
Ready for a laugh?
The Luce Center Visible Storage in the American Wing is also called Gallery 774 and is a collection of over ten thousand pieces of American art in every form—paintings, sculptures, furniture and tons more. It, for the adventurer, is one of the great secrets of the museum. After you've passed through the Egyptian rooms and past the Temple of Dendur, or skipped the Medieval Age and most of the main American exhibits, and you've ascended a small staircase near the corner of the museum, you finally uncover the grand closet that is Visible Storage. It's rows and rows and rows of pieces of art in storage behind tall glass. Many pieces' titles and authors are listed but you won't find much more description without some internet research. The mystery makes it all the more fascinating.
Some pieces at the Met are shocking for their grandeur, or their beauty or their precision. But hidden in Visible Storage is a painting that's shocking in a different way. The picture on your screen won't do it justice, but in person it is likely one of the ugliest paintings you'll ever see. This is Boy with Blond Hair.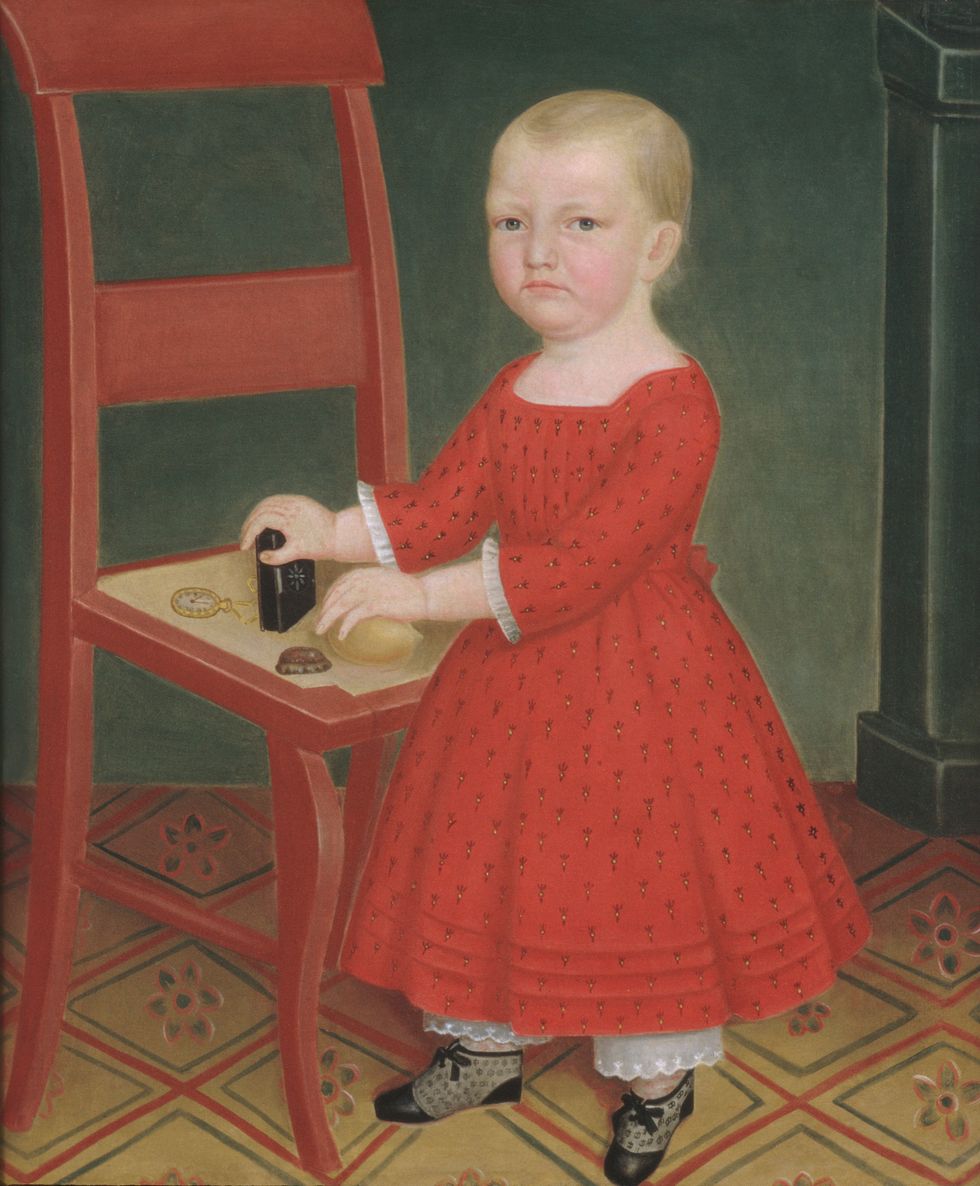 Boy with Blond Hair. (Photo Courtesy Metropolitan Museum of Art)
It is a blonde-haired toddler wearing a patterned red dress and a face that could be that of a miserable adult male, fitted onto the head of a three-year-old. This is an uncredited painting, in a museum, that once again asks the question: why was it so difficult to paint cute babies? This oil painting is from 1840, long after both the ugly medieval babies and the cuter Renaissance kids. The child looks positively disgusted to be holding, what are those—a lemon and a diary with a compass on the front? An onion and an 8-track? Bizarre.

It's a wonder of ugliness that must be witnessed in person.
Also in visible storage is an incredible sculpture, a magnificent bust, not Julius Caesar or Marcus Aurelius or King Blah-Blah-Blah, but of a man screaming.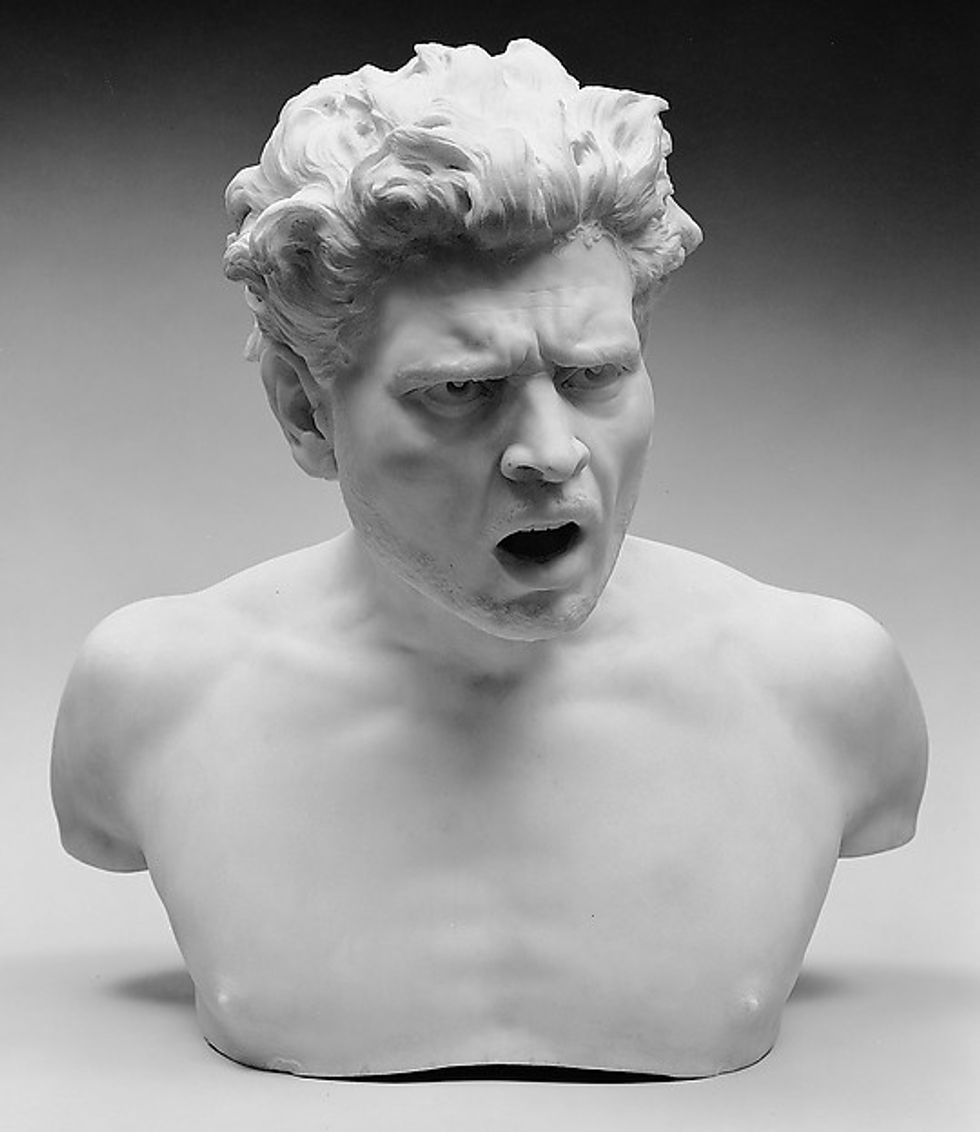 Cain by J. Stanley Connor. (Photo courtesy Metropolitan Museum of Art)
Upon further research, it turns out that it is a bust of a famous figure. This is Cain, by J. Stanley Connor, a New York City native who briefly made a name for himself in Florence, Italy. This is the artist's only located work but, really, it isn't necessary to see any others to declare this his magnum opus. How often do you see teeth on a sculpture? What other bust looks so much like a hungover man, mid-yawn, head pounding, after waking up and shuffling to his bedroom window to burn his eyes with morning sunlight? I imagined the first murderer looking more furious, or evil, and certainly less confused.

The Met is full of wild, amazing, confusing and purely comical pieces of art from all over the world. Go, search its depths for the strange and the stunning and comment below with your favorites.