Have you ever secretly thought to yourself, "isn't all wine basically the same?" It's a huge conspiracy dreamed up by the wine industry to sell a whole bunch of different types?
You probably just keep buying 'second cheapest' Merlots. We love a good conspiracy as much as the next media site, but it's simply not true.
It can be daunting to try new wine varietals, especially if you've never had anything that's really wowed you. To finally find your "this is incredible" wines, there's Tasting Room.
They've mastered the wine algorithm to determine what you'll like based on your previous selections.
Here's everything you need to know about The Netflix of Wine.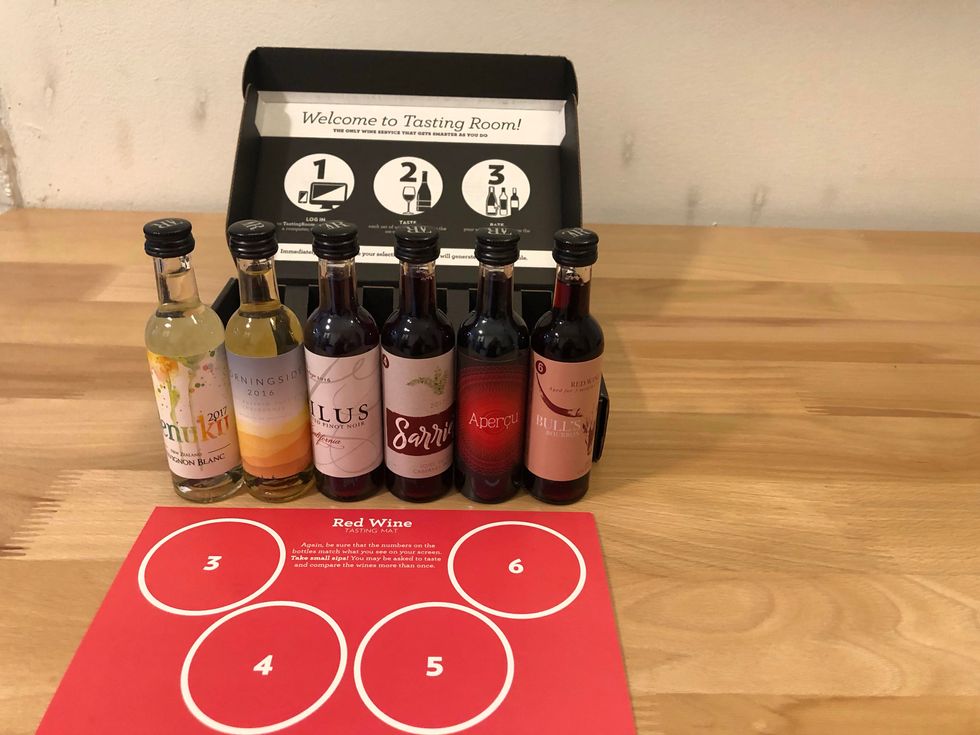 How does Tasting Room work?

First, you take the shortest wine quiz ever. Then, they send you 6 miniature bottles for $6.95 that span the palate - you might even hate one! You rate them in head-to-head match-ups designed for wine beginners, and that's how they help you find the wines you'll love.
Tasting Room's wine experts create a wine profile for you: it's a handy-dandy guide that points out the types of wine you tend to enjoy, what regions they come from, and even the foods they pair well with.
After your initial tasting, you'll receive a 12-bottle variety case of wines tailored for your preferences. Keep rating your bottles as you drink them, so that your bottles keep getting better and better!
How often do they deliver?
Okay, this is the best part. Unlike other monthly wine clubs, Tasting Room ships you wine whenever you like! You can easily customize your frequency, date(s), size, and contents on the site.
With Tasting Room, you have complete control over how much and how often you receive your wine; the experience is all about learning what you want.
What if I get a wine I don't like?
Every bottle comes with a total satisfaction guarantee. If you ever receive a wine that doesn't match your taste preferences, they will replace it or issue you a wine credit for another bottle from the extensive collection on the site.
What does it cost?
Each bottle works out to be less than $13, and you can cancel at any time.
Oh, is that the catch? It's really cheap wine?
When you buy wine in a retail store, it's usually marked up 200 - 300% by importers, distributors, and retailers by the time you drink it. Tasting Room cuts out these middlemen, saving you up to 60%.
It's high-quality vino, delivered in a way that makes it less expensive for you.
Wine doesn't get more affordable and more delicious than this. The fastest-growing wine club in the nation, Tasting Room delivers stellar recommendations that will completely change the way you experience wine.
Update: Follow this link, to get your wine tasting kit for just $6.95 ($33 in savings)!