For the francophiles among us who lack both funds and free time, Paris can feel as far from New York as the moon. Still, New York City has a reputation for having some of the best French restaurants in America, and the list of top-notch choices is staggeringly long. Le Bernardin and Daniel both have Michelin stars (three and two respectively), and there are plenty of other famous spots of note; Balthazar, The French Laundry, and LeCoucou to name a few. Whether you prefer Haute Cuisine or bistro-style dining, the city is saturated with so many wonderful eateries, it becomes entirely too easy to overlook perfection. This is undoubtedly the reason why Quatorze Bis, a fabulous little bistro located on the Upper East Side, never seems to make into articles about the city's best French joints.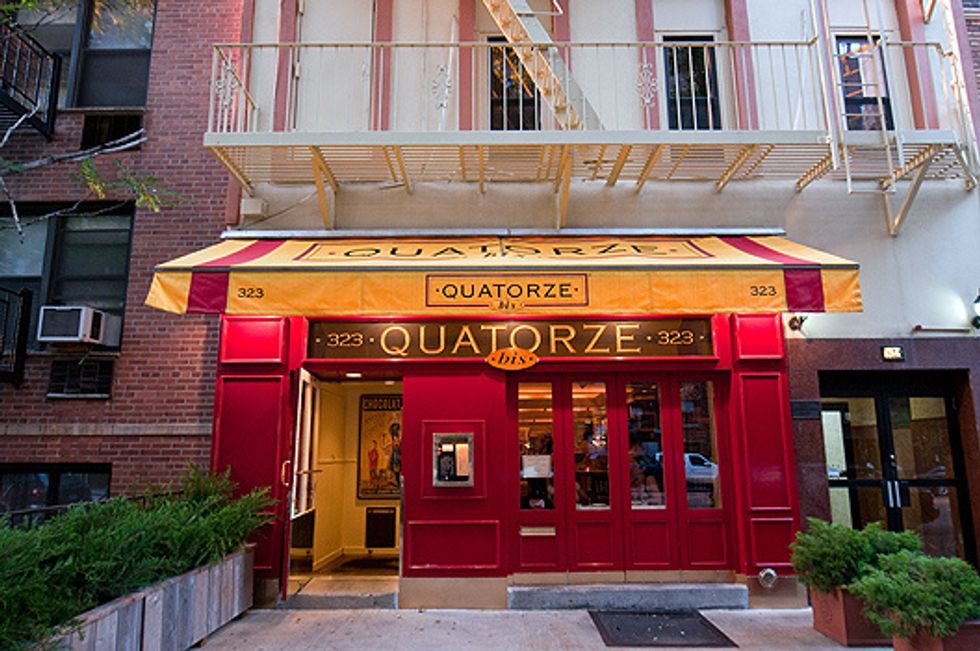 Quatorze Bis' french-style storefront
Founded in 1984 by Mark Di Giulio and Peter Meltzer with the goal of creating an intimate mirror image of a classic Parisian bistro, Quatorze was originally located, aptly, on West 14th street. In 1990, Quatorze moved to its present home on East 79th and renamed itself Quatorze Bis (Fourteen Again). In an article with the New York Times, Di Giulio said the move was prompted by large-scale construction around the restaurant, saying that it was devastating his business. It seems he was right, as they've been open on 79th street for almost thirty years in a city where turnover is so high that restaurants seem to serve their first and final entrees in the same week.
The interior of Quatorze Bis is beautiful but understated, and white walls with wooden slats covered in French pop art give the dining area both a refined and cozy atmosphere. It seems like the kind of place where any group of people, from bohemians to financiers, could split a bottle of Bordeaux and talk until the evening disappears under a sweet wine and profiterole haze. The owners are almost always in the restaurant and the service staff aren't a bunch of stuffed shirts, silently handing you plates. There's a geniality about the place, as if dining there functions as a special invitation to club you didn't know you wanted to be a part of. Don't be alarmed if you find yourself suddenly remembering parts of that intro-level French course you dropped in college. It's just your subconscious trying to tell you that you're home. And, that you want to become a regular.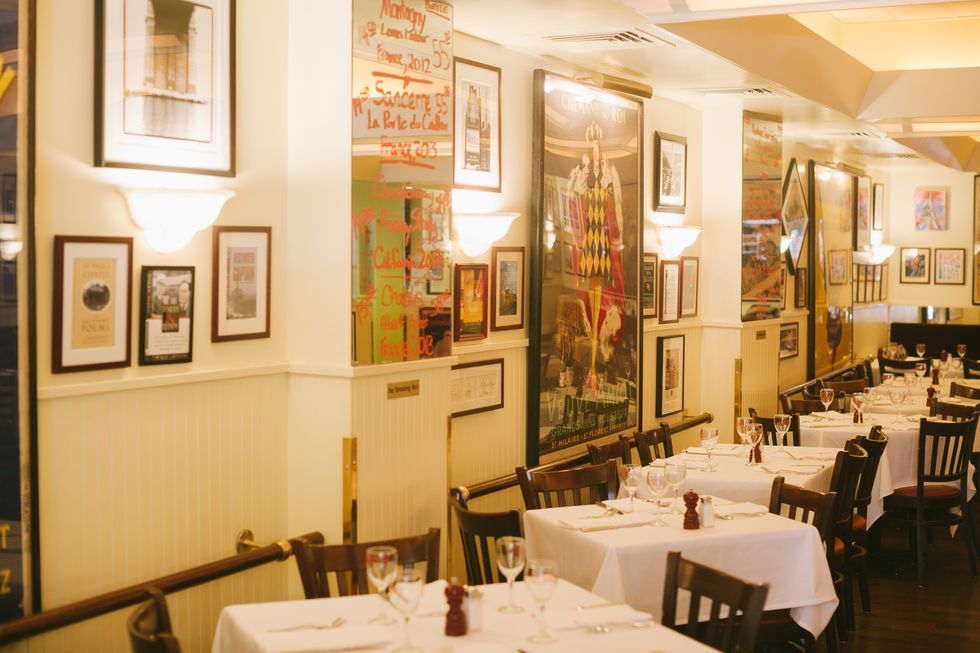 Straight forward, and delicious
The menu itself is minimalist, a single page full of classic French dishes from duck confit to boeuf bourguignon,each one as delicious and doused in butter as the last. The gruyere tart is the standout amongst the appetizers. The homemade pie crust cracks and flakes perfectly into the bacon, leek, and cheese lagoon at its center. As for the entrees, I'm a firm believer in the idea that a French restaurant can be judged solely on the quality of its duck dishes. While the confit certainly feels more Parisian and stylistically French, the real winner on this menu is the braised duck notre façon. Perfectly cooked and remarkably tender for a duck breast, this dish is absolutely Quatorze's crown jewel. Though their menu suggests the choucroute garnie–which is also delicious–as the house speciality, in my mind the duck reigns supreme. Moving on to the dessert menu, you'll notice that it's just as sparse as the entree page, and includes a wonderful apple tart, poached pears, and flan, but come on, you're eating French. Get the profiteroles. Quartorze Bis also offers an extensive wine list, if you're looking to drink while you eat. Though some of the prices can seem a bit daunting, it's worth noting that the house red, a Côtes du Rhône is absolutely wonderful and can be served by the glass, half-bottle, or full bottle.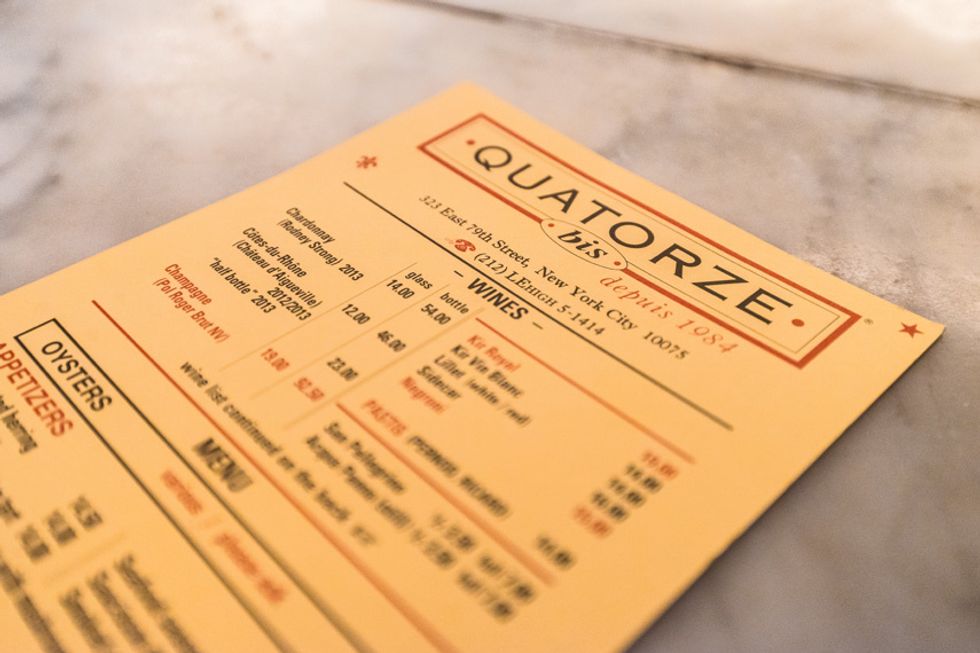 Quatorze Bis' one-page menu
From a price standpoint, Quatorze Bis, might not be everyday fair for most us, but it's well worth the money if you're looking for a place to spend a special evening. That said, when comparing it to the rest of the French food in New York, it's prices are actually fairly moderate. Whether you plan on becoming a regular, or just want a new place to wet your whistle and grab a bite, this hidden gem is a well worth checking out. The Upper East Side may not be the trendiest neighborhood, but that doesn't mean they don't have some of the best food.
---
Matt Clibanoff is a writer and editor based in New York City who covers music, politics, sports and pop culture. His editorial work can be found in Pop Dust, The Liberty Project, and All Things Go. His fiction has been published in Forth Magazine. Website: https://matthewdclibanoff.journoportfolio.com/ Twitter: @mattclibanoff