"Santacon is the one day a year that proves while Santa may exist…God certainly doesn't." - Colin Jost
A few months ago I must have been in an exceptionally good mood. My friend suggested that we attend Hoboken Santacon for her birthday and I said yes. Since Covid canceled our plans last year, why not try again?
When my friend group started talking about it, we somehow decided that we should not only attend Hoboken…but Santacon in NYC held the weekend before. How quickly the tides turn.
A mere $25 donation to NYC Santacon affords you a wristband that gets you into the hottest bars participating - allegedly. A second $20-$30 ticket to Hoboken Santacon promises the same thing…but there's a catch.
Somehow, Hoboken is split between two rival Santacons: The Official Santacon Bar Crawl and HoHoHoboken Bar Crawl. Good luck choosing which one you'd prefer, because I sure couldn't.
Every person I told that I was going to Santacon looked at me with equal parts pity and worry. "Oh, I'm so sorry," they'd muse. "Why would you do such a thing to yourself?" TBH, I couldn't give them an intelligent answer, I'd already accepted my fate.
In fact, I don't think I had genuinely heard one person say something positive about the whole Santacon experience. For locals in the area, this is the worst day of the year. The day they want to be far away from the city.
As many as 30,000 people attend New York City Santacon in any given year. 30,000 drunk, lawless heathens all gathered in the streets of the Big Apple intent on causing mayhem. For most participants, I'd estimate 80% of their time is wasted waiting in lines. Which means they take to the streets to cause chaos.
Nevertheless, the journalist in me persisted. I had to know what evil lurks under those Santacon Santa Hats . And, oh boy, did I find out.
Weekend One: NYC
Admittedly, I somehow prefer New York's Santacon over Hoboken's. But that's not saying much. Let me be perfectly clear. I will never attend another Santacon. And if I do then something's seriously wrong.
While my personal experience at the bars is neither here nor there, my recommendation is to pick one bar and stay there for most of the day. No matter where you go, you'll be met with endless lines. So get to one place early and stay put.
Bars fill up quickly and before I knew it, I couldn't move very far without losing sight of my friends. Plus, everyone looks the same because we're all dressed as Santa. My main professional tip is to bring a portable charger…it's a long day and my phone was dead by 4pm.
We ended up going to a bar off the Santacon grid because the crawl lines were so long at night. While the wristband is worth it because it takes care of the cover charges, but it won't help you skip the lines.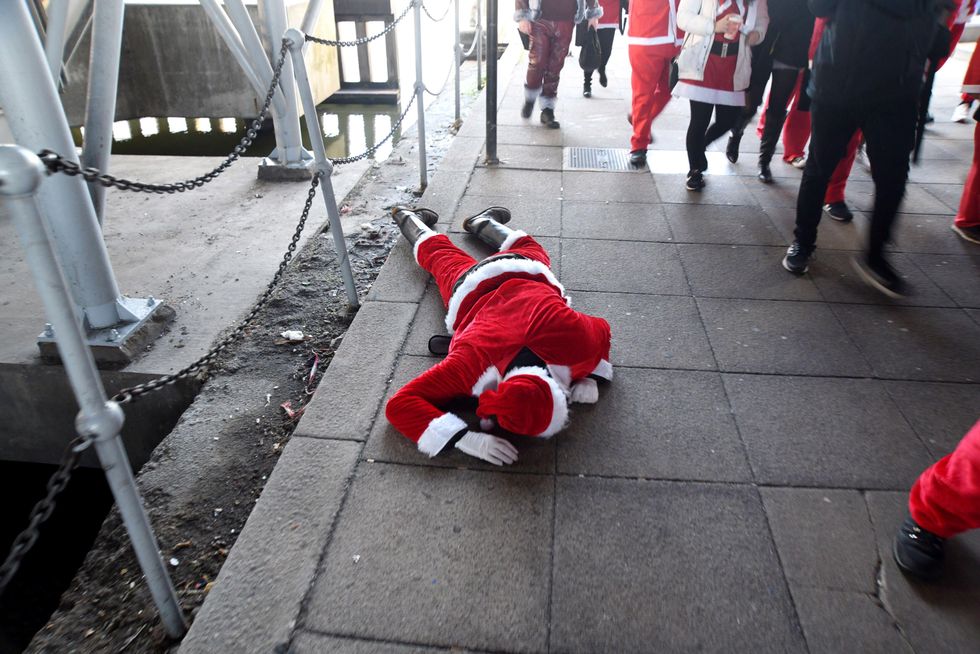 Santacon, London, UK - 10 Dec 2022
Jack Dredd/Shutterstock
Weekend Two: Hoboken
Way back in October, I got a discount code for a free Santacon ticket and immediately snapped it up. Sadly, all of this was for nothing because one week before the crawl, I realized that I mainly go to the bars offered in the HoHoHoboken crawl. Still tired and hungover from the previous weekend's Santacon NYC, I was wary.
At 11am, we arrived at our "check-in" bar where you pick up a wristband. By noon it was filled to the brim. A few minutes later, we received a text from the bar crawl updates saying all bars were filled to capacity. Great.
We'd already left the check-in bar and were in line for 45 minutes at another bar before we heard that it would be a 2-hour wait to get in. After aimlessly wandering around and waiting in yet another non-moving line, we Ubered to the furthest possible bar for essentially no reason.
All in all, we ended up retreating to my apartment to throw our own version of Santacon. Anything was better than huddling in the freezing cold just to get into a bar where you're crushed in a crowd and can't move 6 inches in any direction.
Santacon most definitely is as underwhelming, inconvenient, and anxiety-ridden as you've heard. I've never felt more like a degenerate. It's tough to admit even to myself that I attended not one - but two - Santacons this year. I swear they're my last…