As you get older, more and more of your friends move to different cities which can be a major bummer when you spent so much of your adolescence and early adulthood learning everything about each other. They were there when your college boyfriend broke up with you and you didn't leave your dorm for a week. They were with you for that unforgettable night in the East Village when you danced like the sun wouldn't come up, took crazy pictures in photo booths, and helped each other ward off creeps. Nothing is sadder than saying goodbye to those people who hold the same memories of early adulthood as you. The ones that shaped who you are. The nice part about getting older and having responsibilities, is having a little extra cash to visit. While you'll always be nostalgic for those late night heart to hearts on the floor of your tiny bathroom in Brooklyn, it's a completely different kind of fun when you all can meet for a luxurious weekend of relaxing and hanging out in a new place.
One of my favorite meeting points is Savannah, Georgia. Being from Florida and now living in New York, it's a perfect place to meet all of my high school friends that are in various parts of Florida now. While there are tons of adorable bed and breakfasts and hotels in Savannah that boast amazing Southern hospitality, for a girls weekend, I opt for an Airbnb. Let's face it, I usually opt for an Airbnb because of the affordability and comfort of feeling like you're in your own space. Specifically for a girls weekend, this option is nice because you can all split the cost of what you would be pay per night at a hotel, each get your own personal space, and it provides a comfy haven to retreat to at the end of a long day and the perfect environment for wine infused heart to hearts not too far off from the ones I spoke about earlier. You can find an entire home Airbnb in Savannah for under $200 a night with 3-4 friends it can be around $50 a night for each of you. I love the Ivy Inn for it's sweet Southern architecture and hominess. It sleeps up to four people and is only $125 a night. I also love this beautiful home that also sleeps four on Jones. The exterior is just what you'd expect in Savannah and the interior is a pleasant blend of traditional Southern decor and modern elegance.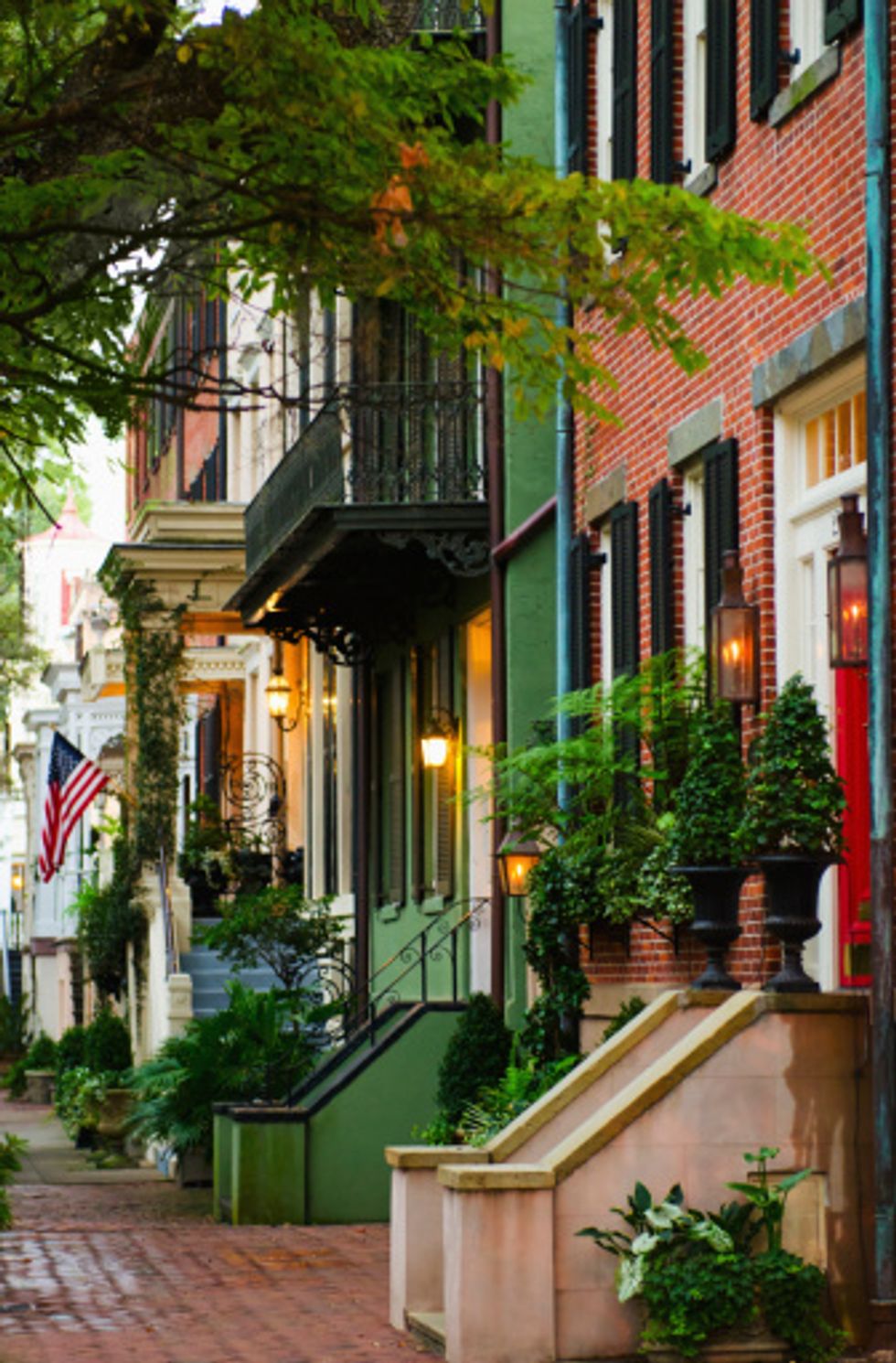 Sweet Savannah homes in the residential districtGetty Images
Head to Broughton Street for great eats, shopping, and nightlife. If you and your squad are adventurous eaters, stop into Alligator Soul which as you can imagine boasts dishes made with alligator and other rarities like elk, antelope, kangaroo, and more. Fret not, if you're not into eating unique game, they have more usual dishes as well. For a fun brunch option, check out The Funky Brunch Cafe where you can sit on the patio or indoors and use the griddle on the table to make your own pancakes. You can catch a concert, play, or film screening at the historic Lucas theatre that almost faced demolition, but was saved by various locals and celebrities in order to preserve its historic architecture and rich past.

For a more history-centric itinerary, check out River Street, Savannah's original cultural hub. Still boasting delicious restaurants, art galleries, and more, walk along the cobblestoned riverfront street and feel the age of the amazing city. Nearby, stop in some of Savannah's 20+ musuems and take Insta-worthy snapshots at historic Ellis and Columbia Square.
Fun fact, Savannah's open container policy is perfect for a girl's weekend. Consumers are allowed one 16oz or smaller open container on the street which makes Savannah a very bar-hopping friendly place. Check out City Market for a car-free bar-hopping sesh. City Market is four blocks of stores and nightlife and is animal friendly as well.
Spend your Sunday afternoon relaxing at Spa Bleu after a long weekend of fun. For only $130 you can escape for two hours and experience their Low Country Luxury package which includes a massage, facial, and choice of aromatherapy or a spa pedicure. Check out their site here for more packages.
The closest airport to Savannah is the Savannah/Hilton Head International Airport, a small quaint hub just outside of the city. Fly there from any major city for fairly cheap, or road trip it to extend the fun. Visiting Savannah soon? Tweet us your favorite girls weekend memories!