With the new year here, many of us want to live a healthier lifestyle, and that starts with incorporating nutritious, plant-based foods into our diet.
Having a goal like this is beneficial because it gives us a sense of purpose and direction. But achieving our goals and sticking to new behaviors, like changing our diet, can feel like an eternal uphill battle - the struggle is real!
The good news is that it doesn't have to be. Our editors were sure there had to be an intelligent way that would help us consistently make the adjustments necessary to upgrade our health for the long run. We've narrowed the field down to 2 possibilities: Noom and Splendid Spoon.
Noom is an app that supports you by keeping track of your eating habits, motivating you to steadily incorporate them into your daily routine. Splendid Spoon is a plant-based wellness brand that helps you put healthy eating into practice by delivering ready-to-eat meals right to your door.
If you're finally ready to reach this year's wellness goals, keep reading to find out which we recommend:
Key Similarities
Both focus on overall health and wellness
Both help with portion control
Both offer customized plans
Both are subscription services
Key Differences
Splendid Spoon delivers ready-to-eat meals to your door - Noom is an app that only makes meal recommendations
Splendid Spoon is convenient, no meal planning or prep needed - Noom merely provides information that helps you understand the psychology behind eating
Splendid Spoon is a very flexible subscription service, you can easily change your plan or skip a week - Noom's subscription goes month-to-month
Splendid Spoon is an easy-to-follow dairy, gluten, and GMO-free wellness program - Noom is an app-based weight loss program that requires more work on your end
Splendid Spoon Review
Splendid Spoon is a subscription-based meal delivery program that specializes in helping you incorporate nutritious, healthy and plant-based meals into your daily life - no cooking or grocery shopping needed!
Unlike most food delivery services and restaurant options, Splendid Spoon delivers everything you're supposed to eat throughout the week in 5 boxes, one for each day. Simply choose between various plans - from a lunch plan starting at $13 per meal to a breakfast, lunch, and dinner plan for only $8.25 per meal.
Their 50+ menu options offer a mix of tasty grain bowls, noodles, soups, smoothies, and snacks. Our favorites are the Vegetable Bolognese Grain Bowl with Mushrooms and Wild Rice Risotto and the Masala Khichri with Okra and Spinach which actually boosts the immune system and fights inflammation.
We love that Splendid Spoon only uses GMO-free, gluten-free, and dairy-free ingredients. Their meals are specifically designed to promote an accelerated metabolism and vital gut bacteria, crucial for a fit and healthy lifestyle.
Once you pick a plan that suits your preference, choose your favorite meals, add extras like Splendid Spoon's Wellness Shots and your meals will be delivered right to your door. If you want to try Splendid Spoon first without having to make any commitments, try their On-Demand Box.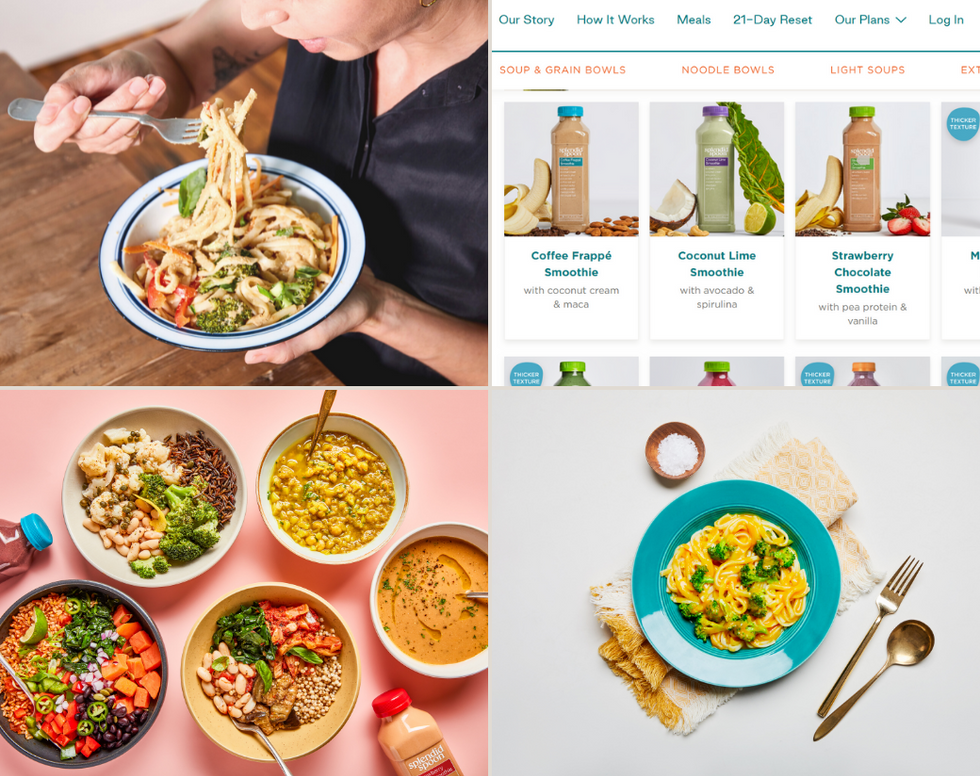 Splendid Spoon
Clean Eating Made Easy
With Ready-to-Eat,
Nutrient-Dense Meals!
Get $120 off your first 3 boxes!

Noom Review
The Noom program focuses on the psychology behind eating habits by tracking your food intake and calories and then teaching you behavior modification techniques. For $59 per month, you'll get 24/7 guidance that keeps you on track as you develop healthier habits. We think this is pretty pricey considering that Noom only provides educational content.
Noom calls itself a "lifestyle" app, not a diet app which we disagree with. Noom's core goal is weight loss. Plus, we definitely missed the overall wellness aspect of Splendid Spoon's delicious and healthy meals that are prepared just for us.
Another downside is that Noom encourages you to count calories and weigh yourself every day. This is something we don't recommend because it can lead to fixation, disordered eating and can trigger lower levels of self-esteem.
Final Thoughts
Our overall goal was to find a way to help us stick to our newly developed healthy habits. While we like the idea behind Noom, we found the app quite time-consuming and restrictive, which made it challenging to stick with.
Our editors agree that Splendid Spoon is our obvious winner and check-marked everything we're looking for, from convenience and quality to taste and nutrition.
The company makes it super easy to incorporate healthy, plant-based foods into your diet without sacrificing time. We love it that their meals arrive fully prepared and ready to enjoy. Naturally, we even lost some pounds along the way.
Start your healthy lifestyle today by subscribing to Splendid Spoon. With their fresh smoothies and bowls in your fridge there are no more excuses - that's guaranteed!
FINAL DAYS OF SALE: Follow this link to save $105 off 3 boxes of Splendid Spoon Meal Delivery! Use Code: BackToBusy105 to get meals starting at just $6.50! Try Splendid Spoon Today!