2021 is off to a crazy start, and I really want to spend some quality time to reflect. I started journaling my day-to-day and realized I spend WAY too much time on my phone, rarely leave my home, and only read 3 books all year (I used to read way more).
I needed a reset. My partner and I usually get together with some friends in the springtime where we celebrate the end of winter and talk about our plans for the warmer months, but since they live far away and usually come to us (this year they can't), I wanted to do something different.
My partner did some research, to see if there were online events or if we could go anywhere, and he told me he found something totally out of the box.
Getaway. Starting at $99 a night and about 2 hours from most major cities, Getaway owns clusters of cabins in the outdoors. They were private, each with its own fire pit and Adirondack chairs, and decked out with heat, hot water, a kitchenette, cozy beds, and giant windows. They also have contactless check-in and full cleaning between bookings, so it's incredibly safe.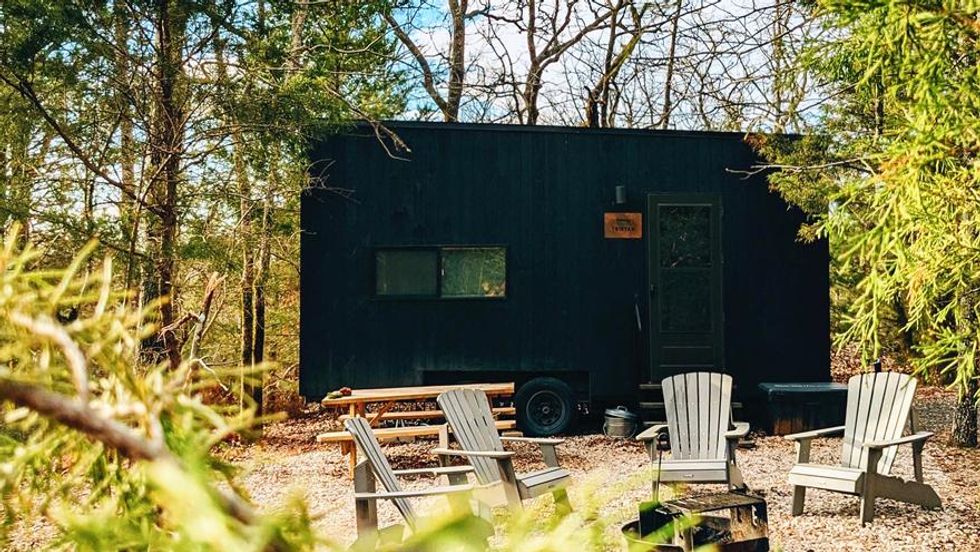 I wasn't planning on going anywhere, but he said one of Getaway's goals is to get you to reconnect with yourself; they don't offer WiFi and there's even a wooden lockbox for your gadgets if you want to commit to unplugging completely.

We decided to book for early spring and I absolutely cannot believe how excited I am! Lately, I've been throwing my phone across the room just to practice unplugging from my devices. Each cabin is equipped with a landline, so we have that as a backup if we need it, but spending some time without Instagram and email is going to be so great.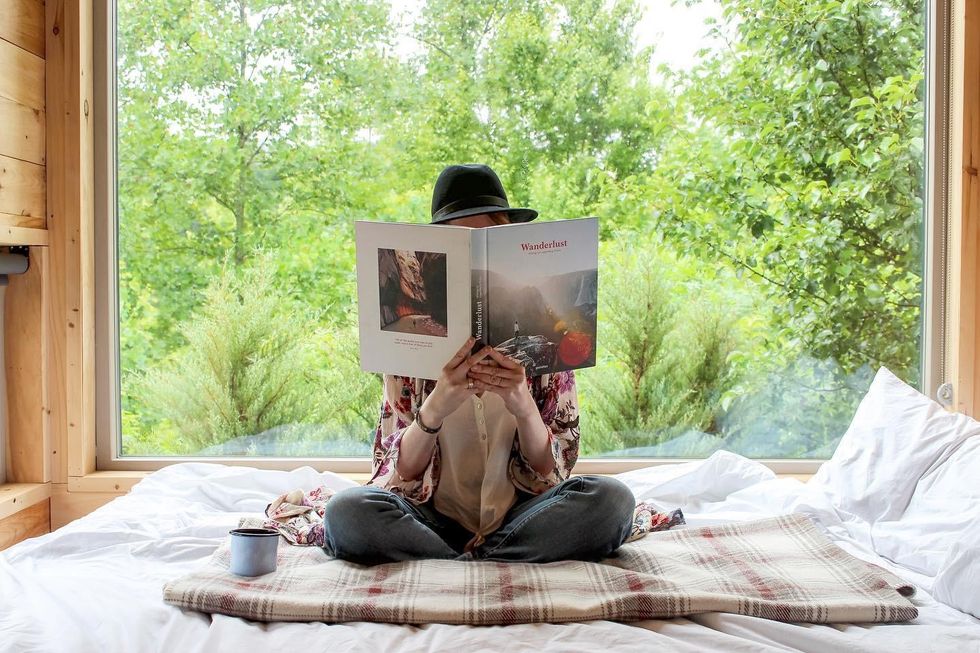 I'm really looking forward to having downtime. Getaway offers playing cards and books in all of their cabins, but I'm packing a biography I've been dying to read. My partner's planning on bringing his guitar and using the time to finally find some lyrics for a song he's been humming for months. I also have a ukulele I haven't picked up in months! That's getting packed, too.

Even though we're planning to bring our own food, it's comforting to know that Getaway offers snacks and other items in the cabin that can be added to your bill later, just in case you need them.
For your outpost, the website also gives plenty of information on things to do nearby like hiking or shopping.
We've never taken a trip in the spring before, but we're not sure why- typically we always wait for summer, but we cant wait to see how beautiful our Getaway Cabin is going to look nestled between the fresh spring landascape. There's no better way to celebrate the end of the longest winter ever than with a weekend trip in nature with the person you love.
I can't think of a better way to kick off spring.
Offer Expires In