If I know anything, it's that Taylor Swift currently runs our world. As of August 2023, herEras Tour is the highest-grossing tour by a woman of all time, making her a billionaire. Her re-recordings of past albums like 1989, Speak Now, and Red dominate the charts with each re-release. She's the reason why the Billboard Hot 100 top 10 was all women (twice) for the first time in history.
She positively impacts the economy in whichever city she tours in, the clothes she wears sell out in seconds, and her fans are so passionate it's a tad scary. There's no doubt in my mind she's the most famous person on the planet right now.
And (I'm shocked I've gone this long without mentioning him) her relationship with Kansas City Chiefs tight end Travis Kelce created an American Royal Couple. After attending a few NFL games to support Travis, she single-handedly caused viewership to skyrocket, with 24 million people tuning in — especially women ages 12-17, 18-49.
The world is experiencing a Taylor Swift mania now more than ever. She's gearing up to re-release her hit reputation album, but her most recent Taylor's Version is 1989 … a breakup album summarizing her relationship with Harry Styles. We can't get enough of Taylor. So much so, that it's time we start living like her.
If you're looking for a creative way to pay homage to the icon herself, take a vacation inspired by Taylor Swift herself. It's the perfect gift for the Swiftie in your life that isn't obvious (like a trip to her expensive tour, seeing The Eras Tour film, etc.).
For every era, there's a vacation waiting for you. Let's begin!
Taylor Swift: Nashville, Tennessee 
I remember seeing Taylor win a Country Music Award…that's both showing my age and how long I've been watching her. But Taylor's transition from country to pop was just a part of her iconic story…which is why we're starting off with a trip to Music City: Nashville, Tennessee.
Her country twang in songs like "Teardrops On My Guitar" and "Tim McGraw" was unmatched, and Nashville is all the rage right now. With countless bars featuring live music acts, this city is always alive. Make sure to take in a show at the iconic Bluebird Cafe. Maybe you'll even discover the next T-Swift.
Fearless: Stone Harbor, New Jersey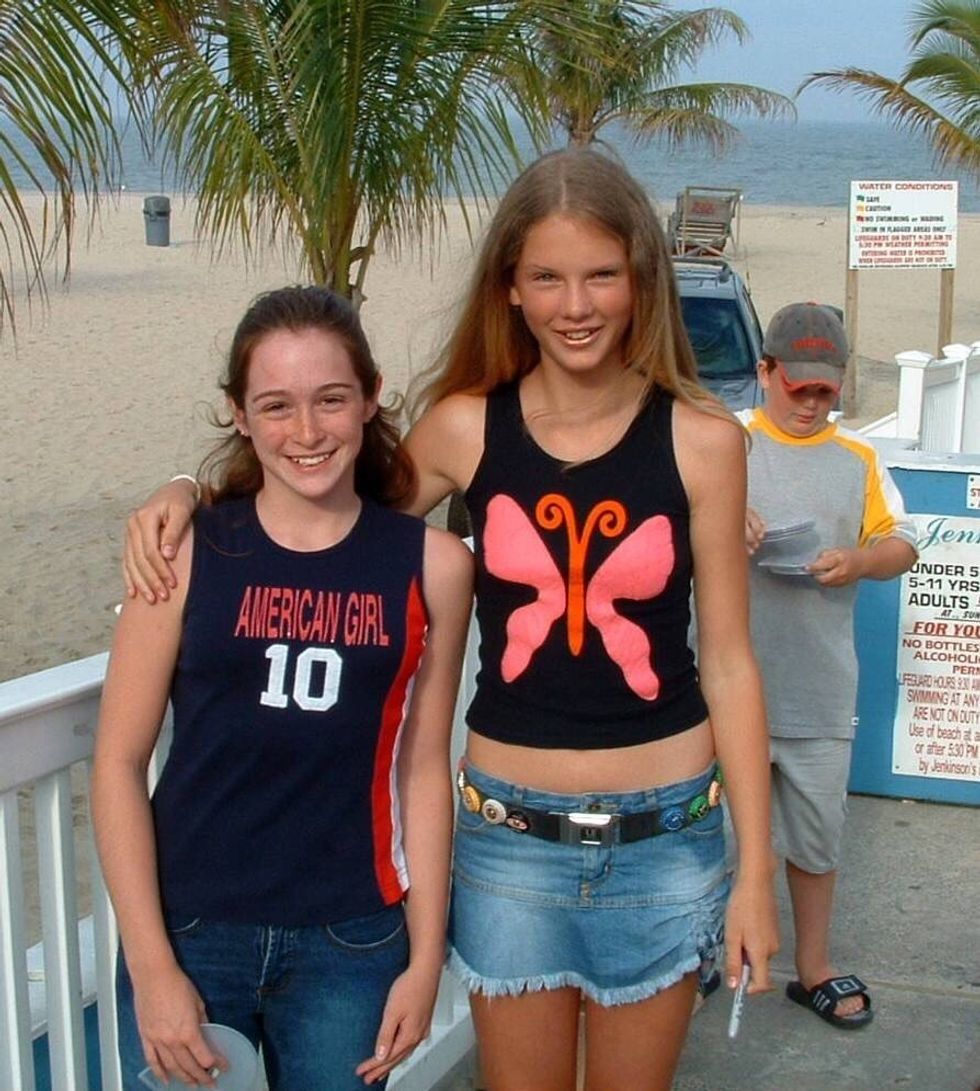 Taylor Swift, 2003, Jenkinson's Pavilion at Point Pleasant Beach, NJ
Holly Armstrong via Tumblr
Fearless (Taylor's Version) is filled with songs about Taylor growing up (see: "Fifteen", "You Belong With Me", and "The Best Day"). While she was born and raised in Reading, Pennsylvania, she spent summers in Stone Harbor, New Jersey.
New Jersey was also special to Taylor during this time as she was dating NJ native Joe Jonas, who — in typical New Jersey boy fashion — broke her heart via a 30-second voicemail. While you want to follow Ronnie from
Jersey Shore
's advice (never fall in love at the Jersey Shore), Stone Harbor is a picturesque location with Cape Cod-esque houses and lots of shopping.
Speak Now: Los Angeles, California
By Speak Now (Taylor's Version), we know that Swift was dating John Mayer and getting a grip on the music industry in Los Angeles. Songs like "Mean" talk about being bullied by older men, while "Dear John" is about the obvious.
A tumultuous relationship led to Swift putting out a message before releasing her re-recording encouraging everyone to
be kind
, there's no better vacation than LA for this album.
Red: New York City 
9 years ago today, taylor swift and harry styles walking around central park in nyc.

december 2, 2012 pic.twitter.com/w0ujsMFdbU
— Taylor Throwbacks (@ThrowbackTaylor) December 2, 2021
And here we are, Taylor's dating Harry Styles and strolling around Central Park together. There's also the existence of Jake Gyllenhaal at some point, but as a Directioner, her dalliance with Harry truly rocked my world. It's her best album, in my opinion. And hits like "All Too Well" and "We Are Never Ever Getting Back Together" still slap.
So go get your red scarf and enjoy the last of the fall foliage in Central Park…or visit the Winter Village in Bryant Park.
1989: British Virgin Islands 
I DONT HAVE TO PRETEND I LIKE ACID ROCK OR THAT I'D LIKE TO BE ON A MEGA YACHT! WITH IMPORTANT MEN WHO THINK! IMPORTANT THOUGHTS!
- Now That We Don't Talk #1989TaylorsVersion pic.twitter.com/t4C7lIlvE1
— Taylor Swift Updates (@SwiftNYC) October 27, 2023
Normally, I'd use 1989 as her Watch Hill, Rhode Island home where she hosts elaborate 4th of July parties with her star-studded bestie group. It's a gorgeous getaway that we'll discuss very soon…but given the release of 1989 (Taylor's Version) and Vault Track, "Is It Over Now?" I have to send you to the place of her breakup with Mr. Styles: the British Virgin Islands.
Lyrics from the aforementioned unreleased track include "blue dress, on a boat" and "you search in every model's bed for something greater" which are direct shots. Photos of Taylor alone on a boat, while Styles stayed with his family in the Virgin Islands, are everywhere. But despite her heartbreak, it's honestly a beautiful place for a vacay.
reputation: Rhode Island
7 years ago today, taylor swift at the beach in watch hill, rhode island.

july 3, 2016 pic.twitter.com/5AeFOFCXUf
— Taylor Throwbacks (@ThrowbackTaylor) July 3, 2023
Joe Alwyn, Swift's former long-term boyfriend and co-producer of many songs under the name William Bowery, liked to keep their relationship private. So much so that the duo hid away at her Watch Hill home to write reputation. One of my favorite albums, created in one of my favorite destinations for this article.
Watch Hill is known for holding the rich and famous, and every summer Swift parties with the likes of Selena Gomez and Gigi Hadid.
Lover: England
"London Boy" should be enough for you to know Lover warrants a trip to England. Swift loves the British, which is why dating Travis Kelce was such a win for Americans. With many songs dedicated to the UK's very own, Alwyn, you have to send it overseas for this album.
If Taylor Swift is your only reason for visiting London, follow our
travel guide
for insider tips.
folklore/evermore: Vermont 
I have no reasoning behind choosing Vermont for the folklore and evermore stages besides it just gives me those vibes. The covers alone make me want to go up north and just tuck myself into a secluded cabin. It's a shift sonically for Swift, and some of the best fall/winter albums out there.
Live out your cozy
evermore
dreams with a trip to Vermont.
Midnights: Miami 
You may think I'm crazy for this, but Taylor's next North American leg of The Eras Tour starts October 18, 2024, in none other than Miami, Florida. Book your flights and go see Taylor, or just enjoy the atmosphere.