Ah. The mighty burrito.
A culinary innovation so foundational to human life that it predates the invention of the wheel. That's right; for over 10,000 years, people have been wrapping meat and vegetables in corn tortillas and eating them sans utensils. In the old days–well before they were called burritos–these delicious tubes of food were a simple and quick meal to eat on the go. Things have changed a bit in modern times however, and the size of the burrito, along with our waistlines, has grown a bit. Nowadays, a burrito is basically two full meals in one, and encompasses every major food group. You know, like carbs, proteins, cheese, corn, guacamole, salsa verde, carnitas. All the major food groups.
Still, if you cover your eyes and don't pay attention to the fat content or number of calories you're consuming, a burrito is actually a pretty healthy and well-balanced meal. If you're like me however, and you keep your eyes open, constantly counting your calories, then rest easy knowing that while these small barrels of excess aren't necessarily great for the body, they are essential to soul. With National Burrito Day rapidly approaching, it felt appropriate to compile a list of the best burrito spots in Manhattan. It's important to remember though, the path to finding the perfect burrito is different for everyone, and it is a deeply spiritual journey. Don't follow the bright lights of Chipotle or Qdoba. Don't stumble blindly into Taco Bell at 3am because you're drunk and your girlfriend just dumped you at your favorite bar and now you're alone in a city you don't recognize with a snapped Visa debit card and only $2.95 in your pocket and... Too much? Little bit? Okay I'll shut up now. Here's the list:
7. Dos Toros Taqueria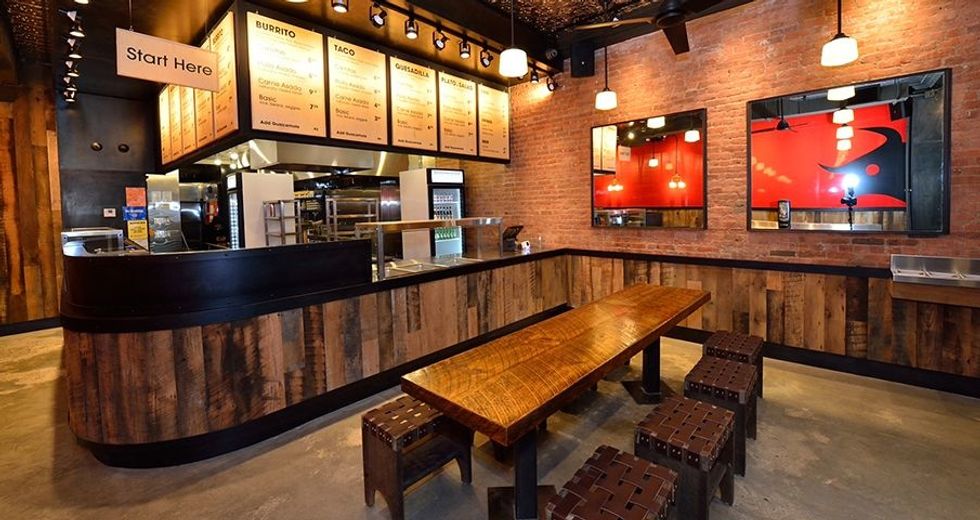 Dos Toros Taqueria's welcoming interior
At the bottom of our list sits Dos Toros, a mexican food chain par excellence. It does everything a Chipotle does, but better. They actually press their tortillas. Their meat is well-seasoned. Their veggies are organic and fresh. On top of this, they're located all over Manhattan.
Location: All over Manhattan and some parts of Brooklyn
Bonus: They put a slice of cheese on their tortillas before they press them so you end up with gooey cheese on every bite.
6. Tacos Cholula
Don't underestimate a good food cart!
This East Village food truck specializes in all types of authentic Tex-Mex cuisine, from Tortas to Quesadillas to Burritos and more. While the food is all insanely delicious, the big draw for Tacos Cholula is their price. Burritos, especially in Manhattan, tend to be expensive, sometimes costing up to $15. Not at Tacos Cholula. You can get a full burrito for cheap and still have enough money leftover to snag a Jarritos.
Location: The Northwest Corner of Avenue A and 2nd Street
Bonus: They're open until 4am, so there's no wrong time to grab a snack.
5. Downtown Bakery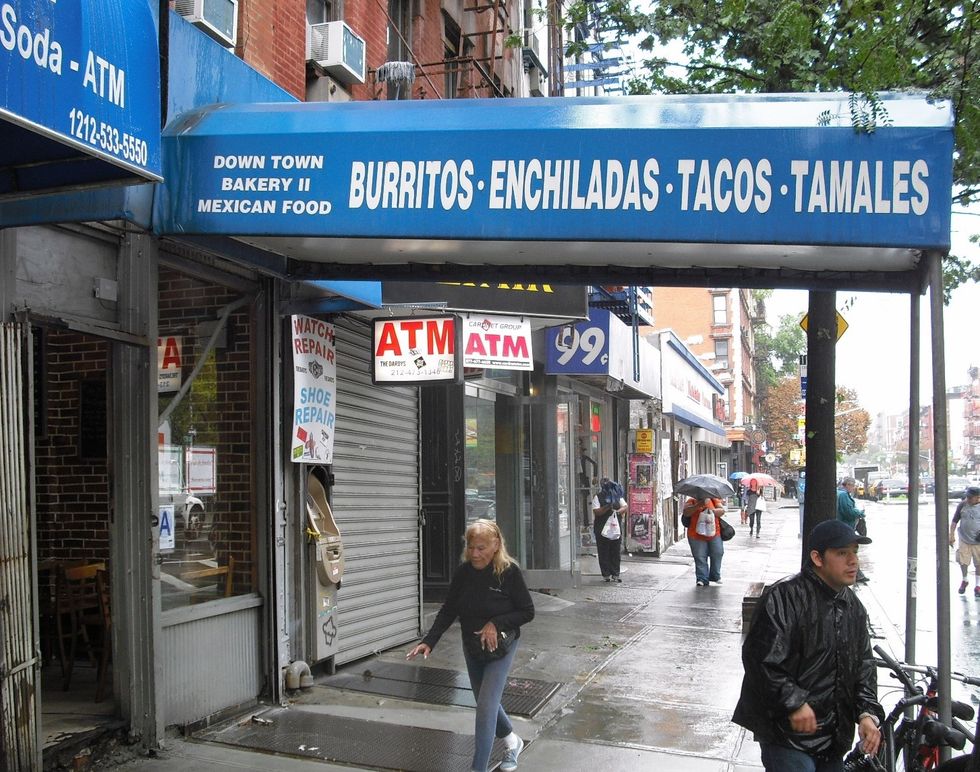 Delicious burritos await inside Downtown Bakery
This East Village Gem was originally an Italian bakery before it mutated into the Tex-Mex casual joint it is today.It's known for its gigantic, lumpy burritos smothered in salsa or sour cream. Unlike many of the other places on this list, Downtown Bakery fills its burritos with slightly more varied types of Mexican delicacies, like chicken in mole sauce or tiger shrimp with guajillo sauce. If wet burritos are your thing, this is the place for you.
Location: 69 1st Ave
Bonus: They have killer breakfast burritos as well and start serving them at 6am.
4. Flip Sigi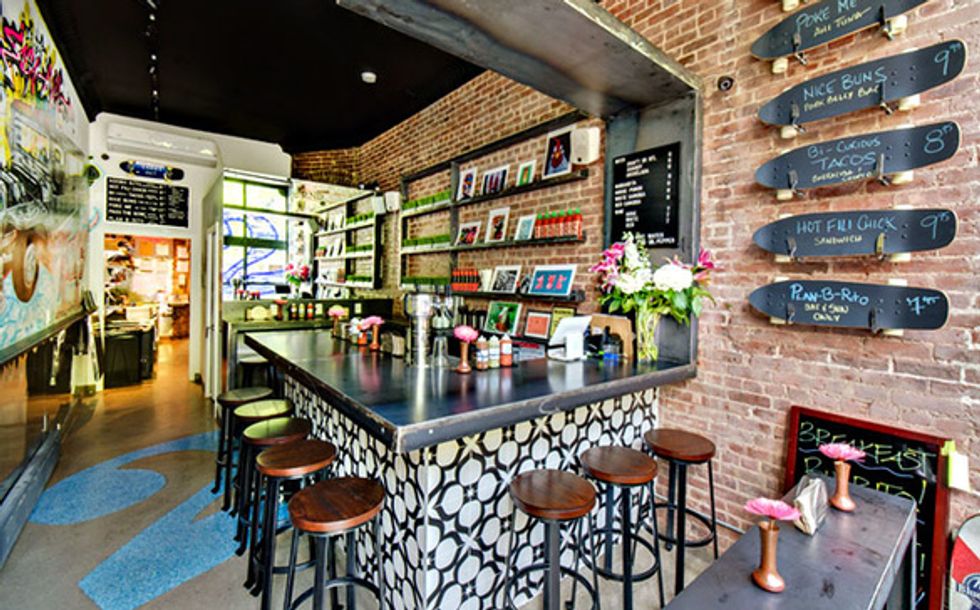 Flip Sigi channeling some skateboarding vibes
A Filipino Taqueria with locations on the Upper East Side, Soho, and the West Village, Flip Sigi's is revolutionizing the burrito game. They have pork belly. They have kimchi-fried rice. They have absurd breakfast specials featuring longanisa, a Spanish and Filipino sausage similar to Chorizo. To top it all off, their burrito-bowls give you the option of incorporating sushi-grade tuna to your burrito experience!
Location: 1752 2nd Ave
Bonus: These guys deliver very fast and manage to keep their food pretty cheap despite the high quality ingredients they use.
3. Korilla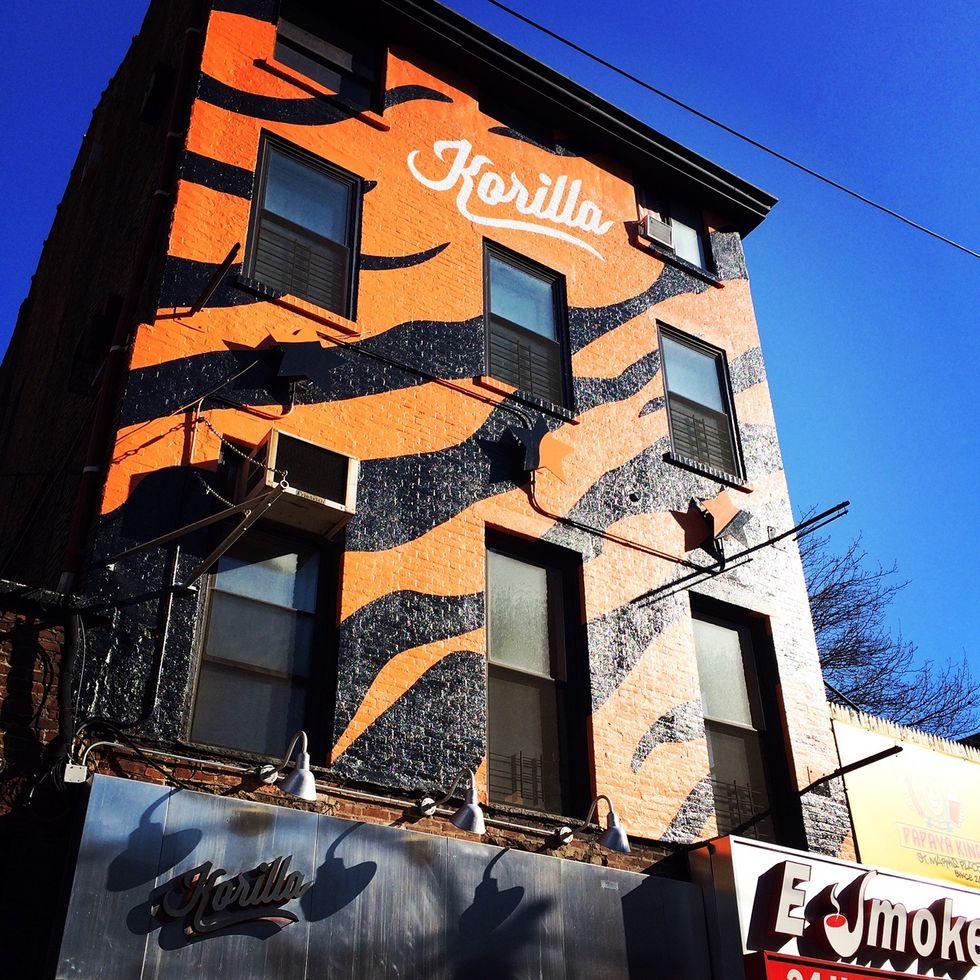 Korilla serves up Korean-Mexican fusion
After being disqualified from The Great Food Truck Race because of alleged cheating, Korilla opened up a few locations in New York City, and cheaters or not, they make some incredible burritos by combining traditional Mexican flavors with Korean barbeque. Kimchi and bulgogi beef is a pretty awesome combo, especially when it's wrapped in a burrito.
Location: 23 3rd Ave
Bonus: If you can't get to the restaurant, the food truck parks in random areas throughout the city and you can follow it on Korilla's Twitter.
2. Taqueria Diana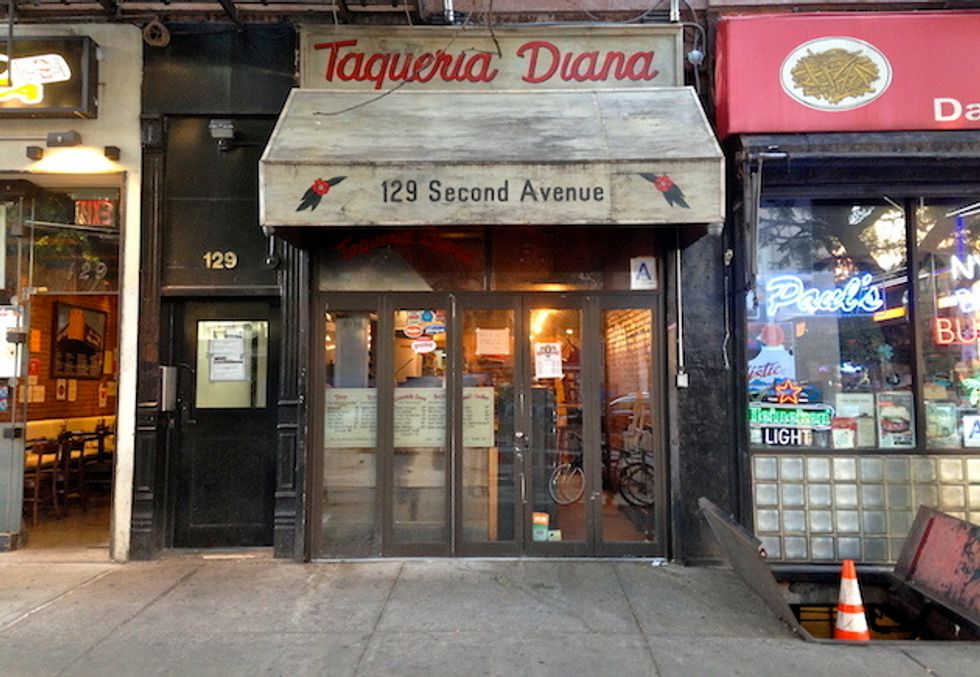 Late night food doen't get any better than Taqueria Diana
Alright, Flip Sigi and Korilla were fun little detours, but let's get back to basics. Taqueria Diana is a classic East Village burrito joint, replete with all the greasy goodness you know and love. Every bite is full of cheese and honestly, an Al Pastor burrito, along with a good nap is the best hangover cure I know. This place is also a perfect stop on your way home from the bars, as it stays open until 4am on the weekends. Try it. You won't be sorry.
Location: 129 2nd Ave
Bonus: The guys who work here are notoriously friendly and have been known to give out free chips and guac to their drunk and wayward regulars.
Tortaria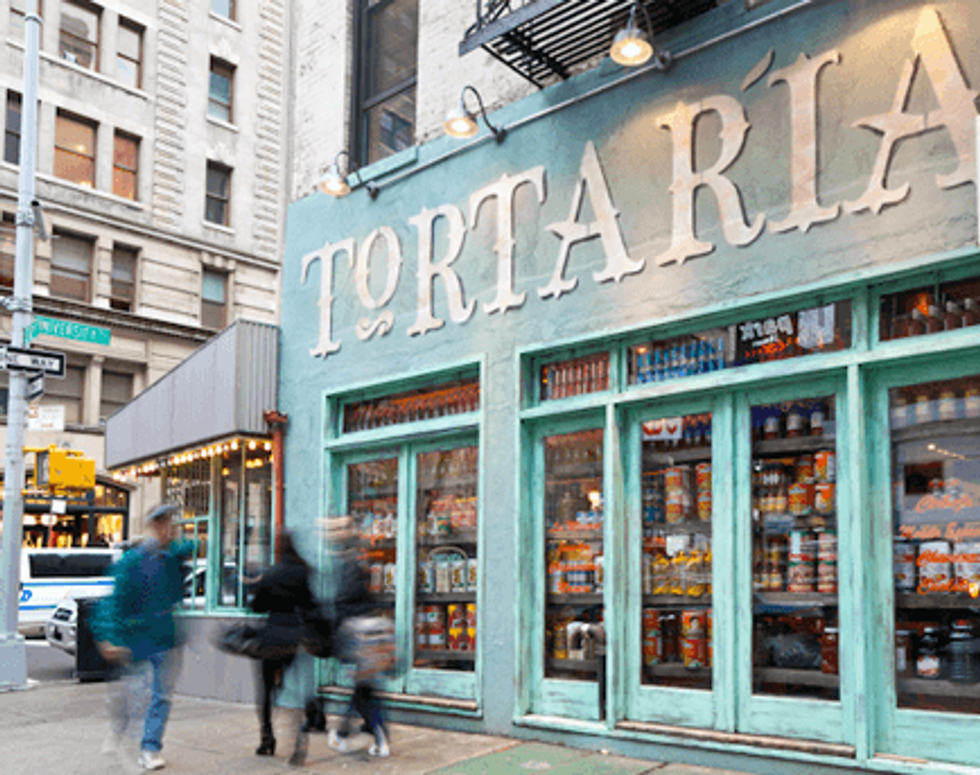 Tortaria's burritos are not to be ignored
Located on University Place, Tortaria is an NYU student's dream. While the place specializes in Tortas, don't sleep on their burritos. Double wrapped in corn tortillas and grilled to perfection, these masterpieces should be considered nothing nothing less than fine art. If you pair the burrito with a house margarita, you'll find yourself in a daze, surrounded by an olfactory and gustatory cloud that couldn't possibly be from Earth. Oh, but it is. Welcome to burrito nirvana.
Location: 94 University Place
Bonus: The sauces. They've got smoky habanero as well as a sweet chipotle mayo. They're both house-made. Mix them together. Put them on the end of your burrito. There are no wrong answers.
Now that you have this list, you're prepared to find the burrito of dreams. Don't settle for anything less than what you're worth. Just remember, guac may be a little bit extra, but life would be pointless without it. Go, burrito heaven awaits.
---
Matt Clibanoff is a writer and editor based in New York City who covers music, politics, sports and pop culture. His editorial work can be found in Pop Dust, The Liberty Project, and All Things Go. His fiction has been published in Forth Magazine. Website: https://matthewdclibanoff.journoportfolio.com/ Twitter: @mattclibanoff