Are you a curry craver who can't get enough of the complex and savory taste? Who could blame you since, "Curry sauce is one of the most flavorful of all sauces in existence and forms the basis of an infinite number of deliciously complex dishes," according toThe Spruce.Spices and herbs make curry something truly special, and every chef has their own take on their sublime sauces. Dishes across the Big Apple are covered in curry, and these five restaurants know how to do it right. Dine out and dig in!
Dhaba Indian Cuisine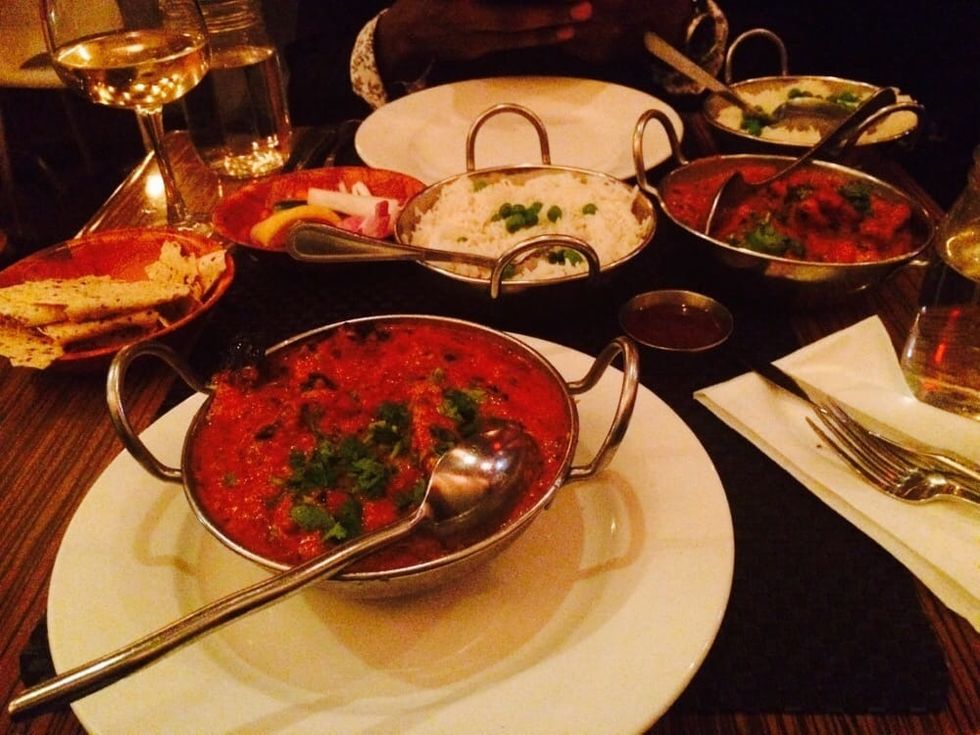 Via yelp.com
Great taste is cooking up at Dhaba, where curry dishes are made by the highly-acclaimed staff lead by founder, Shiva Natarajan, who owns a number of restaurants across the city. Featuring foods from several areas of India, her menu is eclectic and traditional, with curry at the forefront of many of her most popular dishes. Midday diners enjoy the lavish lunch buffet for the opportunity to sample a variety of Dhaba's delights. Some curry-based favorites include vindaloo curry (hot and spicy with dry red chilies, vinegar, and potatoes), korma curry (mild and creamy with cashews, raisins, and fenugreek), and saag curry (spinach puree, light cream, and roasted spices). Wash all that spice down with a refreshing sweet mango lassi, finish off with cardamom milk balls in sugar syrup, and your palate will be pleased. Dhaba = delicious!
108 Lexington Ave., New York, NY
Vatan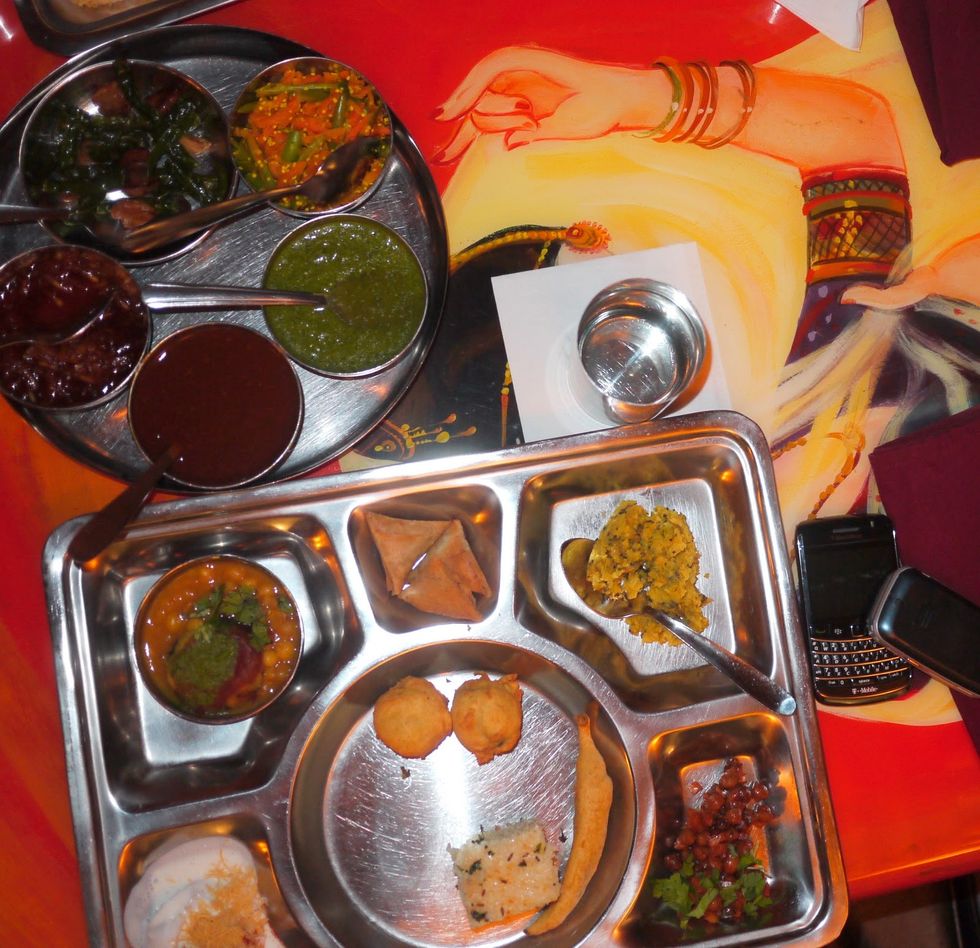 Via indianfoodreviews.blogspot.com
$34 for all-you-can-eat is a steal when you come to learn how extraordinary Vatan's dishes are. And not only is the curry exceptional, but the restaurant features menus for those who eat gluten- or nut-free, as well as vegan. But let's get back to the curry. Ful-cobi (curried cauliflower and peas), batata nu sak (curried potatoes), tindola nu sak (curried ivy gourd), and moong (curried moong beans) are some of Vatan's specialties. Enjoyed with puri (puffed whole wheat bread) or roti (whole wheat flatbread), diners are crazy for curry and go back for more. Save room for homemade Indian ice cream, and the all-you-can-eat meal is complete.
409 3rd Ave., New York, NY
Amma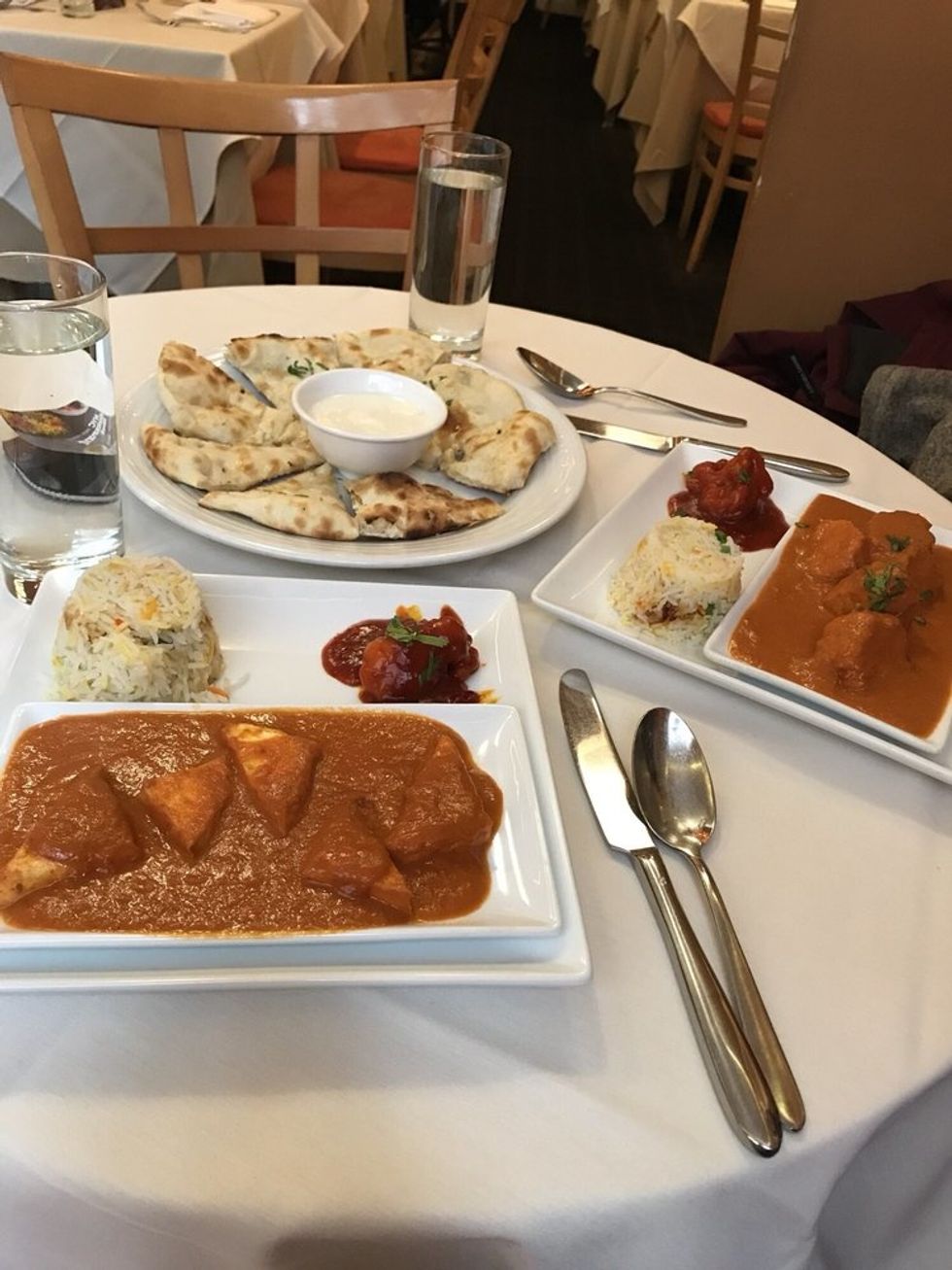 Via yelp.com
Noted for its Northern Indian specialties and chef's tasting menu, Amma is a small, but special spot for curry on the East side of Manhattan. The appetizers are tempting - including samosas, crab cakes, and kebabs, but don't overdo it or else you'll miss out on the curry dishes they're known for. Goan fish curry (tilapia in coconut, tomato, and cocum curry) is unique, and vaisakhi shrimp curry (mint, cilantro, and green chili sauce) is truly something special… and spicy! But if you can't decide or you want a bite of a bit of everything, opt for the $50 tasting menu for the true Amma experience.
246 E. 51st St., New York, NY
Nirvana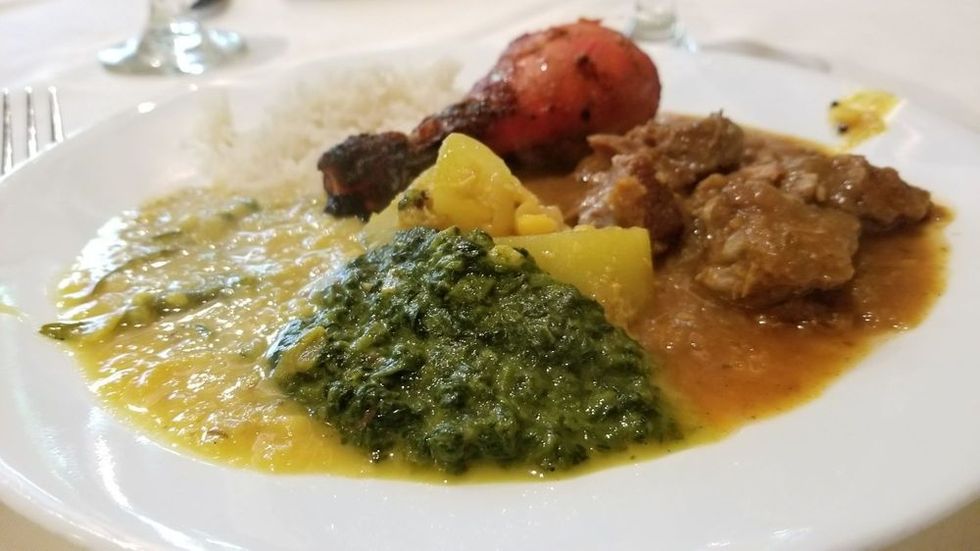 Via yelp.com
Whether you like a lounge atmosphere or a more traditional dining space,Nirvana restaurant will woo you in with its décor and delicacies. They call their place "Indian culinary bliss," and we couldn't have said it better ourselves. Get exotic with goat curry served country-style (on the bone) or feast on fish curry (their fresh catch fillet with spiced onion, tomato, coconut sauce, and ginger garlic). With a side of lemon rice and fresh-out-the-oven garlic naan bread, you will feel like you've reached Nirvana in more ways than one!
346 Lexington Ave., New York, NY
Spice Symphony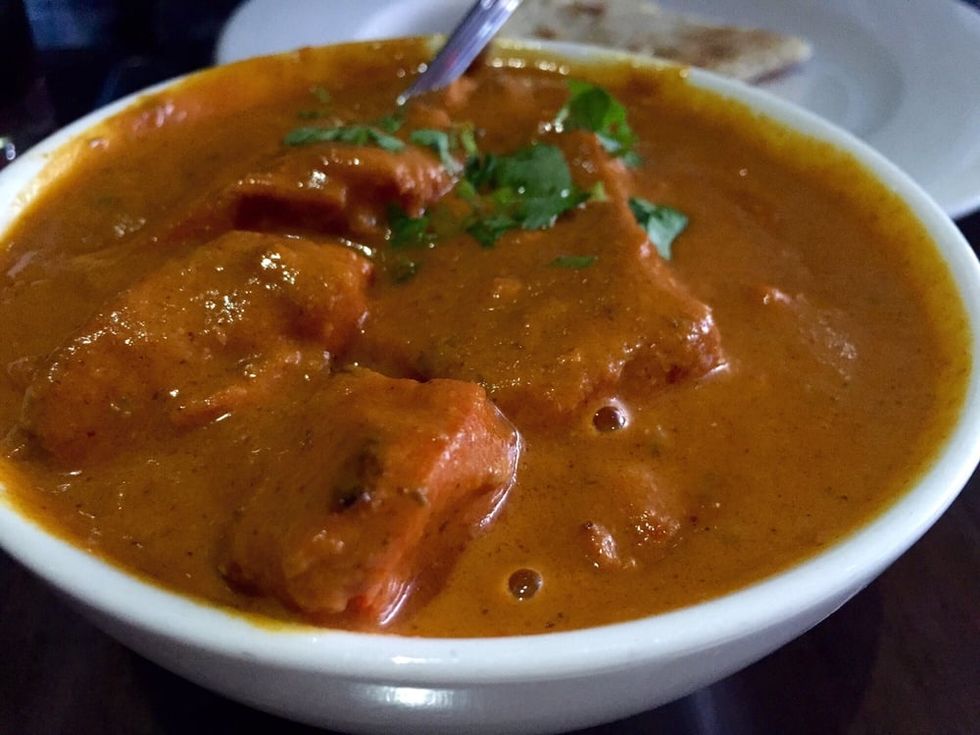 Via yelp.com
With two locations in Manhattan,Spice Symphony is music to any curry-loving diner's ears. A fusion of Indian and Chinese fare, the restaurant's comprehensive menu is unique and delectable. And when curry is top of mind, Spice Symphony knows how to orchestrate the perfect dish. Fish lovers enjoy their kerala fish curry (fresh fish fillet with spices simmered in curry leaves and tamarind). Even their starters are catered to the curry crowd. Curried cauliflower soup with celery and carrots is a kick-start to a delicious meal. And don't skimp on the side dishes. Madras vegetables - spicy curry-flavored mixed veggies - is healthy and full of flavor. Spice Symphony will get your standing ovation!
150 E. 50th St., New York, NY
182 Lexington Ave., New York, NY
Hurry in for curry but take your time enjoying every bite.