Have you heard about matcha? Perhaps you love the green stuff already or you are finally ready to see (and try) what all the fuss is about. If you're into the taste of tea, it's time to step up your steep and go for the green goodness of matcha. But what is it exactly? According to Health, "Matcha literally means 'powdered tea'. When you order traditional green tea, components from the leaves get infused into the hot water, then the leaves are discarded. With matcha, you're drinking the actual leaves. It's a more potent source of nutrients than steeped green tea."
In fact, one serving of the stuff is nutritionally equivalent to 10 cups of green tea brewed the usual way. You'll get that caffeine kick with 137 times more antioxidants Besides that, it boosts metabolism, burns calories, is rich in vitamin C, zinc, magnesium, and selenium, and lowers blood sugar and cholesterol. Not to mention, it's delicious!
But not all matcha matches up. As per NBC News Better, "To get the best quality matcha, make sure your matcha is bright green — The darker the matcha, the older the matcha, and its beneficial properties weaken over time." If you're looking for some of the best matcha across the U.S., visit one of these places for a 'spot of tea'.
Ippodo Tea Co.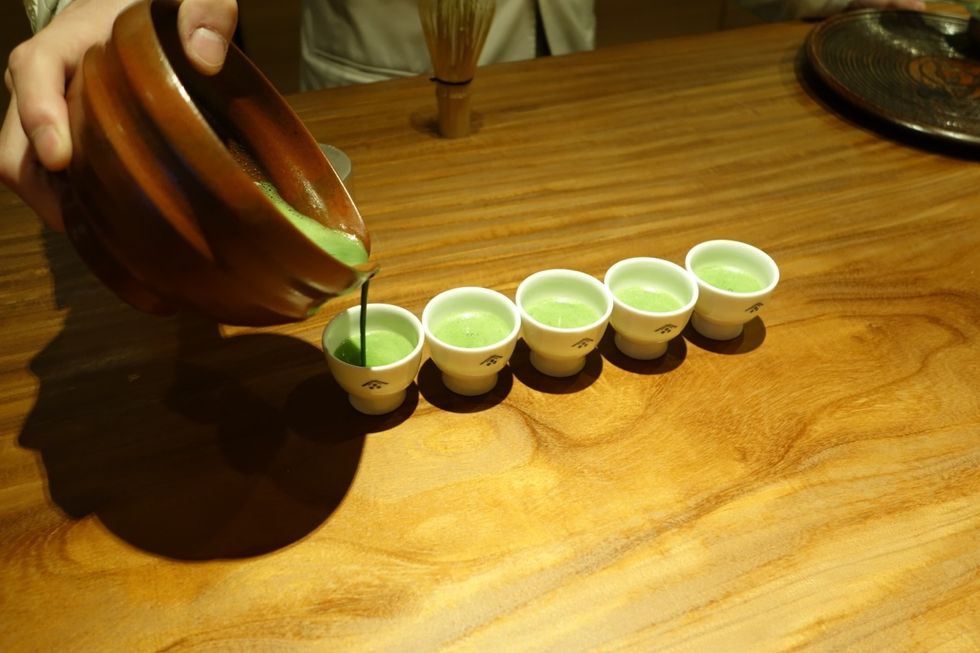 Via japanculture-nyc.com
Ippodo Tea Co. is a Japanese-based business, but lucky for New Yorkers, there's a shop in the Big Apple. For Americans who take great pleasure in Japanese tea customs, this place is full of wonderful Japanese character and charm. The store is small and sleek, but for take-out tea, it's a favorite among New Yorkers who are always on-the-go. Try their Koicha (thick matcha) or Usucha (thin matcha), a matcha soy latte, a matcha almond latte, or even a matcha slushy. Do a matcha tasting to sample and compare. Authentic preparation is taken seriously at Ippodo Tea Co. but all you'll notice is the delicious flavor.
125 E. 39th St., New York, NY
Chalait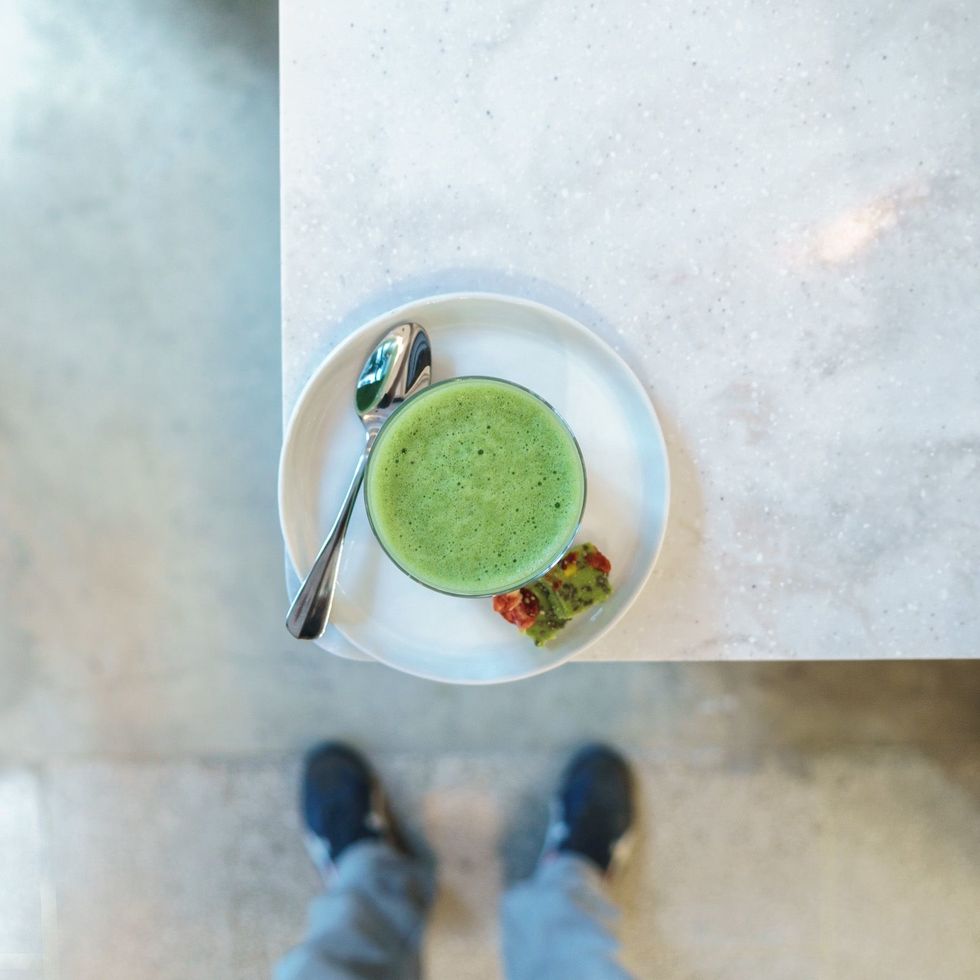 Via chalait.com
Another New York City hot spot for matcha is Chalait, with three locations across the bustling city. Fine Japanese matcha tea is made with quality and simplicity, bringing nothing but purity to the palate. Go for a shot of the green drink or consider a matcha Americano, matcha cappuccino, or matcha latte instead of your usual coffee-based beverages, although they sell those too. Pair your matcha drink with a tasty bite such as a mashed avocado and egg sandwich with salmon on multigrain, a hearty quinoa bowl with butternut squash, a fresh kale salad with fennel, or matcha white chocolate bark for something sweet. And if you stop in Chalait's Chelsea Market location after 5PM, get your happy hour started with beer, cider, or wine!
229 W. Houston St., New York, NY
1216 Broadway, New York, NY
75 9th Ave. New York, NY
The Curb Kaimuki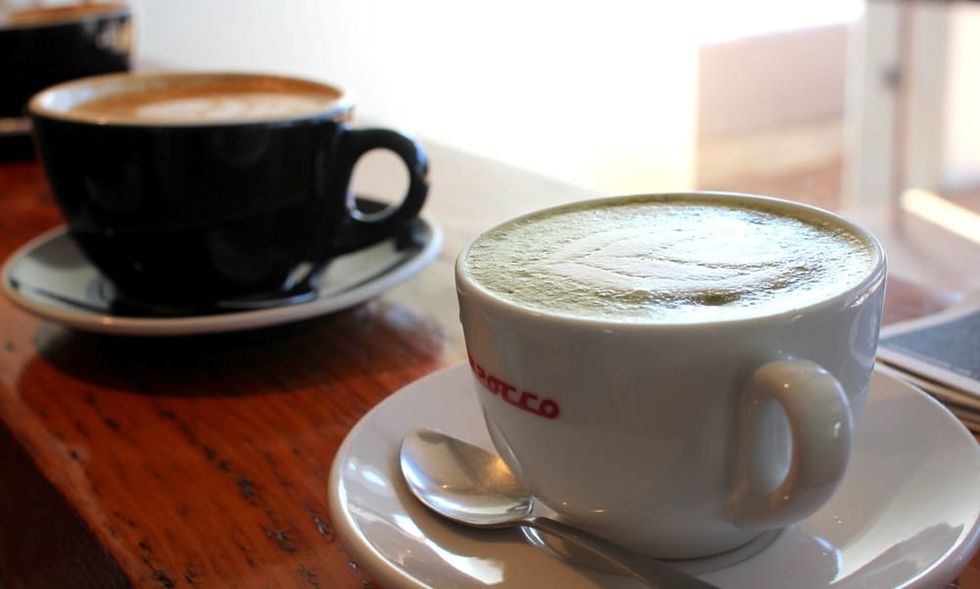 Via yelp.com
Island living is splendid, made even more special thanks to eateries and cafés that are as spectacular as the views. Hawaiians who have the opportunity to visit The Curb Kaimuki know that matcha is as tasty and healthy as can be when prepared by folks who care about the entire process, from origin to cup. What started as a food truck grew into a busy café, and customers flock to fill up their cups with matcha. Hot or iced, their matcha lattes are balanced and bright, made with regular, soy, or almond milk. Coffee drinks are popular at The Curb Kaimuki too, as are chai lattes. Scones, cookies, sandwiches, and toasts accompany the beverages beautifully.
3408 Waialae Ave. #102, Honolulu, HI
Steven Smith Teamaker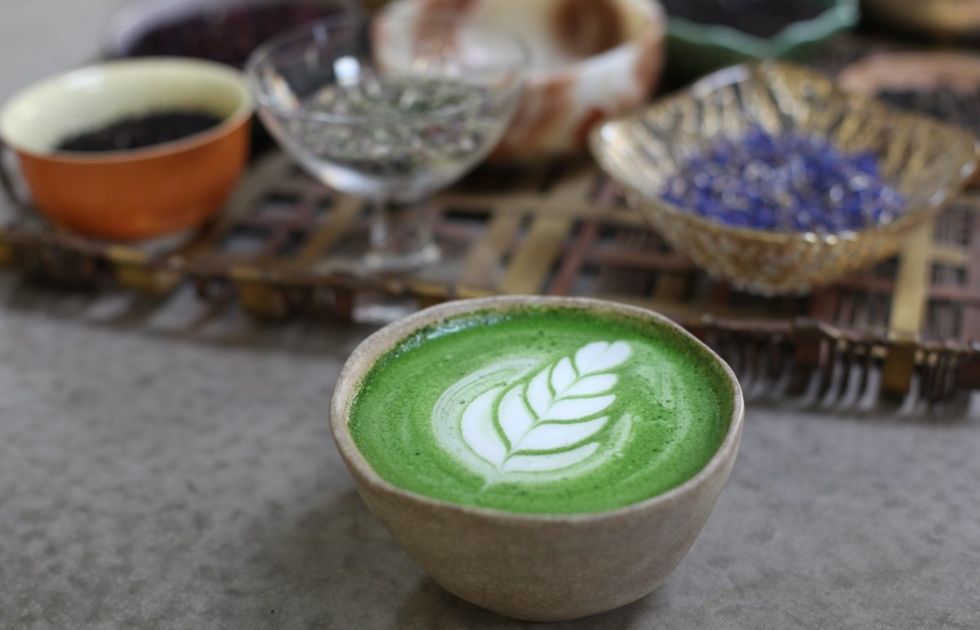 Via smithtea.com
With two locations in Oregon and one in South Korea,Steven Smith Teamakeris bringing the magic of matcha across the world. Their tasting rooms are famous for flights of all sorts of teas, allowing those new to the various styles to sip and select their favorites. Customers enjoy Steven Smith Teamaker's matcha green tea latte, which is frothy and fun, made with care and creativity. A unique offering is tea on tap, in flavors like sparkling strawberry honeybush and nitro chai. Grab a seat and enjoy your tea at one of the Portland locations or buy a box to go for matcha the next morning.
110 SE Washington St., Portland, OR
1626 NW Thurman St., Portland, OR
Samovar Tea Lounge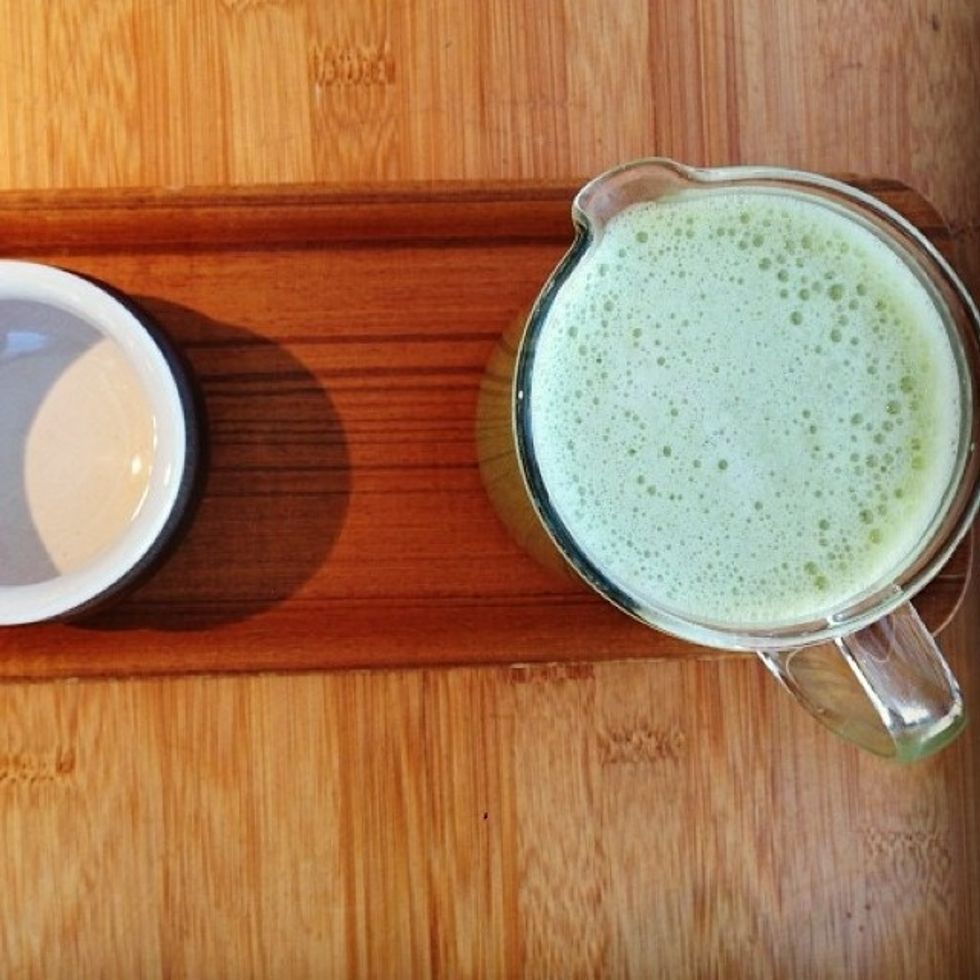 Via foodmento.com
San Francisco is a beautiful and exciting place to live or visit, and Samovar Tea Lounge took advantage of its many charms by opening three locations in the city. Serene and inviting, they call it, "An urban sanctuary, a place to step out of time and connect to what's most important." Plenty of tea types are sold at Samovar Tea Lounge, but for lovers of matcha, they've got some truly special ones. Super Uji matcha (notes of umami, warm butter, and ocean breeze) sounds divine, as does matcha Hekisui (notes of cut grass, chocolate, and umami). For those with a sweet tooth, sip on their sweet matcha (notes of chlorophyll, white chocolate, honey, and umami). No matter which you pick, your senses will be heightened, and your palate will be pleased.
730 Howard St., San Francisco, CA
411 Valencia St., San Francisco, CA
San Francisco International Airport, International Terminal A, San Francisco, CA
Yoko Matcha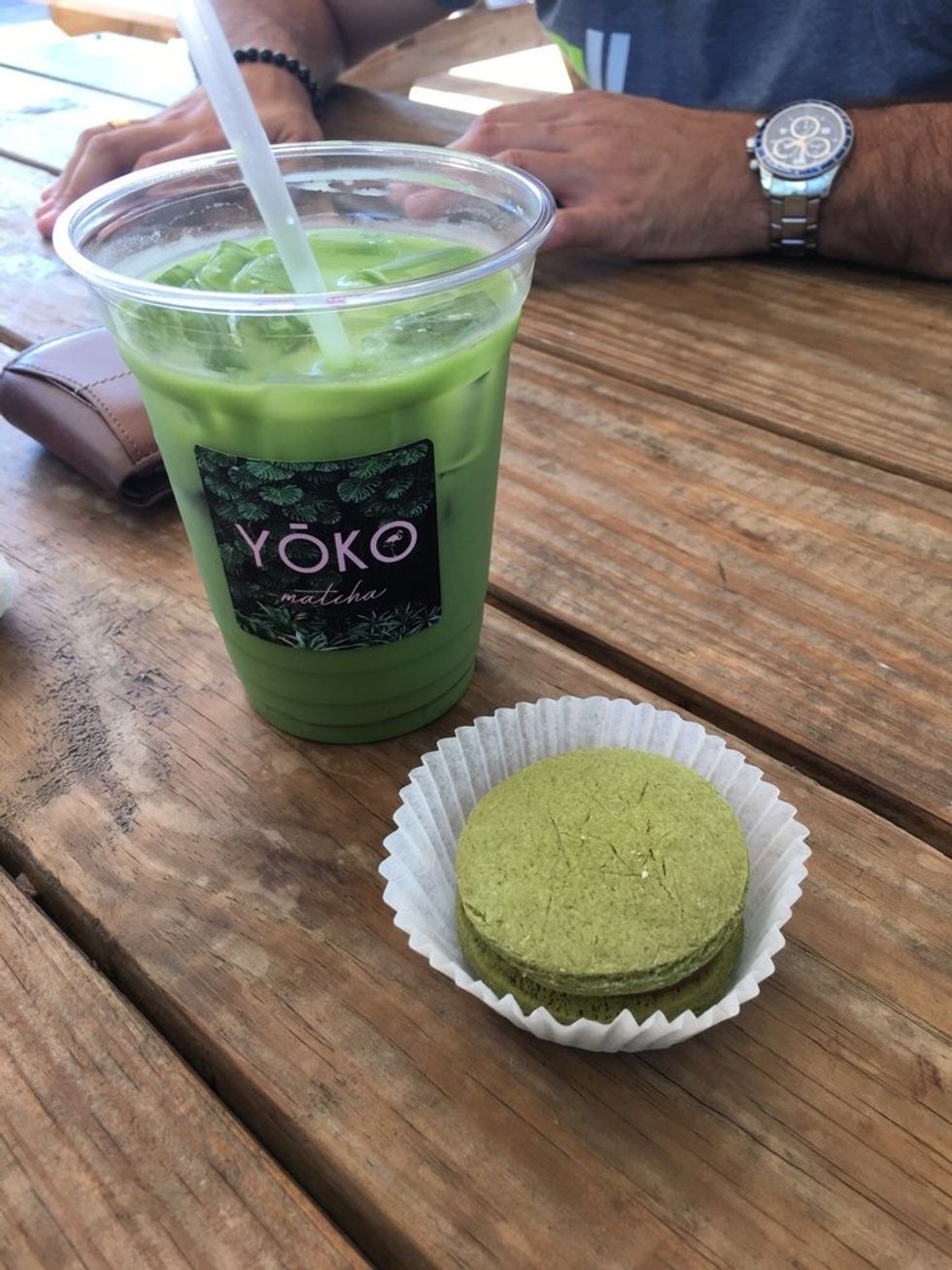 Via yelp.com
Head south for matcha at Miami's first matcha café, Yoko Matcha. Sunny skies and superior sips make this spot one to break for. Iced drinks are all the rage at Yoko Matcha, like a matcha con leche (milk), matcha with iced coconut milk, matcha with lemonade, matcha frappe (blended with white chocolate and coconut milk), and more. Pair your ice-cold drink with a tasty matcha alfajor (a matcha cookie sandwich filled with dulce de leche) or a matcha pastelito (a puff pastry filled with matcha, white chocolate, and cream cheese). They even make matcha vegan tarts and matcha waffles. Too much matcha? Never!
59 NW 29th St., Miami, FL
Cha Cha Matcha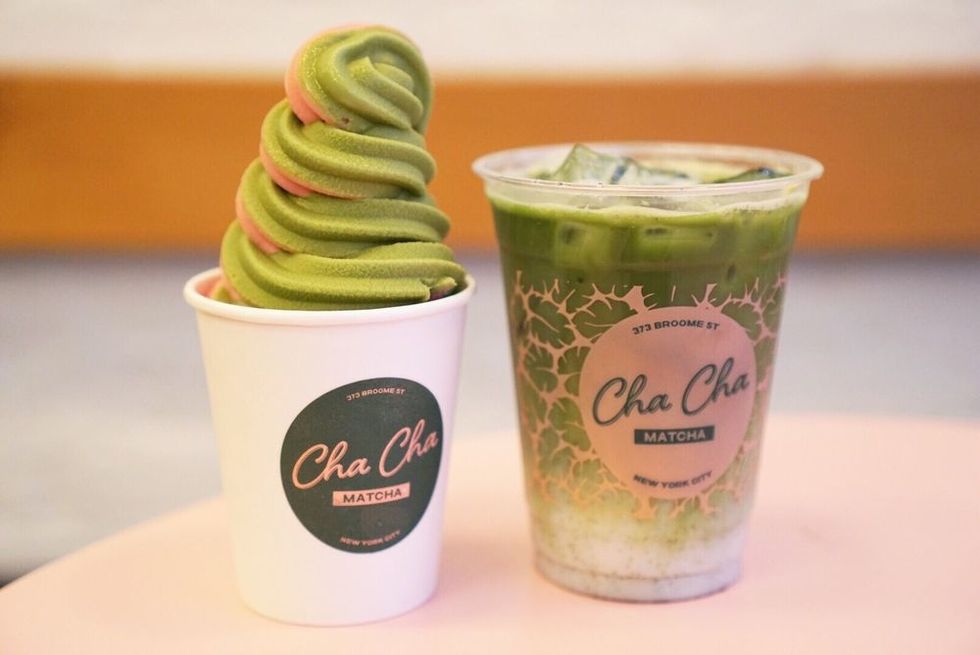 Via yelp.com
After an inspiring trip to Japan, two NYU grads decided to open Cha Cha Matcha. The cute NYC shop is so much more than tea, with tasty treats and fresh coffee too. Take a seat inside or take home your matcha goodies after ordering at the counter. Iced or hot, the matcha is amazing, but be sure to try their soft serve matcha ice cream or a coconut matcha latte. On a hot day, their matcha lemonade will refresh. Matcha-infused pastries are perfect, and the shop's friendly vibe is just as pleasing. Cha Cha Matcha is as close to Japanese tea you can find in the Big Apple.
373 Broome St. New York, NY
Matcha is on the menu. Tea has never been so terrific!