Personal-sized perfection is what cupcakes are all about. Baked up fluffy and light, frosted with flair, and often filled with ooey gooey goodness, cupcakes make folks smile, and who could blame them? Whether you're two or 102, the thrill of cupcakes never goes away. Thankfully, NYC is cupcake heaven, with plenty of shops to stop for your favorite bakery treat. And these five adorable cupcake shops are as sweet as they come.
Molly's Cupcakes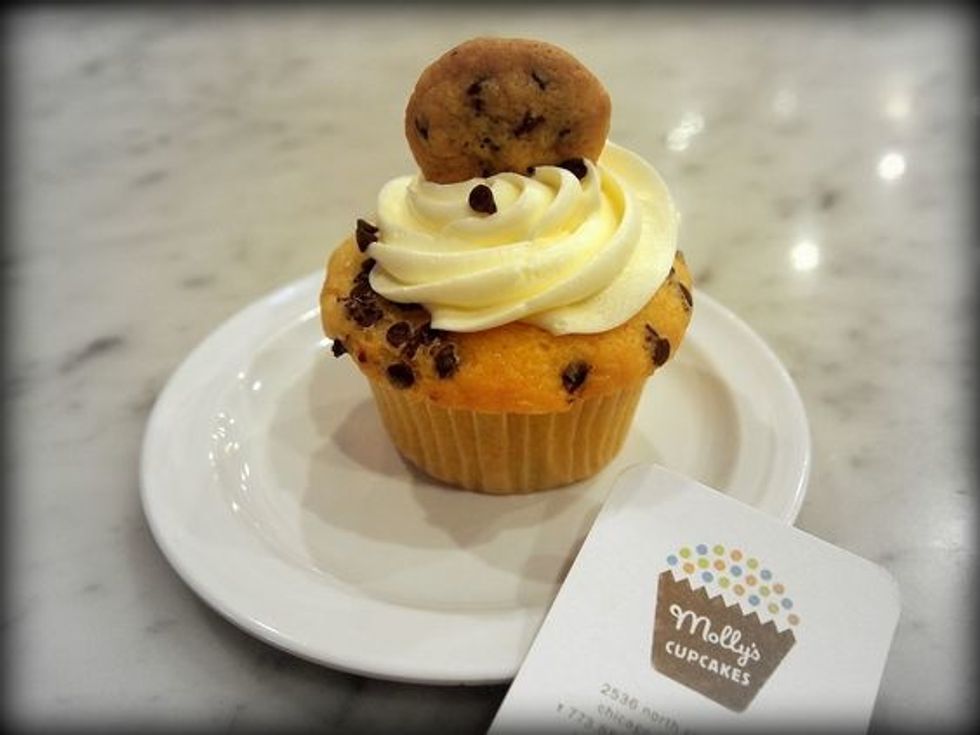 Via pinterest.com
Named one of the 10 Best Cupcake Bakeries in the Country by USA Today, and winner of Food Network's Cupcake Wars,Molly's Cupcakes evidently serves up some of the most delicious cupcakes around. The NYC location (there are others in Chicago and Iowa City) is baking up batch after batch of cupcake creativity, filled with flavor and fun. Some noteworthy cupcake confections include their Cookies-N-Cream, which is chocolate cake, cookies-n-cream filling, vanilla buttercream, and cookie topping; the Samoa, a vanilla cake, caramel filling, buttercream, toasted coconut, chocolate and caramel drizzle, and shortbread cookie cupcake creation; and "The Ron Bennington," made with chocolate cake, peanut butter filling, chocolate ganache, and crushed butterscotch topping. Vegan options are available, as are cookies, bars, pies, cheesecake, eclairs, cake pops, and brownies. A portion of Molly's Cupcakes proceeds goes towards donations to local schools, making every purchase even sweeter.
228 Bleeker Street, New York, NY
Sprinkles Cupcakes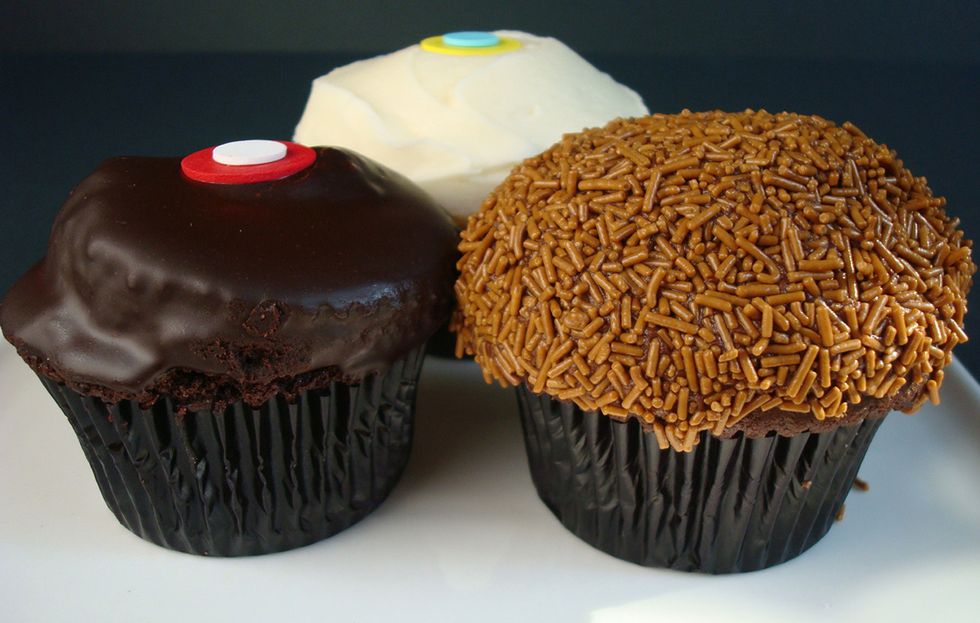 Via foodgal.com
With three booming locations in NYC, Sprinkles Cupcakes is sprinkling its sweetness all over the Big Apple. Their outrageous cupcakes are made in regular and mini sizes, satisfying a major sweet tooth or just to hold you over 'till suppertime. Flavors like chocolate marshmallow, lemon coconut, red velvet, peanut butter chip, Cuban coffee, cinnamon sugar, and vanilla milk chocolate are craved by cupcake-lovers, and since some flavors are offered as gluten-free, sugar-free, or vegan, nearly anyone can enjoy the Sprinkles experience. They even make "pupcakes" a treat for Fido with a yogurt frosting. Ice cream and cookies are served up too, and their Cupcake ATM on Lexington Ave. "dispenses freshly-baked cupcakes and cookies 24/7." Talk about instant gratification!
225 Liberty Street, New York, NY
2 Pennsylvania Plaza, New York, NY
780 Lexington Avenue, New York, NY
Georgetown Cupcake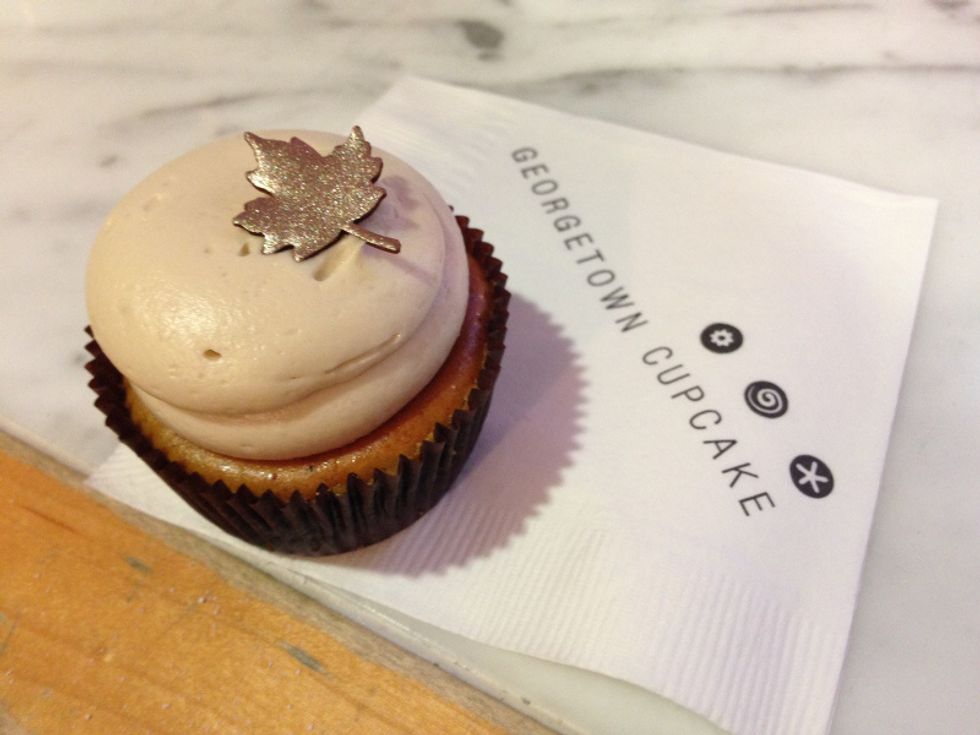 Via sassandthecityblog.com
Owned by sisters who have a flair for frosting, Georgetown Cupcake is a NYC hot spot… or better yet, sweet spot, for those who love cupcakes that are as pretty as they are pleasing to the palate. Along with the NYC location, there are five other Georgetown Cupcake shops across the U.S., so if you're not in Manhattan, indulge in L.A., Atlanta, Boston, D.C., or Bethesda, MD. Go for their Vanilla Birthday, a Madagascar vanilla cupcake with vanilla buttercream frosting and sprinkles; the red velvet with a vanilla cream cheese frosting and a red fondant heart; or Sunshine on Chocolate, bright yellow vanilla frosting on top of a Valrhona chocolate cupcake topped with a seasonal decoration. And that's only a taste of what Georgetown Cupcake is baking. Daily specials keep customers on their toes with limited offerings of carrot, salted caramel, mocha fudge, chocolate coconut, and lemon blossom cupcakes, to name a few. Vegans and those who follow a gluten-free diet are in luck with flavors like apple cinnamon and strawberry lava fudge. Attention to detail with exceptional decorating turns these edibles into works of art. But these are a case of "now you see 'em, now you don't" as they disappear into the eager mouths of Georgetown cupcake fans.
111 Mercer Street, New York, NY
Baked by Melissa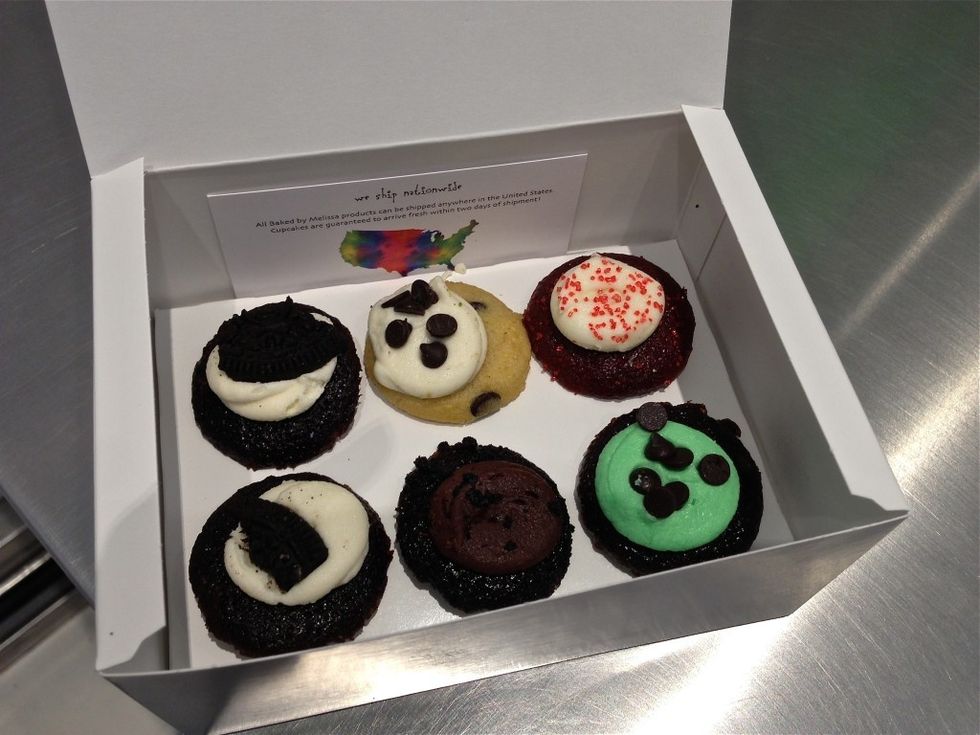 Via theseventhdistrict.com
With 14 locations throughout the city, Baked by Melissa is giving New Yorkers a bite (literally) of pure bliss. Their bite-sized desserts are pop-in-your-mouth magic, made with creative culinary care. Each tiny treat is topped with just the right amount of sweet frosting, making each cute cupcake perfectly balanced. But who could eat just one? Flavors include cookie dough, triple chocolate fudge, cannoli, mint cookie, sugar cookie, peanut butter and jelly, and a whole lot more. Along with Baked by Melissa's signature cupcakes, they also whip up mini cookies and macarons, with options for gluten-free and nut-free baked goods. For a special gift, Baked by Melissa creates beautiful boxes, samplers, and subscriptions for that friend who is crazy for cupcakes.
Click for locations
Magnolia Bakery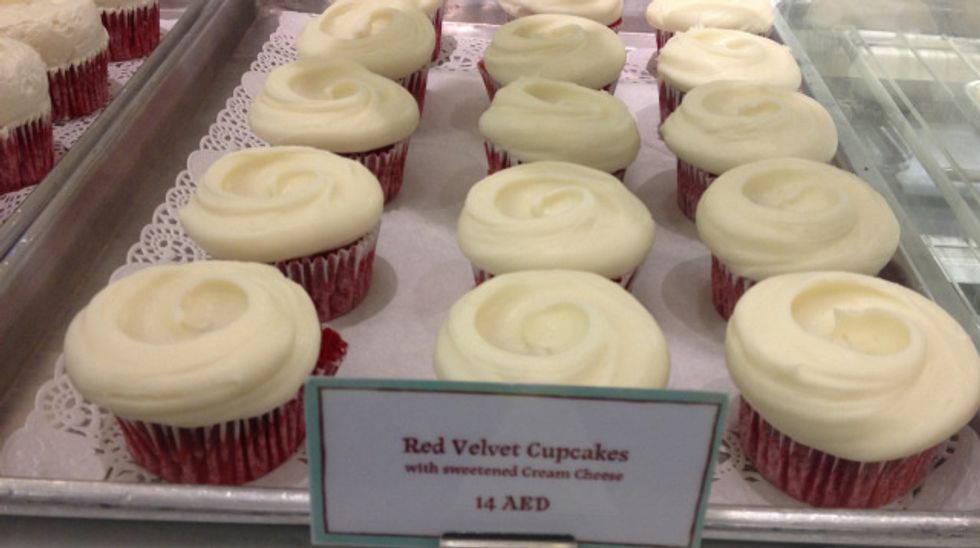 Via eatamadworld.wordpress.com
There are six Magnolia Bakery locations throughout the city, one in L.A. and another in Chicago, allowing lots of cupcake aficionados in on their delectable freshly baked goods. Known for their super-moist cakes and generosity with frosting application, Magnolia's cupcakes are beloved by customers who are always eager to return time and time again. German chocolate, red velvet, carrot, caramel, devil's food, truffle, and pistachio are all favorites, proving that simplicity is indeed, scrumptious. Crowds come for the cupcakes, but don't pass on Magnolia's morning muffins and scones, layer cakes, cheesecakes, pies, cookies, brownies, and their "Famous Banana Pudding." Since 1996, Magnolia has been a NYC gem, and with the bakery's ongoing popularity, expect to see a Magnolia near you for years to come.
Clickfor locations
Oh, what goodness you'll gobble. NYC must stand for New York Cupcakes!