On August 2005, the Breakfast Club opened its doors to the public. Long since considered a neighborhood stable in the London boroughs of Soho and Shoreditch, it's bright yellow walls feel welcoming, inviting in every stranger who's tempted by pancake batter and scrambled eggs. It's a cafe that specializes in the most important meal of the day but doesn't feel like your average run of the mill English pub.
A brief history is stated on their website:
Apart from it didn't because a few weeks earlier we changed our minds and called it 'The Breakfast Club'. A classic space-time continuum moment that Doc Brown would have been proud of. We can only speculate where we'd be if a fast serve burrito cafe called 'Save Ferris' opened that day.
The mothership in Soho is still there and we're still here. My sister in-law and I are still pinching ourselves that we got this far. We cashed up our tills on that first day and counted £26.35 (£13 from our friend Jimmy The Edge) Back in 2005 £26 was a lot! Along the way we've had a lot of people join us for the ride. We've said goodbye to a few and there's a few we just can't shake. To all the incredible staff past and present that helped us get here – it's a minor miracle, without you we'd have been working at Chipotle thinking 'this could have been us'.
For those of you who don't know anything about us – here goes. We are family caf business (caf not café) doing a mean old all day food and drink offering. We seem to be fairly well known for our banging brunches – rumour has it we invented Breakfast. The rumours are unfounded. A man called Kellog did. We also turn our hand to some wonderful lunches and evening meals accompanied by a drinks menu that encompasses barista made coffees through to award winning cocktails.
The Breakfast Club is a small and intimate space, one that immediately lends the appearance and feeling of home. Popular dishes include their world-famous pancakes with a variety of toppings as well as chorizo hash, avocado & poached egg, and the typical English breakfast with a twist. The food is made with high-quality ingredients - the sausage was superb, as was the creaminess of the avocado. The dishes vary in price range, but it stays within a reasonable bracket - a standard English tea was just £2.50.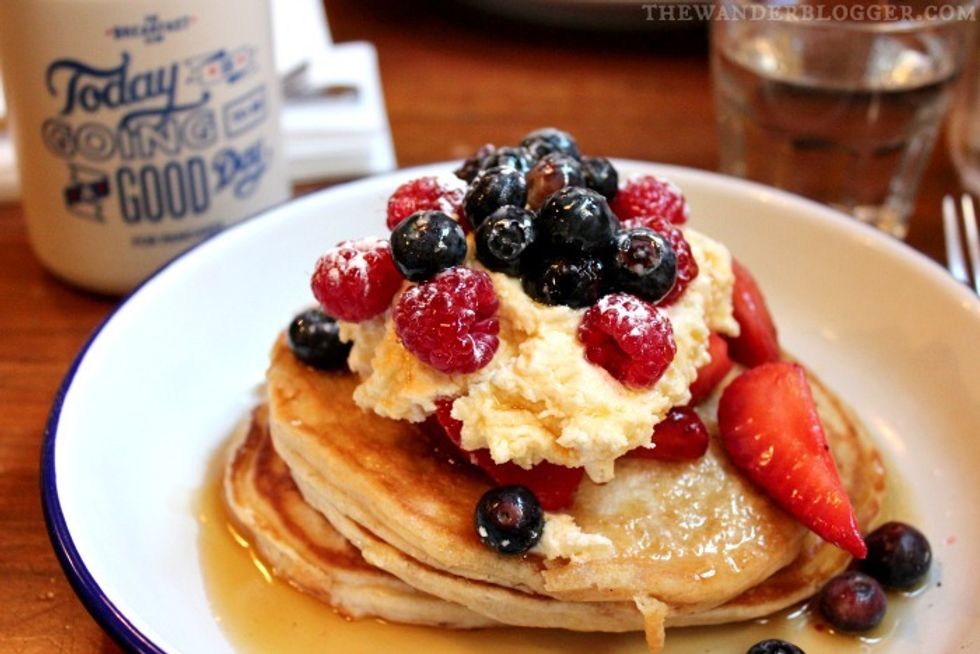 By Wanderblogger
The atmosphere is as warm as the staff is engaging. The walls are filled with posters of their namesake, the John Hughes film released in 1985. You get the feeling that, even though it's breakfast-oriented, no one is in a rush to start their day. As Time Out writes in their review of the spot, "Breakfasts take centre stage: from a full English and a US variation featuring maple syrup pancakes, to a Latin American breakfast burrito. But there are also jacket potatoes with toppings less ordinary (goat's cheese, guacamole, grilled chicken), chunky sandwiches (such as the amusingly titled 'When Haloumi Met Salad') and freshly made smoothies galore."
After dining in at the Breakfast Club, it's been hard for me to find a similar breakfast experience anywhere else. Their attention to detail and devotion to making you feel at home, sets them apart from the rest, as even as I was 1,500 miles away from home I felt a calmness that lingered long after I left. While the cafe might require a bit of a wait, it's surely worth it for the experience you'll have of a true English breakfast - done with love and compassion, and always served with a smile.
For locations and hours, The Breakfast Club can be found at their online website.