When travelling we tend to view the journey to our destination as a necessary evil, not something to be savored. But when was the last time you took a train ride you truly enjoyed? One where you weren't constantly scrolling through your social media feeds or fast asleep with your headphones blasting your soundtrack du jour.
Forget road trips where you sit in endless traffic, squinting at Google Maps to find an alternate route while brushing Doritos crumbs off your thighs. Or when the god of travel sticks you next to a red-faced screeching tot on every single flight. Train travel can be about experiencing natural beauty in the comfort of wide cushioned seats and the hypnotic whirring of the wheels hurrying over the tracks—if you let it. Try one of the following trips and luxuriate in the serenity and ease.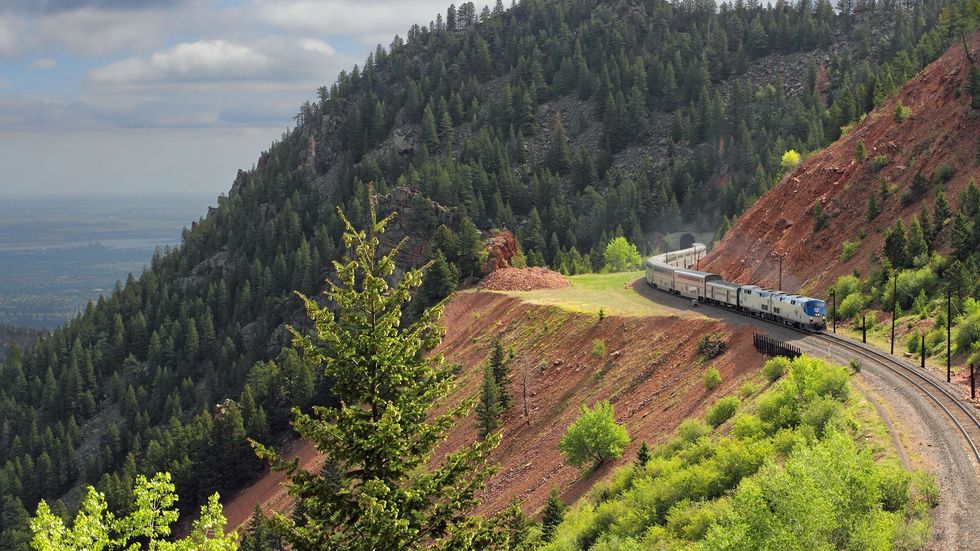 Amtrak's California Zephyr
Those craving a West Coast road trip without the traffic should check out this train route. In just over two days, the California Zephyr takes you across almost 2,500 miles of unadulterated American ecological splendor. Starting in the heart of Chi-town (Chicago) and ending up at San Francisco Bay, you'll chug through old mining ghost towns, Denver's imposing Rocky Mountains, the Ruby Canyon and finally, the breathtaking Sierras. For the price (under $200 one way), this expansive journey is not to be missed.
Grand Canyon Railway
When this railway was built in 1901, the Grand Canyon was unknown to the majority of the world. Just 44,000 people visited in 1919 when it first opened. Today over 5 million tourists annually arrive from all over the globe to marvel and explore its craggy depths. The Grand Canyon Railway offers a more relaxed, scenic way to arrive at the park in style—without the stress of fighting the crowds. (Don't worry; you'll have plenty of opportunities to be surrounded by people once you start your hike.) You'll glide through silvery pine forests and unfettered expanses of vast desert, often catching a glimpse of local wildlife like condors, elk, and deer. Should the views start to bore you, take some time to listen to the tips your car host will divulge for visiting the canyon itself. You'll also get to experience a "train robbery" complete with bandits and a horse chase. It's the perfect combination of entertainment and passive enjoyment.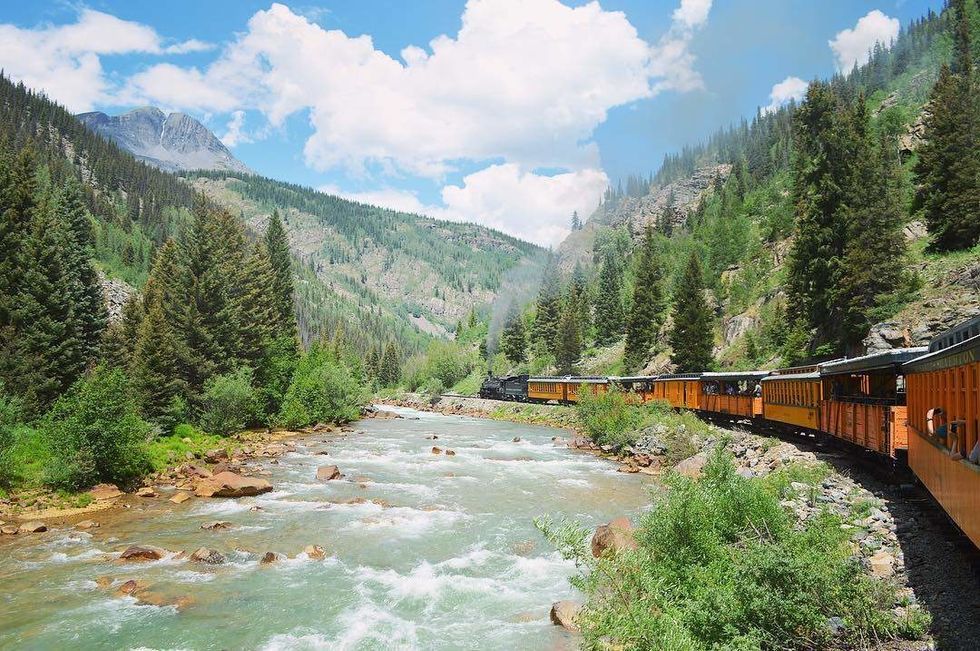 Durango & Silverton Narrow Gauge Railroad
This Colorado-based railroad was originally used to transport freshly mined silver; its hairpin curves and narrow width were crucial for hugging treacherous mountain bends. Its curves add a jolt of adrenaline to the pure joy you'll experience as you watch the thrashing Animas River and the sky-high cliffs of the San Juan National Forest rush by. At times during your ride you'll be close enough to spit on the canyon's rock walls (but don't), while at other points you'll feel like you're gunning across an invisible track with nothing but the bottomless chasms beneath the wheels.
Sunset Limited
Soak in stunning panoramic views during this ride, which kicks off in the town that invented overindulgence. Starting in New Orleans and going all the way to Los Angeles, you'll get to watch the bayous slowly transform into a scorching desert, where the only signs of life are the occasional scuttling insect. Park guides are happy to narrate your journey during peak season, and you have the option to hop off and explore Saguro or Big Bend National Parks to stretch your legs and get personally acquainted with the beauty of the American Southwest.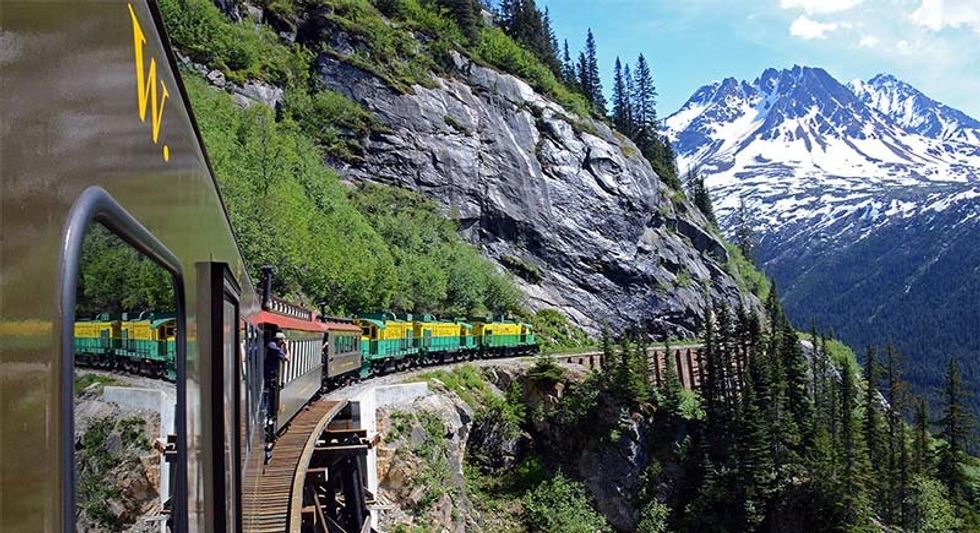 Alaska White Pass & Yukon Route
This high-flying narrow rail trail is not for the faint of heart. Reaching heights of almost 3,000 feet in just 20 miles, the train skates over sky-high trestles, glaciers, waterfalls and an aptly named "Dead Horse Gulch." (Once you see the gulch you'll understand.) You'll enjoy an ongoing narration during your three-hour ride in the comfort of a vintage passenger coach, during which time you can marvel at the incredible lengths the original gold-seekers went to seek their fortune. It's tough territory out there, but luckily all you have to do is relax.
Cass Scenic Railroad
In 1901, the West Virginia Pulp and Paper Company founded the company town of Cass, West Virginia for the many loggers it employed. Over 100 years later you can ride on the same steam-powered cars that used to haul timber down from the mountain to the mill—only you'll be traveling in much more luxurious accommodations. You'll journey to the top of Bald Knob, West Virginia's third highest mountain in 4.5 hours, feasting your eyes on spectacular views and wildlife the entire way. The tracks follow a steep 11% grade slope, so be prepared to literally sit back and enjoy the show.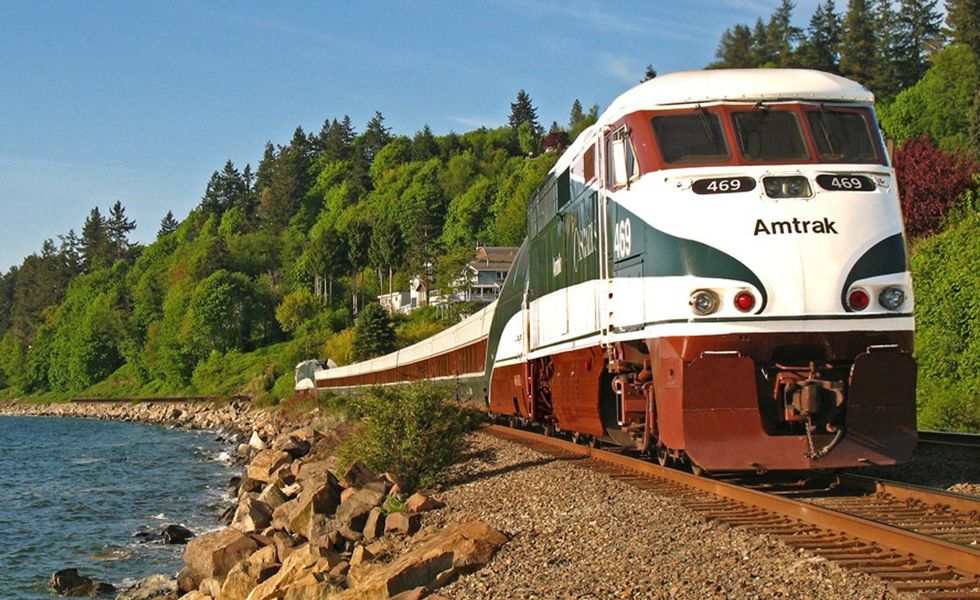 Amtrak Cascades
Even if you haven't seen the Twilight movies, which feature gratuitous shots of the lush Pacific Northwest forests, close your eyes and imagine the all-encompassing greenery you'll observe on this trek from Eugene to Vancouver. Once you reach Seattle, the green gives way to the magnificent Puget Sound, and on a clear day you might be able to catch a glimpse of the imposing Olympic Mountains glowering from afar. If you take the train to its ultimate destination in Vancouver, you'll get to admire the picture-perfect Salish Sea, at times riding so close to the edge you'll feel like you're skimming the water itself.
Nantahala Gorge Excursion
Try a 44-mile scenic journey that takes you past the Tennessee and Nantahala Rivers, over the brilliant Fontana Lake, and that finally deposits you at the legendary Nantahala Gorge. Choose from either the first class car, where you'll get to drink in the verdant backdrop through large picture windows over brunch or lunch, or the Premium Open Air Gondola, with half-height walls that allow for soft breezes to ruffle your hair as you travel.
Enjoyable train travel, once reserved for members of high society, is now available to all those traveling throughout the United States. Whether you're traveling on a sleek liner zipping along a river, or a restored vintage car trundling up a mountain, there's sure to be a trip that will turn you into a believer that the journey can, in fact, be the destination.