Public transportation is probably the easiest and most affordable way to get around big cities in the United States and around the world. But for those who don't use public transit regularly, trying to learn a system during vacation can be extremely confusing. What do the different train lines mean? How do you keep track of bus route numbers? Here are a few tips that will go a long way to making your trip a little easier.
1. Buy your pass before you board
In most transit systems, you can buy a pass or reload your metro card at most train stations. This is a good option if you don't plan on leaving right away. But it might also be a little stressful trying to figure out how the ticket machine works when your train is arriving in five minutes. To avoid this, just buy ahead of time. Many cities now even let you purchase passes on your phone.
If you're only going to be in town for a couple days or a week, go ahead and buy enough to last you the entire trip. This way, you'll never be frantically buying a ticket on your way into the station.
2. Research your route to avoid getting lost
You should have some sense of where to go when you show up at the station. The last thing you need is to be confused on which line or direction to take as a train pulls in. Make sure you've already researched your route before you even leave for the train station. You can easily do this with Google or Apple Maps in most major cities.
Additionally, figuring out which train to board once you're at the station is much simpler than most people would think. For example, your directions might say to take the red line toward Westmoreland. Look for the set of tracks with a sign above them that proclaims that direction. They will also probably be color coded. Walk to that set of tracks and wait. It really is that easy. Once you're on board, listen for your stop to be announced as "now arriving." That means your stop is next and you should be ready to step off when the train slows.
3. Save a copy of the city's train map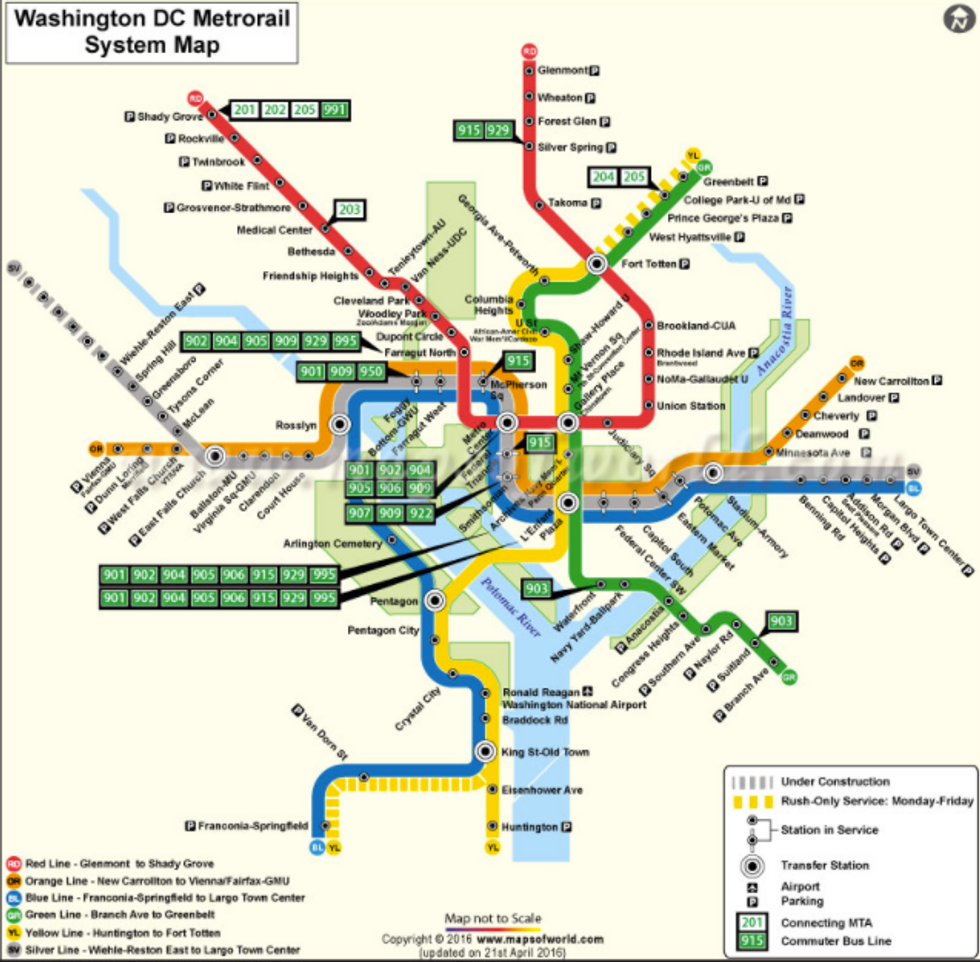 If you're going to be using the metro regularly, it's probably a good idea to save a copy of the city's train map to your phone. There are several apps made to give you public transit directions. But unfortunately, they won't be very useful while you're riding on most metro systems. You usually can't get a reliable signal underground.
To combat this, save a copy of the rail system to your phone. This will allow you to double check your route quickly while you're offline. And the more you use the metro system, the easier it will be to find your route just using that map.
4. Use a transit app for bus routes
Bus systems are a completely different animal. Usually, you can use your train pass to board a bus, but their routes and methods are totally different from trains. Honestly, there isn't any easily discernible rhyme or reason to bus routes. This is why you'll probably need an app.
Use Google Maps or Transit to look up the best bus route for your needs. Many cities also have directions built into their ticketing app. You can also use these apps to follow the bus on a map to make sure you get off at the right stop. Transit even offers real-time notifications that will tell you exactly when to get off. Make sure you press the stop request button a few blocks before your stop to give the driver enough time to slow down and let you off safely.
5. Don't be afraid to ask for directions
As much as you can prepare, you'll probably end up getting confused or lost at some point. Even transit commuters can get turned around when they don't take their regular route. Don't be skittish about asking for directions. It's a great way to meet new people. Maybe you'll even find another tourist headed to the same destination. But if you don't feel comfortable asking your fellow travelers, many bus operators or other transit officials will probably help you out. Having some familiarity with your route will also help you understand their directions that much faster and easier.