Earlier this year, I finally moved to a new city to start my career.
I grew up in a super small town, so after I graduated from college, I could not have been more excited to pursue my dream of working in the music industry. It's been a bigger adjustment than I expected, and while I'm having fun and enjoying certain aspects of my job, I'm an assistant, so it's long hours every day. My workday also doesn't end when I leave the office-- I spend most evenings networking, trying to make connections - hustle is the name of the game! I confessed to my mom I was feeling a little disconnected from myself and looking so, so tired, and she told me she had the perfect pick-me-up gift.
A couple of weeks later, I saw this huge, beautifully-designed box sitting in the mailroom. While admiring the beautiful pattern, I saw that it was a FabFitFun box addressed to me! My mom knows me so well. I poured myself a glass of wine on my couch and sat down to open it.
The goodies were from big-name brands I already knew, as well as others I had never heard of but was excited to try. I Facetimed my mom to thank her for such a thoughtful gift, and she told me that she signed me up for a full year of boxes! WOW!
Everything I've gotten so far I've absolutely loved and the products add a little bit of glamour and fun to my usually mundane, boring weekday routine. For anyone curious on how FabFitFun has directly affected my day-to-day, here's how: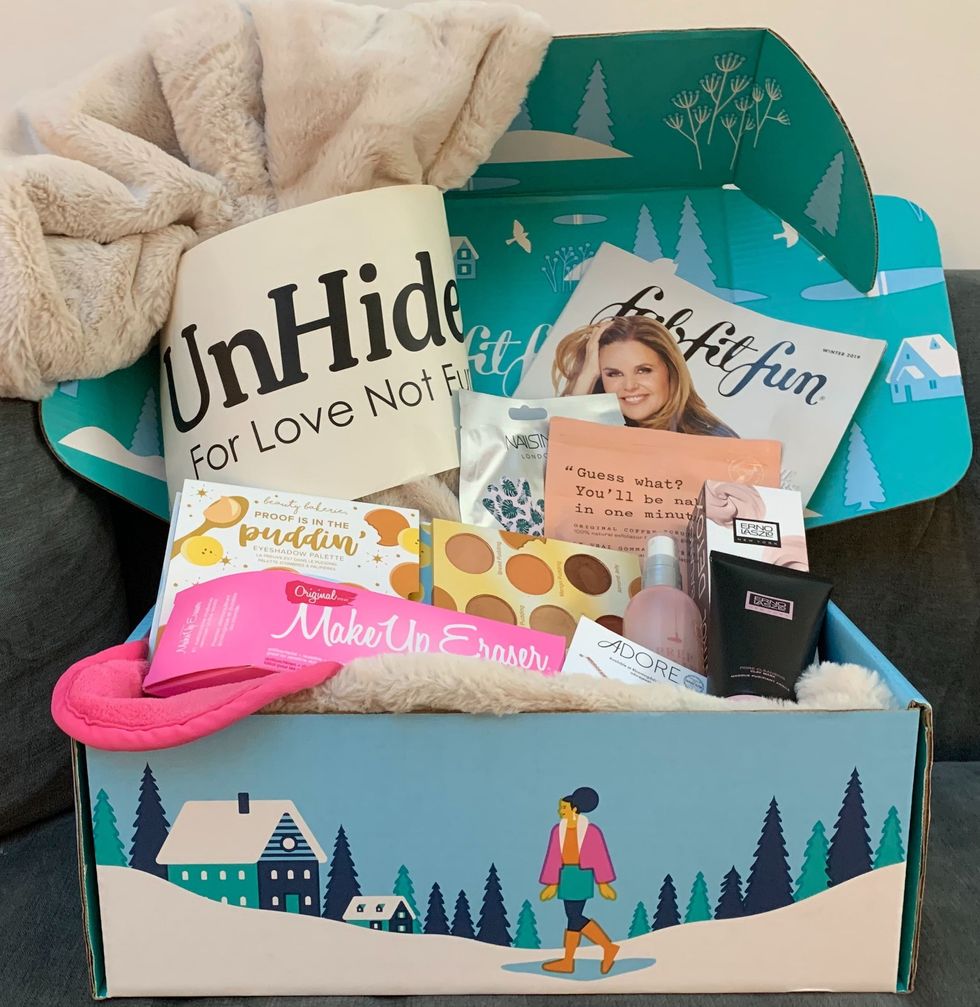 6:55am: Horrendous sound of an iPhone alarm clock
I swear, no matter how much sleep I get, I always look like I've been up partying all night! That's why I was super excited to get the dr.brant No More Baggage De-puffing Eye Gel in my Spring box. It's a miracle-worker and usually super expensive, but I've always wanted to try. I still can't believe I got a full-sized tube of this- it retails for $42 - almost the same price as the entire box!
7:30am: Time To Tackle The Frizz!
The next hurdle is trying to get my hair looking somewhat presentable. I have naturally frizzy hair, which means I have to style it a lot. The Living Proof No Frizz Nourishing Styling Cream from the Summer box is a godsend for minimizing frizz and protect your hair from heat damage.
1:00pm: FINALLY Lunch
Depending on my schedule (or mood!), lunch is either a super healthy salad or a cheeseburger and fries to-go. My diet is up and down, so I've at least been trying to drink more water. I got a super cute S'ip by S'well reusable water bottle in my Summer' 19 box, and it's really helped me stay on track. Plus, it keeps drinks hot for hours, too!
6:00pm: Gotta Keep The Face Looking Fresh
Right before I leave work to head out for drinks, I dust my face with the Ciate London translucent setting powder. It's great for keeping your makeup in place all day and keeps me looking fresh, going from day to night!
9:00ish: Anddddddddddd Chill
Once a week, my roommate and I watch The Bachelor and totally veg out on the couch. The Twine Cheese Board I got in the Fall box has really stepped up our nights in! It's the perfect size to fit a few different kinds of cheese, and has a matching cutting knife, too - so fancy!
10:30ish: Me Time
I use my nighttime shower to pamper myself a little, and I take the products I use very seriously! When I saw the Harper + Ari Exfoliating Sugar Cubes in my Fall box, I wasn't quite sure how they worked, but they're my new favorite addition to my routine. Not only do they smell amazing, but they really help get my skin feeling soft and rejuvenated. Right after, I pop on this cute floral robe, my Show Me Your Mumu Robe, from the Spring box, so I'm soft and cozy while I get ready for bed.
11:30ish: Bedtime
I had trouble falling asleep until I discovered essentials oils.. The Aromatherapy Associates Deep Relax Roller Ball smells incredible, and the chamomile and sandalwood help my mind slow down and switch off before bedtime. I love the convenient rollerball dispenser, so I throw it in my bag to use it at work on particularly stressful days.
The best part of being an annual member? I get a bunch of cool perks, too! I get first dibs on customizing what products I get, my box ships earlier than everyone else, and they even have this thing called FabFitFunTV, which has great on-demand workout, cooking, and crafting videos plus fun dance routines that help me stay in shape when I don't have time to go to the gym. FabFitFun has helped this busy girl stay on top of trends I didn't even know I needed and has turned super stressful days around!
My days can still be long and taxing, but trying new products and treating myself a little here and there make the mundane parts of my routine into little moments of self-love that get me through the day. And with FabFitFun, the little moments become some of the best moments. Catch you next season!
UPDATE: FabFitFun is giving our readers $10 OFF their first box! That's $200+ of products for $39.99.
New Members, Follow This Link To Snag A Box Before It's Sold Out!