When you're on vacation spending a lot of time on your hair or makeup is usually not on your "to do" list. Vacation hair should be quick, easy, and low maintenance. Yes, you still want to look good lounging by the pool but who wants to waste time using a hair dryer when there are so many sights to see and tropical drinks to sip?
Vacation usually means more sun, salt, and UV rays leading to some seriously parched strands. Dry, frizzy hair is harder to manage. A sleek blowout can turn into a frizzy mess in less than an hour when humidity is in full force. Save yourself the time, the space in your luggage, and the headache of trying to tame constant frizz. We've got three no fuss ways to do vacation hair.
Half Up Top Knot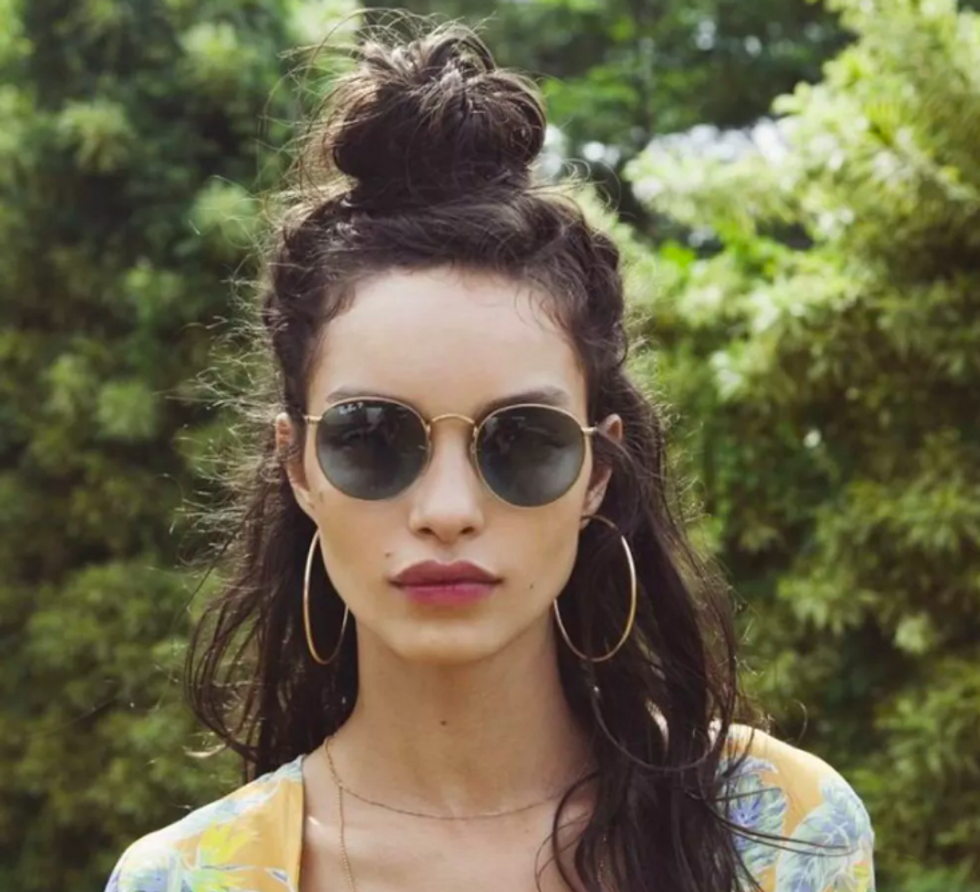 Model Wearing Half Up Top Knot Style Noted
The half up top knot takes less than a minute to pull your hair up into and looks effortlessly chic. You can easily take this hairstyle from pool side to sunset dinner and drinks. If your hair gets a little wavier on vacation don't worry, it'll look great with this style.

You'll Need:
A hair tie
4-8 bobby pins (depending on how thick your hair is)
Dry shampoo
Texturizing spray
Here's how to do the half up top knot in under a minute:
Start by spraying a little bit of dry shampoo on your roots. This will help absorb any sweat or oil build up from all your vacation activities.
Gather the top part of your hair and pull it back to the top of your head.
Secure with an elastic to create a half up ponytail.
Twist the hair in the ponytail into a messy bun and secure it with bobby pins.
Spray a texturizing spray like this one from OUAI onto the rest of your hair for more fullness and body.
Easy Beachy Waves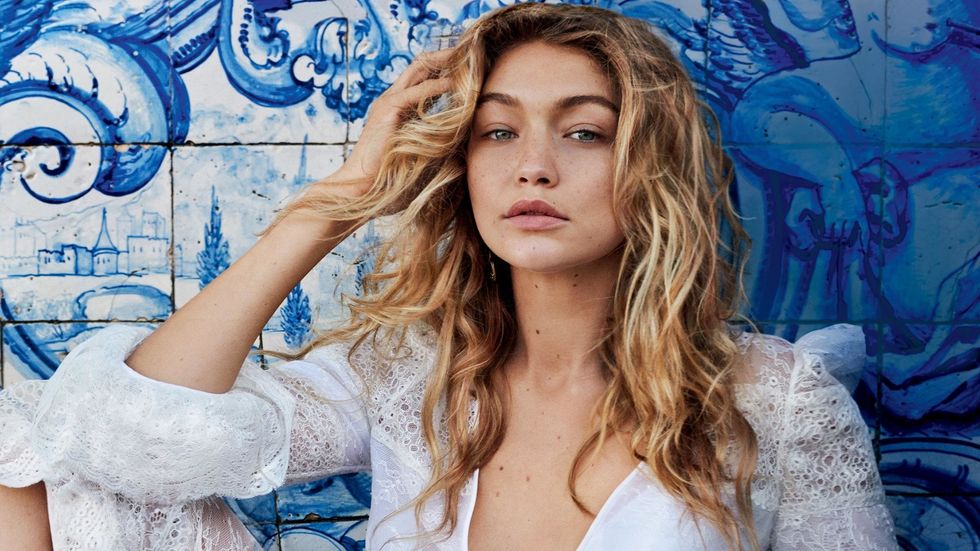 Gigi Hadid Vogue
Nothing says vacation or summer like messy beach waves. Believe it or not this look can actually get better with a little humidity, salt water, and sun. That is if you're styling your hair right. According to Vogue, getting the perfect beach waves requires a little TLC and some expert guidance for your specific hair type.

Fine hair won't curl like thick hair does. And hair that's already wavy can't be styled the same as pin straight hair to achieve this look. So how does this hairstyle still qualify as no fuss? Just make sure to follow the guidelines for you specific hair type below.
You'll Need:
A moisturizing base product
Salt spray or texturizing spray
Hair oil- only if your hair is naturally very frizzy
Fine Hair
Start with damp, towel dried hair and spray a moisturizing base product like Bumble and Bumble Prep loosely from root to end. With fine hair, it's important to use half the product you normally would when trying to get beach waves.
Take a salt spray or texturizing spray and apply a small amount (about two pumps) to ONLY the midsection of your hair. Scrunch it.
Let your hair dry a little more and when it hits 30% dampness scrunch again and pin your hair into two loose buns. Let it air dry.
When it's dry undo the buns and let your beach waves free.
Thick Straight Hair
Follow the same steps for fine hair above but use a stronger product like a heavy mousse. Vogue recommends this one by Oribe.
If you have the time and packed a curling iron you can do a few quick waves when your hair is dry. Thicker straight hair has a harder time holding waves and can be enhanced with a curling iron. No need to go crazy. Just sprinkle a few quick curls throughout your hair once it's fully air dried. Hold each curl in the iron for about 10 seconds.
Wavy or Curly Hair
Start with damp towel-dried hair and mist your hair from roots to end with a moisturizing base product. About 4 pumps.
Rake your fingers down through your hair, pulling the curls and working them until they soften. With wavy or curly hair you want to focus on pulling the waves down and massaging the product into the hair instead of scrunching.
Skip the buns and just let your hair air-dry.
*For extra frizzy hair add a pump or two of hair oil and rake it through your hair.
Throw on a Headband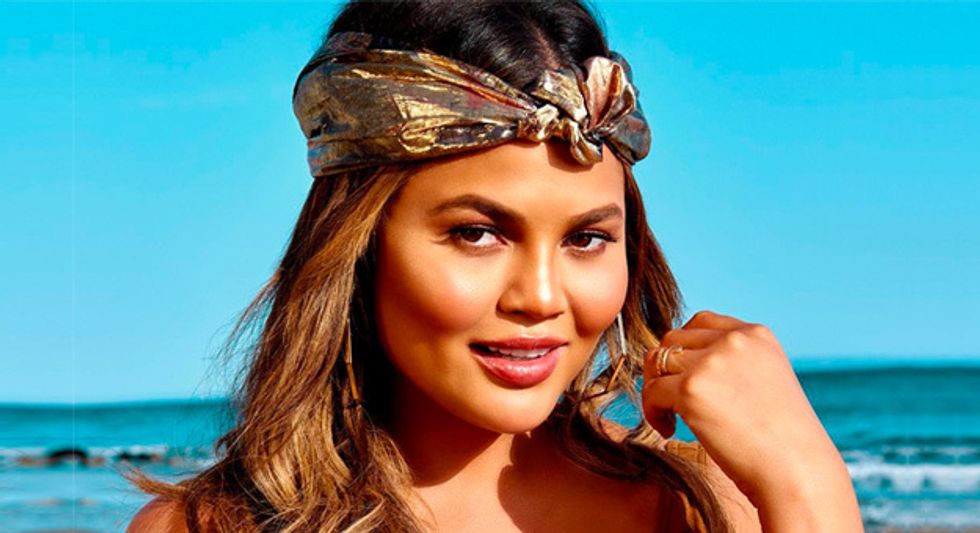 Chrissy Teigan
"It's the headband of the day/ the headband of the day/ push your locks away/ it's the head band of the day." If you follow Chrissy Teigen on instagram you've likely heard John Legend sing this song to her every day for the past few weeks while she reveals her newest headband of the day on vacation in Bali. Throwing on a wide headband with a loud pattern is the perfect way to do beach chic with zero effort.
You'll Need:
1 to a few wide, twisted, colorful headbands
A hair tie if you want to also throw it up in a bun like Chrissy does
Here's how to rock your headband:
Leave your hair down or throw it up in a messy bun.
Put your headband on.
You're done!
Here's some more headband inspiration from @chrissyteigan: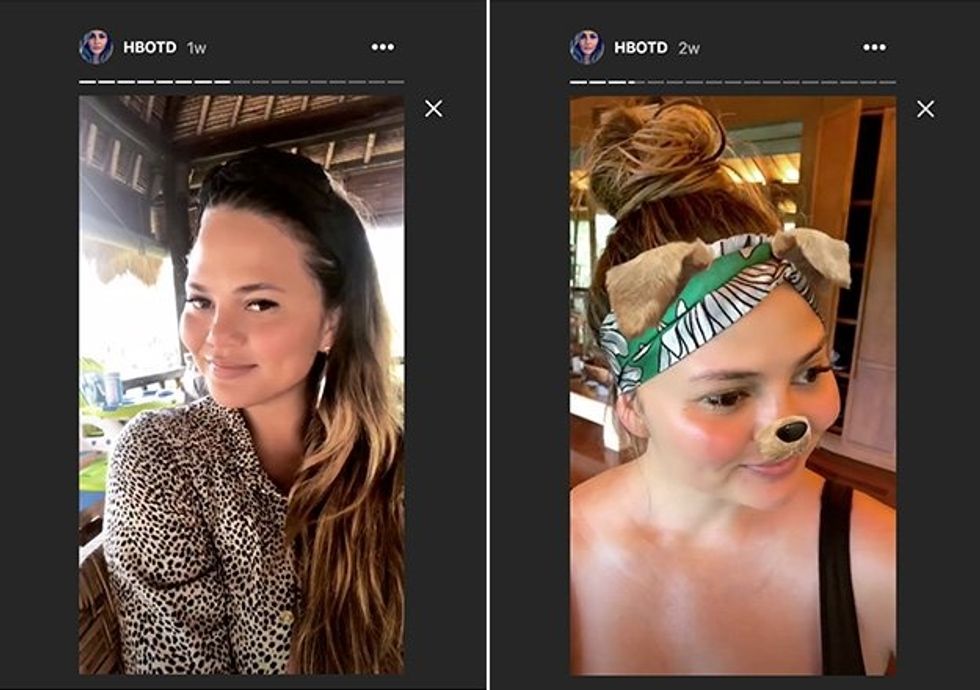 Chrissy Teigan Instagram
If you're planning a beach get away don't forget to bring nourishing products that will rehydrate your dried hair and protect it from more damage. All that salt and sunshine can change the color and texture of your hair. Here are a few tips to keep your strands healthy while you hit the beach.
Switch to an extra nourishing shampoo and conditioner.
Condition your hair before swimming and then apply a water resistant hair shield that protects against uv rays and chlorine.
Skip the heat styling tools and opt for air drying instead.
For more ways to protect your hair on vacation check out our favorite Healthy Hair Care Products for a Frizz Free Summer.