Spring has sprung and it's time to embark on an exciting road trip. America's bounty of beauty can be enjoyed from sea to shining sea, after filling up the tank and turning the key. Here are three remarkable road trips for spring travel. As the wind whips through your hair and the radio plays your favorite songs, look around and love what you see along the open road.
Columbia River Scenic Highway, Oregon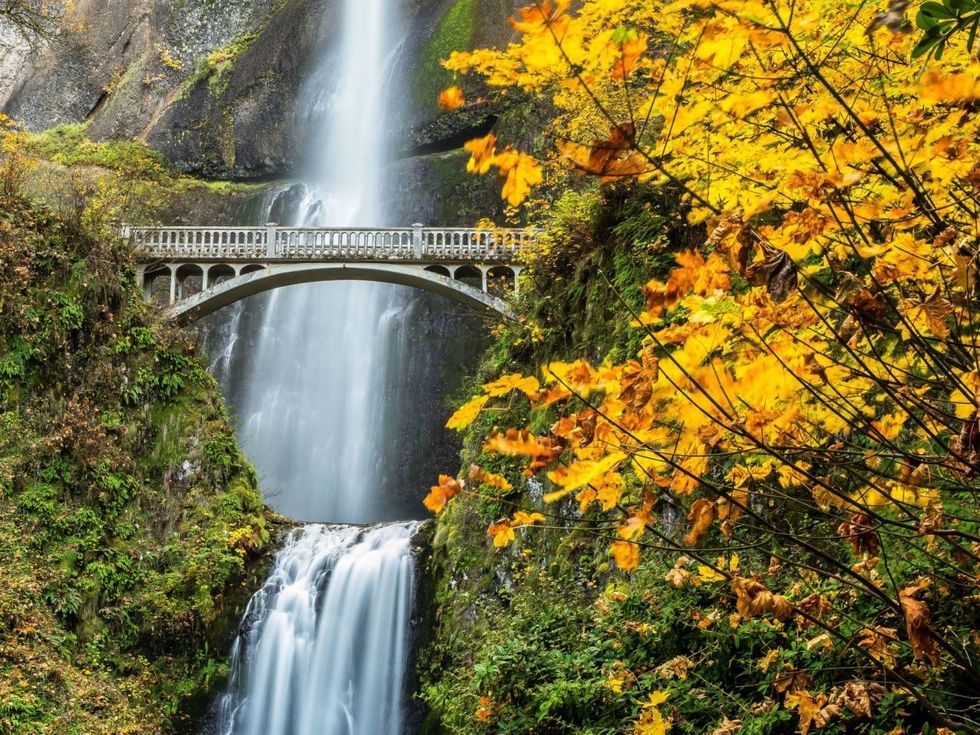 Columbia River Scenic Highway, OregonVia wallpaperup.com
Named one of USA Today's "10 best bucket-list road trips," Columbia River Scenic Highway through Oregon from Troutdale to The Dalles is a road trip worth the drive. The expansive 75-mile stretch is chock-full of spectacular sights that make the drive as delightful as the destination. Wonderful waterfalls, majestic mountains, and lavish landscapes showcase nature at its finest. USA Today recommends, "Make an easy detour on the Mount Hood Scenic Loop to Timberline Lodge, a classic mountain park hotel. It's one of those see-it-before-you-die destinations."
Travel Oregon notes this highway is considered the "King of Roads" best known for "its design details and innovative construction techniques." Travelers have driven along this stretch for more than 100 years, making it "the first major paved road in the Pacific Northwest, as well as the first designated scenic highway in the United States."
If you can,travel during springtimewhen the waterfalls are flowing at their peak and the gorgeous wildflowers are blooming. Mother Nature has left her fingerprints all over Columbia River Scenic Highway. Show your appreciation by packing up the family and cruising along in awe.
Great River Road, Minnesota – Louisiana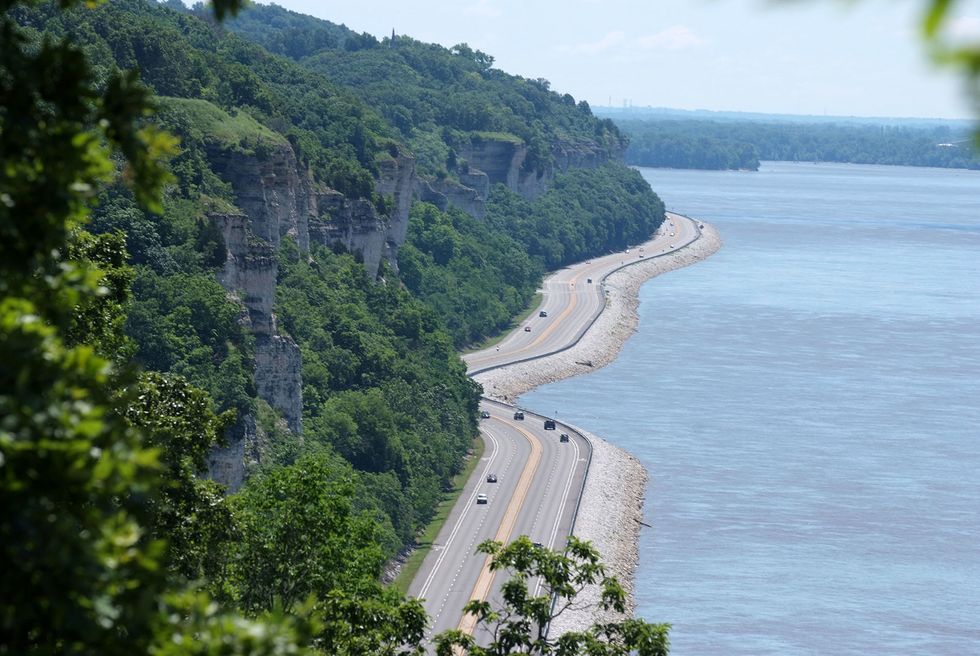 Great River Road, Minnesota – LouisianaVia experiencemississippiriver.com
Travel along the Mississippi River as you ride the Great River Road from Minnesota to Louisiana. The terrain is spectacular, running hilly in Wisconsin and Iowa, as per USA Today. According to Experience MississippiRiver, "The Great River Road traces the course of the Mississippi River for 3,000 miles through 10 states." And this year marks its 80th anniversary, so there's no better time to travel in celebratory style!
As Experience Mississippi River notes, "You'll find more than 70 designated Great River Road Interpretive Centers and a number of scenic overlooks and locks and dams." Some of these Interpretive Centers include the Minnesota History Center in St. Paul, the George M. Verity Riverboat Museum in Keokuk, Iowa, the Black Hawk State Historic Site in Rock Island, Illinois, the Trail of Tears State Park in Jackson, Missouri, and the Delta Blues Museum in Clarksdale, Mississippi.
Your north-south (or vice-versa) drive will be full of Americana and amazement. Gas up the car and put the pedal to the metal as you make your way along the Mississippi!
The Loneliest Road in America, Nevada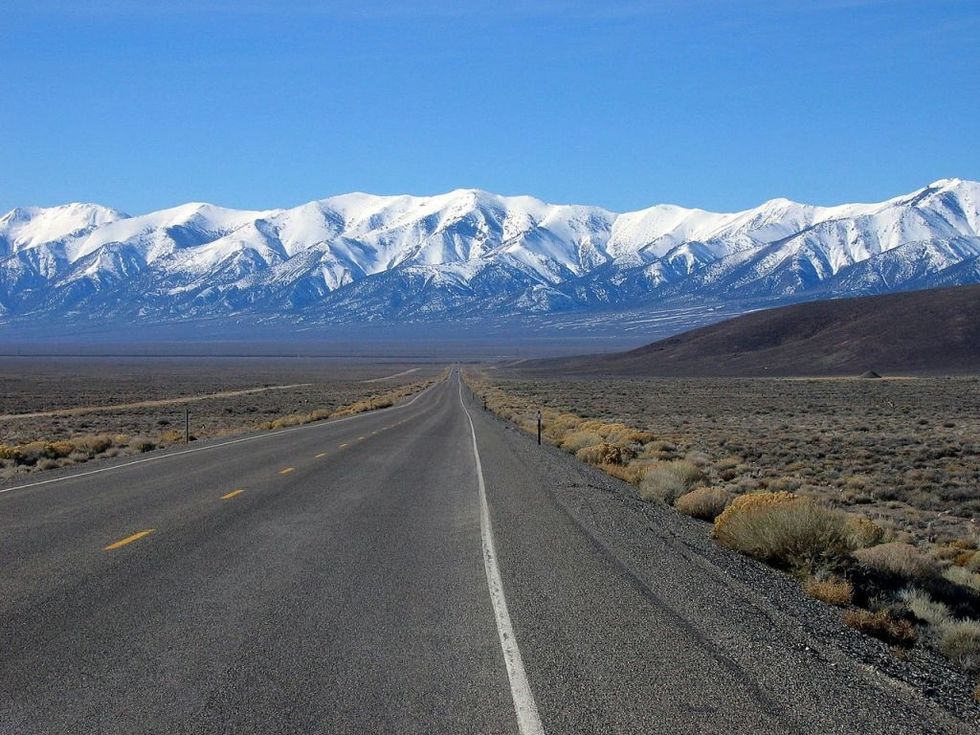 The Loneliest Road in America, NevadaVia unusual places.org
Don't be fooled by this road's sad-sounding name, The Loneliest Road (in America) will be your travel companion as you take the wheel for this stretch of U.S. Highway 50. USA Today explains, "(The Loneliest Road) earned its name because it passes through a largely barren uninhabited region. However, the road offers plenty of distractions as it follows the Pony Express route, mining camps, and mountain ranges covered with juniper and pine forests."
According to Travel Nevada, "The Loneliest Road intersects eight of some of Nevada's most historically interesting towns, including Carson City, Dayton, Fernley, Fallon, Austin, Eureka, Ely, and Baker. Travelers will enjoy expansive valleys and scenic landscapes while trekking through 18 mountain ranges."
Unusual Places notes that this drive "evokes the feeling of loneliness" but you'll find "miles and miles of mountains, sand, and blue sky." If you're seeking to remove yourself from the hustle and bustle of the big city and need some alone time to reflect and regroup, take a day trip and travel The Loneliest Road. The peace and pleasure of self-reflection and solitary sightseeing will be found during this calming car trip.
Rev up your engine and rack up some miles. Road tripping is spring's best way to travel.