Los Angeles is a city that allows a nature lover unprecedented access to the outdoors, even amidst its urban playground atmosphere of world-class music, restaurants, and cocktails. But the next time you're thinking of trekking it through crowded Runyon Canyon, consider taking the stairs instead.
The hidden staircases of Los Angeles are one of the city's best-kept secrets. The steps rise from the city streets and up the bougainville-lined hillsides to seemingly, well, nowhere—a part of L.A.'s history that's now almost impossible to imagine.
The city of Los Angeles—as well-known today for its road rage-inducing as it is for its movie stars—was connected by a vast public transportation system, including trolleys, streetcars, light-rails and buses. From 1901 to 1963, the Red Cars and the Yellow Cars helped Angelenos get around town. No vehicle of your own in the City of Angels? No problem. In the 1920s, the city boasted the world's largest trolley system in the world. Just traipse down the neighborhood stairs from your hillside bungalow to the nearest streetcar stop, and you're on your way.
Today, the Los Angeles's staircases are not only a landmark of how the city once traveled, they're a popular destination for those looking to get outside, climb high into the sunshine, and see the city from another vantage point. And while we can't say for sure, but we think the endorphins from all this climbing might be why L.A. is one of America's Happiest Cities.
Music Box Loop (map)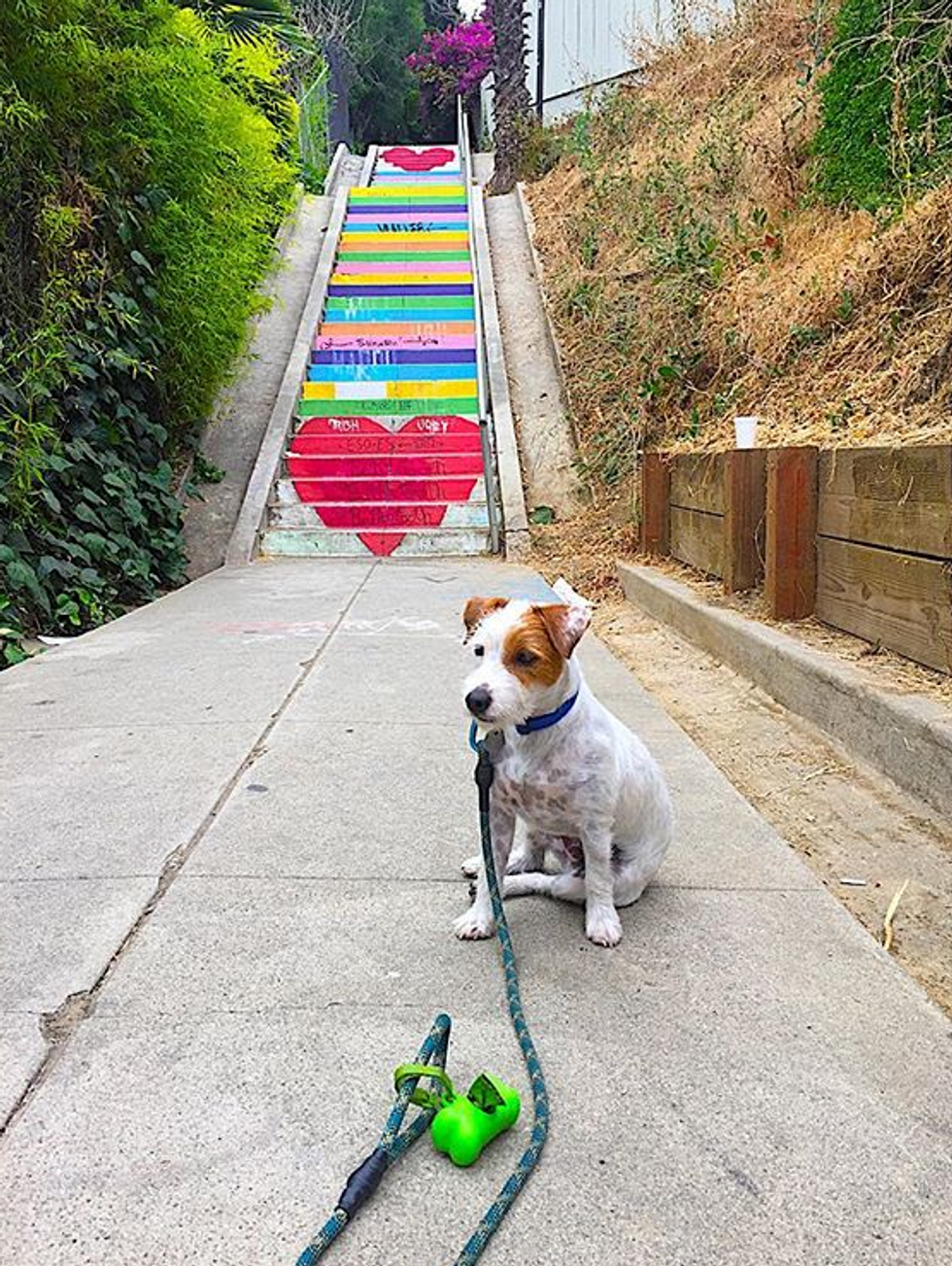 People and dogs alike love venturing up and down these colorful steps. Instagram @treyj_jrt
705 steps
In the Academy Award-winning 1932 short, "The Music Box," Laurel and Hardy carried a piano up this towering set of stairs in Silverlake. Your task of walking up them with a water bottle is decidedly simpler. Bring a friend in tow, though, and you'll have as many laughs.
Baxter Stairs (map)
230 steps
In Echo Park next door to Elysian Park, you'll find the steepest staircase in Los Angeles. Locals say it's "hard as hell," going up, but reward for the grueling ascent is a stunning view of downtown, Griffith Park and the Hollywood sign.
Murphy Ranch Trail (map)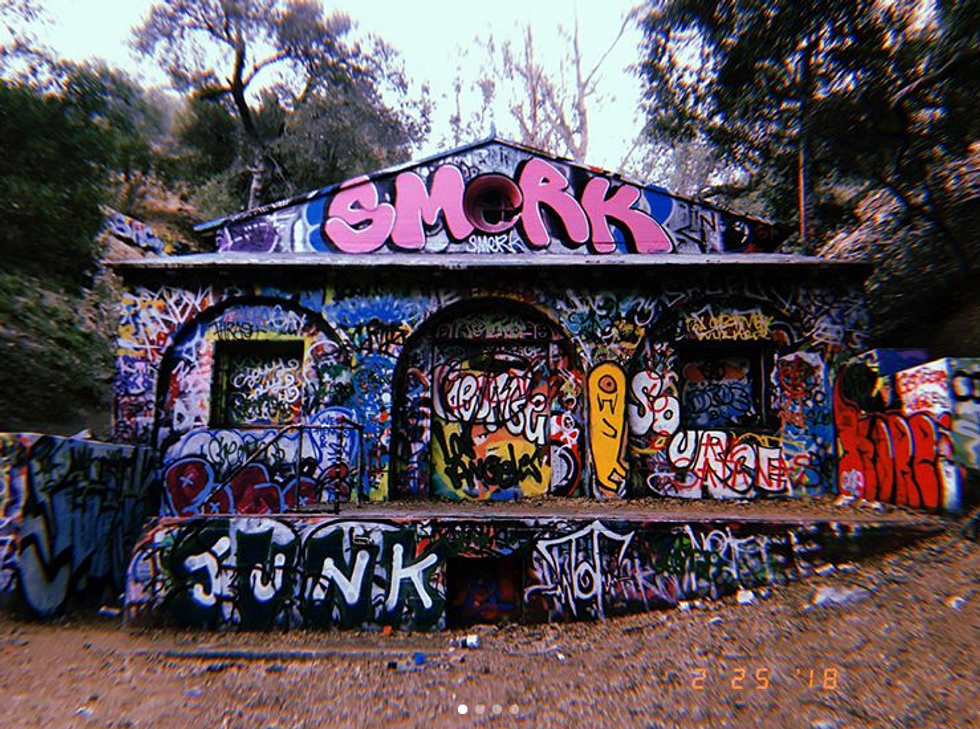 Murphy Ranch Trail is a workout with beautiful street art along the way. Instagram @ash.wanders
513 steps

These stairs require a short hike on a road lined with graffiti and hollyhock, but the three sets of stairs here create a loop that pass Murphy Ranch. Designed as a hideout for Nazi-sympathizers waiting for the Germans to win WWII, the ranch was instead raided by U.S. authorities and closed in 1941. In the 60s and 70s, the structures became an artists' colony only to be abandoned after a 1978 fire. If you want a hike that's a bit different with a "creepy" but "awesome atmosphere," according to locals, this graffiti-covered stairway is the spot.
Santa Monica Stairs (map)
170 steps & 189 steps
These two staircases can get crowded and a touch competitive. Think shirtless hard bodies and weekend fitness warriors jockeying for position on the ascent. On the plus side, it's also a great spot for people watching and street parking is plentiful and free after 8am.
Baldwin Hills Scenic Overlook (map)
282 steps
These rough-hewn steps, also known as the Culver City Stairs, cut through brush and rise from an otherwise industrial neighborhood. But brace yourself for the payoff: the hilltop terrace offers sweeping 360-degree views of LA, including downtown to the east, the glittering Pacific to the west, and the Santa Monica Mountains in the distance.
Pacific Palisades Castellammare (map)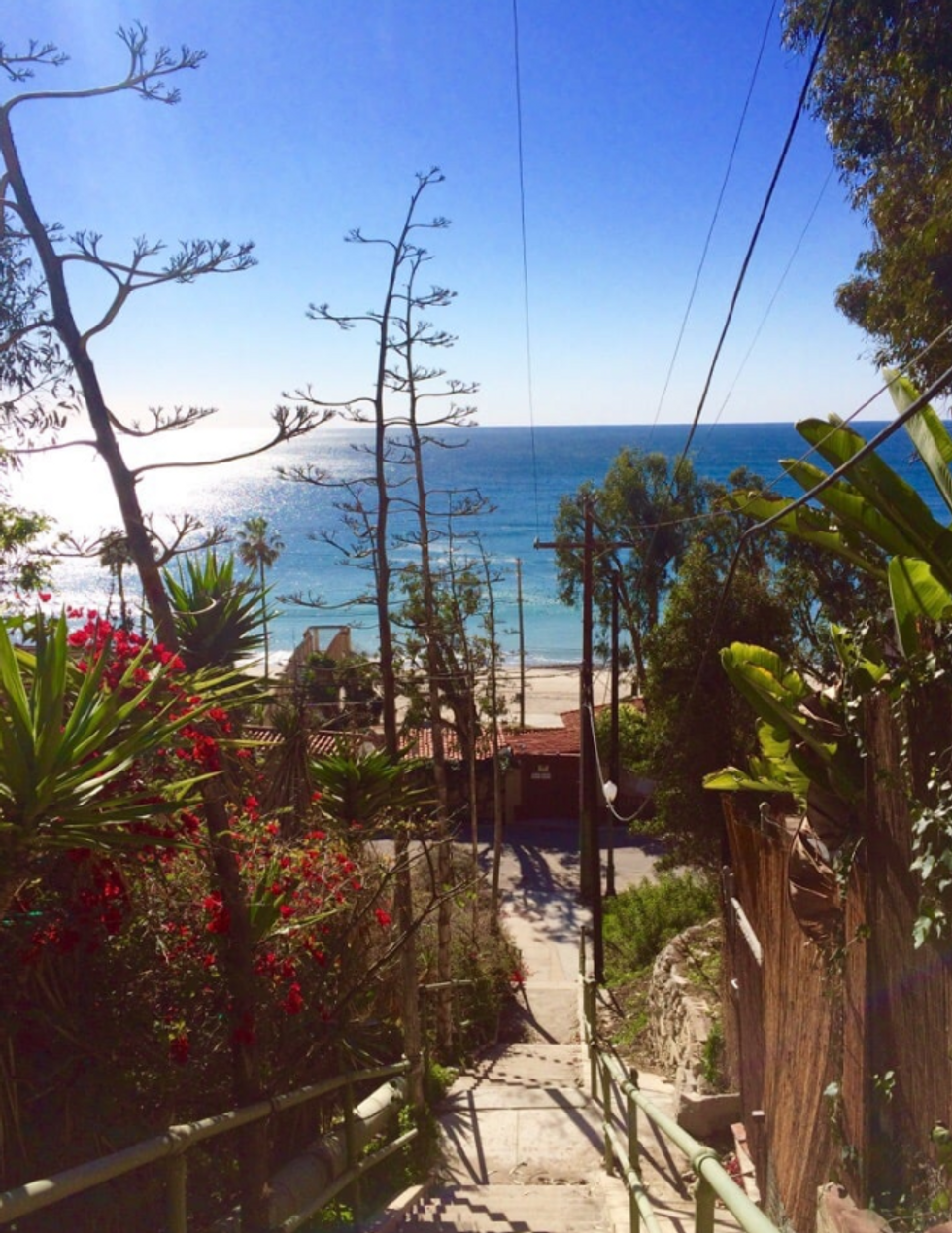 Wanting a view? Castellammare delivers beautiful sweeping views of the Pacific.
518 steps

Charles Fleming, the man who literally wrote the book on LA's secret stairs calls this the most scenic stair walk of all: "This hillside stroll offers sweeping Pacific views, ocean breezes, and grisly Hollywood film lore." That "grisly lore" includes the body of Thelma Todd, known for her roles in Marx Brothers films such as Horse Feathers and Monkey Business, who was found dead in her car here in 1935. The staircases are next to the Getty Villa, the Self-Realization Fellowship, and Topanga Park, making it worthy of a full-day destination.
Mattachine Steps (map)
161 steps
Just south of the Silver Lake Reservoir, the Mattachine Society, one of America's first gay rights organizations, was founded by Harry Hays on this hillside on November 11, 1950. Named after a medieval French secret society that set out to right wrongs, the group accomplished just that; fifteen years later there were more than 80 bars, restaurants, and coffee shops catering to gay clientele in the area, including a dozen along Sunset in Harry Hay's neighborhood. Commemorate Hay's work with a climb on past residential homes, cacti, palms, and sagebrush, that offers, finally, a view of the reservoir.
Micheltorena Stairs (map)
177 steps
The most photogenic of all the stair walks, the painted Micheltorena Stairs are quickly becoming iconic. The rainbow piano key and heart design was is thanks to guerilla artist, Corinne Carrey, who wanted to lift the mood in the area and delight any who found them. Love the idea of painted stairs? Sign up for Painted Stairways Tours, led by Dan Gutierrez.
While dusty hiking trails in Los Angeles will always have a special place in our hearts, these climbs are a stairway to another kind of heaven in the city—one that can still feel secret. Don your biggest sunhat and SPF—your future looks bright up there.