Go big or go home! We say, "go big" and travel to see some of the world's largest objects. You will be nothing short of amazed at the sheer size of some of these things as you try to take in the enormity of it all. If you are looking for big time fun, you've gotta live large!
World's Largest Coffee Pot - Old Salem Coffee Pot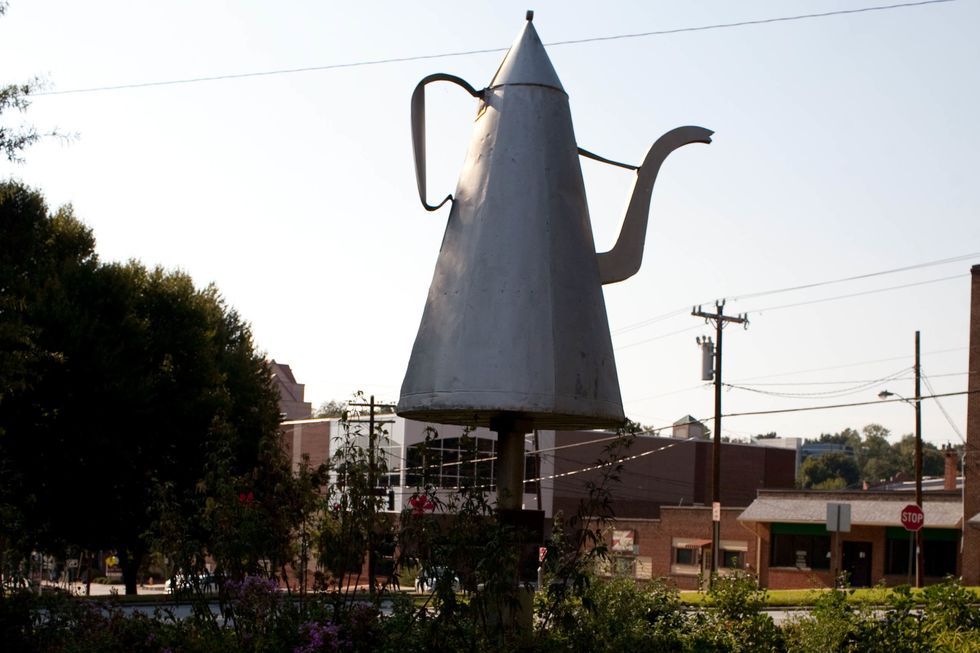 Coffee potsillyamerica.com
Talk about the jitters! This North Carolina roadside attraction is so much more stimulating than a cuppa Joe. Old Salem Coffee Pot(AKA the "Mickey Pot") has been around since 1858 and stands at over 7 feet tall. With the capacity to hold close to 12,000 cups of coffee, Old Salem Coffee Pot could put Starbucks out of business. As you may have guessed, the pot does not actually get filled with coffee; it was built to attract customers to stop inside brothers Samuel and Julius Mickey's tin shop. If you thought your "venti" was plenty, seeing this giant pot will perk you up more than caffeine ever will.

Old Salem Rd. Winston-Salem, NC 27101
World's Largest Pizza (delivery) – Mallie's Sports Grill & Bar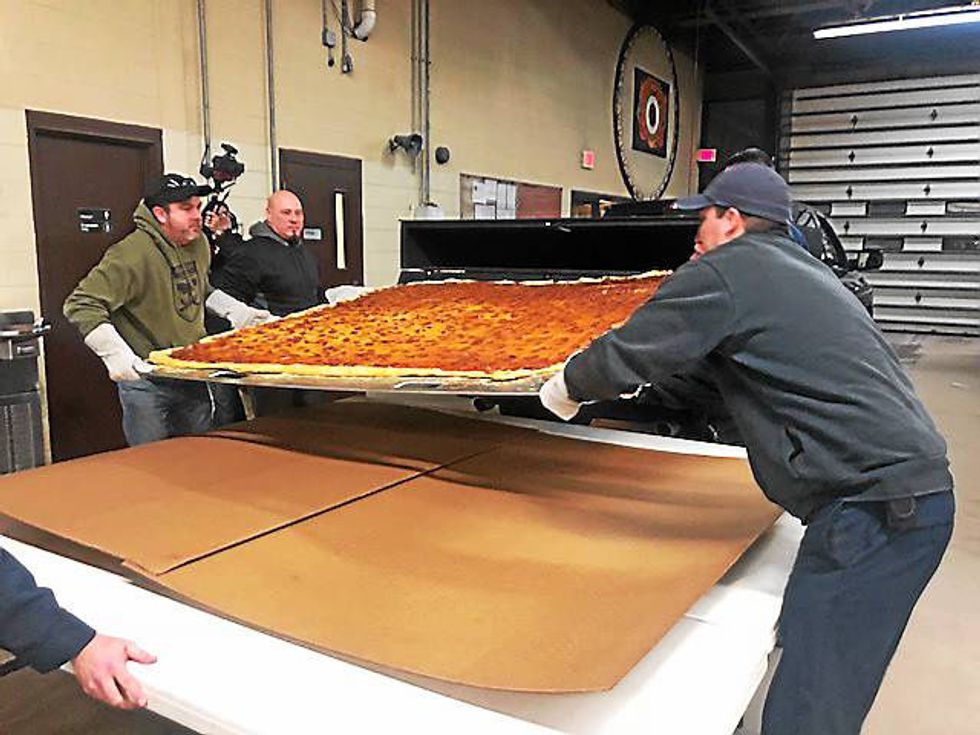 Pizza thenewsherald.com
Pizza Hut may be your usual go-to when your stomach grumbles for a cheese or pepperoni pie, but when you are really hungry, even their largest pie won't satisfy. Lucky for pizza lovers in Michigan, Mallie's Sports Grill & Bar will deliver a 100 pound pie that is 6' x 6' in size. And it comes to your door via truck. You will surely need plenty of napkins…and money. The tremendous pizza will cost you $300. And all that dough, sauce, and cheese is sure to put a dent in your diet, but there's always your "cheat day." If pizza's not your thing, Mallie's is also the home of the world's largest burger – a 1,793 pound patty that is no doubt a vegetarian's worst nightmare.

19400 Northline Rd. Southgate, MI 48195
World's Longest Piano – The Alexander Piano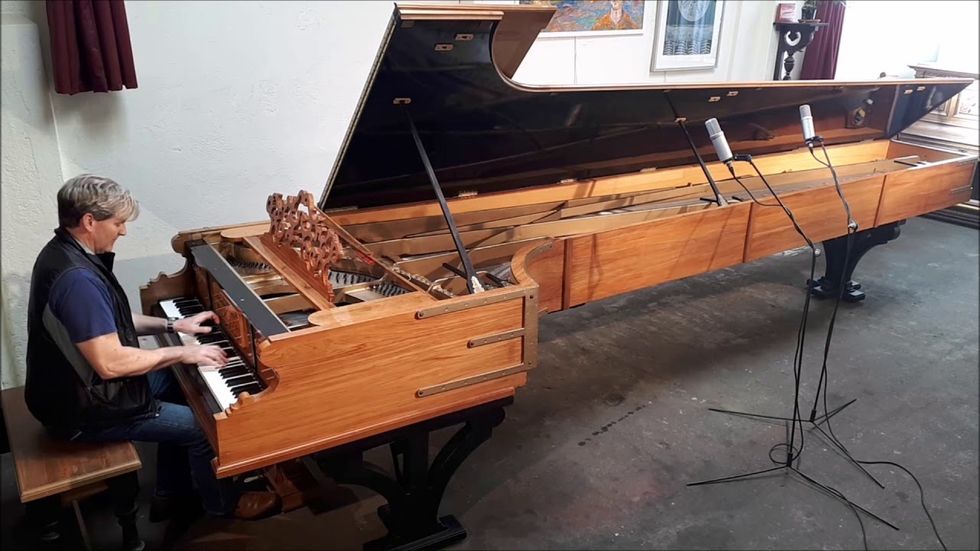 Pianoyoutube.com
If you travel to New Zealand, be sure to make it to Dunedin so you can "tickle the ivories" on the world's longest piano, the Alexander Piano. Nearly 19 feet long, this grand piano is the grandest of them all. And along with its impressive size is the equally extraordinary builder,Adrian Mann, who began the feat of creating this musical mammoth when he was only 15! It took five years to build and has made its way to various cities to be viewed by piano pros and lovers of all things large. Now the Alexander Piano is back in Mann's workshop, still on display for interested music enthusiasts. "We're all in the mood for a melody…"

King Edward Court, Room 21, 291 Stuart St. Dunedin, New Zealand
World's Largest Grapevine – The Great Vine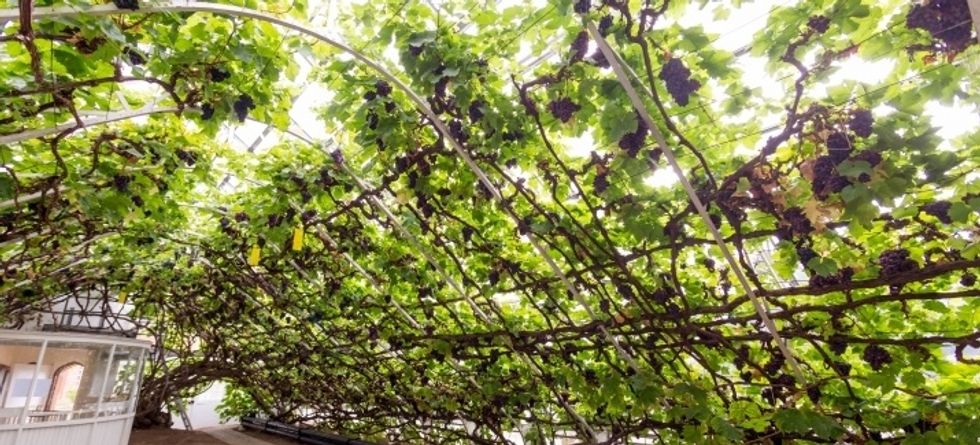 Grapevinecapabilitybrown.org
If you "heard it through the grapevine," then you know the world's largest is located in Hampton Court Palace in East Molesey, England. The Great Vineis just that…great. Not only due to its dramatic size, but its long history – it is close to 250 years old. Planted initially for King George III, this divine vine's longest rod is approximately 120 feet. And for the past two and a half centuries, The Great Vine has been producing grapes, perfect for sweet wine production with about600 pounds of the juicy fruit picked each harvest season. Raise a glass (a big one) to the huge things of history!
Hampton Court Palace, East Molesey, Surrey, England
World's Largest Slinky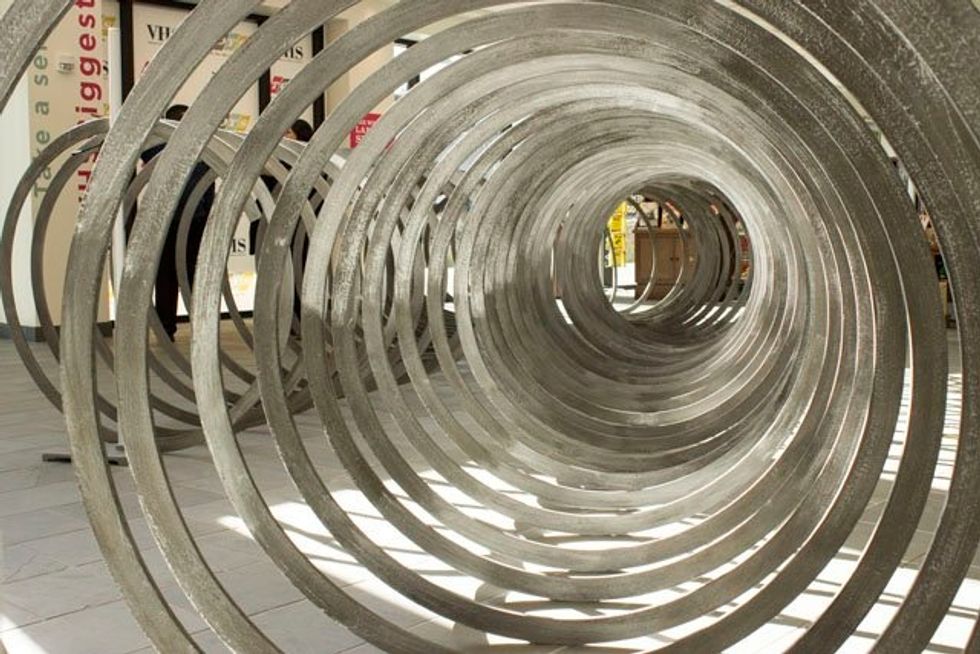 Slinkyrichmondmagazine.com
When was the last time you played with a Slinky? If you recall, the coiled toy was a blast to flip-flop around or watch in wonder as it made its way down a staircase. But you had a regular size Slinky, not the super-size spectacle you will find in Richmond, VA at the Virginia Historical Society as part of an exhibition called "Toys of the '50s, '60s, and '70s.". This sizable Slinky is 4 feet high and reaches 100 feet in length when stretched. According toAtlas Obscura, "It took about a month for Allen W. Jessee to build the slinky, displayed in VHS's lobby, out of medium-density fiberboard, a compressed wood product that actually keeps the sculpture relatively light at 150 pounds." Bring out your inner child and see the Slinky you wish you could have played with as a kid.
428 N. Boulevard, Richmond, VA 23220
Who says the best things come in small packages anyway?