No Visa required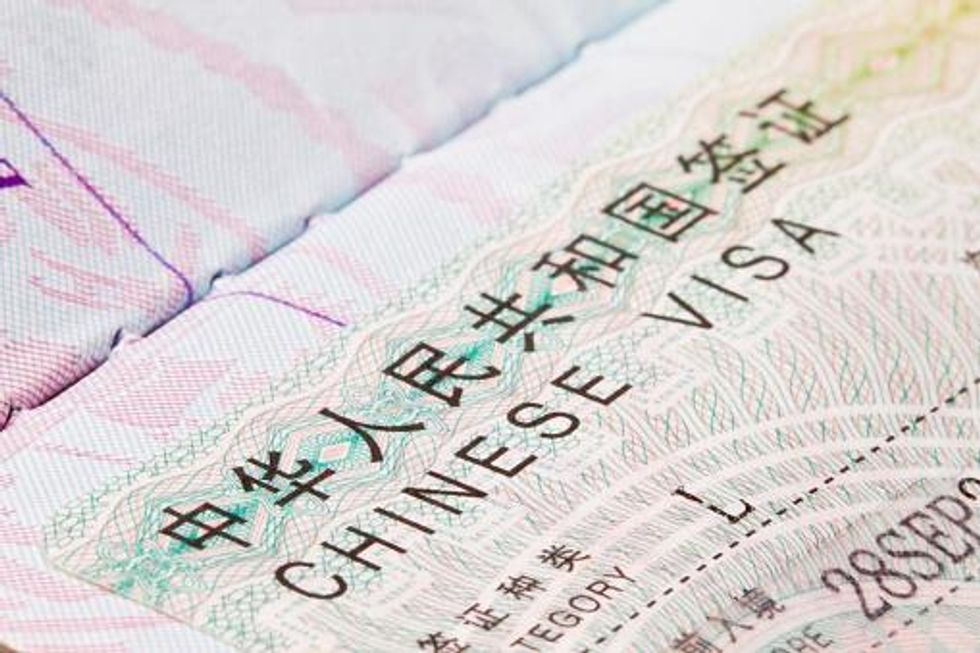 One of the perks of visiting Hong Kong is that when planning your trip, you don't need to add getting a Visa to your list. A passport is required, but Hong Kong will let Americans visit Visa-free, as long as you have money and a place to stay. The Customs officials are also generally pleasant toward American travelers, presenting none of the animosity visitors sometimes experience when heading into Mainland China.
Buckle in for the ride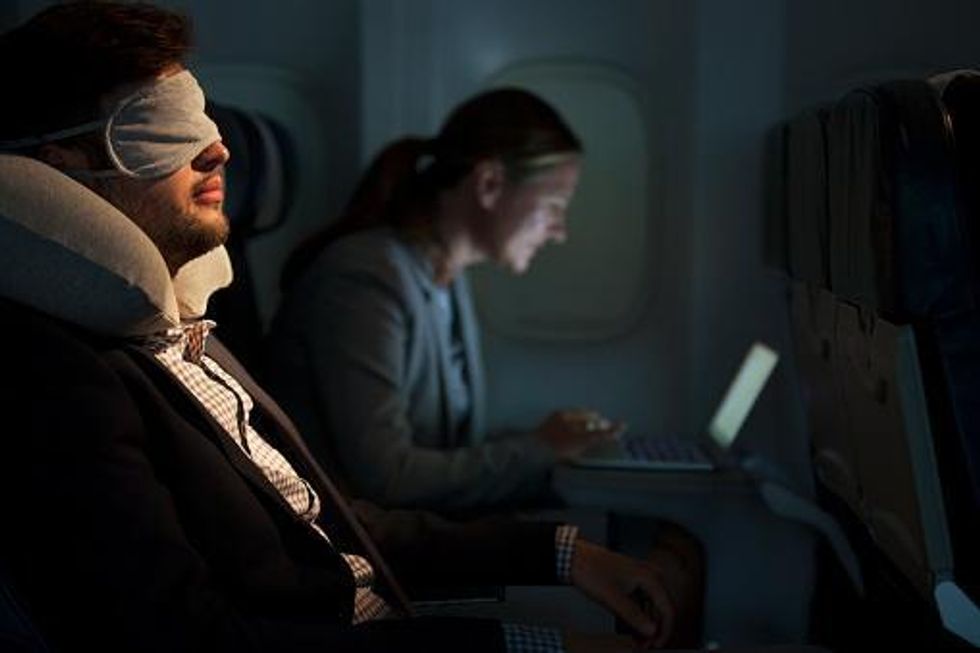 A trip to Hong Kong will take you from 13 to 16 hours if you're leaving from the US and flying nonstop. Be prepared to finish your favorite book, binge the new season of Orange is the New Black, or catch up on some sleep while you're on the plane.
Such a long flight might mess with your internal clock a bit, but since China is between 12 and 15 hours different in time from the US, your internal clock was going to need a few gears changed no matter what. I recommend checking out what time you'll arrive and try to plan your sleep accordingly. Make yourself stay up the last 8 or so hours of your trip if you're arriving at night so you can hopefully sleep when you get checked into your hotel, or sleep the time away on the plane if you'll be arriving in the daytime so you can get out there and see some sights in the sunshine rather than needing a nap after getting settled in.
The sights can't be beat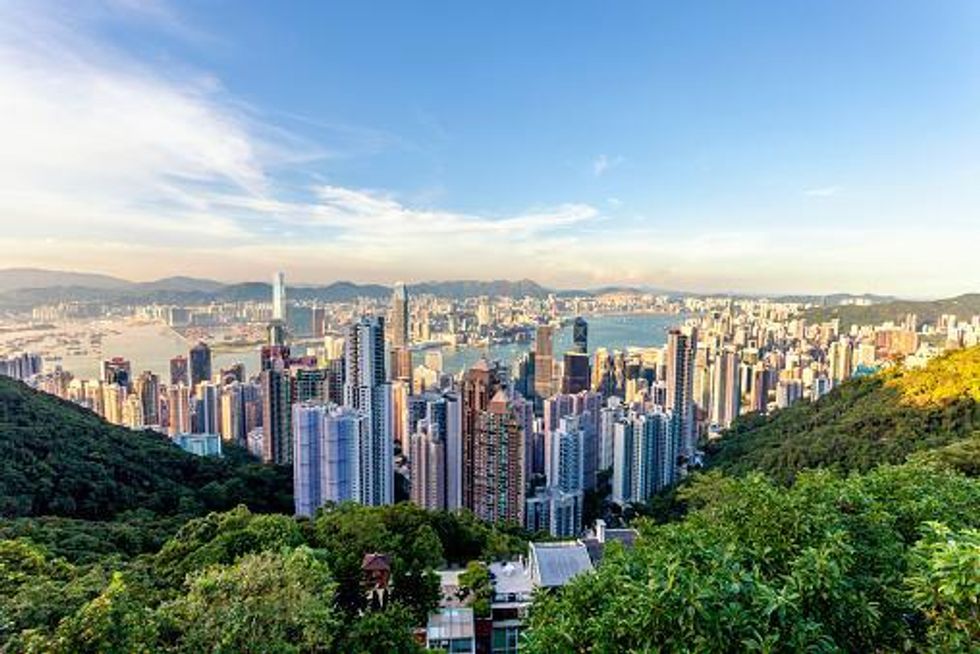 Hong Kong is very proud of its nighttime laser show, as well it should be. The spectacle at Victoria Harbour involves over 40 buildings and is in the Guinness Book of World Records as being the World's Largest Permanent Light and Sound Show. It starts promptly at 8pm, lasts 13 minutes, and is totally free.
As for the daytime, Hong Kong is a city that feels as big and bustling as New York, but unlike the Big Apple, in certain areas you can stand in one place and pivot to see sparkling, modern skyscrapers, lush, green mountains, and the ocean lapping at the shore.
I personally recommend staying off the beaten path a small bit by finding a hotel in Kowloon rather than on Hong Kong Island. You can still be in walking distance of attractions like the
Ladies' Market
and easily access public transit getting you to the heart of the city, but while the island is modern and flashy, it can also feel cramped, and finding a place to bed down that isn't quite so bustling is often a welcome relief to travelers.
Getting around is pretty easy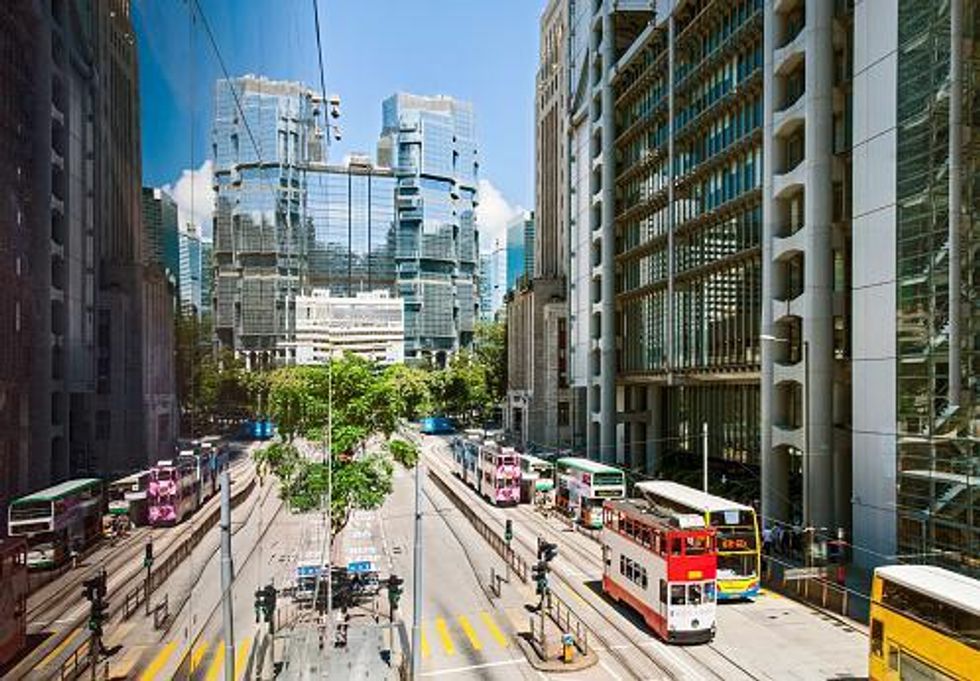 Hong Kong, a former British colony, is pretty friendly for English-speaking people. Most people in shops will speak both Cantonese and at least a little English, and signs will also often have English on them. Hong Kong also has a pretty streamlined subway system and the famed double-decker buses we often associate with London roadways. Be warned that while the subways are pretty easy to navigate, including signs and announcements both in English and Cantonese, it's not always clear when it's your turn to get off the bus, so you have to pay close attention (or perhaps find someone to ask).
The food is amazing (and maybe not what you'd expect)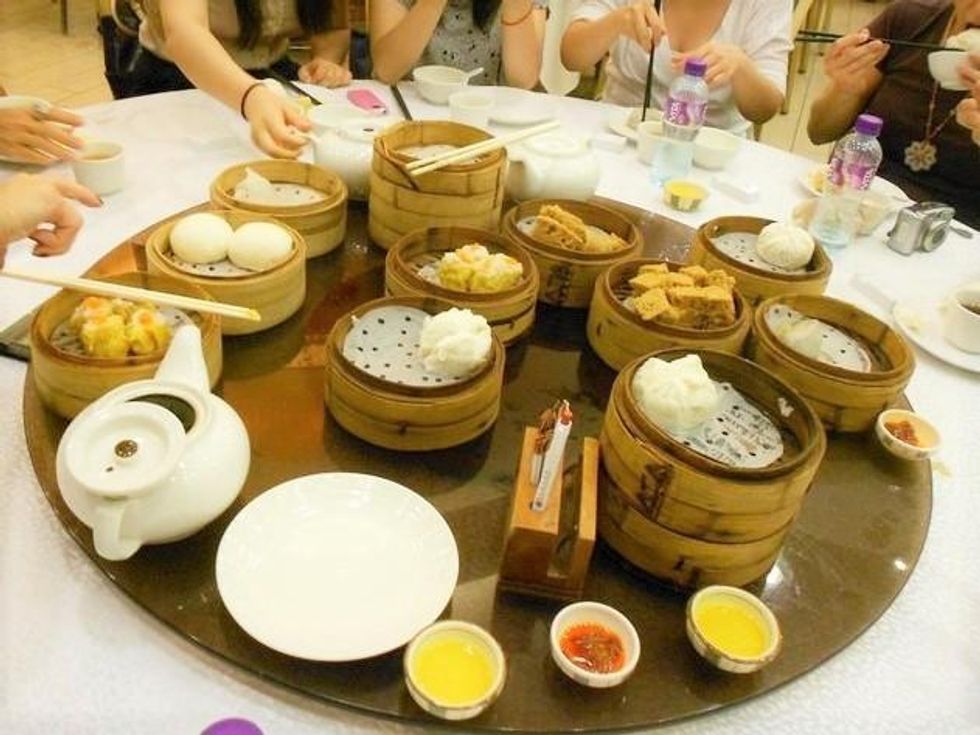 Credit: Kelsey Fox
If you think of Americanized Chinese take-out when you think of Chinese food, you will be in for a pleasant surprise when visiting Hong Kong. Dim sum is my favorite meal of the day (kind of like brunch food), but from breakfast to dinner to late-night snacks, you really can't go wrong with authentic Chinese.
Ok, well, maybe you should avoid street meat. And also don't drink any water that's not boiled. (Including maybe avoiding drinks with ice.) But overall, the food is delectable, and a much higher quality and with more complex flavors than what most of Americans envision when they think of Chinese food. (By the way, most hotels will provide you with a kettle to boil water and complimentary water bottles.)
It's common to order "family style" meals, where you can order several dishes loaded onto a Lazy Susan in the middle of your table for you to share with your friends. This is a great system because it allows you to order a few things and try them all without having to commit to one dish yourself.
Finally, even though you might be inclined to avoid chain restaurants like McDonald's and KFC, it can also be fun to see the differences in cuisine between what you're used to in America and what the Chinese get when they order a #2 combo at your favorite fast food joint. It's a common misconception that rice is automatically served with every meal in China, but at fast food places, you'll get some instead of fries at KFC, for instance. Chicken nuggets at McDonald's in Hong Kong are actually just actual chicken wings, bones and all, and they're delicious.
There's a lot to do outside of the city too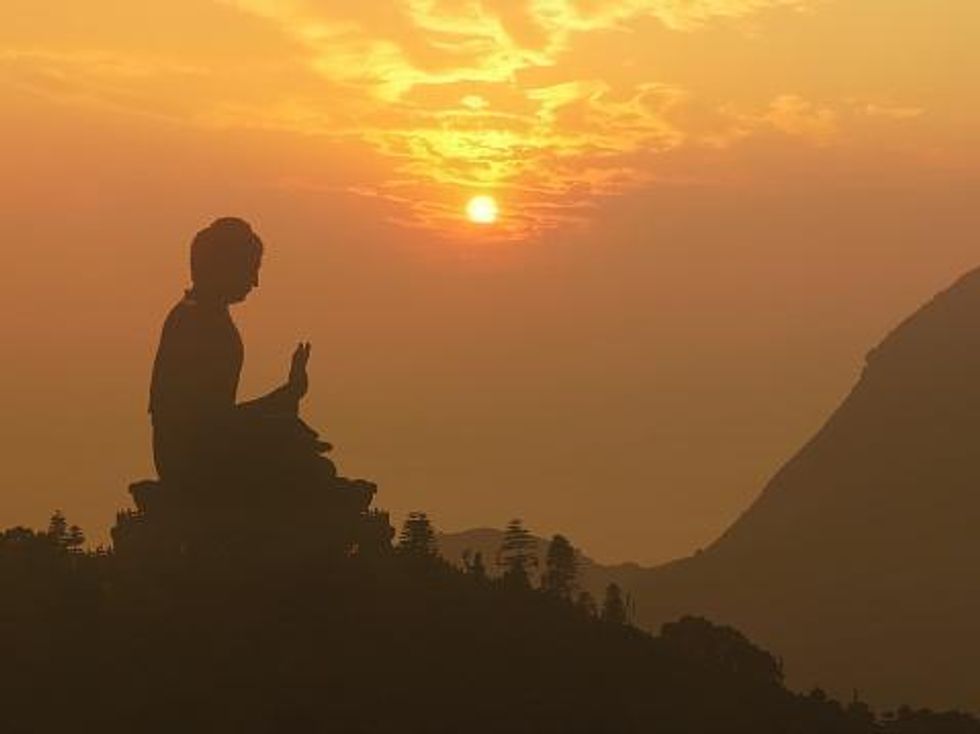 If you're in Hong Kong, it's just a quick ferry ride to the former Portuguese territory, Macau. This city is rich with history and hosts an amazing array of beautiful churches and old buildings, as well as an interesting amalgamation of Chinese and Portuguese food and culture. Not to mention it's home to somewhat of a mini-Vegas, complete with lavish casinos and a happening nightlife.
Even though Macau has its own currency, the casinos exclusively deal in Hong Kong Dollars, and most businesses in the area do too. This is convenient if you're only there on a day trip as you do not have to spend any time exchanging your currency (or lose anything to the exchange rate). Oh, and you won't need a Visa to visit here either.
There's also Hong Kong Disney Land, with its own dedicated train line replete with Mickey Mouse-shaped windows in its air-conditioned cars. This Disney Park is pretty much like any other Disney Land Park, but if you've never been able to afford such an extravagance before, going while in Hong Kong will help you save a lot of money with the exchange rate considered.
It's also easy to access the Tian Tan Buddha from Hong Kong. This statue/building is so large you can see it from the plane as you fly in. You can get to the area by a bus that climbs windy, mountain roads, or you can treat yourself to a cable car ride over the mountains. Be aware that if you'd like to actually go inside the Buddha, it is a long and arduous upstairs climb, there is a small fee, and no pictures are allowed inside.
Things to watch out for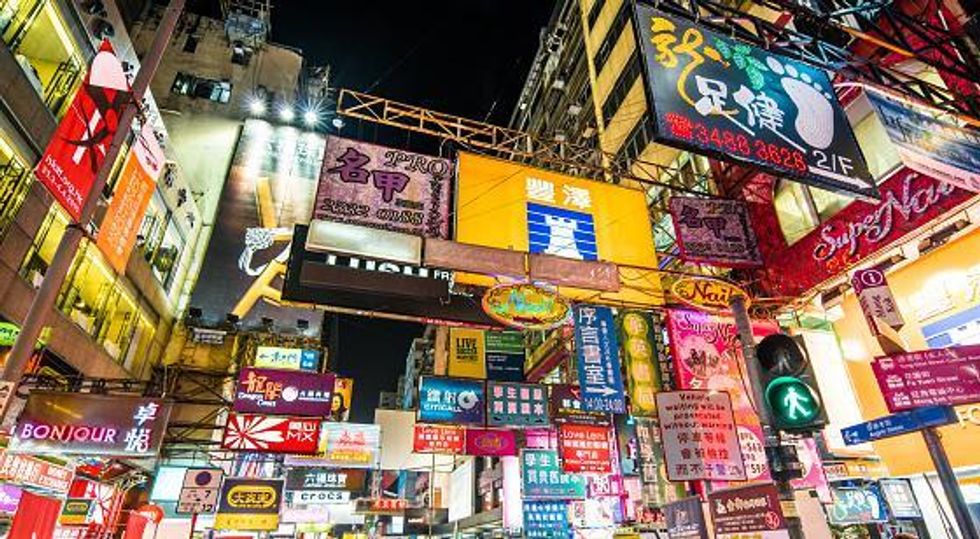 If you're not Chinese, cabbies in both cities might try to take advantage of you. A common rule is to usually just let them. The fares they'll charge you end up being a few bucks max, maybe with half a dollar's worth of extra fees sneakily tacked on. The extra 50 cents is usually not worth stopping your whole day and trying to explain to a police officer that doesn't speak English what the problem is.
If you decide to go to the mainland after arriving in Hong Kong, you will have to go through Customs or Border Patrol just like you are entering a different country. You will need a Visa, and you will need to exchange your money from HKD to RMB. If you're driving, don't forget that while people drive on the left side of the road in Hong Kong, you'll have to switch to the right when entering mainland China.
You should haggle with shopkeepers. Outside of chain stores, prices are not locked down, and when they see you are not Chinese, the first price offered will always be much more than what the shopkeeper is willing to take. They're just feeling you (and your naivete) out.
Finally, Chinese toilets are not like American toilets. Without getting into the nitty-gritty, it's best to be prepared to … squat. Your hotel will likely have Western toilets (what we're used to) as will many restaurants and attractions. However, other than your hotel, do not expect any establishment to provide toilet paper or soap. Most people carry travel tissue packs and hand sanitizer with them for this reason.
The takeaway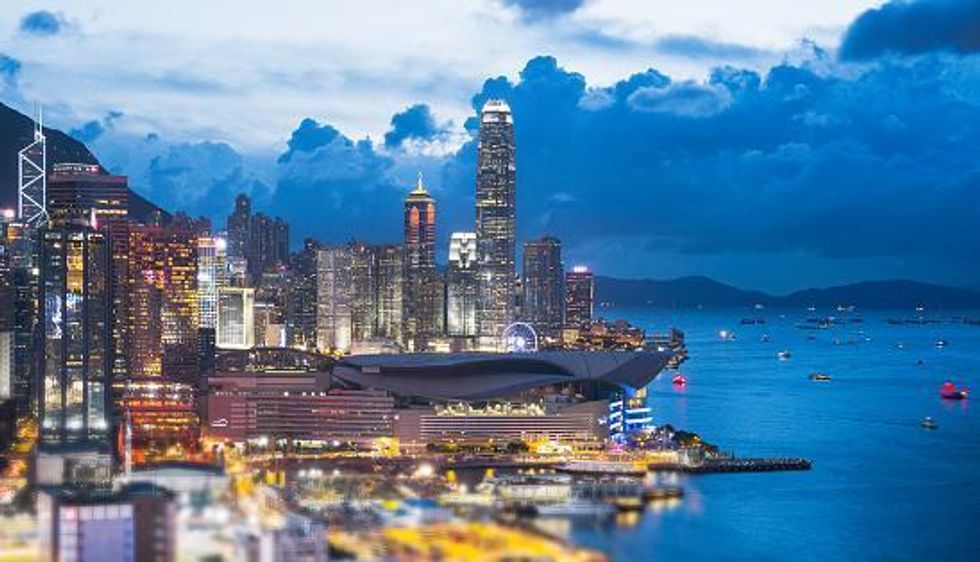 A visit to Hong Kong is an unforgettable one. Though the flight is long and can be expensive, the money you spend at your destination is pretty minuscule compared to some other places, so the cost evens out. The culture and the cuisine is amazing, and you can easily come home with tons of souvenirs for your friends and family without breaking the bank. In the end, Hong Kong is an ideal destination for the traveler looking to step out of their comfort zone, but looking for a little familiarity (and English) along the way.