Last summer I took the best trip around Southern and Central Ireland and I am convinced this is the best way to see the country. We flew into Dublin and rented a car and drove to our accommodations right away. We'd be back for Dublin later. We got an Airbnb in the center of the country in a small town called Croom located in County Limerick so we could make various day trips. Here were our destinations and the things you need to know:
County Limerick, Croom and Adare
The farmhouse we stayed in was gorgeous! A two storey house with tons of living space and an open kitchen provided the five of us with enough space to spread out. James, the owner of the home met us there upon our arrival. He was so sweet and accommodating and even left us travel resources. Check out his listing on Airbnb here! The views from the backyard were incredible! All you could see for miles was green and the occasional cow. Across the street was a nice hiking trail where you could see even more of the beautiful Irish countryside. The kitchen was fully equipped, so we saved money by eating breakfast here before setting out for the day. I find grocery shopping abroad really fun because it can be so different which brings me to our next destination.
Croom had no grocery store so we had to make a quick trip to the neighboring town, Adare. This was such an amazing happy accident and we ended up returning a few times! Adare's main street is flanked with small shops, bars, and restaurants. After grocery shopping, we stopped in Aunty Lena's Bar And Lounge which quickly became a favorite. The locals seemed to regard it as your average local pub but to us it was a treat. My first night there, I had their Bangers and Mash and it was incredible. I think that's the first of many times on this trip I decided I needed to move to Ireland. There are potatoes in almost every dish - these must be my people, I thought. Aunty Lena's and other local pubs boasted live music most nights of the week. A combination between top 40's and old Irish folk songs, it was the perfect soundtrack to dinner.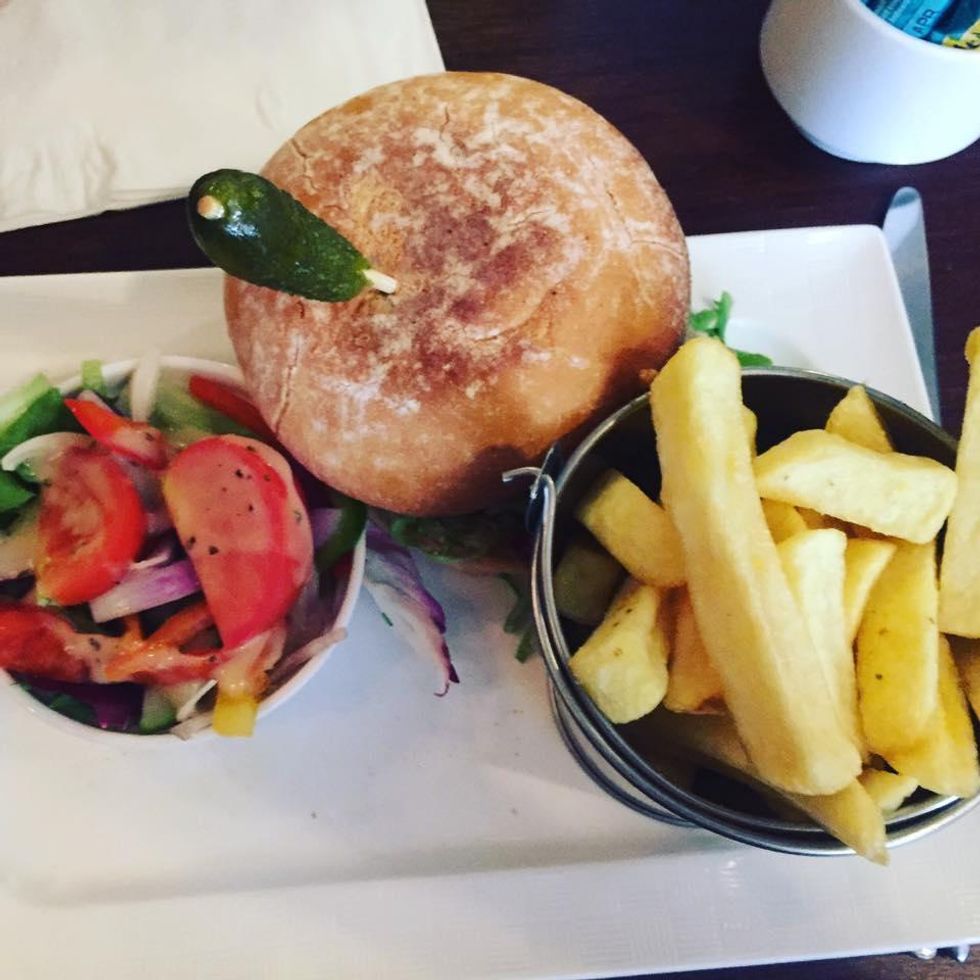 Some of Ireland's amazing food at Aunty Lena'sPhoto by Anie Delgado
County Kerry, Killarney
Our first full day in Ireland was spent driving to Killarney in County Kerry to visit the Muckross grounds. We visited the haunting Abbey and cemetery first which is a must-see! The old stone tombstones and structures overgrown with greenery is eerie but down the road near the house and the gardens is an entirely different vibe. The gardens are bright and well manicured. They are the perfect spot to stop and have a picnic. We packed some lunch with us to save money and ate in the shade of a tree overlooking the gardens. Nearby, there was a shop where they sold handmade goods like gorgeous hats, pottery, Trinity crystal, and more. Killarney is a quick hour and 20 minutes from Croom and I definitely recommend visiting if you love architecture.
County Galway, Galway
Possibly the destination I was most excited for as an artist myself was Galway. I didn't know exactly what to expect and the city surpassed any expectations I did have. You can feel the artistic soul of the place in the buzzing streets. We came across a group of street performers called the Galway Street Gang who were 15 or so strong playing Irish Folk songs and Bob Marley covers throughout the streets. We ran into them later when they hopped a boat and serenaded Galway Bay. Besides walking around, there are tons of bars to see in Galway. Most notable, Róisín Dubh is known as a legendary music hall. I enjoyed a drink there during one of their quieter times and loved the space. Galway is crowded with stores selling handmade clothing and housewares and even music stores selling hand carved wooden instruments. Galway is a quick hour and a half from Croom, so again it was an easy trip and definitely a must-see!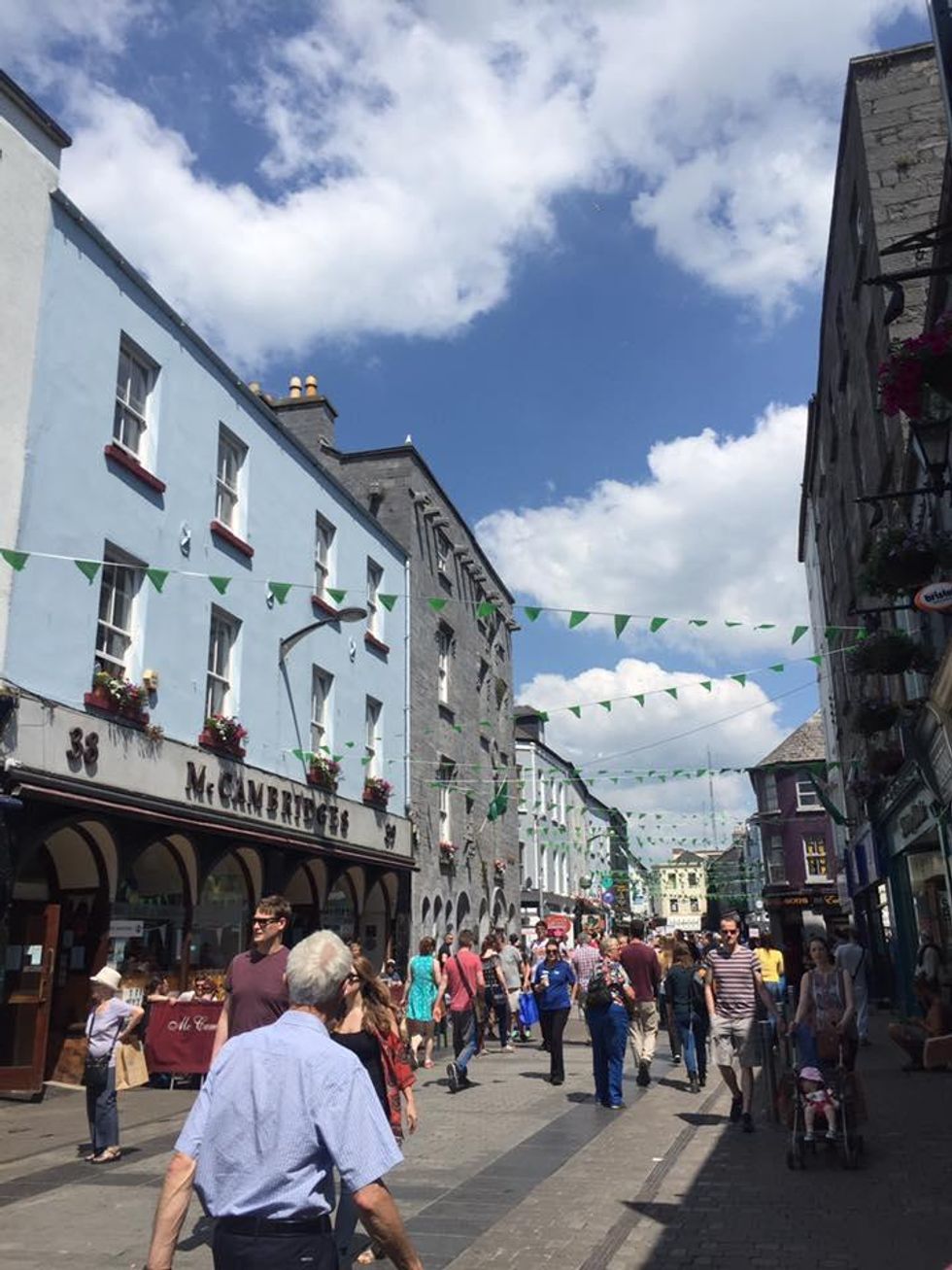 The streets of GalwayPhoto by Anie Delgado
County Cork, Blarney and Kinsale
The next day we made sure to cross visiting a castle off our bucket list. We chose the Blarney Castle known for the Blarney Stone. The legend is that if you kiss the stone you get the gift of gab which is essentially charisma. Locals joke that they pee on the stone at night when all the tourists go home and made up the legend as a prank on the tourists. Regardless, I kissed the stone. What can I say? I did it for the 'gram. The castle itself was tall and narrow and well preserved. There were signs all around indicating what each space was used for. My favorite part was the poison garden just outside. It was really fun to read about all of the poisonous plants and crazy to think that they are right there within arms reach of guests!
Later that day, we continued further South into County Cork to Kinsale. We heard that Kinsale boasted the best fish and chips and had to try it. Kinsale was super fun because it was a smaller, less-touristy town and it was a bank-holiday so we got to interact with more locals. We indulged in fish and chips at Kitty O Se's and they were pretty good!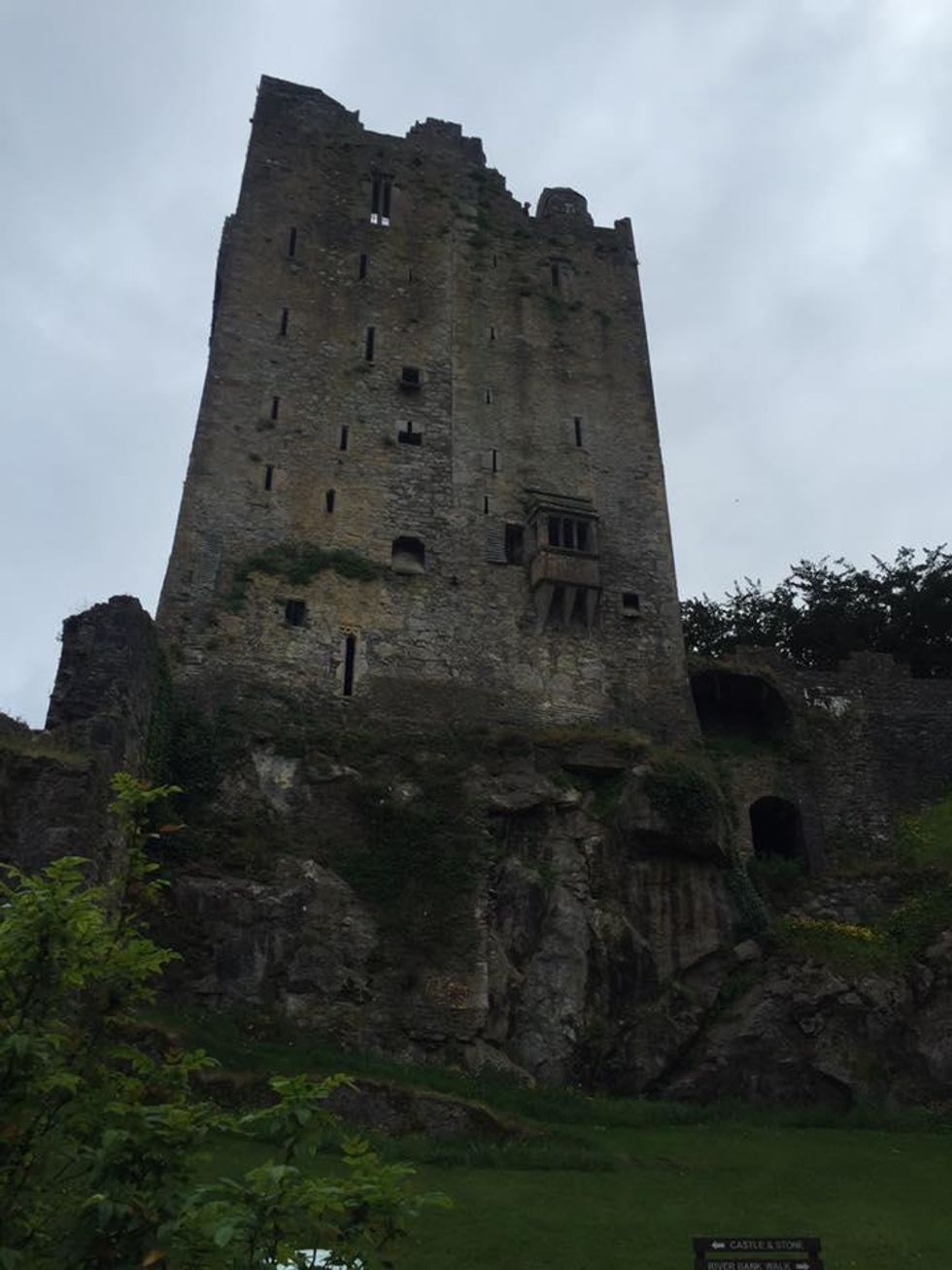 The Blarney CastlePhoto by Anie Delgado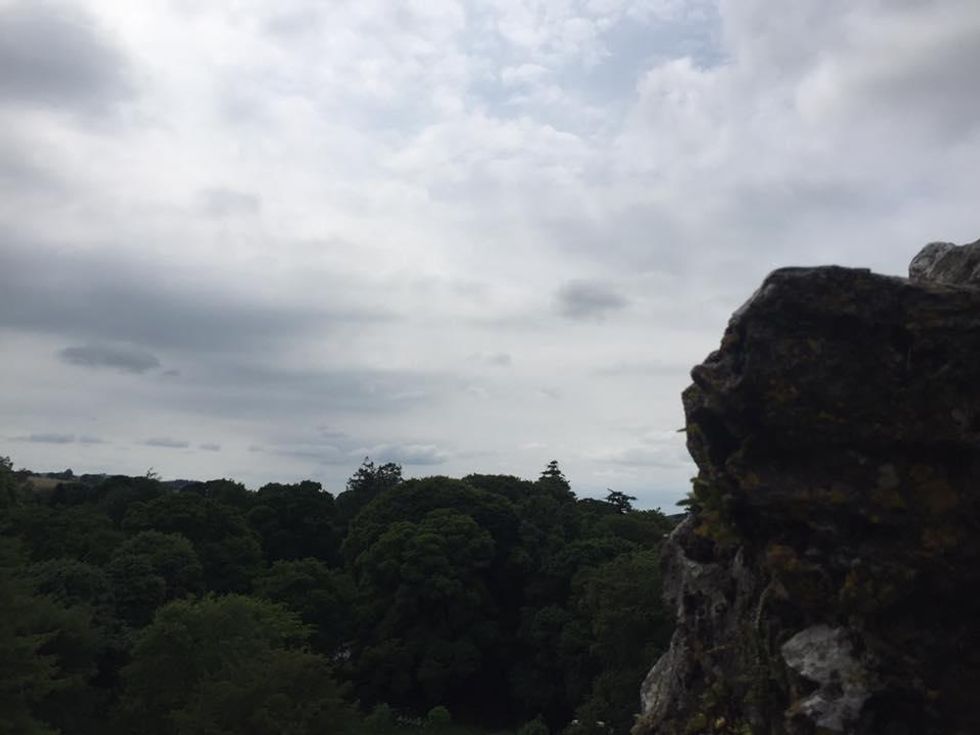 The view from the top of Blarney Castle.Photo by Anie Delgado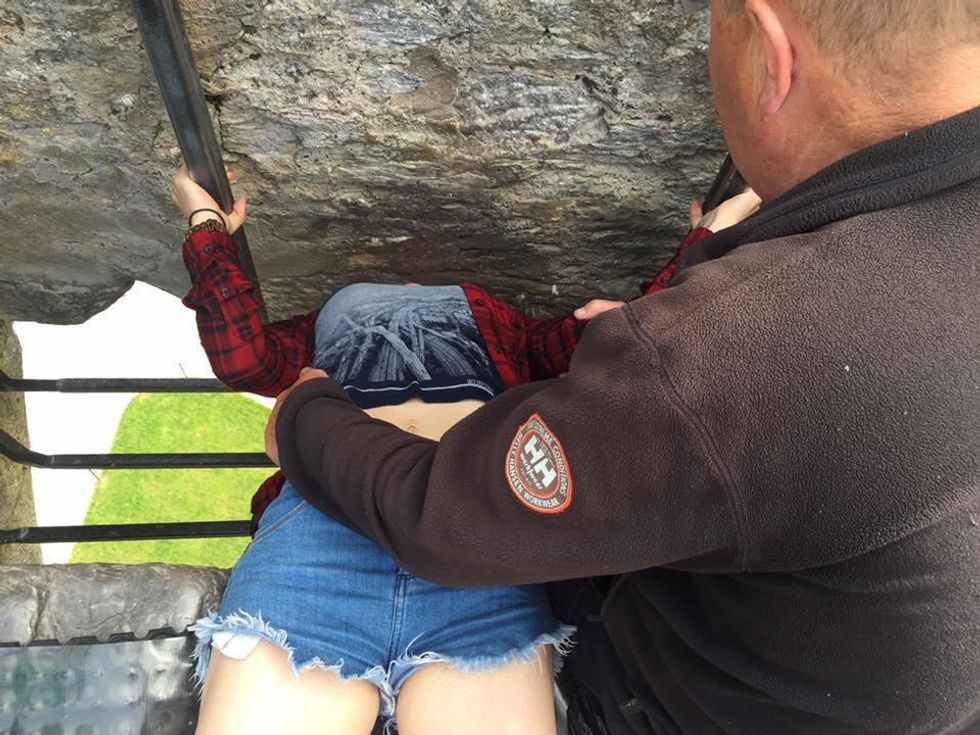 Kissing the Blarney Stone: DuringPhoto by Marie Delgado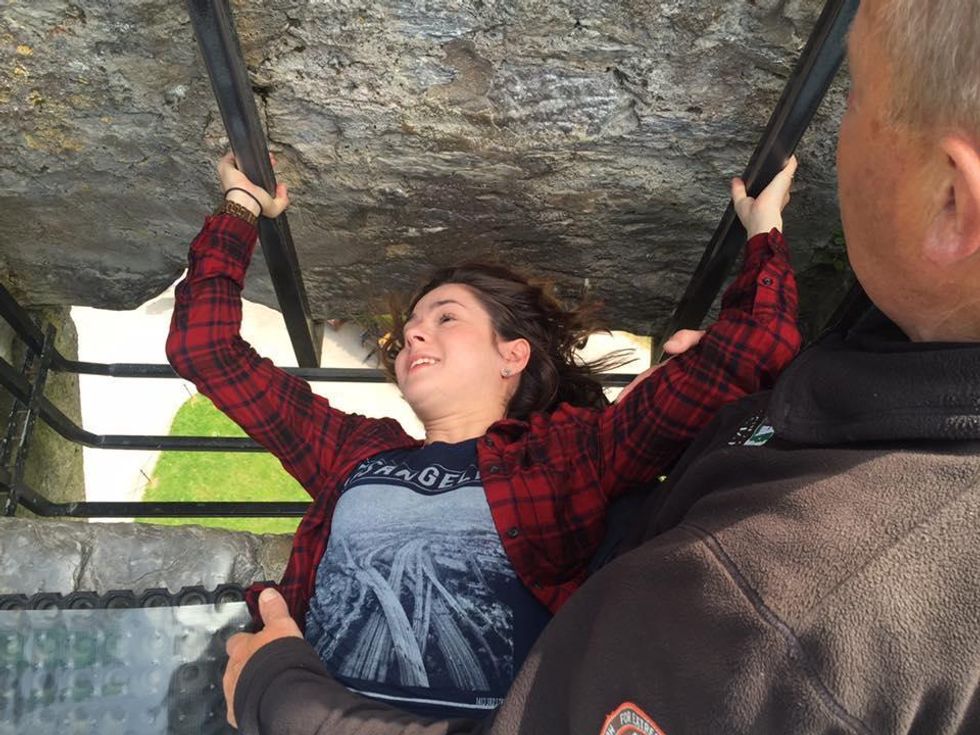 Kissing the Blarney Stone: AfterPhoto by Marie Delgado
County Clare, Doolin and the Aran Islands
The next day we spent in Doolin and seeing the Cliffs of Moher and the Aran Islands. Check out my post about The Cliffs of Moher and The Aran Islands here.
County Limerick, City of Limerick
We were told since we were staying in County Limerick we couldn't miss Limerick. We were also told that it was one of the rougher areas in Ireland, but we had a blast. We visited King John's Castle which was one of the best museums I've ever been to. It was interactive and they also had historical reenactments throughout the day. After the museum we went to a pub around the corner and enjoyed some step dancing!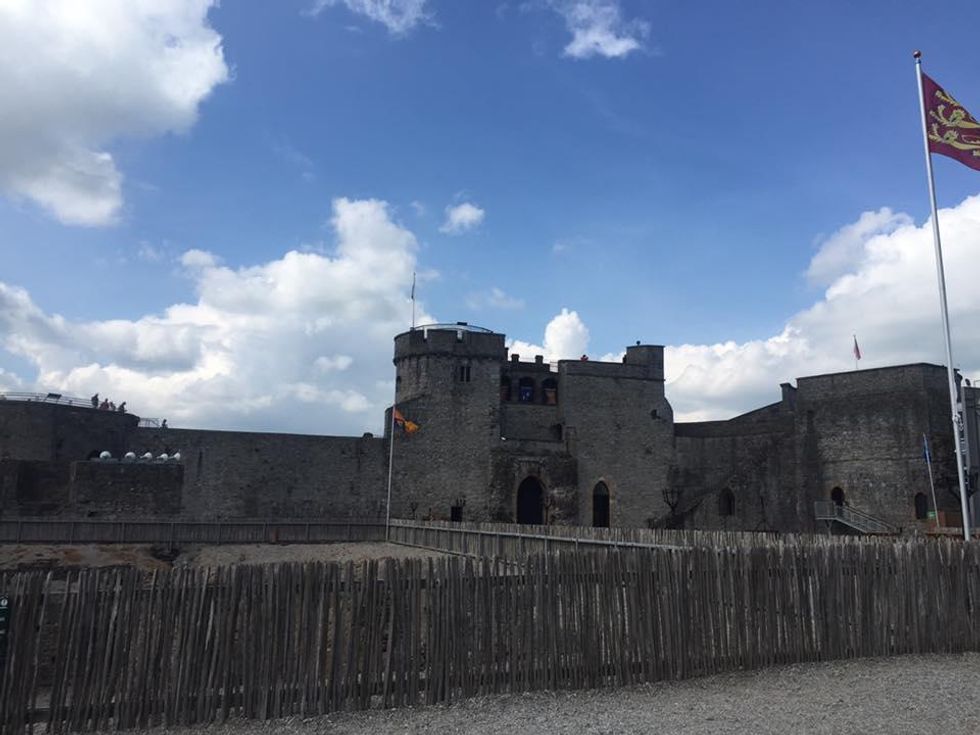 King John's CastlePhoto by Anie Delgado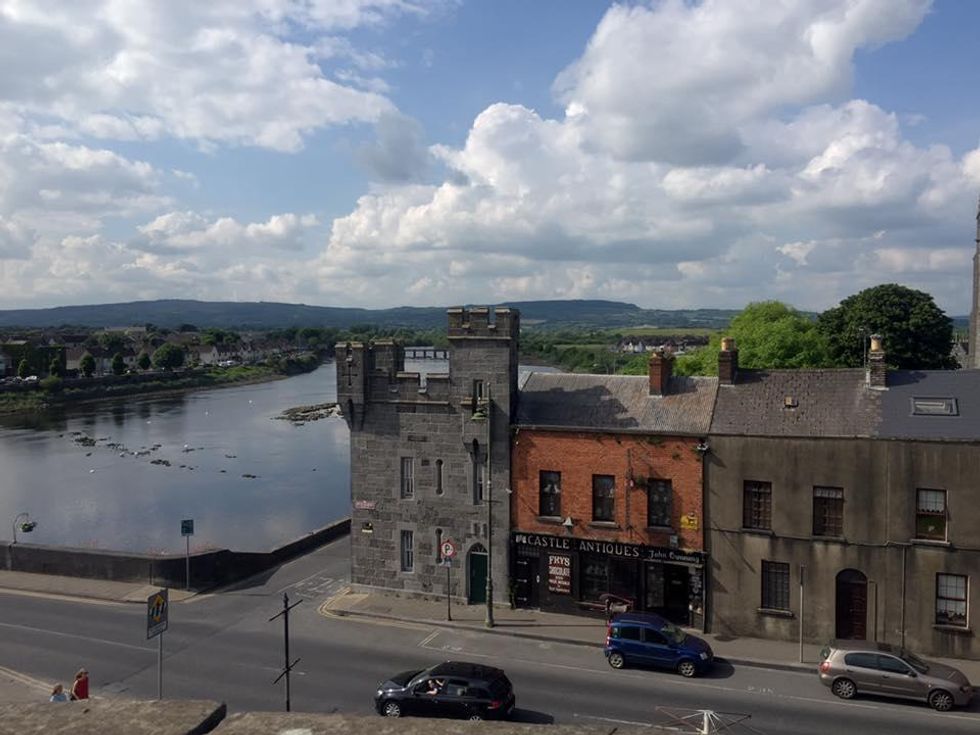 The historic river outside King John's CastlePhoto by Anie Delgado
Dublin
Our last trip was to the capital of Dublin. Dublin was a little overwhelming even for this city girl! There are so many things to see and so many attractions that it's hard to do just one day here which is something I noted for next time! Some of our big stops were the Guinness Factory, The National Museum, and Trinity College. We also walked around the streets and stumbled across an amazing old bookstore with (very expensive) original signed copies of novels from the greats like Ernest Hemingway. We also stopped in the country's oldest bar, Temple Bar.
Having the freedom to roam the country without worrying about transportation made all of the difference! I highly recommend road tripping through Ireland if you visit.