Whether you love her or you hate her (or a confusing, addictive mix of both), Miss Emily and her adventures in Paris launched a vibe shift. Emily in Paris, the hit Netflix show behind some of the most outrageous looks you've seen on social media — Paris Cotoure week notwithstanding — is a divisive romantic series about a young, wide-eyed career woman (Lily Collins) and her adventures in the City of Light.
I mean, Emily caused search queries for berets to spike by 43%. Her impact cannot be denied.
The show has been endlessly criticized for a number of things: its unrealistic portrayal of Parisian life, the brazen American ignorance of its title character, and its questionable fashion choices were high among them. The producers may or may not have bought their Golden Globe. But it's on track for a fourth season and viewers keep flocking to its nonsensical delights.
The delights in question: the stunning scenery. With each episode, I pin yet another landmark or lunch spot to my Paris itinerary. Conjured by the same people behind Sex and the City and its spin-off series, And Just Like That, of course, this series offers a similar bounty of lifestyle envy.
Sex and the City made certain Manhattan establishments favorites of the young and fashionable crowd. And their latest effort is ruining both classic Paris spots and hip eateries alike. Whatever your opinion on the show, what truly holds audiences captive is the notion of being young and in love in Paris.
And while I can't offer you a flock of French suitors, or help you reclaim your youth, I can offer you a dream trip to Paris. Who doesn't daydream about strolling along those cobbled streets, baguette in hand, beret on head, and drinking in the city's magic? Well, now you can. Emily in Paris style.
Regardless of your opinion on this Netflix show, I've been studying the scenery in order to compile a highly refined list of locales to visit. And although Emily has questionable taste in her outfit combinations, the brilliant minds behind this character definitely scouted out all the brilliant places for any cool, young, aesthetically-minded person to visit in Paris.
So plan your itinerary, pack your best Parisian fits, and head to some of Emily's favorite spots in Paris
Places to Eat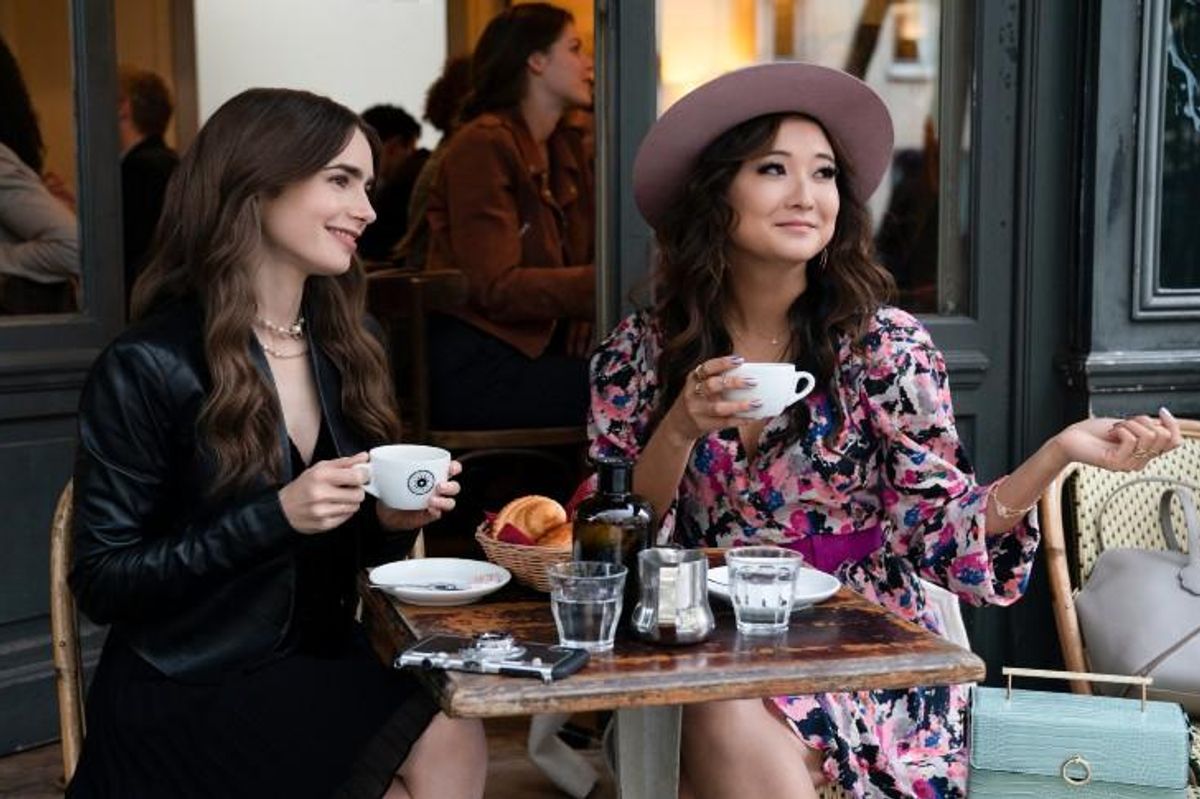 Emily in Paris
via Netflix
La Boulangerie Moderne
The scene of the crime. The crime: the iconic "un croissant" scene in Episode 1. IYKYK. You too can post selfies of yourself biting into a french pastry outside this bakery.
Ralph's
Ralph Lauren's coffee chain is an Instagram favorite in the states. The Parisian location is a must-go. It's a beautiful production and the height of class and elegance, mixing American and French sensibilities much more gracefully than Emily herself will ever-ever do.
Cafe de Flore
Arguably the most iconic restaurant in all of Paris. Surprisingly, it lives up to the hype. Beloved by all types and all demographics, there's something for everyone.
Le Grand Véfour
This Michelin-star restaurant is a classic pick for when you have BIG DINNER plans. Splash out on all the French classics. Unlike Emily, double-check your reservation!
La Maison Rose
The emblematic pink and green decor and trim of this building make it the perfect Instagram fodder. It's also prime real estate where you can sit and chat over a cup of coffee and fresh, French pastries.
Places to Visit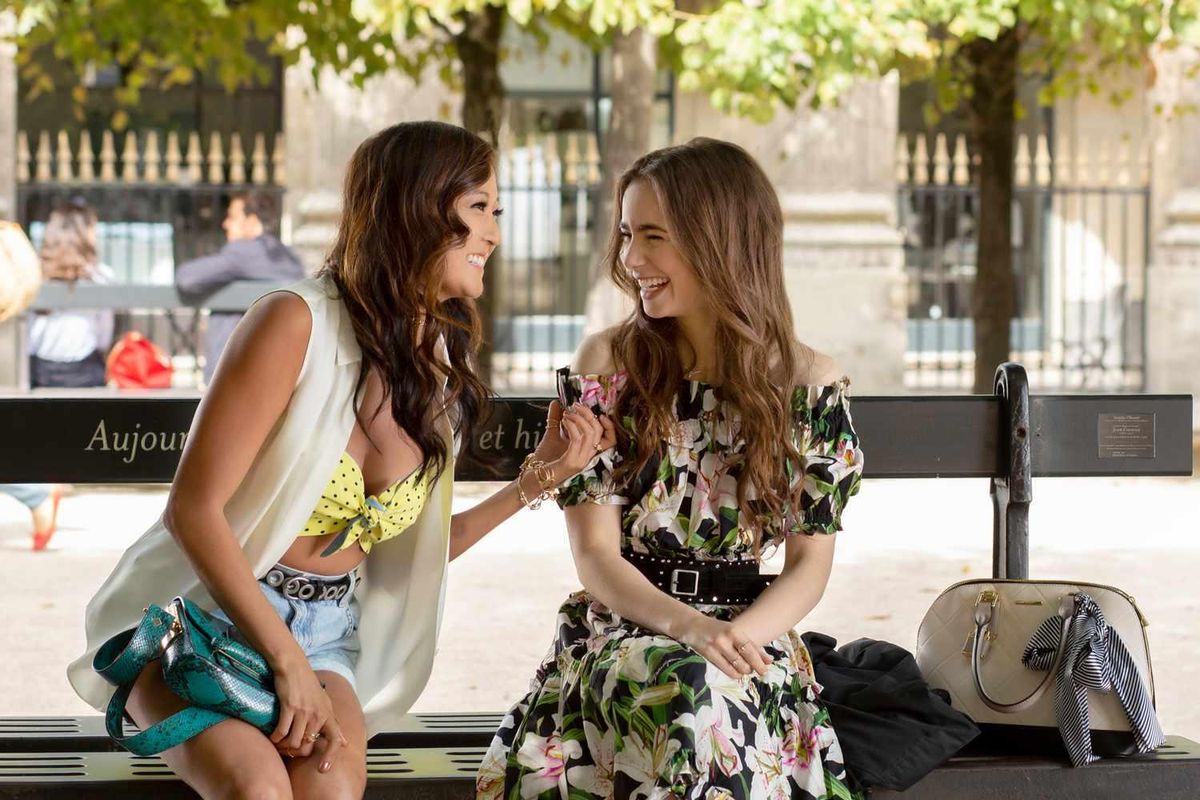 Emily in Paris
via Netflix
Canal St Martin
Tourists, transplants, and locals alike gather on the edge of the canal for picnics and tête-à-têtes when the weather's balmy. In the heat of the summer, dive in! The water is warm … or so I'm told.
Palais-Royal Garden
Take a stroll through the gorgeous gardens. This is a marvelous way to spend an afternoon after a big lunch. Romanticize your life as you meander through the park. Or perch on a park bench and think about what you've done — a la Emily. You might just meet the Mindy to your Emily.
Palais Garnier
The drama. The romance. These interiors are peak-French charm. It doesn't get more European Royalty than taking a saunter through these halls.
Pont Alexandre III
Enjoy sweeping views of the Seine and the city. It really doesn't get any better than this.
Hotel du Grand Veneur
Deep in the Marais district — the Soho of Paris — this hotel houses a secret garden. It's a magnificent escape from the bustle of the city — one that doesn't waste an ounce of its beauty.
 Rue de l'Abreuvoir
They don't call this the prettiest street in Paris for nothing! Save space in your camera roll for this.
Hôtel Plaza Athénée
If you can afford to stay here, you definitely should. And if you can't, stay for a drink at the hotel bar. Its jazzy interiors and the addictive atmosphere will give you the full French experience