The North Fork of Long Island is a pleasant and beautiful region on the island's east end. Water views, farming regions, wine country, and local shops and stands makes the area one residents love to call home and visitors enjoy traveling to for weekends away from the usual hustle and bustle. Dining in the region is all about fresh food, particularly seafood and local vegetables. When you're in the area, pay a visit to one of these five wonderful waterfront restaurants. The food is exceptional, and the views are breathtaking.
A Lure Chowder House & Oysteria

Via alurenorthfork.com
Nestled in the landmark Port of Egypt Marina in Southold,A Lure Chowder House & Oysteriais a waterfront dining establishment which features fresh fish, a friendly atmosphere, and a view that's not to be missed. Sit inside or enjoy dining on the airy patio overlooking the water when the weather is comfortable. Boats pull right up to the dock and hungry customers can't wait for a taste of P.E.I mussels, Baja-style fish tacos, cast iron grilled calamari, or macadamia-coconut crusted flounder, to name a few of the restaurant's delectable dishes. Happy hour deals bring in locals by the dozens, and special live music events add a lively vibe to the already delightful dining destination. The fish and other fare are filling but save room for dessert. A Lure's flourless chocolate cake with raspberry coulis or pecan crumb apple tart with caramel-vanilla ice cream are too good to pass up.
62300 Main Road, Southold, NY
The Halyard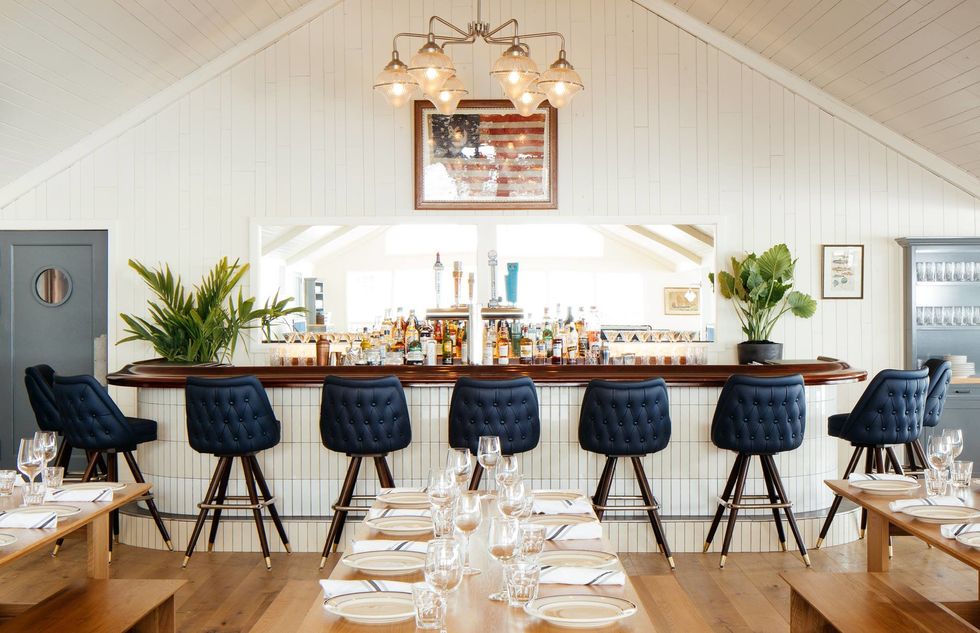 Via facebook.com/HalyardGreenport
One of the newer additions to the North Fork dining scene, The Halyard, is adjacent to the newly renovated Sound View Hotel, a favorite Greenport, LI destination for out-of-towners. The restaurant's James Beard Award-winning chef creates dishes as divine as the view of the Long Island Sound, leaving diners' many senses satisfied. Fish stew, roasted scallops, arctic char, and fish & chips are simply succulent, and desserts like lavender crème brulee and chocolate icebox cake are the grand finale to a memorable meal. Sit by the bar, facing the water, in the library, or out overlooking the serene Sound, and experience class and creativity at the gourmet level. North Fork food made fresh will have you back again soon.
58775 Route 48, Greenport, NY
Porto Bello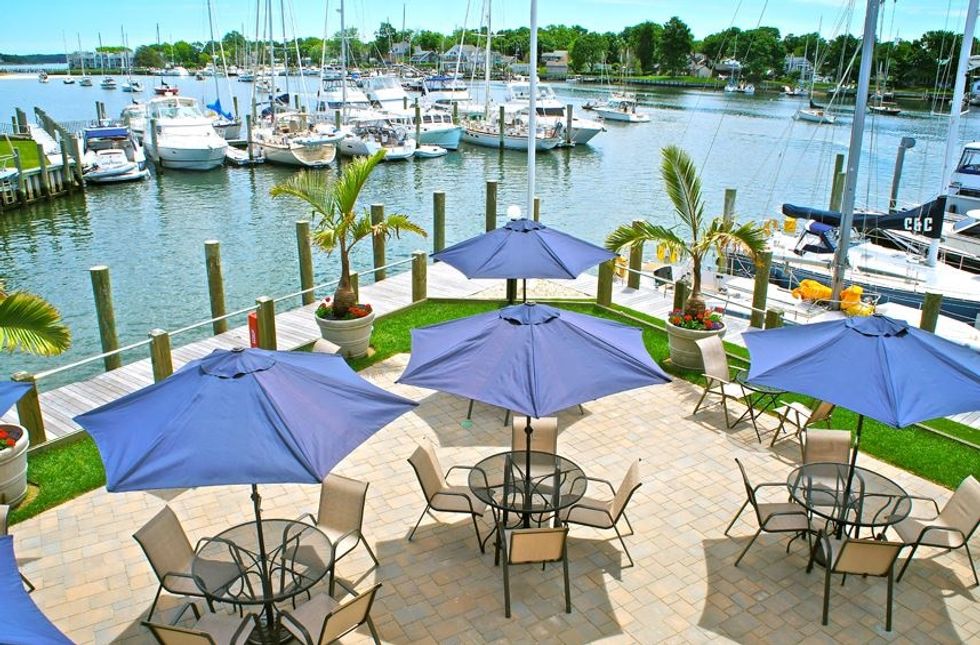 Via zagat.com
Brewers Shipyard is the place to be for breathtaking views as well as dining that is always fresh and flavorful. Here you will find the spacious Porto Bello restaurant and bar which looks over the magnificent marina. As you watch the boats dock and folks emerge for a taste of North Fork freshness, dine on stuffed avocado with lobster salad, a grilled steakhouse burger, clams casino, or of course, the grilled Portobello mushroom sandwich with fresh mozzarella, roasted red peppers, and herb garlic mayo. Live music on Sunday afternoons makes for a festive atmosphere, and the weekly menu specials are something to look forward to.
1410 Manhanset Avenue, Greenport, NY
Orient by the Sea Restaurant & Marina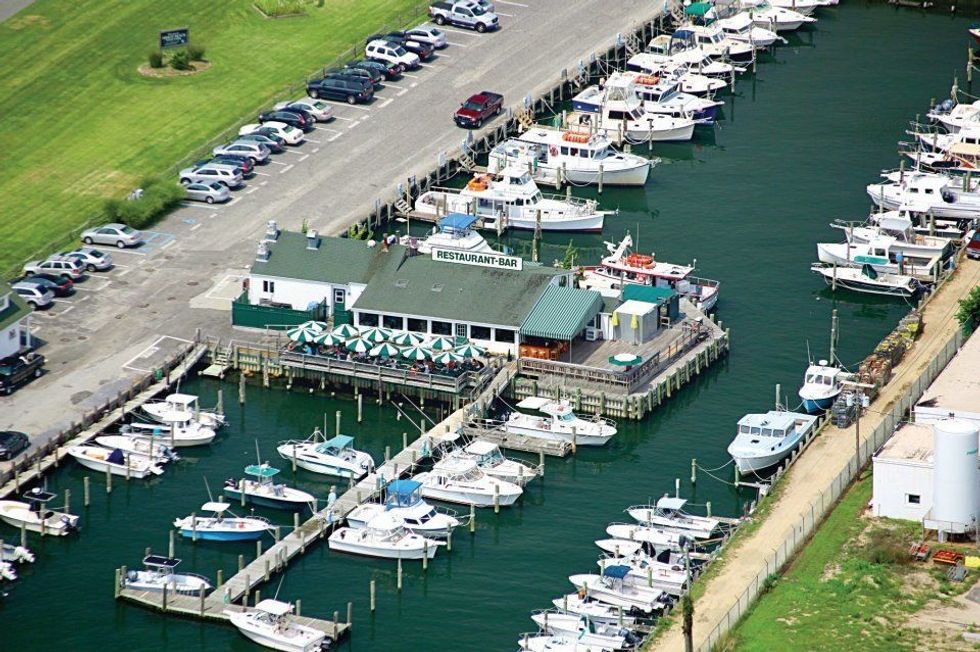 Via marinas.com
Since 1979, Orient by the Sea Restaurant & Marina has been serving up local seafood in Orient Point - "The End" of the island. Family owned and operated, the friendly and inviting venue is all about great service for locals and visitors off the ferry alike. Raw bar delicacies are fresh as it gets from the sea, the clam chowder is a must-have, oven roasted salmon with horseradish crust is a customer favorite, and semi-boneless roast duckling with fruit glaze is truly decadent. Surrounded by water with views from nearly every area of the restaurant, Orient by the Sea is perfect for warm-weather lunches and dinners out with friends and family.
40200 Main Road, Orient, NY
Billy's by the Bay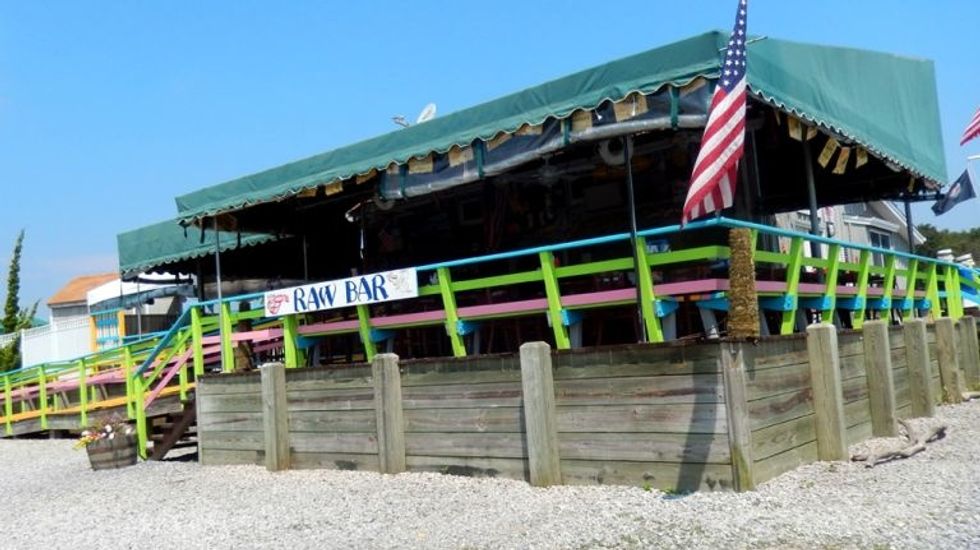 Via newsday.com
The beloved Billy's by the Bay is a casual spot loved by locals and often visited by vacationers looking for a waterfront lunch or dinner during the warmer weather. The unique Tiki bar and live music draws crowds, as does the tasty menu featuring traditional items like lobster rolls, clam strips, fried oysters, and stuffed flounder. Wash your meal down with a zesty Bloody Mary topped with a whole shrimp. Billy's by the Bay's famous strawberry shortcakes are sweet-tooth satisfying, made with Long Island farm-fresh berries. Have a relaxing time down by the bay with food and fun that fills the body and soul.
2530 Manhanset Avenue, Greenport, NY
Waterfront spots that whet your appetite await you on Long Island's North Fork. Enjoy!