I'm a huge smoothie fan. Throwing things into my blender has always been my favorite way to sneak healthy vegetables and protein into a breakfast or snack, without having to eat a bowl of dry kale. But creating my own smoothie recipes every time can get old, so I started looking around for pre-made alternatives. After doing some research, I quickly realized that the best option by far was Splendid Spoon, a subscription delivery service that sends you plant-based, superfood-filled smoothies designed to nourish your body using all-natural, non-GMO ingredients and as little sugar as possible. After a few weeks of eating their vegan smoothies, I noticed I had more energy throughout the day, wasn't getting as hungry (one big advantage of cutting sugar!), and had even lost a little weight. But I was curious...how does Splendid Spoon measure up to my other favorite smoothie brands?
I compared Splendid Spoon side by side with some of the top smoothie and juice brands, and the results really speak for themselves.

This was the very first pressed juice and bottled smoothie line I ever drank. I remember thinking it was synonymous with being totally healthy when I was in high school. Recently, I picked up a Green Machine juice from the grocery store because I was hoping for a quick nutrition boost, but what I found on the label surprised me. The juice was so sweet that I couldn't believe it was touting itself as "green." One look at the nutrition label, and I saw the culprit: 53 grams of sugar. That's more than a can of Coke! One serving of a Blackberry Basil smoothie from Splendid Spoon, however, only has 10 grams of sugar and 100 calories.

Like most people, I have a little bit of a sweet tooth. When I need that afternoon pick me up, I want a nut butter smoothie that will give me some hearty protein and satisfy my sweet craving. I've loved my Splendid Spoon AB&J (almond butter and jelly!) smoothie for moments like these. They use natural, vegan ingredients like coconut nectar and pea protein along with whole fruits and almonds to create a delicious option that stays under 15 grams of sugar. I compared that to my old go-to, a Peanut Butter Moo'd smoothie from Jamba Juice and was wowed by what I used to put in my body. The small has a whopping 72 grams of sugar, the same amount as a McDonald's ice cream milkshake! Not to mention at almost 500 calories it was ⅓ of my daily caloric intake.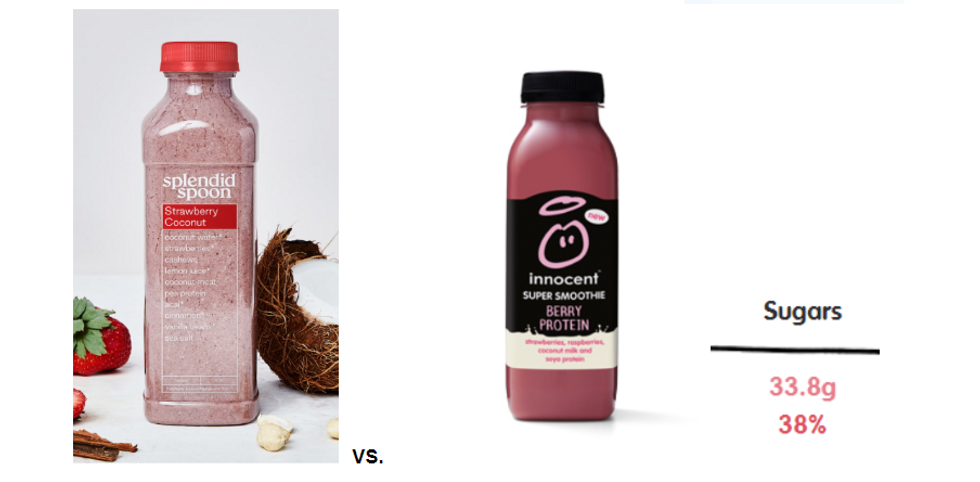 It made sense that Splendid Spoon outranked the big brands, but what about other boutiques, health-oriented smoothie companies I've used over the years? I checked out Innocent smoothies, the bottled brand I'd seen countless ads for that leaned into the health angle. I compared Splendid Spoon's Strawberry Coconut smoothie to Innocent's Berry Protein, and while it was a much closer race, the Innocent smoothie still had more than double the sugar as Splendid Spoon.
I couldn't believe how much healthier Splendid Spoon's smoothies are compared to other top brands, especially when it comes to sugar, which has a huge negative effect on your energy levels, weight gain, and more. Plus, their subscription lets me skip trips to the grocery store when I'm too busy, and they even have a line of soups for when my schedule just doesn't include time for healthy meal prep. Their plans are also cheaper (and way tastier) than the to-go lunches I used to pick up from the salad chain near my office, which really put Splendid Spoon over the top as my favorite healthy habit of 2020.
Update: The folks at Splendid Spoon are extending an exclusive offer to our readers!For a limited time get $15 OFF the most popular plans!
Offer Expires In