Haircare just got better, thanks to Hairstory. Gone are the days of double shampooing, followed by a conditioner and topped off with post-shower hair treatments. That's all over with New Wash, the detergent-free cleanser.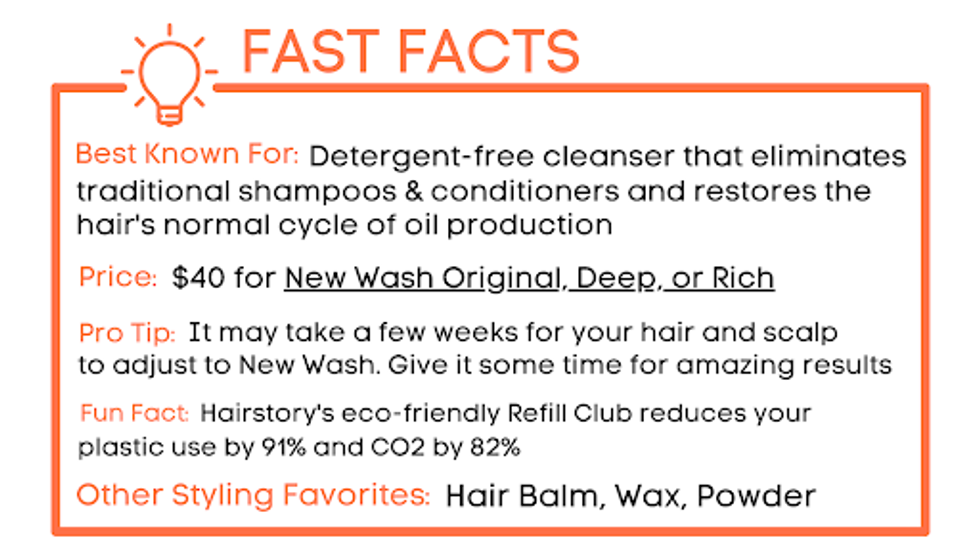 Our editors have completely changed the way they wash their hair with Hairstory. The innovative New Wash cleanser re-imagines the wash routine with one simple step designed to replace both your typical shampoo and conditioner.
We learned that the reason behind our frequently greasy, limp hair is not from a lack of washing, but overdoing it with detergent-packed shampoos. These detergents strip the scalp of natural oils and lead to the overproduction of oil that sends us back to the shower sooner. Not to mention the damage to the strands leaving our hair looking unhealthy.
Before Hairstory, we tried to do damage control by stocking up on leave-in treatments and extra products that not only took up tons of time but definitely put a dent in our budgets. Now with New Wash, our hair is thriving and we can skip the conditioners and masks.
New Wash Original works for all hair types from straight and thin to thick and curly. They also have New Wash Rich for those who need added moisture and New Wash Deep for extra cleansing and oil management with apple cider vinegar and argan oil. You can't go wrong with Hairstory; they have all your needs covered.
You can even sign up for the Hairstory Refill Club for added convenience and savings. Choose to have a pouch of New Wash (8, 20, or 32-oz) every 6-14 weeks, depending on your hair length and type. You'll get a refillable travel container, shower container, and free shipping on every order.
The plant-based, biodegradable cleanser isn't their only fan favorite. We've come to love their styling products like Hair Balm for easy hair-drying, Wax for control and hold with a matte finish and no crunch, and Powder for a dry shampoo you'll love between wash days.
Hairstory is the one-stop shop for your hair must-haves. We recommend switching to New Wash and getting your hair back on track for a healthier look and feel.