After a beautiful summer spent outdoors, September is finally upon us.
Soon, summer plans will slowly begin to wane. But fret not! There is still plenty of time for one last great camping trip. There is still time to make s'mores by the fire, get drunk under the moonlight, and disconnect from our phones. But for you to make the most out of this last hurrah, you need reliable equipment that can withstand the elements. For those in need of a cooler that can handle everything that comes with the rugged outdoors, look no further than YETI.
Founded in 2006, YETI was born with a simple idea: Build the perfect cooler that you could use everyday — a cooler meant strictly for the devoted outdoorsman, one that could take the abuse that comes with the great outdoors. As of 2021, YETI has continued to thrive and be the go-to one-stop-shop for any outdoor excursion. Let's give a little rundown of every cooler at your disposal.
Are you planning a massive family get away? Are you tired of those mass-produced coolers that lose their cold insulation once the weather gets warm? Are you sick of the coolers that break when you stand on them or that are easily opened by nature's hungry wildlife (AKA f*cking BEARS)? The Tundra® Hard Cooler Family is meant to resolve all of those frustrating issues and give you and your family peace of mind so you can get back to enjoying your trip.
Or maybe you want to hit the road solo, and you want a cooler that can easily travel with you and sustain itself. In that case, you should check out the newRoadie 24 Hard Cooler, the latest edition of the Roadie cooler that is 10% lighter than previous models. It also holds 20% more and performs 30% better thermally than its predecessor. YETI also built the latest Roadie to be tall enough to accommodate bottles of wine but slim enough to snugly fit in the backseat of your car.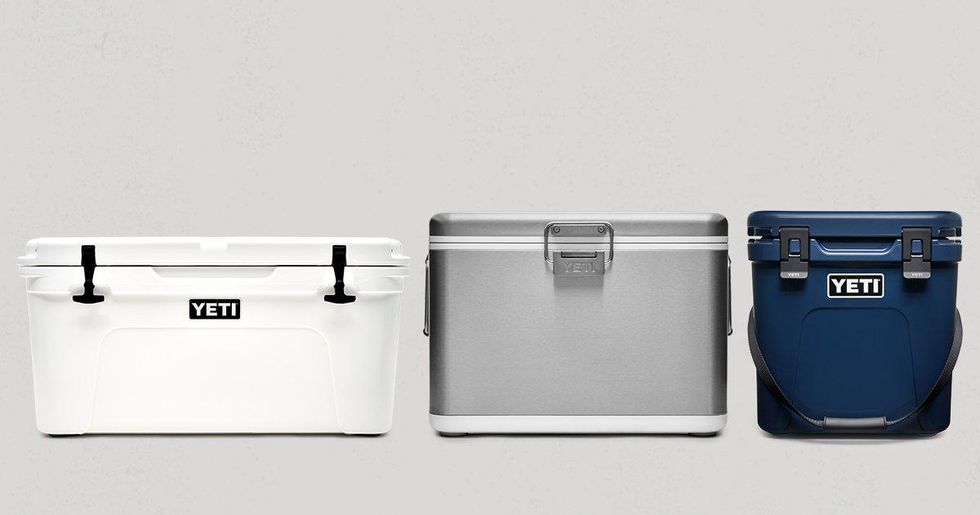 Yeti
Maybe you're not a casual camper. Maybe you like to live dangerously and test your strength against the elements. For those hardcore campers who truly want to brave the outdoors and all it has to offer, The YETI V Series® should be an utmost priority. Combining the cold-storing power of YETI's Rambler® Drinkware and the iconic Tundra® Cooler, the V series offers next level insulation that can store and keep anything fresh, even in the most dangerous of elements.

Look, the point is that YETI makes some amazing coolers. They're known for them, after all. But that's not all they make. Are you looking for a reliable thermos? Or maybe a good camping chair? Or maybe even a nice thick hoodie or a dog bowl? YETI offers a wide range of camping accessories perfect for any occasion.
Take, for instance, The Lowlands® Blanket. The blanket is perfect for any camping, tailgating or outdoor concert experience. It offers a waterproof utility layer and a cushiony insulated interior that was handcrafted to provide a one-of-a-kind all-terrain blanket. Designed to repel dirt, burrs and pet hair, the blanket is perfect for your furry companion to sleep in or lie on, as well. Let them roll around in it as much as you want!
As this summer comes to a close, don't let the elements ruin your last opportunity to enjoy the fresh outdoors! Grab yourself a YETI cooler, blanket, mug or whatever else and hit the road! We promise you won't have to do anything other than enjoy your time basking in the great outdoors.