Calling all Basquiat fans! Jean-Michel Basquiat was one of the most astonishing but elusive artists of the mid-twentieth century. Oh, to be strutting the New York streets in that era. Partying at Studio 54 — or standing online at the door, trying to get in — hitting art shows and galleries filled with Warhol and Basquiat originals. And buying up that "mid-century modern" furniture to resell in the 2022 marketplace.
Everyone knows Basquiat. You've heard his name, you've seen his work, and his contributions to the art landscape are exponential. To this day, people — and businesses — are inspired by Basquiat.
Sometimes, that "inspiration" goes a bit too far. Take the infamous 2021 Tiffany's controversy when the iconic jewelry brand unveiled a campaign starring Jay Z, Beyoncé, and a rare Basquiat painting.
The campaign showcased Equals Pi (1982), a Basquiat painting that's rarely seen because the brand acquired it years ago. When they realized the painting's background color was remarkably close to the distinctive Tiffany blue, they saw an opportunity.
However, the campaign received considerable backlash. Beyoncé was the first Black woman to wear the 128.54-carat Tiffany Diamond. But the diamond's exploitative origins overshadowed the exquisite Basquiat piece and Queen Beyoncé.
Mined in South Africa in 1877, the diamond is drenched in the brutality of colonialism. Yikes. So if, you know, you're in the market for a diamond, and if you're a Basquiat fan, this is no way to revere the artist's memory. But enjoying your very own Breakfast at Tiffany's is not the only way to partake in Basquiat's legacy.
Now more than ever, there are Basquiat-related projects popping up everywhere. Here are some of the most thrilling:
Rent Basquiat's former studio — if you've got $60,000 per month to spare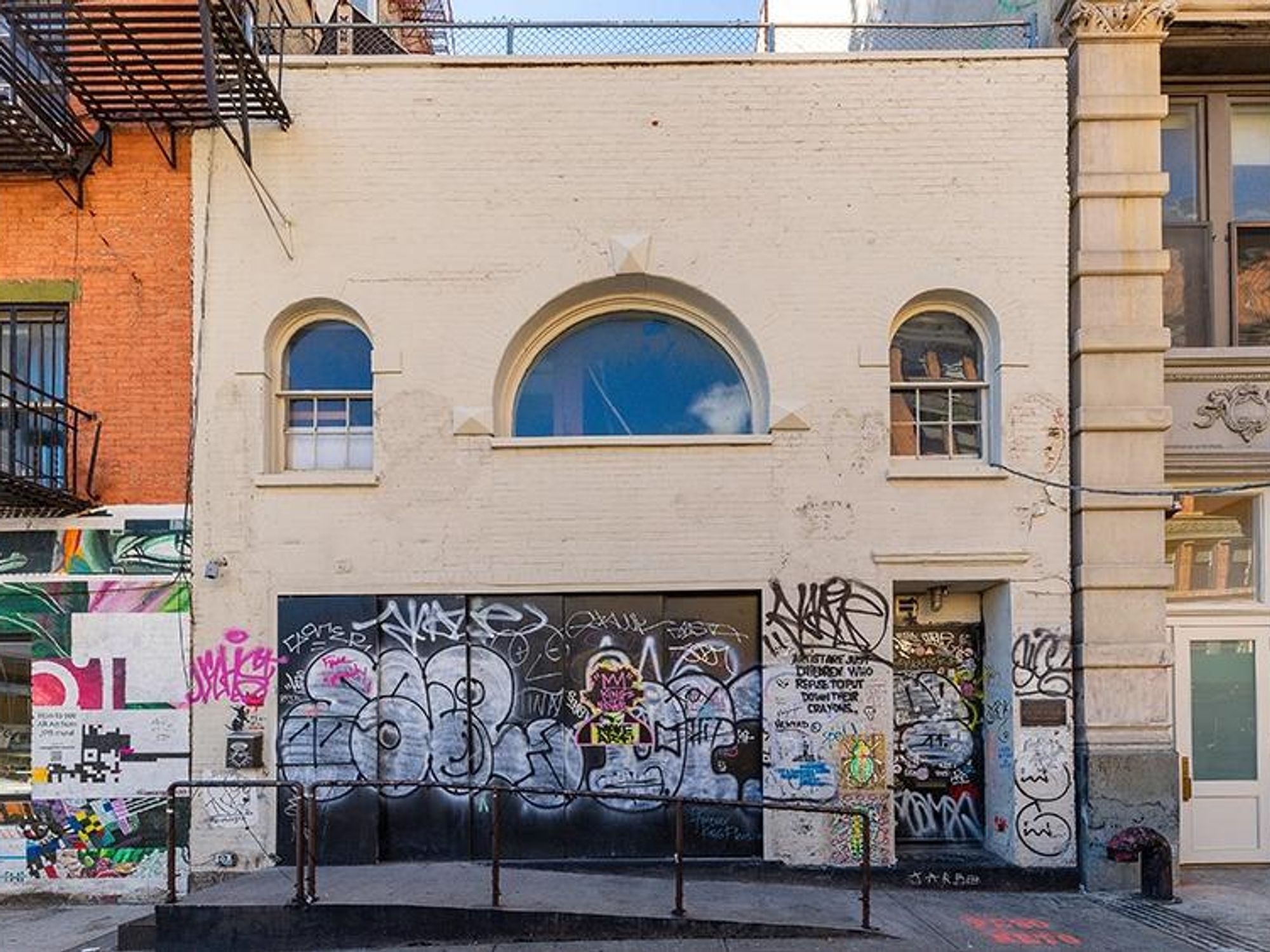 via Meridian Capital Group
The friendship between Andy Warhol and Jean-Michel Basquiat is a legend. Part of the story: the converted downtown studio Warhol rented out to Basquiat. And now you can rent the once-stable, once-studio at 57 Great Jones Street, a two-story building in Manhattan's Bowery neighborhood. Since the death of both Basquiat and Warhol, the space has been everything from a tenant space to a restaurant space. The monthly asking rent is $51,000 plus $9,000 in taxes for a total of $60,000 per month, a la Meridian Capital Group.
See a play about Basquiat x Warhol, The Collaboration
Speaking of Warhol and Basquiat, they were collaborators as much as they were friends. Now you can see the story play out on stage in one of the most highly anticipated shows of the year. Jeremy Pope and Paul Bettany play Jean-Michel Basquiat and Andy Warhol in The Collaboration, opening December 20th at the Samuel J. Friedman Theatre, NYC. It tells the story of the exciting 1984 exhibition featuring the pair. Although it was a major moment in the history of modern art, it was a testy time for both artists — trying to marry their styles into one cohesive story.
Go see the Brooklyn Nets — and their new Basquiat-inspired uniforms
Brooklyn's basketball team — the Nets — are paying homage to Brooklyn-born artist, Basquiat with their new radical uniforms. The jersey features color-packed siding, plus Basquiat's trademarked crown motif and his hand-written lettering that reads "Brooklyn, New York."
"He was a very impactful artist and had a lot of fans through this day. It's an honor for us to represent him, his family, and where he comes from through our jerseys and on our court," said Kevin Durant.