Salads are sometimes underestimated in the culinary world. Often thought of as "health food" for those looking to shed some weight when really they're so much more! Don't fall into the rut of thinking a salad only consists of lettuce, tomato, cheese, and maybe if you're feeling like mixing things up croutons and deli meat. We gathered up some of the tastiest salad recipes from around the world that prove salads are anything but boring and tasteless.
A good salad is fresh, delicious, and shows off the produce local to the region it was first mixed together. While salads are often used as sides for a larger meal, the recipes below are hearty and zesty enough to be served alone. Don't let boring salads get the best of you this summer. Beat the heat with a culinary trip around the world without even leaving your kitchen.
Below are 6 yummy salads that will make you feel a little more adventurous!
Chef's Salad (U.S.A)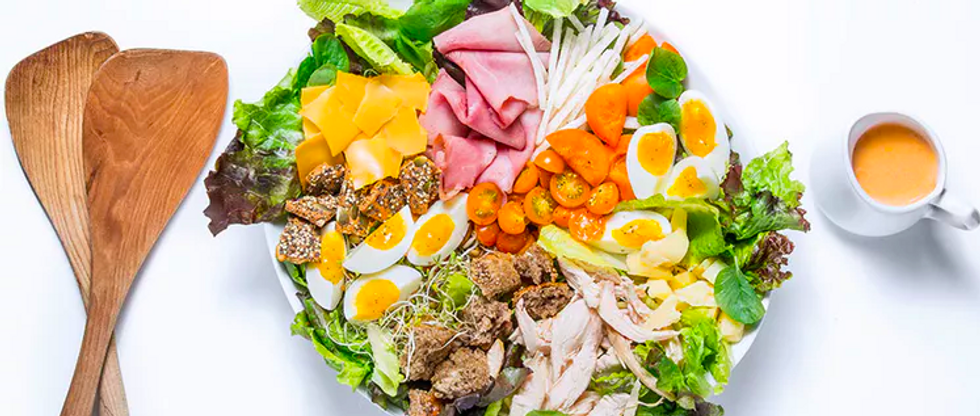 Chef's Salad Recipe by The Tasting TableLizzie Munro/Tasting Table
Here's a traditional American salad that's perfect for summer. It's also hearty enough to be served as a main course. A Chef's Salad combines hard-boiled eggs, meat (turkey, ham, chicken or roast beef), tomatoes, cucumbers, and cheese (most often cheddar or swiss). It's usually served with a creamy balsamic dressing and sometimes features croutons or pieces of toasted bread. The ingredients rest on top of a bed of tossed lettuce or other leafy greens.
It's rumored that the Chef's Salad was invented by Jacques Roser at Hotel Pennsylvania in NYC, but it was Louis Diaz at The Ritz Carlton who made this now classic salad famous. The original recipe called for ox tongue, but modern adaption has replaced it with more palatable meats. The recipe below is a modern take on the Chef's Salad from The Tasting Table and is absolutely delicious!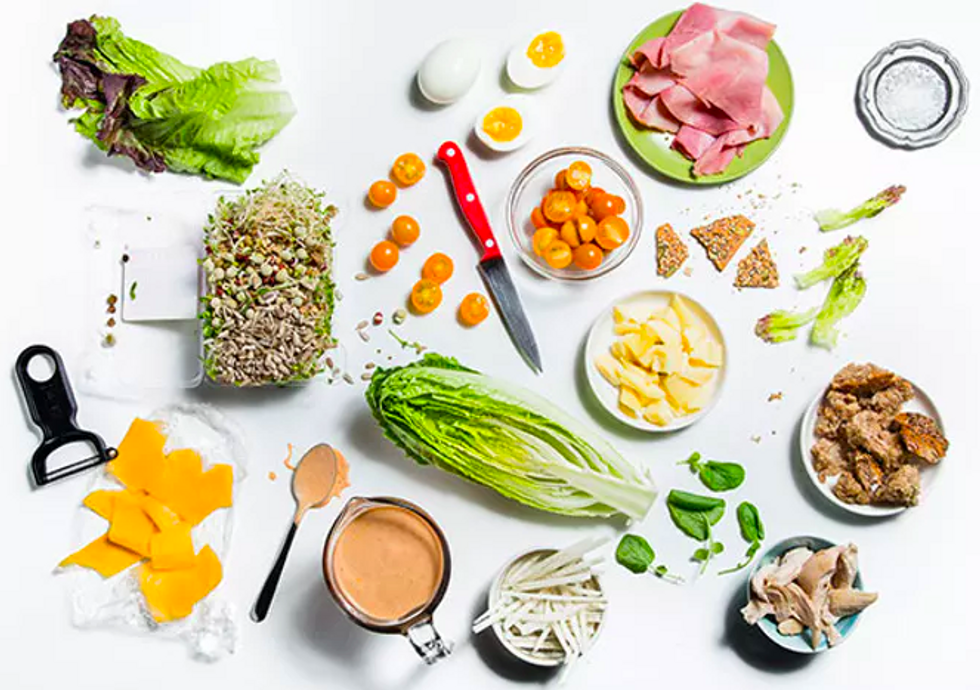 Chefs Salad Ingredients by The Tasting TableLizzie Munro/Tasting Table
Recipe by The Tasting Table
Serves: 4-6 Prep Time: 35 Mins Cook Time: 20 Mins
Mediterranean Greek Salad (Greece)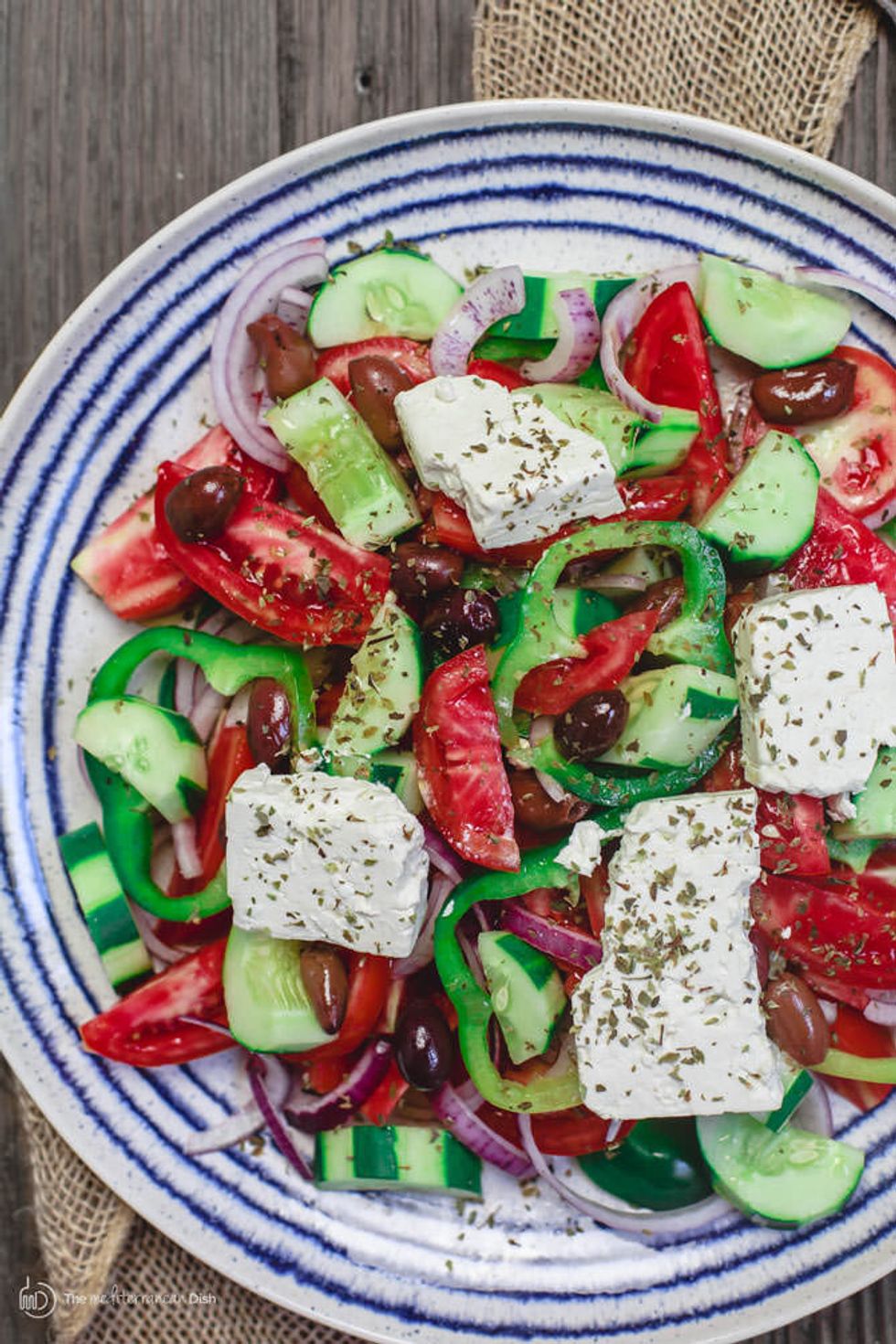 Mediterranean Greek Salad by The Mediterranean DishThe Mediterranean Dish
There's no shortage of flavor in a Mediterranean Greek Salad. It's crisp, zesty, and full of texture and flavor. A traditional Greek salad is also known as Horiatiki and is usually served from spring to early fall with a side of crusty bread. Yum!
Sheep milk feta cheese, kalamata olives, red onions, cucumbers, green bell peppers, and ripe juicy tomatoes are the staple ingredients in a Mediterranean salad. Unlike other salads, there's no lettuce or leafy greens found here. To dress this zesty salad, all you need is a pinch of salt and pepper, quality olive oil, dried oregano, and a splash of red wine vinegar. Serve this salad at a summer BBQ and it's sure to be a hit. The best part about the mouth-watering recipe below is that it only takes 10 mins to whip up!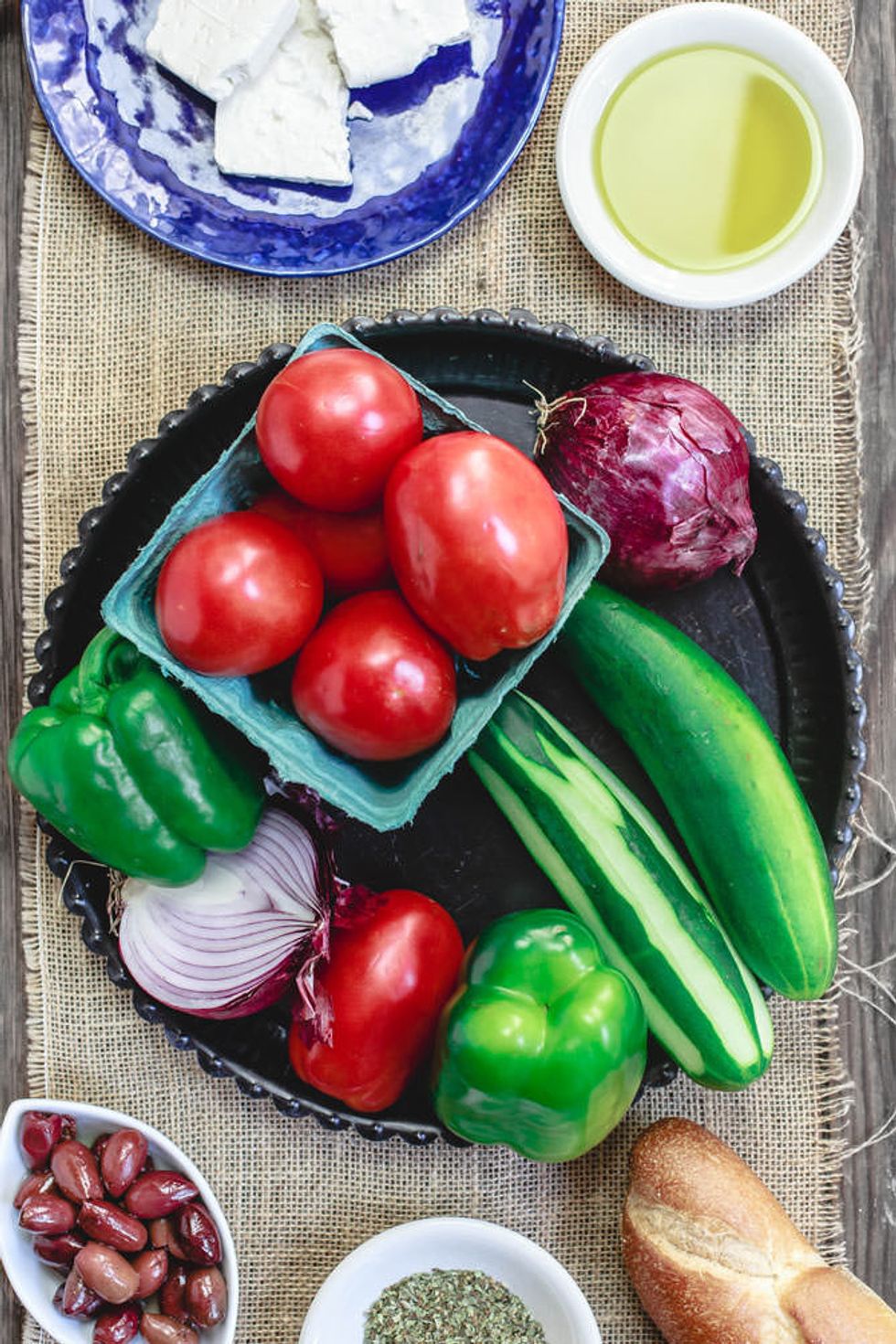 Mediterranean Greek Salad Ingredients By The Mediterranean DishThe Mediterranean Dish
Recipeby The Mediterranean Dish

Serves: 4 Total Time: 10 Mins
Salad Nicoise (France)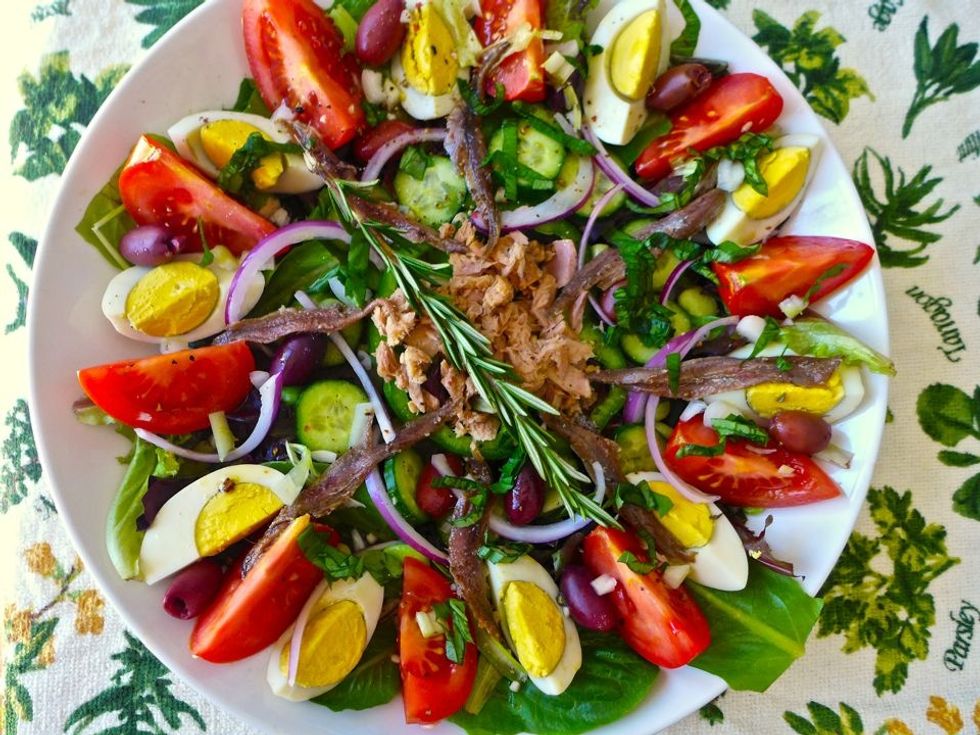 Salad Nicoise by 196 Flavors196 Flavors
For a taste of the South of France in your own home try making a Salad Nicoise. While this classic French salad was once known as "a poor man's dish" featuring cheaper protein like canned tuna and anchovies, it's now served around the world with some very expensive adaptations (think caviar and freshly caught trout). The fresh ingredients are all local to the region this dish was created in Nice, France.
The traditional ingredients include tomatoes, hard-boiled eggs, black olives, spring onions, and tuna or anchovies. Modern takes have evolved to include fava beans, cucumber, bell peppers, radishes, raw artichokes, celery hearts, red onion, green beans, cooked potatoes, and mesclun. In the U.S. we usually served a Salad Nicoise with cooked potatoes, green beans, hard-boiled eggs, tuna, tomatoes, red onion, mesclun, and a light balsamic dressing.
Here's a more traditional version of the Salad Nicoise from Chef Simon of Le Plaisir de Cuisiner or in English, The Pleasure of Cooking. No cooked potatoes found in this classic recipe. A real Nicoise Salad only uses raw vegetables.
Recipe by Chef Simon for 196 Flavors
Serves: 6 Prep Time: 15 mins Cook Time: 10 mins
Tabbouleh Salad (Lebanon)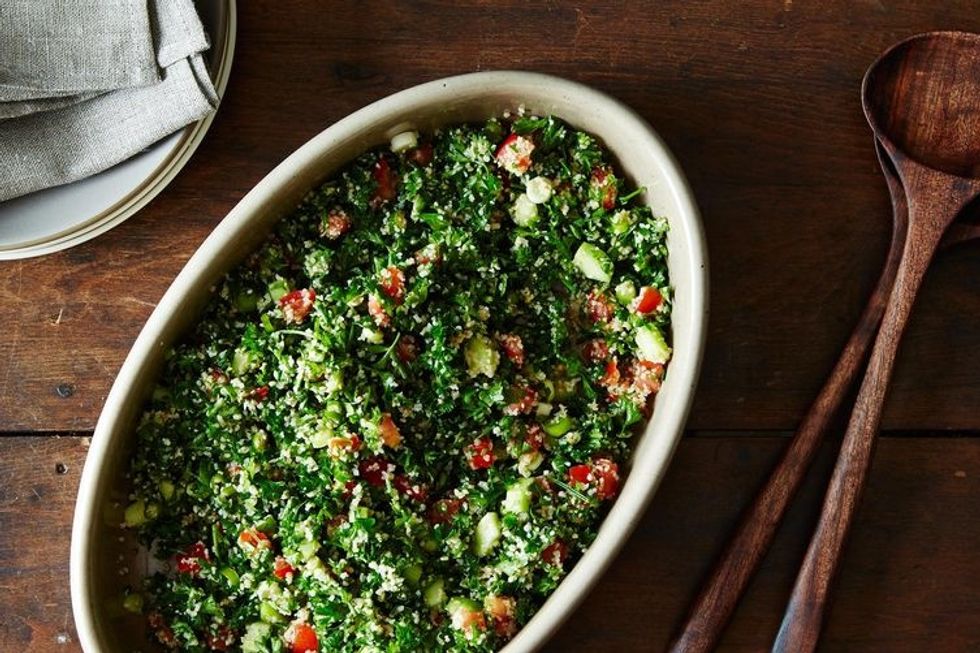 Tabbouleh Salad by CdiLaura for Food52CdiLaur/Food52
When you think of Tabbouleh Salad lots of bulgur and fresh herbs come to mind. But real Lebanese Tabbouleh only uses a little bit of bulgur as a starchy crunch. Instead, the focus is all on the generous amount of fresh mint and parsley used in this classic Middle Eastern dish. To the Lebanese, Tabbouleh is a green herbal salad with just a few spices, a little bit of bulgur, cucumbers, and juicy vine tomatoes.

To dress Tabbouleh all you need is fresh lemon juice, salt, pepper, and quality olive oil. Because the bulk of this salad centers around the herbs it's important to get the freshest ingredients possible. Herbs that are in season and picked fresh will give you the perfect punch of flavor for an addictively delicious Tabbouleh Salad.
The recipe below is by CdiLaura featured on Food52 and was passed down to her from her mother who learned it from her grandmother. It's a tried and tested simple salad recipe that's light and fresh. Perfect for enjoying on a warm summer day.
Recipeby CdiLaura for Food52
Serves: 6 Total Time: 35 mins
Larb Salad (Thailand & Laos)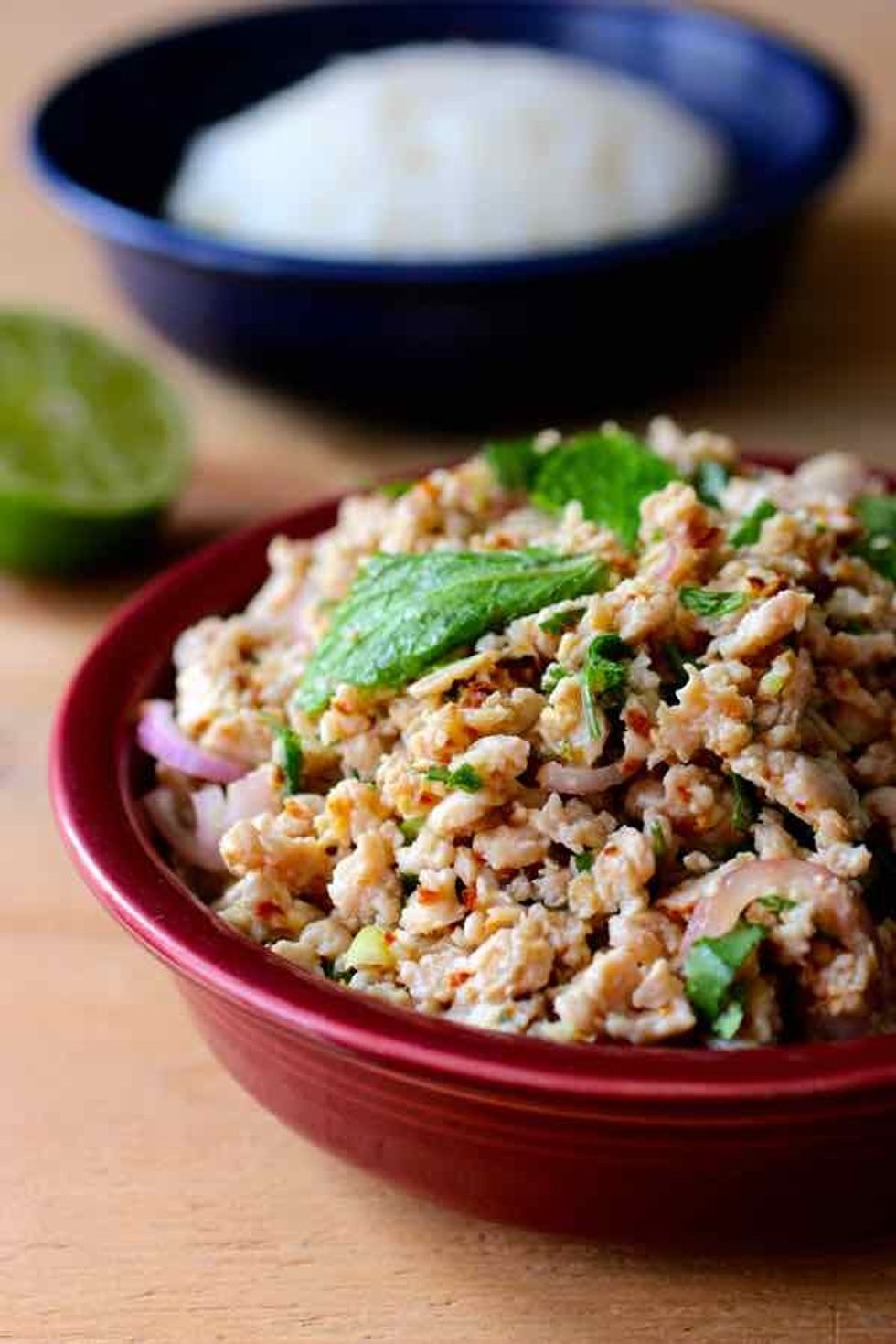 Larbs Salad by Mike Benayoun for 196 Flavors196 Flavors
Here's a fresh, hearty salad that is more familiar to me than even a Cobb Salad! Thanks to my very adventurous (and constantly relocating) parents I spent a lot of my childhood in both Thailand and Laos indulging in delicious Larb and sticky rice. It's the national dish of Laos and sold by street vendors on almost every street. Larb (pronounced Laap) is made of ground meat (usually chicken or pork), shallots, herbs, lime juice, fish sauce, chili powder, and toasted crunchy sticky rice.
The toasted sticky rice gives this delicious salad a nice crunch and also helps bind the salad together. Larb is usually served with a side of sliced cucumbers and lettuce to soothe the spice that's piled on in classic Lao cooking. Traditionally this salad was eaten as a sign of wealth since meat was so expensive in the country and usually only used as an accessory in dishes.
Try the Larb recipe below from 196 Flavors for a salad that's so good it's likely to become a staple in your kitchen.
Recipe by Mike Benayoun for 196 Flavors
Serves: 6 Prep Time: 20 mins Cook Time: 30 mins
Ensalada Rusa (Argentina)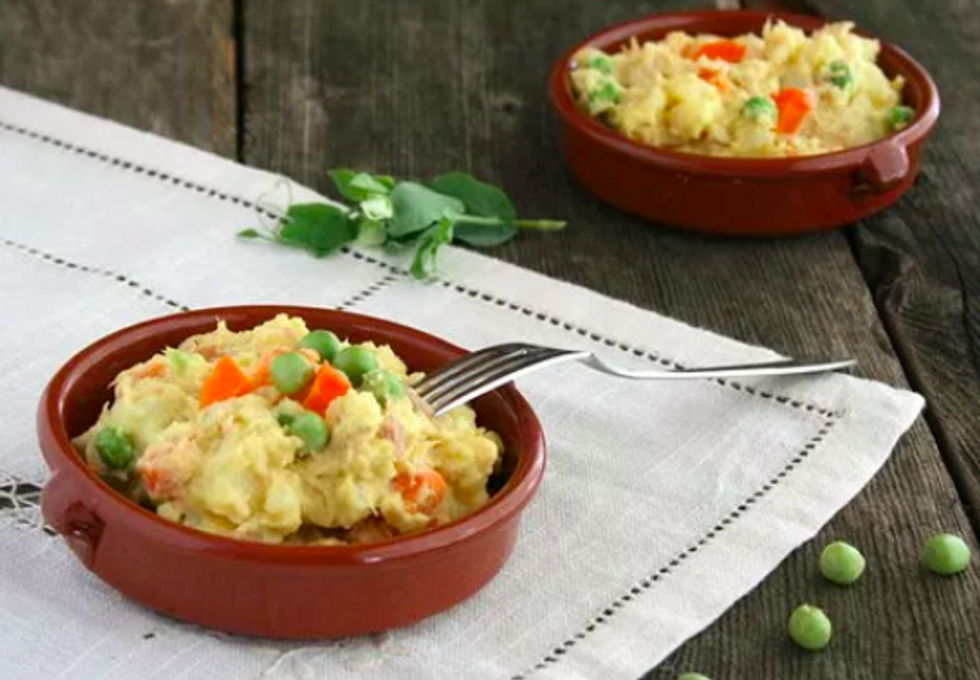 Ensalada Rusa, Argentinian Potato Salad by A Humble KitchenA Humble Kitchen
Argentinian potato salad is a classic South American dish known as Ensalada Rusa or Russian Salad. As the name suggests this salad has Russian roots. Over generations this once Russian potato salad recipe got adapted in Spain, Italy, and Portugal before making it's way to Argentina where it's now a staple.
It always includes boiled potatoes, peas, and carrots with a generous serving of mayonnaise but can also be found with asparagus, beets, baby shrimp, chicken, ham or hard boiled eggs mixed in. This salad is so popular in Argentina you can find the main ingredients sold together in bags at grocery stores. It's served year round and is almost always included in an Argentinian Christmas feast.
Recipeby My Humble Kitchen

Serves: 4-5 Total Time: 40 mins
Feeling inspired to take on a real culinary journey? Don't let fear hold you back from finding your new favorite foods. Find out how traveling can make you a more adventurous eater.
Don't forget to check out the five best vacations spots for foragers and wild food enthusiasts!