Heartstopper Season 2, the sophomore installment of the worldwide hit Netflix series, is finally here.

If you, like me, have already binged the whole series, no doubt you're still emotionally recovering. Our lovable gang of queer, British teenagers went through a whole lot this season. They laughed, they cried, they made out a bunch, and they went to Paris.
The Paris trip saga was a famous installment from the graphic novels that came to life so brilliantly I started Googling things like "Flights to Paris" and "Eiffel Tower elevator."
Paris has long been the subject of international fascination. The City of Lights is so romanticized that there's even a condition called "Paris Syndrome" which is felt by disillusioned tourists who find the real-life version can't compare to their Emily in Paris and Amelie-inspired dreams.
And while I am prone to romanticizing and projecting my whimsical daydreams on potential vacation spots, my previous trips to Paris have confirmed that there is some kind of magic in the city. Part of the magic is the beauty of the city itself, sure. But as Heartstopper confirmed, part of the magic is about believing there's magic.
That's why I firmly believe there's no wrong way to do Paris. Unlike most cities, the tourist spots live up to the hype, and you can't go wrong with stopping and people-watching at pretty much any cafe.
But if you're like me and want to visit the spots from your favorite comfort show next time you're in Paris (because I did go to Ralph's Cafe just because Miss Emily did), here's how to have the full Heartstopper experience.
Sacre-Coeur
The gang spends their first day wandering around Montmartre, aka the big hill in the 18th arrondissement. This former artists' neighborhood is a great way to kick off your own Paris trip. And of course, at the top of the hill, is the famous Sacre-Coeur. The Basilica of Sacré-Cœur de Montmartre is a giant Roman basilica and an impressive sight to behold. And boasts some of the best views of Paris.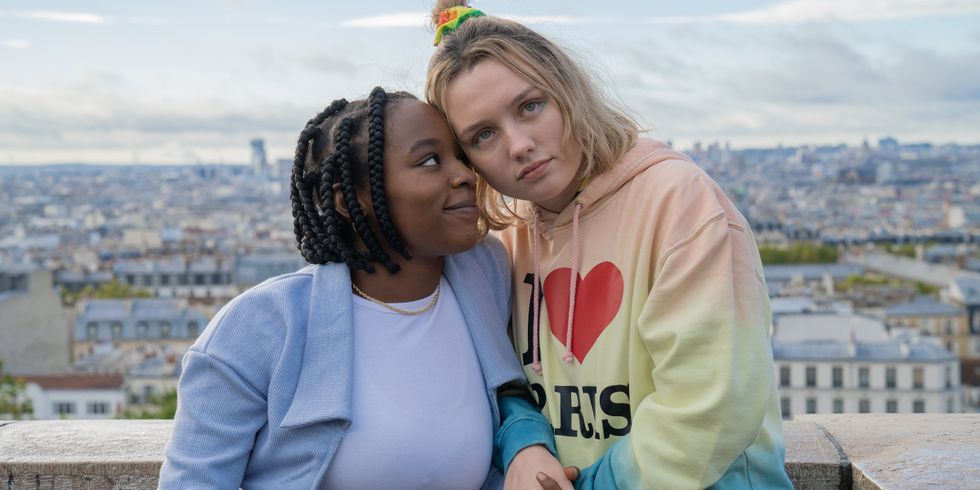 Darcy and Tara in Montmartrevia Netflix
Musee de Montmartre
Paris doesn't have a shortage of art museums, but make sure to add the Musee de Montmartre to your list. It's an art lover's paradise, full of art history and cultural significance. "Renoir painted there," says Elle (Yasmin Finney) to her disinterested friends. And she's right — plus, so did Suzanne Valadon, Maurice Utrillo, André Utter, Émile Bernard, Demetrios Galanis, Francisque Poulbot, Léon Bloy, Pierre Reverdy, and more. Even if you're not experiencing the euphoric first romance of Elle and Tao (William Gao), strolling through the gardens and cafe will make it feel like you are.
Pont des Arts Bridge
This famous bridge is where people put locks to signify their everlasting love — or at least their hope for it. However, because the heaviness of the locks could compromise the integrity of the bridge, it's actually illegal to do this now. So, despite the fact that Charlie (Joe Locke) and Tao put a lock on the bridge (we'll suspend our disbelief), you probably shouldn't.
Try classic French dishes
At the end of their first night in Paris, the gang pile into a classic French bistrot called L'Escalier to try the full spread of French dishes. From beef bourguignon to escargot and steak frites, sit down at a classic French Bistrot and try all the classic French dishes you've seen on screen.
The Eiffel Tower
The Eiffel Tower is a dazzling sight, whether you're watching it from across the seine or picnicking at the Champs de Mars. In Heartstopper, they climb all the way to the top — but that's 674 stairs. You can also take the lift.
The Louvre
The museum of all museums, the Louvre needs no introduction. "They should make more movies in the Louvre," says Tao — and Heartstopper is a charming addition to the Louvre canon. Think of it as you take your selfies by the Mona Lisa and marvel at the impressive architecture.
Eat by the SeineNi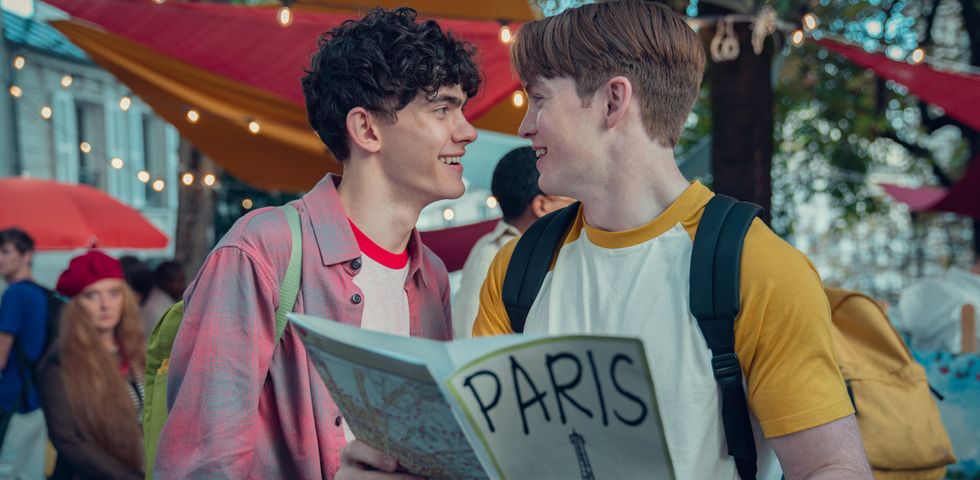 Nick and Charlie in Parisvia Netflix