Bestselling author and fine artist, Jonathan Santlofer, has taken a real-life event – the 1911 theft of Leonardo da Vinci's Mona Lisa from the Salon Carré in the Louvre Museum – and used it as the basis for The Last Mona Lisa.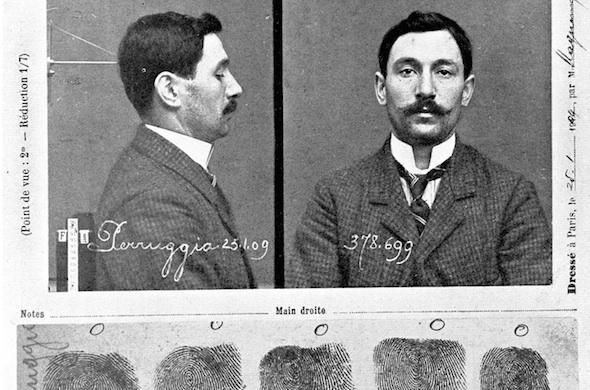 Vincenzo Peruggia's 1909 police records - the man who stole the Mona Lisa in 1911
A People Magazine Best Book of the Summer, this utterly irresistible adventure focuses on Luke Perrone, an Italian-American artist in his late 30s. Perrone has long been obsessed with his great-grandfather, Vincenzo Peruggia – an Italian artist working at the gallery who removed the protective case and frame and stole La Giocanda, aka the Mona Lisa.

Following a tip, Luke sets off for a research library in Florence which contains his great-grandfather's first-person account of stealing the world's most famous painting. There Luke encounters a beautiful, enigmatic – and possibly duplicitous – fellow researcher named Alexandra Greene; is pursued by John Washington Smith, an INTERPOL specialist in stolen artwork; is tracked and attacked by a Russian thug who works for a secretive collector of stolen paintings; and struggles to find out the truth about his great-grandfather without losing his own life in the process.
The Last Mona Lisa exquisitely blends fact with fiction and high-class art with low-class crime. It draws on Santlofer's expertise as a bestselling mystery writer and a highly acclaimed fine artist. Shifting between Belle Époque Paris and contemporary Florence, with side trips to New York City and not-exactly-exotic Bayonne, NJ, Santlofer's rapidfire pace and ingeniously structured tale of art theft, forgery, and murder encompasses a half-dozen narrative strands that span a century.
There's a lot to keep track of, but don't worry about getting lost – Santlofer knows just when and where to switch from one story to the next, what to reveal, and when. His masterful storytelling skills keep the reader eagerly turning pages, tearing breathlessly from past to present, from Paris to Florence and back again.
Along with breathtaking plot twists and whiplash reversals, The Last Mona Lisa offers readers an additional layer of pleasure. If you've been yearning to visit France or Italy but have been stymied by COVID-era travel fears, Santlofer's book is the next best thing to a European vacation. The look and feel of Paris and Florence are expertly invoked. Santlofer has obviously spent time in the streets, art galleries, museums, churches, and cafes of both cities and renders them most effectively. And if you've been to the cities, it'll be a bittersweet reminder of times past. If you haven't, it'll make you crave a cappuccino in an outdoor cafe halfway down a long and curving street in the shadow of an awe-inspiring, ancient cathedral.
Santlofer's extensive knowledge of art history, criticism, and technique informs the book. And his ability to evoke the look and feel of a particular work of art is masterful, as in this description of Masaccio's Brancacci Chapel:
"I paid my ten-euro entrance fee, headed up a short flight
of stairs, and emerged into what I would only describe as
heaven. The fresco cycle filled the small chapel, dazzling
even from a distance. A few steps up and through an open
sculpted gate of gray-white marble and the cycle wrapped
around me like old-time CinemaScope: two levels of
paintings illustrative of the life of Saint Peter, fully human
figures with faces so expressively painted they appeared to
be speaking, colors that reflected the hues of Florence,
shades of sienna and ochre, pale rose and lush Indian reds
against emerald greens and soft blues, everything about the
fresco cycle more beautiful and moving than I had imagined."
Smart and savvy, The Last Mona Lisa is a top-notch demonstration of Santlofer's craft. Word on the grapevine is that he's busy working on a sequel, which is good news for readers. While you're waiting for the follow-up – and, once you've read it, you will be – check out the rest of Santlofer's oeuvre. His outstanding series features Kate McKinnon – a cop from Queens who became a Manhattan Socialite – TheDeath Artist, Color Blind and The Killing Art is a fine place to start.
But before you do that… Make The Last Mona Lisa the first thing you read this year.
You can buy The Last Mona Lisahere.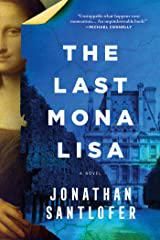 **
Jonathan Santlofer is a writer and artist. His debut novel, The Death Artist, was an international bestseller and translated into 22 languages. Anatomy of Fear won the Nero Wolfe Award for best crime novel of 2009. Santlofer has been a Visiting Artist at the American Academy In Rome. His work is in such collections as the Metropolitan Museum of Art, Art Institute of Chicago, and Tokyo's Institute of Contemporary Art. He lives in New York City where he writes and paints.
Joseph Goodrich is an award-winning playwright. He edited the short story collection Shooting Script & Other Mysteries by William Link and Richard Levinson. His debut novel The Paris Manuscript (Perfect Crime Books) will publish this coming Spring.