Paris is a bucket-list-travel-destination for people all over the world. Dubbed the City of Light — and the City of Love — Paris is often hyped as one of the most exhilarating cities in the world.

Our fascination with the French capital is so culturally potent that some visitors experience "Paris Syndrome" upon arrival — a condition characterized by physiological distress caused by severe disappointment with the city.
You heard that right: some people are so let down by the city of Paris that they have a psychological break. The Japanese embassy even has a 24-hour hotline to counsel Japanese tourists experiencing Paris Syndrome. And each year, the embassy repatriates up to 20 tourists suffering from this condition. In fact, visitors are so afflicted they have to be accompanied home by a doctor.
So is the city not worth the hype? Should we all scratch it from our bucket lists and head to other trending cities for our next vacation instead? Not necessarily. Paris Syndrome is not really a reaction to Paris itself. It's a form of disillusionment caused by an over-romanticization of the city.
Japanese tourists often can be victims of this condition since the culture in Japan over-romanticizes the city more than others in the world. But it's a lesson to anyone visiting Paris. If you genuinely expect the city to be the fairytale that's laid out in Ratatouille or whatever French fodder has been feeding your fantasies, put those notions aside before you climb on that plane.
Most likely, you will not be Emily in Paris. That, at least, is a relief to the French. Like any tourist visiting New York City and expecting the Carrie Bradshaw treatment or visiting Los Angeles and anticipating it will be like the song "Party in the USA," you're in for a surprise. If you truly think these cities are anything like the movies — or even pop anthems — get a grip.
But despite it all, there's a reason for all the fanfare. Paris has a certain charm that keeps people coming back for more. Granted, with its cold attitude and notoriously rude table service, it's far from a Disney movie or a Netflix show. But if you do Paris right, you'll understand why the city has so many devotees. No Paris Syndrome-induced repatriation necessary.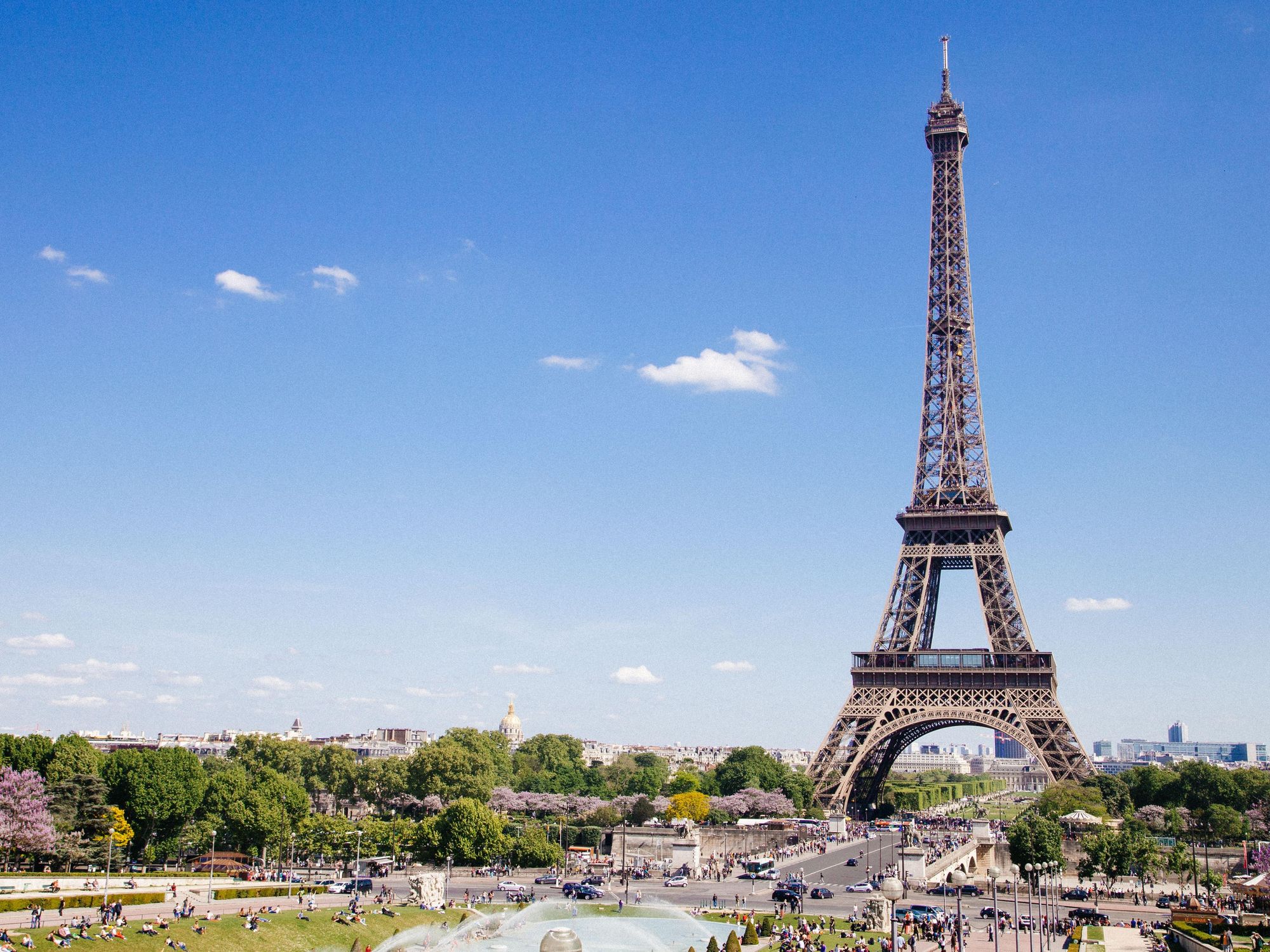 Photo by Anthony DELANOIX on Unplash
Do the touristy things — They're actually worth it
While you're ridding yourself of your Emily in Paris delusion, also disabuse yourself of the notion that your first time in Paris will be anything but touristy. But unlike NYC trips to the Statue of Liberty or LA trips to the Walk of Fame, most of the Parisian landmarks are actually worth your time. Plus, if you plan well, you can seamlessly integrate them into your itinerary.
1. The Eiffel Tower
Whether you walk to the top or not is up to you, but definitely see this breathtaking landmark. Take a photograph at the iconic Place du Trocadero or Rue de l'Université for some of the best (but yes, tourist-filled) vantage points. But also be sure to scour out a spot for a romantic picnic in the park below. Grab yourself a wee keychain, too — a la Timothee Chalamet.
2. Arc de Triomphe
This landmark is a sight to behold — and so is the ceaseless but seamless flow of traffic around it. Start your day here, then meander down the Champs-Élysées for some high street and designer shopping.
3. Cathedrale Notre Dame
Although Notre Dame is still being rebuilt from a massive fire in 2020, you can still take in its beauty from afar. Its spot along the slow-flowing Seine makes for a convenient place to stop and behold the grand cathedral before heading off to see other Parisian sights, such as ...
4. Shakespeare and Company
This inspirational bookstore across the Seine from Notre Dame is a hallmark of modernist literature. A popular haunt of literary giants such as Joyce, Fitzgerald, and Woolf, it has expanded into other major cities worldwide. But the original in Paris is full of unbeatable charm and history. Venture to the second floor to see rare books, an old piano, and frequent feline visitors. But be prepared to wait in line.
5. Sainte-Chapelle
For the best views in Paris, get high above the city at Sainte-Chapelle, a giant church in Montmarte. Either climb the stairs or take the trolley up, but either way, the views will be worth it. Make sure to explore the surrounding area of Montmarte and the nearby Pigalle. Named after the sculptor Jean-Baptiste Pigalle, it's also the home of Moulin Rouge.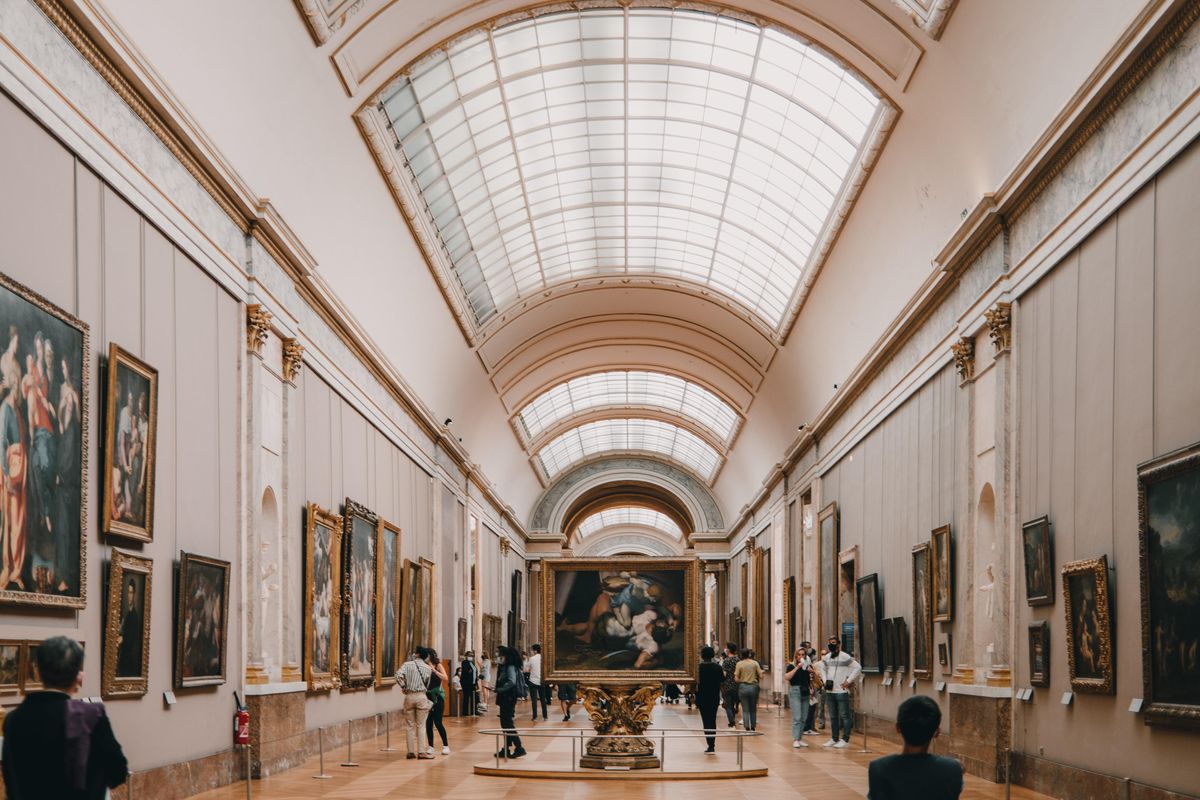 Photo by DAT VO on Unsplash
See some museums — Take in the culture
Even museum haters will find at least one museum to love in Paris. From the sprawling Louvre to the opulent Versailles, there's something for everyone. The city's history truly comes to life in its museums, so stop by a few to amplify your experience.
1. The Louvre
Most people make a beeline to the Mona Lisa. While this is not a bad game plan, get there early to avoid the crowds. And make sure to take in the rest of the art on the way. Get your requisite photos outside at the emblematic domes, then stroll through the Jardin de Tuileries right outside.
2. Palace of Versailles
A few hours outside the city, this is a must-do day trip to take from the city. The former royal residence — built by King Louis XIV and once home to Marie Antoinette — is a feast for the eyes. Pre-book your tickets for guaranteed entry.
3. Musee de l'Orangerie
The quickest museum tour you'll take in Paris, this tiny attraction is most famous for the panoramic display of Monet's Water lilies. While it's home to more impressionist art pieces, the Water Lilies rooms take the cake for their immersive display. The ultimate museum for anyone experiencing museum fatigue.
4. Musee Rodin
Another boutique museum, the Musee Rodin, offers the works of the French sculptor Auguste Rodin. The mansion and sculpture garden is a scenic treat that won't take too long to explore fully.
5. Musee National Picasso-Paris
Who doesn't love Picasso? So head to the Picasso museum to take in this gorgeous private mansion where the works of Picasso and closely associated artists are housed. The museum offers a view into the artist's early life and career in the heart of one of Paris's most bustling neighborhoods, Le Marais. Stop by to fill up on your art fix, then explore this district for incredible shopping.
6. Bourse de Commerce - Pinault Collection
If the name Pinault sounds familiar, it should. They're the family that owns the luxury group Kering — aka the Gucci Group, home to Gucci, Balenciaga, Bottega, and more — as well as the investment holding company Artémis. Their latest venture: The Pinault Collection, home to art projects such as exhibition sites, institutional and cultural partnerships, art loans, and artist-in-residence programs. This former trade and business center now houses the private Pinault art collection, open to the public for a highly curated, impressive experience.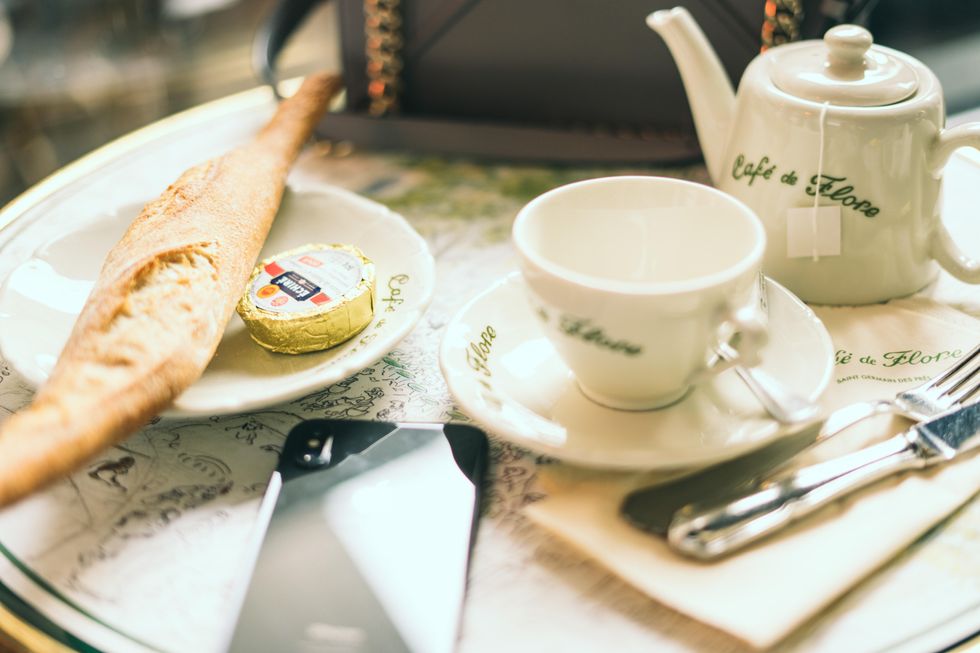 Photo by Valentin B. Kremer on Unsplash
Classic Food Spots that are Worth the Hype
Paris is known for its charming cafes, and you'll find one on every street corner. But amongst those are some of the most famous dining spots in the city — and the world. You simply must dine here at least once in your life. Here are the best-of-the-best to add to your list:
1. Cafe de Flore and Les Deux Magots
Embrace the spirit of the Lost Generation and French Expats at these classic spots. Pick one or the other for pretty much identical experiences in the heart of the Saint Germain neighborhood.
2. Brasserie Lipp

For a slightly classier production, head to the most famous brasserie in the world. Steak Frites, Sauerkraut with Pork, and classic dishes await with white tablecloths, decorative tiles, and selfie-ready mirrored walls.
3. Clown Bar
This historically charming spot has been around since 1902. Come for the clown murals and gaudy decor, and stay for the food and unbeatable atmosphere.
4. Hemingway Bar in the Ritz Paris
If you're really splashing out, you'll stay at the Ritz for a night of unbeatable luxury. But, alas, most of us cannot afford that experience. But make sure to swing by this sumptuous hotel and spend a late night at one of the many bars inside. The most famous is Hemingway Bar, but be sure to make a reservation, or you'll likely be turned away at the door.
5. Au Petit Versailles du Marais
After you've enjoyed the splendor of the real Versailles, come here for a mirrored hall of pastries that features some of the flakiest croissants in Paris — and on the planet.
6. Pink Mamma
You've no doubt seen this spot on TikTok. Located in the heart of Pigalle with dramatic decor and Instagrammable dishes, this newer chain is taking over Europe with its rich dishes and maximalist decor.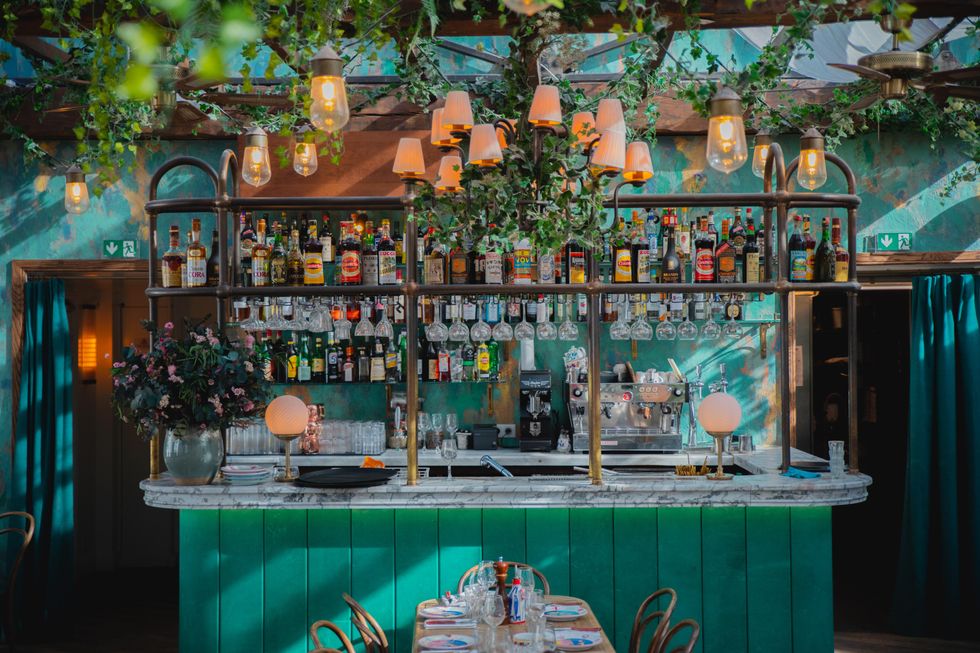 Photo by Ryan Ladd on Unsplash
Now we're getting into it — New Food Spots to Explore
Okay — you've done the touristy things. But what about the real Paris? When you're ready to explore the latest food and a fast crowd, head to these spots and truly experience French cuisine and culture.
1. Racines
Save a night for a nice dinner at this popular favorite for elevated, slow-cooked French staples in a former printing factory.
2. Chez Bartolo
This chic spot cooks up wood-fired pizzas and other traditional Italian dishes with a French flair. Stay for dessert or some elegantly presented sweets that will knock your socks off.
3. BAMBINO
Tapas abound in this stylish spot filled with old records and music-inspired decor. Stop in for drinks, snacks, and the coolest atmosphere around.
4. Le Saint Sebastien
For a unique and memorable culinary experience, this neighborhood bar is famous for its vegetable-forward — but not strictly vegetarian — fare. Something for everyone to experience, savoy, and enjoy.
5. Folderol
This current hot spot is a go-to wine bar and ice cream spot. A winning combination with a cool atmosphere and stylish patrons.
6. Ogata
Perfect for special occasions or a big dinner. Experience the best of Japanese gastronomy and an adventurous meal you won't soon forget.
7. Wild and the Moon
Need a break from the bakeries and brasseries? This casual vegan spot offers inventive, fresh salads, juices, smoothies, and even plant-based burgers. Grab a green juice or stay for a lowkey lunch at this local favorite.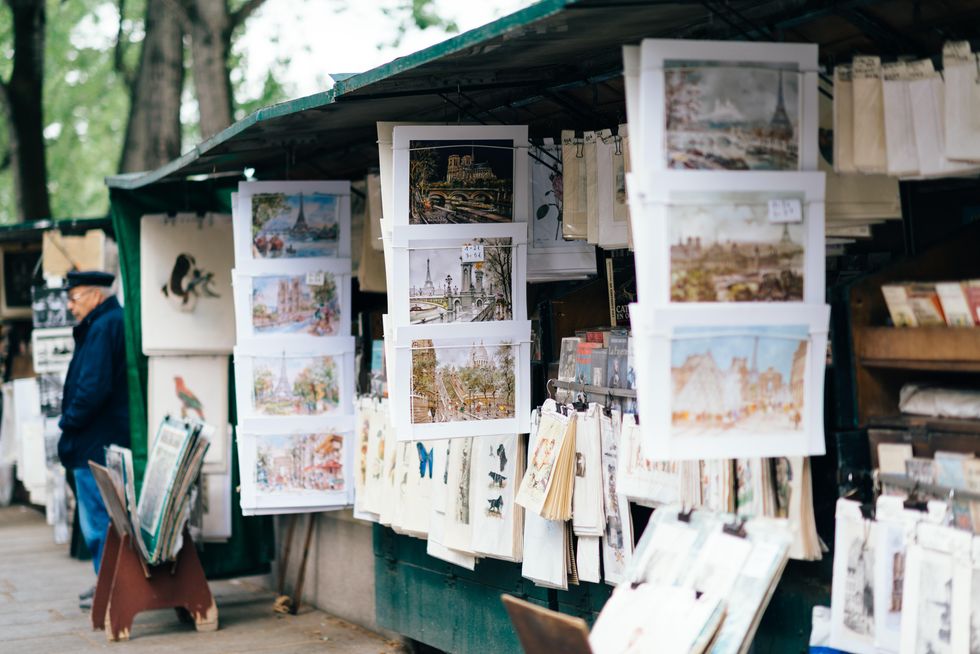 Photo by Roman Kraft on Unsplash
Best Boutiques and Souvenir Shops
Don't just gape and gawk at the luxury stores or global high-street brands. Make sure to stop by these unique stores and pick up some souvenirs for loved ones or — even better — yourself.
1. Ofr. Bookshop
If you're the artsy type, stop by this bookshop and gallery/studio to discover the latest magazines, pick up a new coffee table book, and buy some of their own stylish merch.
2. Marin Montagut
This French illustrator collaborates with major names in design and his whimsical art pieces are often inspired by classic French lore. Stop in for everything from notebooks to housewares to deliciously adorned tiny dishes.
3. Officine Universale du Buly 1803

Any beauty lover's paradise. This apothecary has everything and anything you'd want in your dream bathroom cabinet. From cold-pressed skincare ingredients to fragrances and perfumed bath oils, any beauty lover will return again and again. They also have the world's largest collection of combs, which you can engrave as a unique gift to someone with exquisite taste.
4. Larry's Deadstock
Sneakerheads flock to this cool little sneaker shop in the Marais. Resale prices might shock anyone except the seasoned hypebeast — but their shoes and accessories collections are impressive. Make sure to stop by their sweet shop across the street for unique candies and confectionaries from across the world.
5. Elevastor
Paris is known for their chic residents. But where do they shop? This concept store is the height of chic, carrying the most cutting-edge global brands while also acting as an art and design space.
6. Merci
A fan-favorite boutique, Merci showcases a rotating slate of brands for the ultimate gift shopping experience. Enter through the coffee shop with its infamous wall of books to absorb its awesome style and design.