Since Sex and the City premiered in 2001, Carrie Bradshaw has been the epitome of young, female singledom.

When Sarah Jessica Parker first donned that tutu and silver heels in episode one, she couldn't have known how influential her character would become. Carrie was a breath of fresh air for young, empowered women, finally seeing themselves represented on TV — except this time with agency.
It's a show filled with the thrills of city living, along with young women's trials and triumphs. Although some aspects of the show have not aged well, its overall impact remains powerful.
Even now, younger generations have adopted the show as their own, running through the city living their best versions of the lovable SATC gang.
What is it that keeps the show evergreen? We can't say. Maybe it's nostalgia, maybe it's the comfort of simpler times.
Most likely, it's our own dreams that we project onto shows like Friends and Sex and the City, in which the characters may not have it all together, but they're still aspirational. And we still want to live their lives.
There's also the cast's enduring charm.
Carrie especially — flawed as she is — is a captivating, affable series lead, whose misadventures tug on our heartstrings while making us laugh.
For many fans, the 20-year anniversary of SATC — coupled with the impending And Just Like That premiere — will serve as inspiration for us all.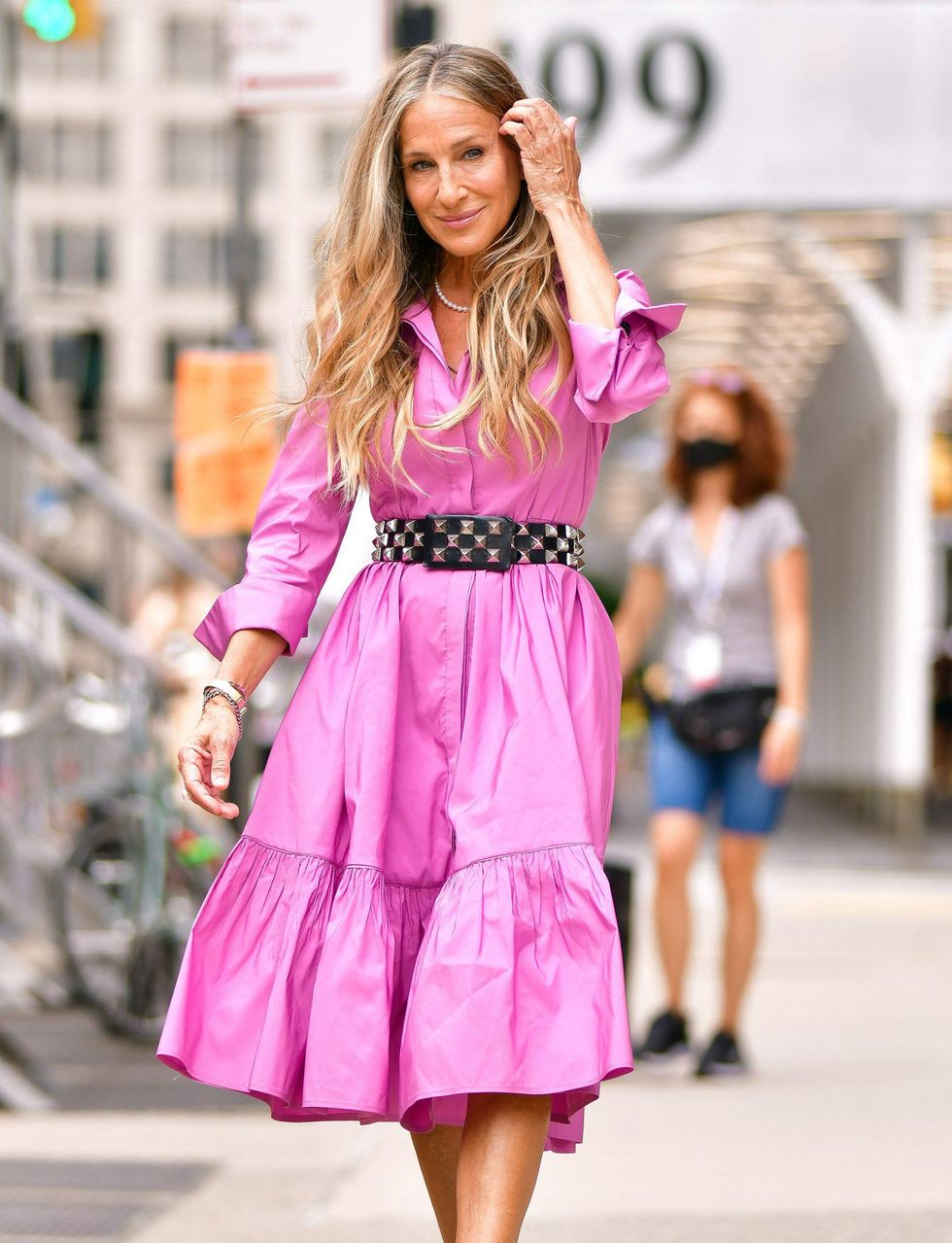 What We Know About the Reboot
Carrie, Miranda, and Charlotte will be returning to our screens — kind of. This new, limited series, titled And Just Like That… is coming soon to HBO Max.
Sarah Jessica Parker recently confirmed the 10 episode spinoff by posting a teaser on Instagram with the caption: "I couldn't help but wonder… where are they now?" And Just Like That provides the answers.
Of course, there'll be some changes from the original series. First off, Kim Cattrall won't be returning as Samantha. Despite rumors that Jennifer Coolige — or even Caitlyn Jenner — might be her replacement, Sarah Jessica Parker insists the revival has "New York City as the fourth character." Admittedly, this makes no sense but feels on brand.
Sex and the City isn't about making sense. The show gained its cult following because of its whimsical and aspirational portrait of life in New York City. Logic is an afterthought.
#SquadGoals and Skin Goals
What's instantaneously apparent in the new series is how gracefully the cast has aged.
And Just Like That celebrates the years that have passed and the long-lasting friendships among characters. And as I watch the promo videos and stalk the paparazzi photos from the film shoot, I can't help but envy Carrie's closet, lifestyle … and skin.
Although there have been some negative responses to how the stars have aged, Bradshaw brushed it off as misogynistic chatter in an interview with Vogue: "It almost feels as if people don't want us to be perfectly okay with where we are," she said, "as if they almost enjoy us being pained by who we are today. Whether we choose to age naturally and not look perfect, or whether you do something that makes you feel better. I know what I look like. I have no choice. What am I going to do about it? Stop aging? Disappear?"
The secret to aging gracefully — it seems — is accepting that you're going to age. Embracing your skin and taking care of it is the best way to approach skincare.
Radien Beauty is the scientist-approved skincare brand that combines years of research and QXP to bring you an effective and luxurious solution.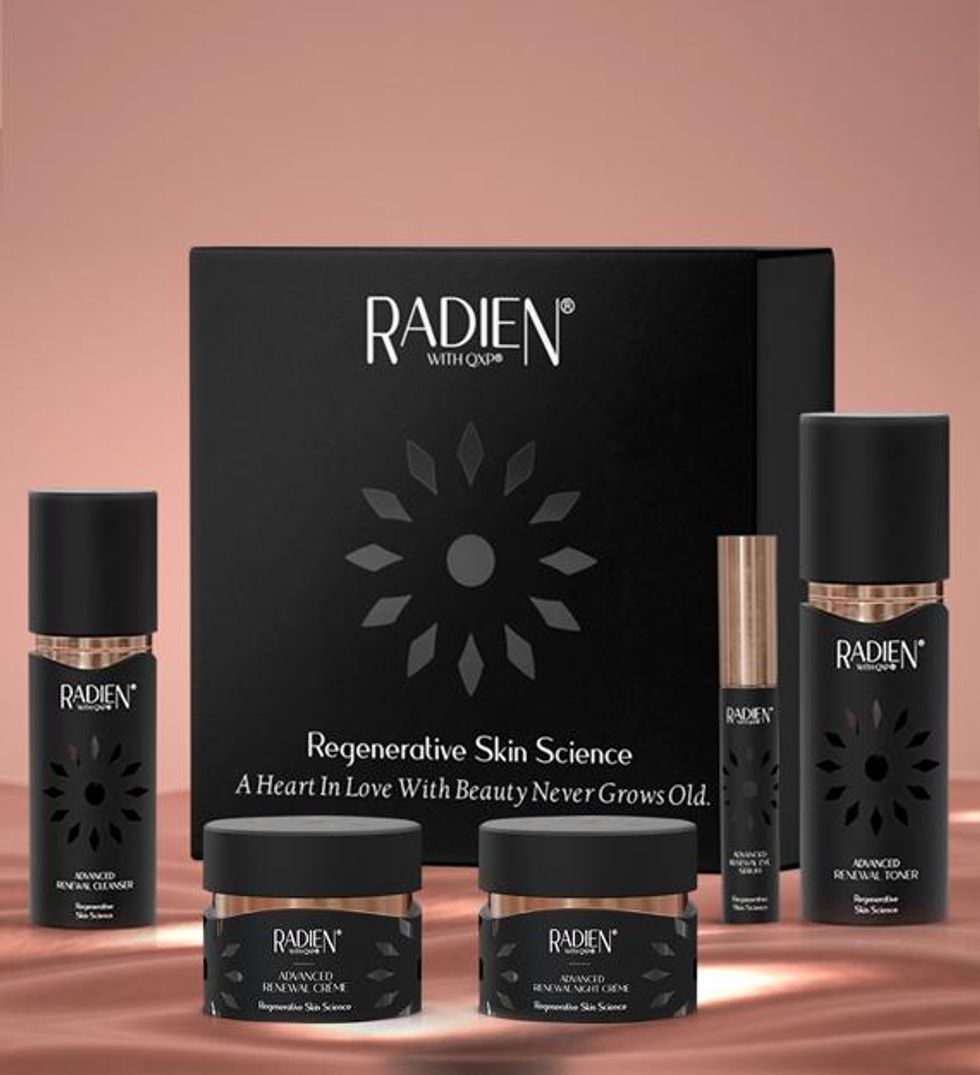 Some of our favorite products include:
Advanced Renewal Cleanser: Prepare your skin for healing with a nourishing cleanser that won't strip your skin of essential nutrients, but adds them back in.
Luxe Anti Aging Creme: This rich, emollient creme feels luxe, and works too! It keeps your complexion glowy and your skin soft while rehydrating your skin.
Advanced Renewal Eye Serum: Protect your under eyes from blue light and the sun with peptides and proteins that make you look rested and refreshed.