Traveling right now kind of sucks.

For many of us, one of the only things that carried us through lockdown were escape fantasies — elaborate visions of places we would go and things we would do once the borders opened up, there were less risks, and we could leave our apartments with more peace of mind.
And for a while, during that euphoric period that lasted for about a month after the vaccine became available to most US adults, Hot Vax Summer seemed like a possibility. The tickets were booked, the plans were made, and we looked ahead to a summer prematurely dubbed "The Summer of Love."
But all these plans made in our post-vax haze have been altered.
With the fast-spreading delta variant ruining all illusions of being post-pandemic, even traveling while vaccinated carries some risks.
Though everyone on Instagram seems to be in Italy or Greece, getting to said destinations, or anywhere, is almost always a pain. Covid restrictions and regulations are evaluated bi-weekly and could change any moment, airport lines are longer, and the EU recently voted to take the US off the safe travel list — though individual countries have their own regulations.
All this means that getting to all those places we pinned our fantasies to is harder than ever. And yet … We still want to go. Braving the lines at cursed airports and taking Covid test after Covid test to be as safe as possible are necessary evils to actualize the versions of ourselves we imagined to carry us through 2020.
To get us through hellish travel days, we do what we can to remind ourselves to make it bearable. While repeating, "It's not the destination that matters, it's the journey that counts" over and over to yourself might be one way of going about it, we prefer more tangible solutions.
The best brand I've found to add a little bit of good feeling back into the experience of traveling? Slip.
Slip is a company which makes all kinds of silk goodies with the purported mission of selling "beauty, not bedding."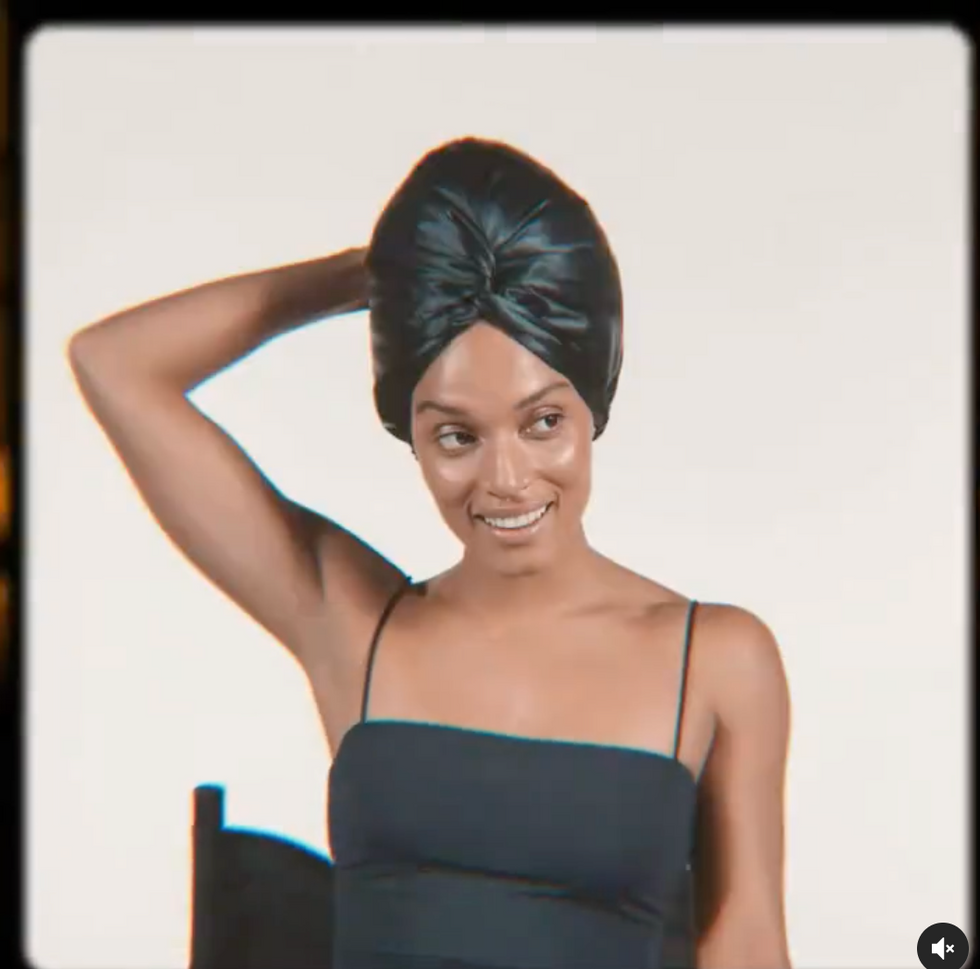 Instagram
As a Black woman, silk and satin were embedded into my beauty routine since I was young. Tying your hair in a silk scarf, wearing a silk bonnet, and using silk pillowcases were so commonplace amongst me and my friends that I thought that everyone did them.
The benefits of these practices had been drilled into me for years, especially in the days I had my hair chemically straightened. You need to wrap your hair to keep it neat, to make the style last, to keep your hair healthy, and other warnings were ubiquitous. And since so many of the other beauty routines we practiced were less palatable — hot metal combs which would always burn my ears, tight protective styles pulling at my scalp — sleeping in satin was the least I could do.
So when I first heard of Slip, I was skeptical. Why would I buy their pillows and turbans when I could get all that from the beauty supply store? But now we are all perpetually in dire need of things that promise just a little extra serotonin, Slip products have made their way into my life, and they are not going anywhere soon.
These are not the silk blends you get from the beauty supply store or that you can order from most places online. No, Slip's products are made using their signature slipsilk™, which has been developed over years to be the best quality. That means comfort, softness, durability, and effectiveness.
For Slip, silk is not a game. They tested their products in labs to make sure they absorb less of your beauty products — so lather on that night cream knowing it all just wipe onto your pillow the second your get into bed — and cause less friction with your hair and skin. This means no more bed head, and no more waking up with those sleep-creases on your face — perfect if you wake up 5 minutes before your first zoom meeting of the day.
Their best selling products are their pillowcases, turbans, and, par for the course, their pandemic face masks.
However, my travel must-have is a little more niche. The Slip Travel Set is a small but mighty package that makes even the most tedious travel trips feel a little luxurious.
The set contains a small, sturdy silk pillow, and a silk eye mask in pink or black. The convenient size is carry on-ready and is a personal, portable addition of luxury and comfort.
Whether you're flying, taking a train, or even driving, propping your head against this set is ten times more luxurious than bunching up a sweatshirt or airplane blanket to use as a makeshift pillow.
Also, rumor has it that Brad Pitt uses Slip pillowcases so .... nothing else to say or see here.
Pressing my head against this impossibly soft silk, I feel like a leveled up version of my childhood self — and isn't that the dream? The comfort of nostalgia, the satisfaction of growth, the caress of something soft on your cheek like the hand of someone who loves you. Who knew a pillow could make me feel so much — and these days, we need all the good feeling we can get.