My TikTok algorithm is trying to tell me something. It keeps throwing me videos about this being our "it girl era," "selfish era," and even "villain era." Villain? I'm hoping my algo isn't implying I'm a bad person, but encouraging me to dive into the trend, relinquish my people-pleasing ways and . . . Put. Myself. First.
To my understanding, this is not about being actively mean, hurtful, or toxic — at least, I hope not. After the past two long years, I'd hope we're all a lot more compassionate. Perhaps it's time to extend that compassion to ourselves, too. This "selfish era" is about breaking co-dependent patterns, liberating yourself from limiting beliefs, and achieving a more actualized version of yourself.
Why Revenge Travel is on Everyone's List
So, thanks TikTok, for serving up the same cocktail of videos championing a summer chapter of unapologetic self-discovery. Why not through travel? Everyone's feeling the wanderlust, and everyone living La Vida Selfish is traveling, notably solo travel so they can find themselves.
But why revenge travel? "Revenge travel is a media buzzword that originated in 2021 when the world began to reopen, and people decided to make up for lost time," Erika Richter, VP of the American Society of Travel Advisors (ASTA), told CNN. "It's another way of saying, hey, life is short. I want to book that trip. I want to spend more time with family. I want to connect with humanity and with nature. I want to explore the world and seek experiences that make me feel alive."
On a recent trip to London, I felt this energy firsthand. Everything felt new and thrilling, even things I'd seen and done many times in the past.
All my friends have expressed a similar feeling. Last year we were cautiously stepping into post-pandemic life, wondering what it would hold. This year, the vibe has shifted — it's teeming with possibility.
And, trusting the sage advice of my For You page, I'm going to be unabashed — dare I say selfish — in my pursuit of adventure.
People call it Revenge Travel. This is how to do it right:
@thelittlebasketco

Like why are prices 3x right now?! #greece #revengetravel #crete #greekisland
How to Travel More: Travel Smarter, Not Harder
The thing about travel is it's expensive. For most people, prohibitively so. While you don't have to fly across the country or an ocean to find adventure, many of us lack Pinterest boards crammed with shots of airplane windows and foreign lands?
During the pandemic, I saved up a vague travel fund. Time has come to make the most of it. But instead of blowing all my cash on last-minute planning and inflated flight prices, here's my secret: plan ahead.
I subscribe to newsletters such as Scott's Cheap Flights for inspiration for journeys to take on my budget and notifications when my dream destinations are on sale. I also have notifications on Google Flights for best-fly dates for my ideal route. You don't go into debt for a travel-filled Instagram feed. By planning ahead, you can save hundreds of dollars on flights.
If you're savvy with your finances, try dabbling in Travel Hacking for free or cheap flights and hotels through the strategic use of credit card reward points. What a terrific way to be bougie on a budget.
Packing Tips to Travel Better
If I'm one thing, I'm an expert at packing. I spent two weeks in London and Paris with one carry-on bag — a bag which had to include my insane skincare routine plus formal wear and dress shoes for multiple occasions.
How did I do it? Luckily, I stayed for a few days in the middle of the trip at a place with a washer/dryer, so I didn't have to suffer my stinky clothes.
If you don't have the luxury of free laundry — and even if you do — be sure to pack Busy Co wipes. Seriously. At this point, take them everywhere you go even when you're not traveling. Busy Cohas wipes for everything. They get it: we're booked and busy. We're on the go. We want to feel good, but we don't have time to waste time. They've got you.
From hydrating facial wipes — no more alcohol-laden makeup wipes that leave your face dry as the desert — to full body wipes, and even deodorant wipes, Busy Co keeps you fresher for longer. Toss a few in every bag so you're always prepared for emergencies or to freshen up on the go.
Plus they're on SALE so now's the best time to stock up.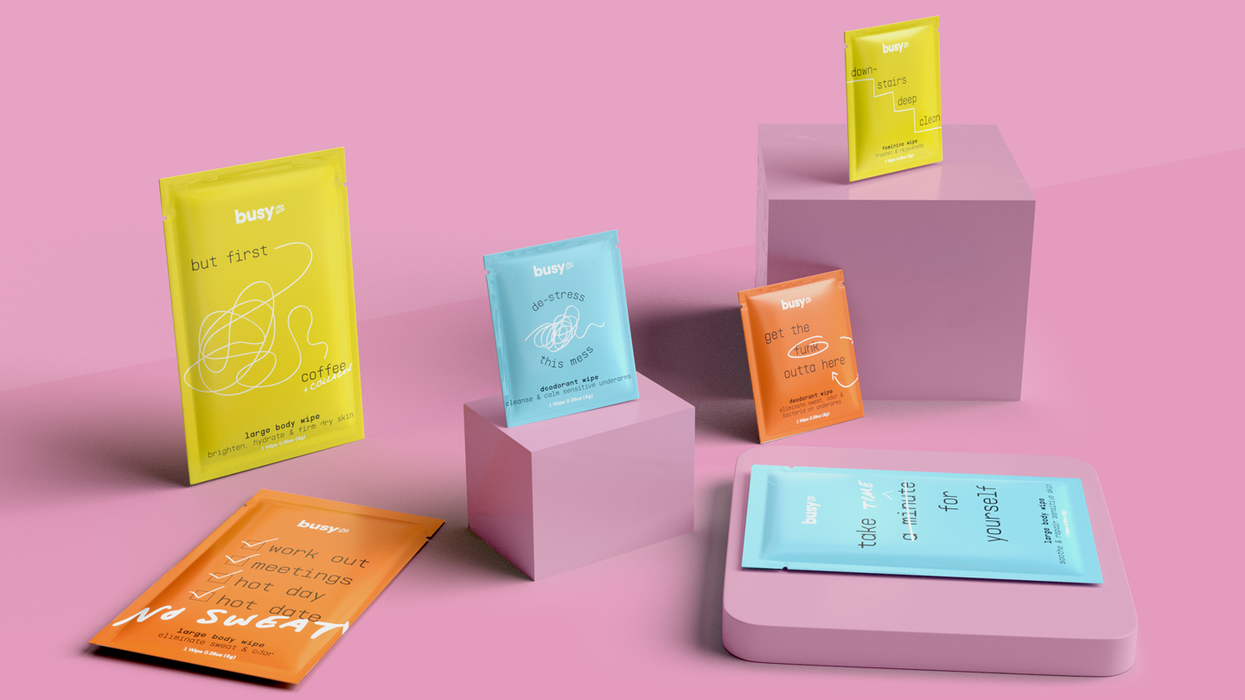 Another tip? Pack in a color scheme. Choose clothes that all go together, that way you can switch up your outfit combinations and avoid overpacking. Also, make sure to pack your shoes in dustbags — don't be gross.
A tip I learned the hard way? Keep all your essentials and personal items in your carry-on. From basic skin care to valuables, don't ruin your trip by losing critical items in lost luggage.
With everything you need to thrive on your vengeance vacation, you'll spend all your time exploring, adventuring, and prioritizing your happiness. So book your tickets, charge your portable charger, and throw some Busy Co wipes in your travel bag. La Vida Selfish starts now!