The tourist visiting New York City often comes to gawk at celebrations of American capitalism. The world's most expansive emporium of M&Ms, it's biggest Applebee's. The latest entry to this emporium of American commerce doesn't beg attention for its sheer size but curious novelty: one of the country's growing number of Amazon bookstores recently moved into The Shops at Columbus Circle, a minimall squeezed in between a few grandiose hotels. While brick and mortar locations of the hidden giant have been popping up around the country since late 2015, the entry into New York feels like an intensely symbolic gesture. In a city so famous for books that can be measured by the mile comes an entrant with its nose snubbed toward the game.
Among the features that a deliberately cheerful Amazon clerk highlighted to me during my visit was the bookstore's deliberate decision to only display all books face out, as opposed to the conventional spine-centric display common in most bookstores and, generally, bookshelves anywhere. It is, arguably, the point behind the bookshelf as a vessel built to contain books. "We place books face-out on the shelves, so each can communicate its own essence," Amazon explains on its website. Amazon is, of course, not the first to discover the possibilities of using the cover of books in order display the 'essence' of their contents. Much like how mail order service had long been a staple of commerce before Amazon realized you could use it for anything, so goes their approach to boutique book display. Taking it to the proverbial eleven.
The most obvious consequence of the face out displays, which turn the quintessential quiet of bookshelves into very loud galleries full of visual bombast, is that there are less books. "The store holds only about 3,000 books," Alex Shephard writes in his assessment at the New Republic, noting that it is "a number far too low for most booksellers to carry if they want to stay in business for more than 30 days." Combined with the style of the displays, this gives the effect of making Amazon's imprint in New York feel more like a book showroom then literature greengrocer; where your cute indie bookstore, or even one of the few corner Barnes & Nobles left, often struggle to fit some of the thousands of books published every year in New York's expensive square feet, Amazon absconds with the effort. The books chosen are a gamble, the clerk I talked to told me that they are refilled regularly but selection, largely, is meant to stay put. (the approach, admittedly, isn't an Amazon original; it could be compared to the selection at, say, The Strand's numerous book stalls throughout the city; small collections of classic-ish titles placed throughout the city, including inside a Club Monaco, to entice passerby)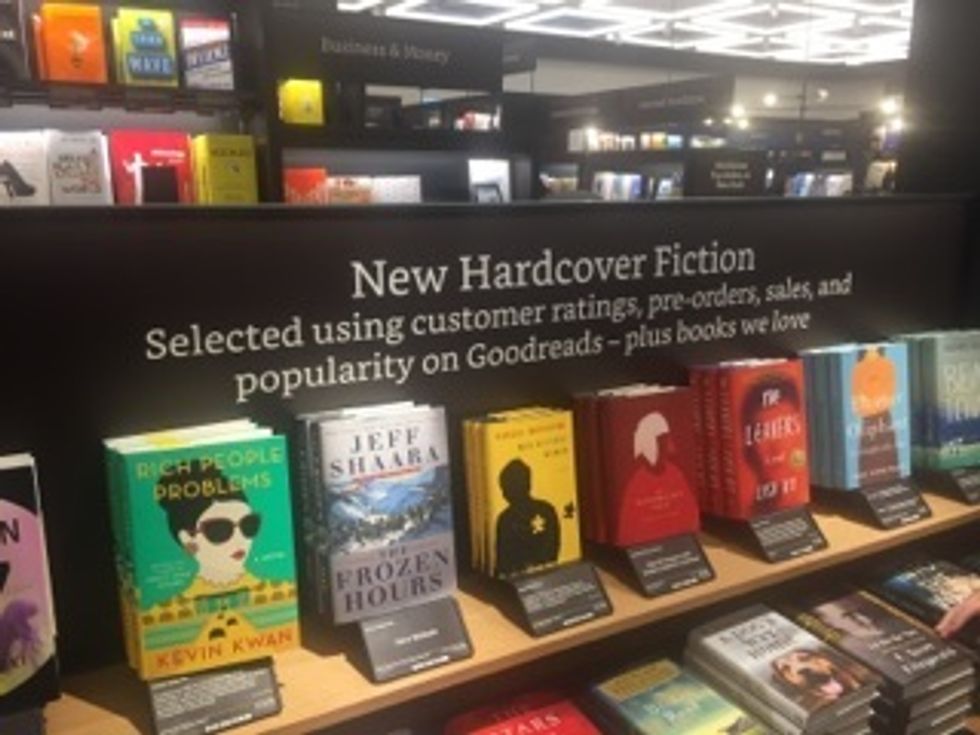 (Andrew Karpan)
The Amazon book store gives the New York tourist, fresh off their Central Park carriage ride, a chance to see what books they are, allegedly, interested in. Paired together, face up in the fiction section, this felt curious. Zadie Smith right next to Danielle Steel, Steinbeck, along with Bill O'Reilly, are some of the few writers whose work are represented more than once, a satisfying nod to the world of the shared spaces of the high school english classroom or 24-hour news channel. Where other literary enclaves pride themselves on thorough curation or appealing oddity, the used bookstore comes to mind as does the fashionable art book boutique, walking through the Amazon bookstore feels like staring at the shelves of a Martian who had studied lots of BookScan data before depositing himself on the planet and had, thus, come to conclusion that people really seemed to have bought lots of copies of The Alchemist.
There are few commercial institutions quite as likable as bookstores. They are marketed as small, cloistered versions of the popular culture and their regular closings are mourned as communal losses of some better part of our selves. They like to constantly remind us that they are run by people who are not, Supreme Court be damned, corporations. Airport bookstores, which seem like a model that Amazon closely looked at, are rarely talked about in publishing circles. Employees often claim, instead, to be english majors and staff picks regularly hang on the wall of bookstores.
Amazon's riposte to the idea is smart: blurbs siphoned from their own user website's user reviews, itself a cannon of popular intrigue. Instead of the general comical copy penned by suffering assistant editors at publishing houses or the kind of faux-condescending noise that booksellers typically live in, you get earnest gems like: "Hands down one of the BEST books" and "Until the past year or two, I only thought of him as that guy..." A few shelves are given to a literalization of the website's "Customers who bought this item also bought..." feature, a bookshelf that offers comps to titles like A Girl on the Train and other household bestsellers. The mechanical nature can prove comic for political titles like J.D. Vance's consoervite bestseller, A Hillbilly Elegy , a memoir by a Yale law grad admonishing poor people for being poor. It is comped to titles like Matthew Desmond's Evicted and Kathryn J. Edin's $2.00 a Day: Living on Almost Nothing in America, left-leaning titles both.
Which is not to say that the sounds of publishers can't find their way into the noise; on a copy of Trainwreck, a nonfiction title by Sady Doyle about the motif of the women destroyed in popular media, a fawning blurb was offered by the suspicious Liam O., who once worked as a the publisher's head of direct sales. "By the end of this book, I felt guilt, sorrow and ultimately empathy." A likely story, Liam!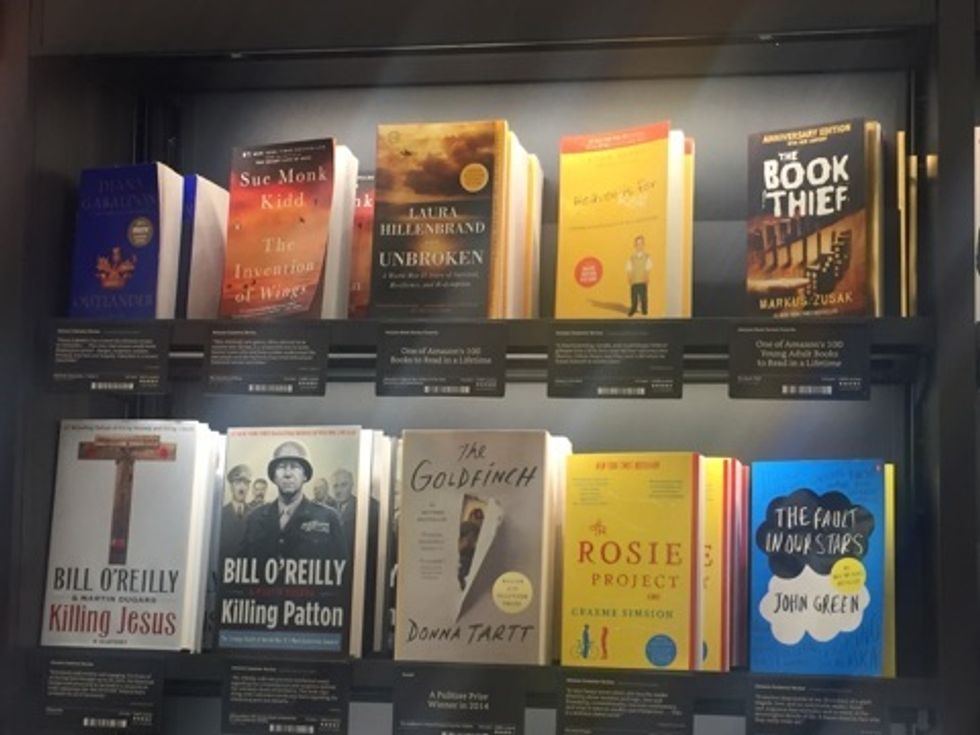 Popular memoirs about coming back from the dead share space with Pulitzer-Prize winning novels and all those history books with Bill O'Reilly's name on it(Andrew Karpan)
Unlike many information gathering conglomerates, Amazon broadcasts very little shame over fueling their inventory with information gathered from internet. The advice of Amazon subsidiary Goodreads is mentioned throughout and, as I was told, these books represent the most popular on both platforms, the most highly rated literature of our time. Which makes wandering into the nearest Amazon store an essential stop on any tour of the centerpieces of globalized American commerce. It's what the people are reading.
Find one near you.