For two years living in the Upper West Side, I walked past the Waffles and Dinges food truck every day near Lincoln Center. Always intrigued as any self-proclaimed carb-ivore would be when they see a truck with the word "waffles" on it, I still passed it by in a hurry to get to class. This week, I ventured down to the East Village because my boyfriend had business in that area with every intention of walking over to Dun-well Donuts for my favorite donuts in the city, but on my way, I stumbled upon Waffles and Dinges' flagship: the mecca of waffles, and I couldn't pass it by.
A little confused when I walked in, the restaurant seemed to be a fusion of carry out and dine in. The woman working was amazing start to finish. She got my confused self seated, brought me water, and gave me a few minutes to peruse the extensive menu. Waffles and Dinges has invented a bunch of already amazing combinations to try, but they also offer a make your own waffle option where you can create your own waffle concoction with a list of "dinges" they have to offer. In addition to your traditional sweet waffles, they also offer savory waffles. Though I was there on a mission to try their famed waffle, I'm excited to return and try some things off their lunch menu which I only briefly browsed, but which boasts various burgers and sandwiches. At one point I glanced over at the kitchen, which is visible from the dining area, and saw her preparing a burger on a waffle. Color me mind blown.
I decided on the Churro Waffle because I'm a sucker for all things cinnamon and sugar. The Churro Waffle is their classic waffle topped with a Dulce de Leche sauce and cinnamon sugar mixture. I did my breakfast up and added candied maple bacon on top and ordered their cold brew and was not disappointed. Minutes later, the woman brought me a huge waffle with heaps of bacon on top. The waffle and dulce de leche sauce were so rich, I had to eat it slowly with coffee breaks in between. The cold brew was excellent and lacked that acidy taste coffee can sometimes have. The bacon was cooked to perfection if you like it crispy. The smoky bacon contrasted with the sweetness of its marinade making it the perfect accomplice for the sweet waffle. The best part? This breakfast that made me feel like a queen only ran me about $17 with gratuity.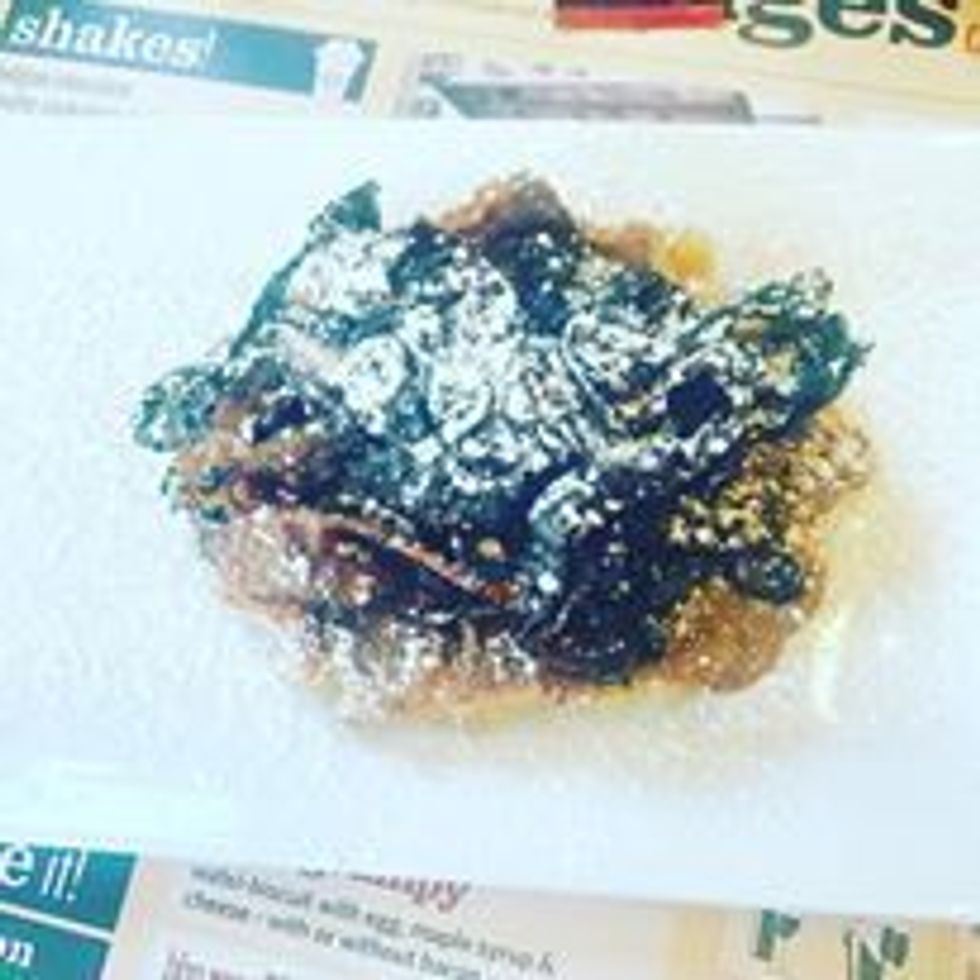 My Churro waffle with candied maple baconPhoto by Anie Delgado
The atmosphere of Waffles and Dinges is very laid back and welcoming. Low music invites conversation, and their awesome customer service combined with the amazing food and coffee will lead me back every time I'm in the East Village and craving something sweet- or savory for that matter. In just one visit, I am convinced that Waffles and Dinges does it all. Bonus: If you're local to the neighborhood you get to enjoy a locals discount! Run don't walk to Waffles and Dinges next time you're in NYC for an authentic taste and twist on a Belgian favorite. Check out their site here for locations.