Rise Brewing Co. is redefining the coffee game with their smooth and delicious cold brew coffee. I'm always on the hunt for the next best brew, so when I started noticing these black and red cans in nearly every Brooklyn bodega, I decided to give them a try. I cracked open a can and could immediately smell the sweet aroma of pure coffee. The first sip was part creamy part sweet and oh-so-smooth.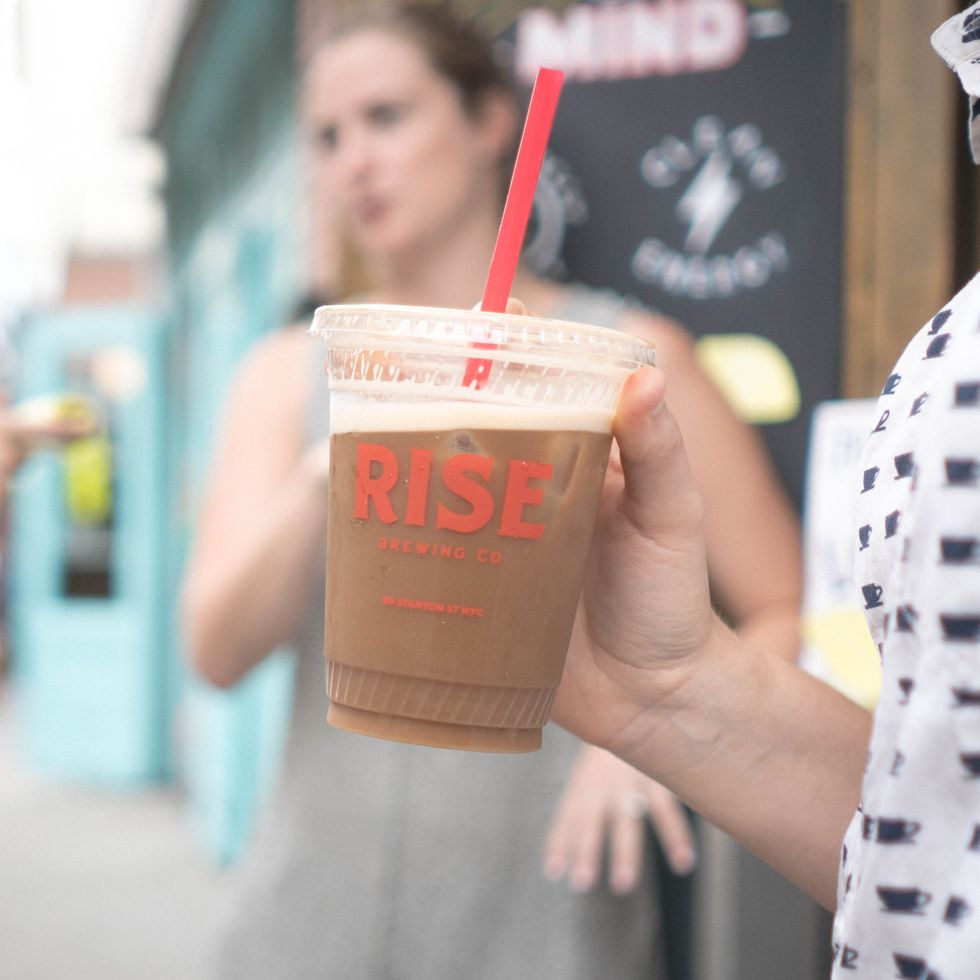 Rise cold brew with a touch of cashew milkKai Diaz
In 2015, Rise Brewing Co. got its start in New York City apartments. The team of four: Jarrett McGovern, Hudson Gaines-Ross, Grant Gyesky, Justin Weinstein were on a mission to create the best cold brew possible. In just a couple short years, they've expanded from experimental coffee sessions in tiny apartments to wholesale distribution and even have a pop-up cafe in the East Village.
Rise cold brew is made with organic, fair-trade Peruvian beans and is brewed using spring water in their very own brewery in Connecticut. No chemicals or additives are used in the process so you know what you're getting is fresh, quality product. The cold brew is smooth and chocolaty with a rich, velvety texture.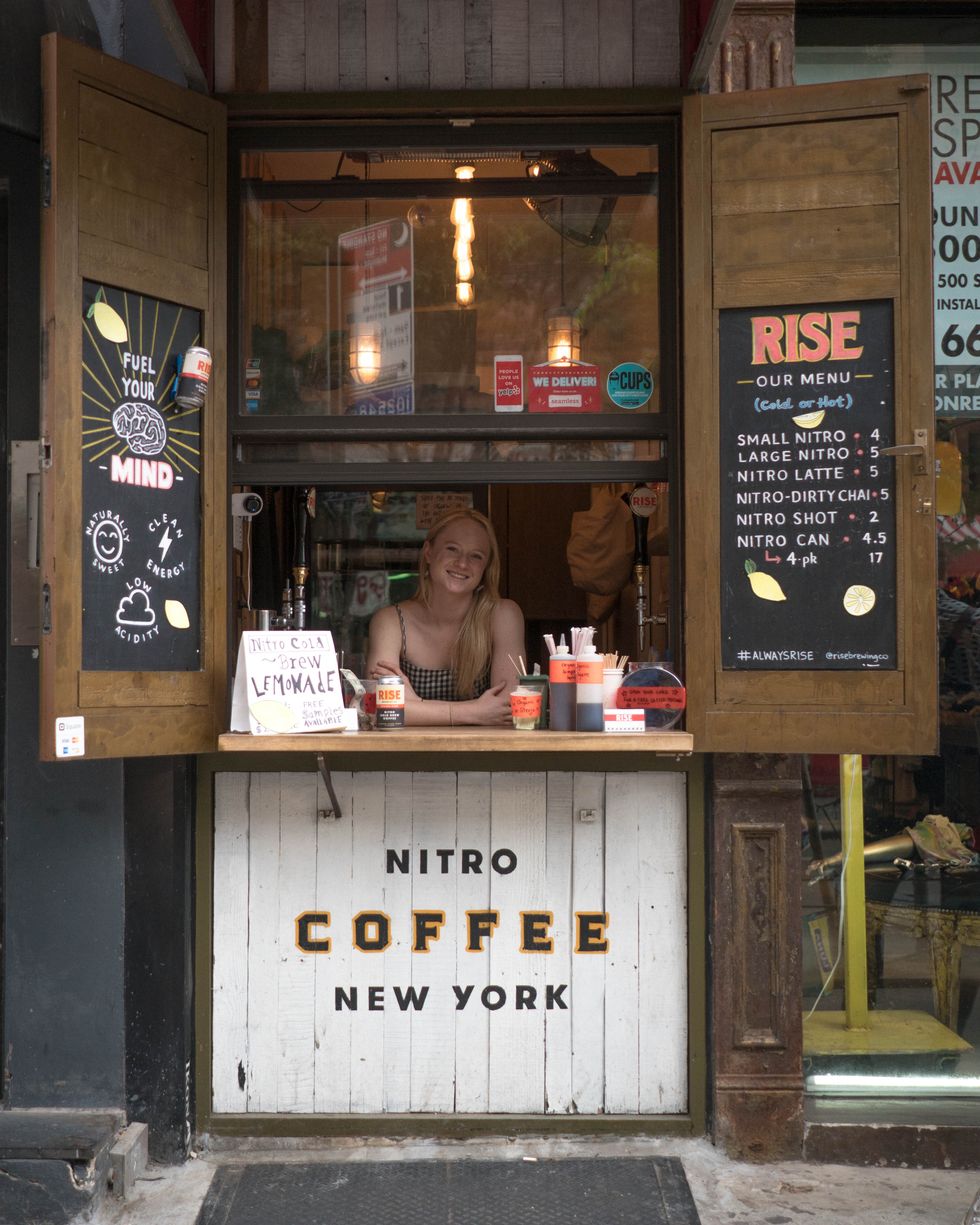 Rise Pop-up cafe in the East Village, NYCKai Diaz
The cold brew process makes the coffee less acidic and less harsh on the taste buds. A creamy finish is created by conditioning and infusing the coffee with nitrogen. The nitrogen pushes out the oxygen which means pushing out the sour flavor to create that Instagrammable frothy cascade. Rise experimented with nitrogen until they found a ratio that created something reminiscent of a latte without the use of dairy or sugar.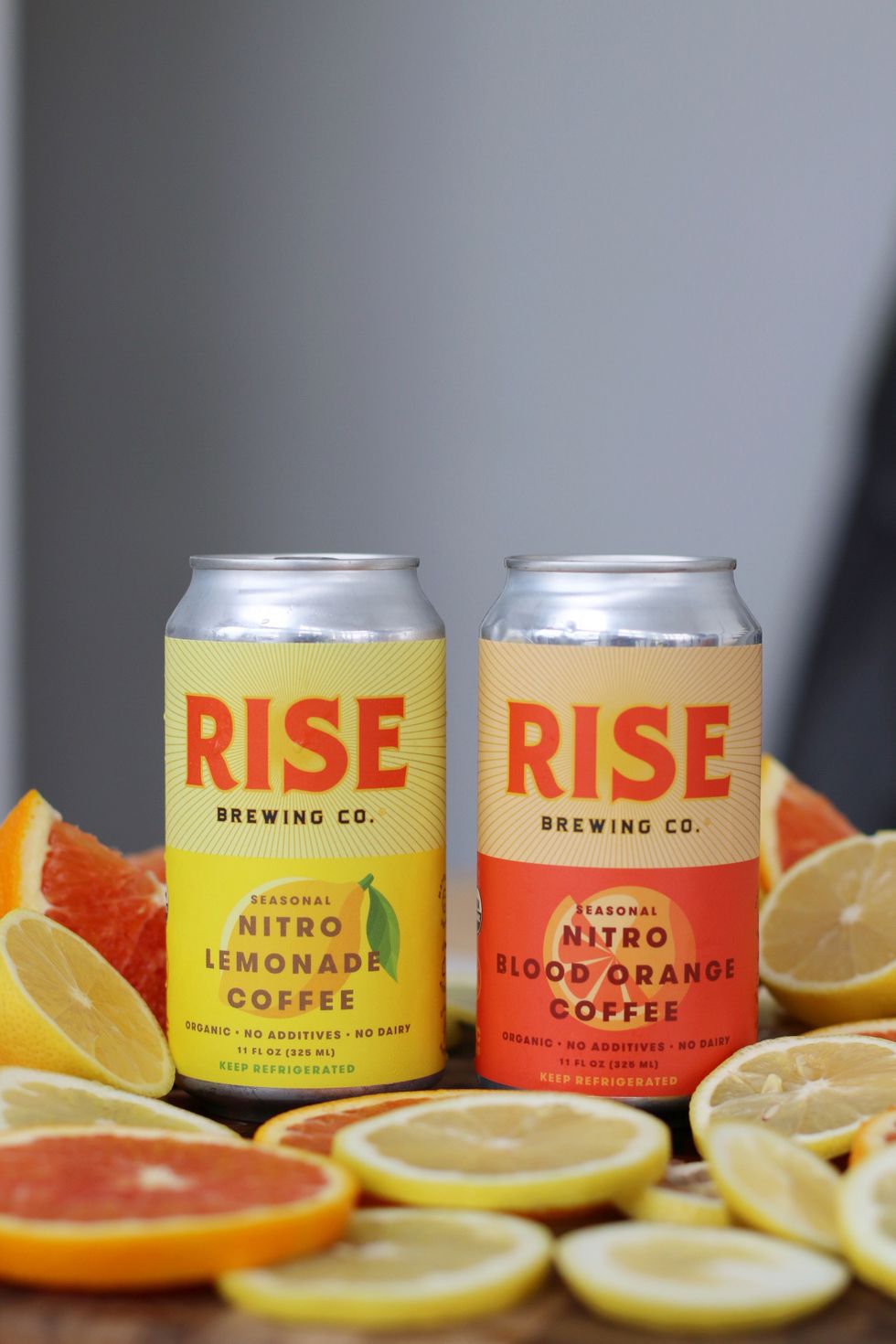 Newly Debuted Nitro Lemonade and Blood Orange Cold BrewRise Brewing Co.
If you find yourself in NYC, you have to stop by Rise Brewing Co. pop-up shop in the East Village for an afternoon pick-me-up. The friendly baristas will give you a sample and help you find a brew you like. With three brew options, they have something for everyone. If you're feeling more like a traditionalist, then go for the Nitro Cold Brew. But if you're feeling adventurous, try the Nitro Lemonade Coffee or the Nitro Blood Orange Coffee that just launched this month. The lemonade and blood orange brews are great for the tea lover with a hint of tart sweetness to cut through the bold coffee flavor.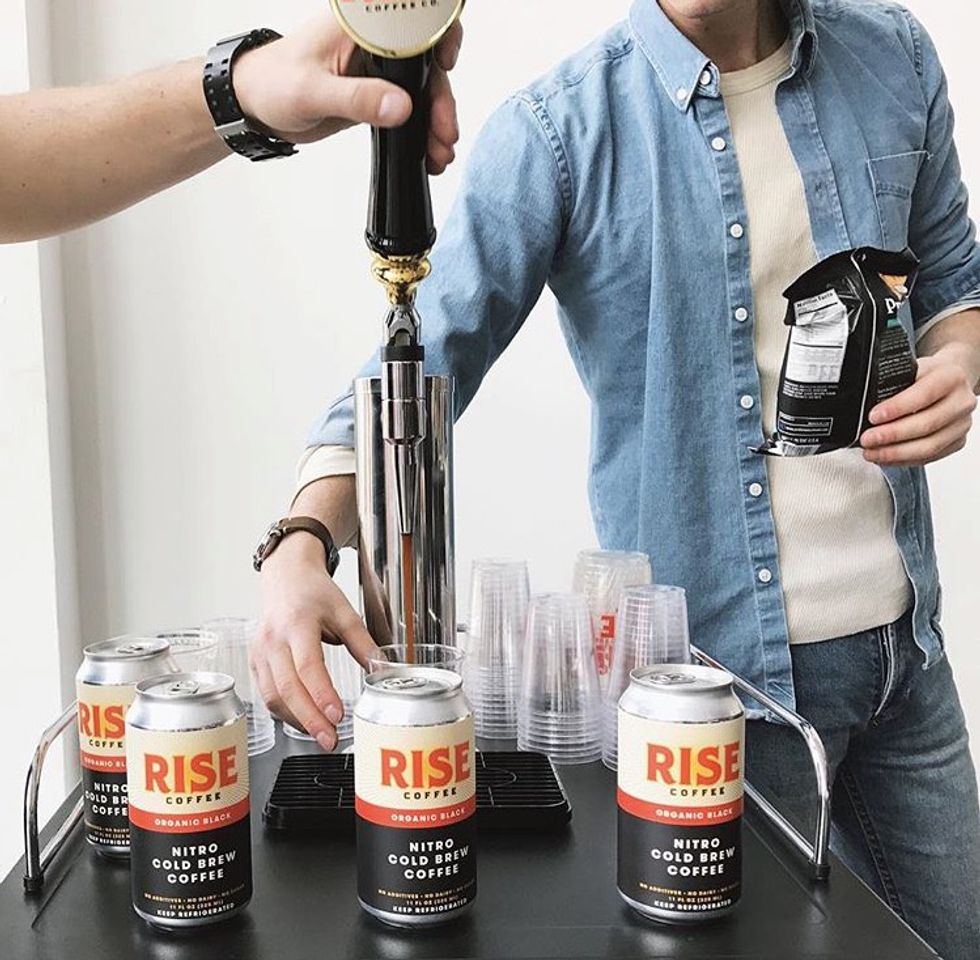 Office kegerators mean cold brew on tap (all flavors available!)Rise Brewing Co.
Rise cold brew cans can be bought online or at select stores on the East Coast. They also offer wholesale distribution of nitro kegs to offices and restaurants in select cities. Find out more details at risebrewingco.com and on their Instagram @risebrewingco. Order online at Jet.com or get a keg for your office through Joyride Coffee.