I see myself as a pseudo-minimalist. I'm not one of those people who has two outfits and no furniture. And I have no interest in van life or anything that rogue. But I like to think I live with intention.
Two years ago, I proudly decluttered 75% of my wardrobe. Even now, I buy a new sweatsuit … then immediately feel antsy that I might have too many things. My apartment's still a work-in-progress — read: I don't have a bedframe — because I want to take my time and furnish it exquisitely. And I always take a few days before giving in to my impulse purchases.
I've dubbed this "pseudo-minimalism." I indulge in my love for beautiful things, but I don't indulge in everything I find beautiful. I'm selective. Curatorial, as I like to think of it.
But all of this goes out the window when I travel.
Because I only own what I love, I'm deeply attached to the things I do have. And you best believe I want to bring everything on vacation with me. My Stan Rays in every color. My zippered and button-fly vintage jeans. My high top and my low top Jordans. How can I say no? I've built my life around easily creating outfits pulled from my streamlined closet. So abandoning pieces feels wrong to me.
But there are some travel mistakes you only make once.
For instance, on a trip to Europe last year, I made a few stops in several countries. I rationalized that I'd need fresh outfits for each country. And, given that some had slightly warmer climates, I brought both fall and spring options. To make matters worse, I shopped and shopped in each city. I simply had to take advantage of that tax refund, I told myself.
I ended up with an overflowing suitcase so I had to buy another crappy suitcase and add it to my already bulky travel entourage — a carry-on, a personal item, my cheap new case, and my gigantic red-checked bag. Suddenly, the latter half of the trip was ruined by schlepping this ridiculous amount of baggage through train stations and airports. Never again.
Since then, I'm a staunch advocate of packing light. It's my biggest travel tip. When you're not worried about your bags, the world opens up to you. Go ahead, extend that layover without fretting over all those huge bags. You'll be way less anxious at the airport.
While you may dream of pulling out a fresh Emily in Paris-inspired outfit for each meal on vacation, the reality will be far sweeter if you pack light.
And guess what? People who travel for a living agree. Many travel writers, bloggers, and influencers have embraced the carry-on-only lifestyle. And they prove traveling light can be glamorous if you do it right.
Olivia Lopez, the creative strategist behind the formative travel blog Lust for Life and podcast Art of Travel, is a case in point. Lopez started her travel blog when she was only 14 and has turned it into quite an enviable career — so I trust every word that comes out of her mouth.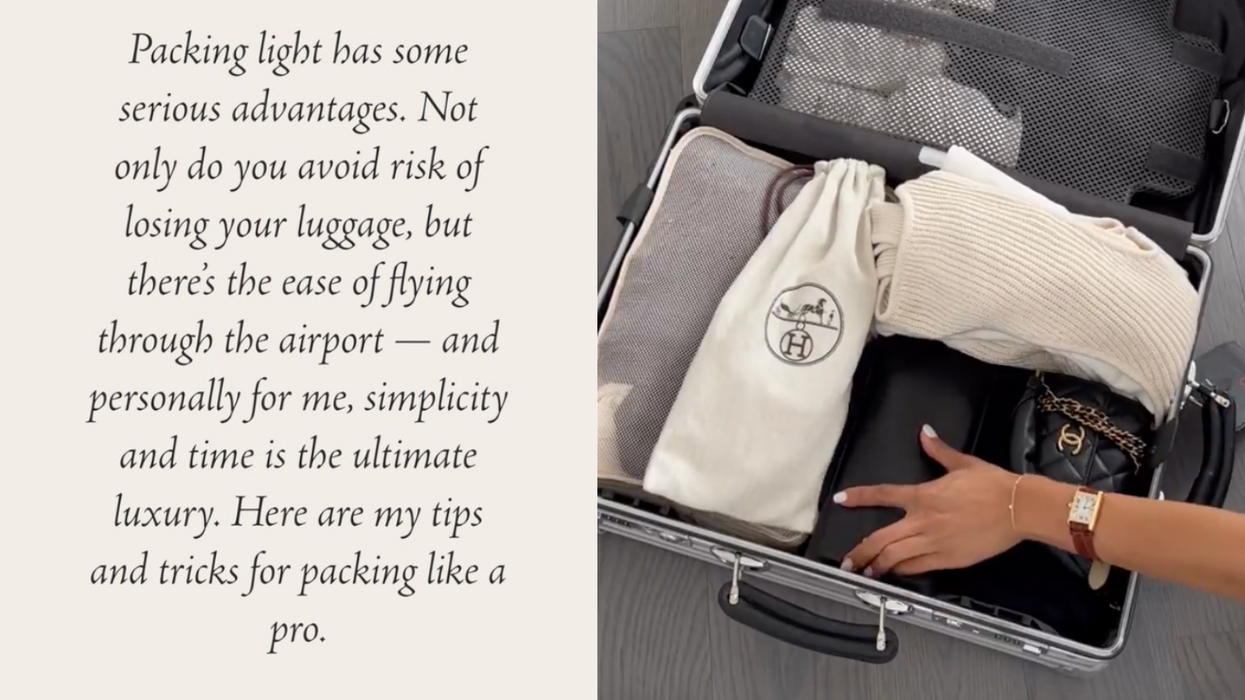 Olivia Lopez's packing tricksvia Instagram
"There's nothing that stifles travel more than too much baggage," she told Suitcase Mag. "Versatility is key. Any pieces that can take you from day to night, plane to meeting, beachside to streetside is worth taking along for the ride."

"Always pack your best pieces and valuables in your carry-on. I learned this summer to never rely on an airline to get your luggage from point a to b."
-Olivia Lopez
This has never been more true. Luggage is getting lost at an alarming rate this summer of revenge travel. There are also canceled flights, derailed itineraries, and long delays. Don't make travel harder on yourself than it has to be.
It's possible to pack light for weeks of travel if you're smart. And if you have the right equipment. From packing hacks to sturdy suitcases, this is the essential guide to packing light while looking cool on vacation: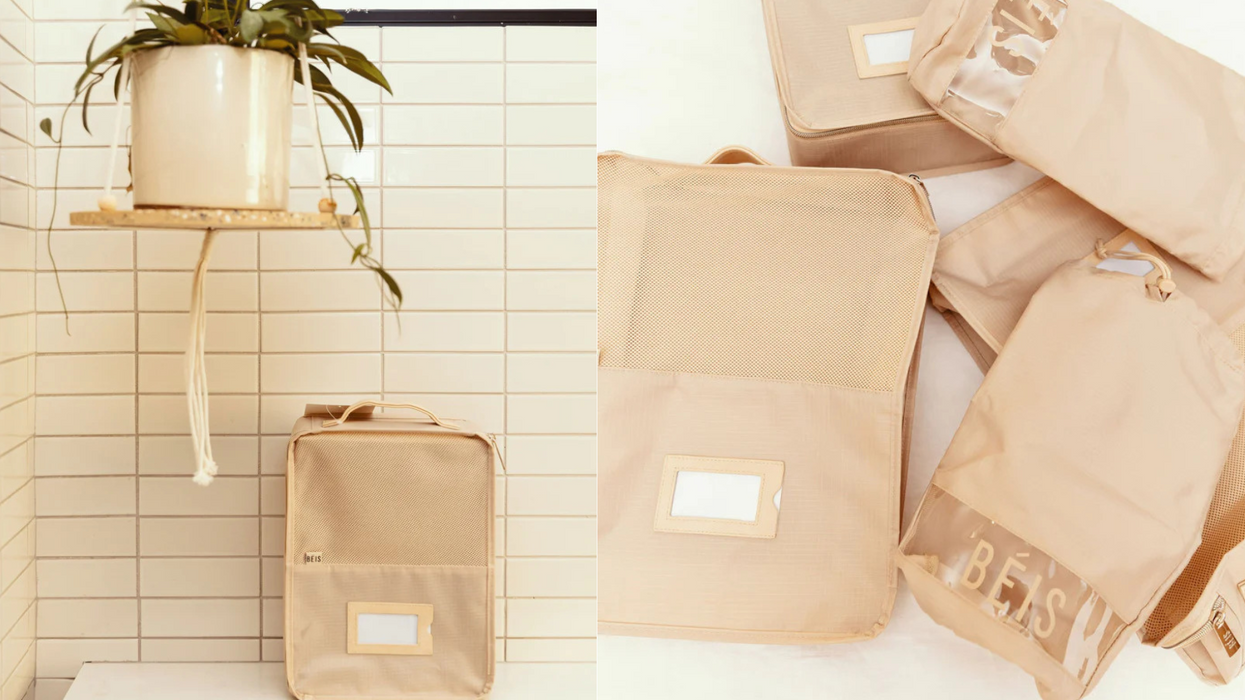 via BEIS
Lopez champions the packing cube lifestyle, and so do I. "When I'm on a multi-city tour, I use packing cubes to compartmentalize the different uses of my wardrobe: whether it's using different cubes for destination or for function," she told Coveteur. "For example, daytime separates go into one cube while workout wear and swim go into another. They also help maximize space and keep your suitcase clutter-free."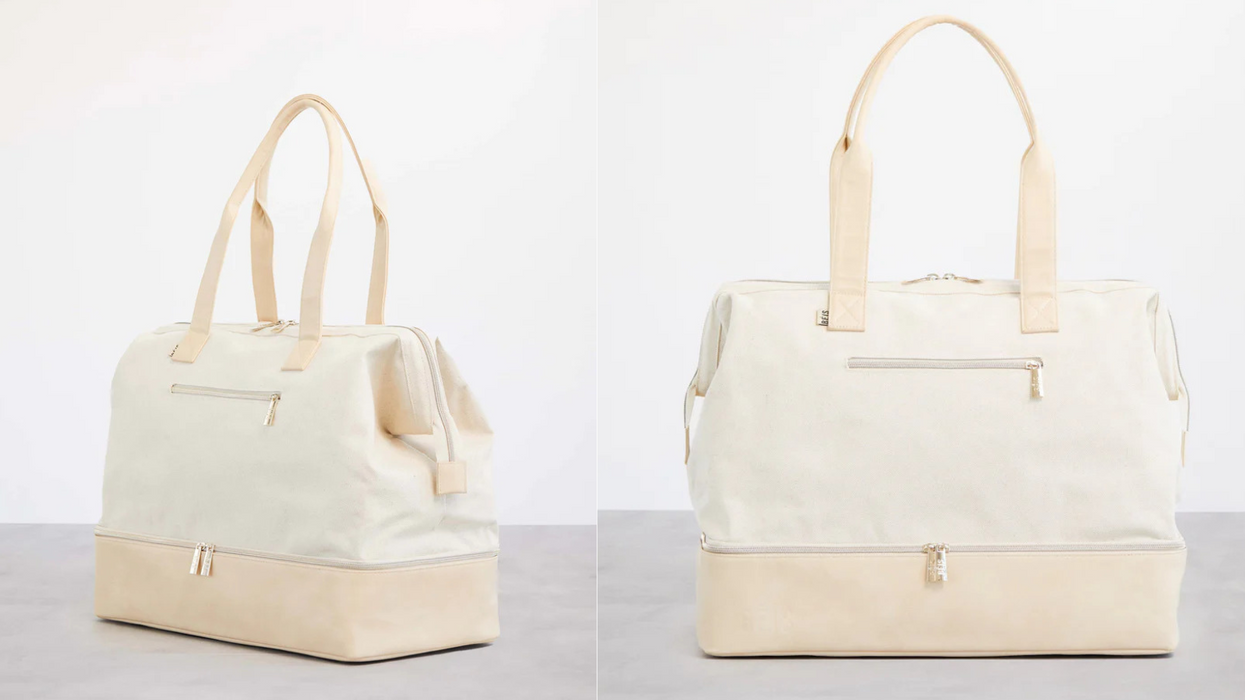 via BEIS
When airlines say you're allowed a "personal item," I hear another bag. This soft but sturdy weekender tote easily tucks under your airplane seat or shines on its own for an impromptu weekend trip. The leather bottom acts as an extra compartment. Talk about genius design.
At the end of the day, it's all about saving space in your bag. Your pack list can be quite extensive, but you
have
to fit that extra pair of flip-flops. If it's a long trip ahead and you want to avoid baggage fees, a stylish tote like this will help you fit everything.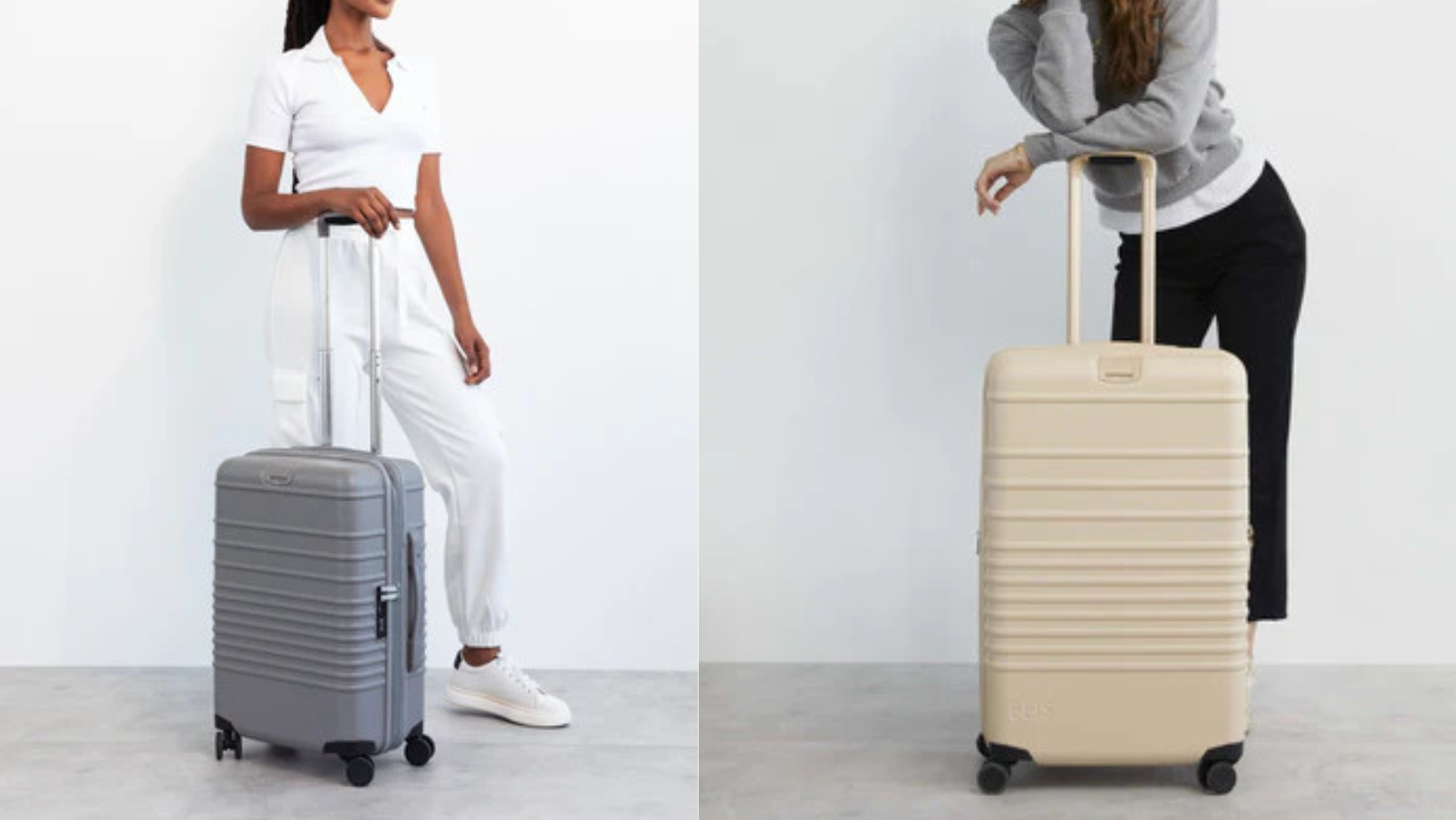 via BEIS
Do not — I repeat: DO NOT — get a cheapo suitcase. It will quickly fall apart and cause you headache after headache for the entirety of its short, miserable life. Invest in a suitcase that has two qualities: sturdy materials and excellent maneuverability. You want a suitcase you can trust to match your gait while you run to make a train. And you want one which can withstand the rougher travel days. Beis is my go-to for a lightweight, aesthetically pleasing suitcase I can trust. Plus, it's elegantly designed with great little compartments that go perfectly with my packing cubes.